Tomi Obaro had written a whole other novel before Dele Weds Destiny as it is now came to be. Seeing a photo of Obaro's mother and her friends sparked an idea in the Brooklyn-based writer to change her initial draft. "I always say it's loosely inspired by the friendship that my mom has with her two best friends," Obaro tells OkayAfrica, via Zoom from her Brooklyn home. "They met in college in Nigeria and have never lived in the same country since then -- at least only two of them have, and that's only recently. That was an interesting concept for a novel idea, and so I started writing it once I had made my peace with the fact that the previous book wasn't really working."
In Dele Weds Destiny, Obaro introduces us to Funmi, Zainab and Enitan, a trio of friends who met at university in Zaria, northern Nigeria, in the 1980s, and drifted apart but are brought together for the first time in thirty years by a wedding – Funmi's daughter Destiny is getting married in Lagos. Told through alternating viewpoints of each woman, the story goes back and forth in time, as Obaro explores culture, class, relationships and religion, and gives the reader a touch of historical context at the same time.
An editor at BuzzFeed by day, Obaro spoke to OkayAfrica about what it took to write her first book and how her Nigerian roots fed into the novel.
Interview has been edited for length and clarity.
The book is titled Dele Weds Destiny, yet neither Dele nor Destiny is the focus of the story. Three friends are, one of whom is Destiny's mother. Why did you decide on this as the title?
It was sort of like a private joke with myself. I knew that I wanted to write in some way about Nigerian weddings, but I didn't really want the focus to be ultimately on the romance. I've always loved novels that sort of trace the evolution of friendships. I had written a novel previously, that also had a wedding in it, but was not what maybe would have been expected and, ultimately, it wasn't really working. But I kept the name of two characters and then the title of the book from that. I think it's somewhat clear in the novel, or maybe it's not that, I have my own sort of conflicted feelings about certainly the type of wedding that's described in the book, and that I've been to on a few occasions where they can be really lavish and ostentatious events. It often feels like the focus is missing or it just becomes like this capitalist enterprise, essentially. So I was just interested in the idea of presenting it and making it seem like a summer novel, and then, actually, exploring friendship more in depth.
You paint such vivid portraits of Nigeria, particularly in the chapters set in the university years when the women meet. You were born in the UK but spent much time in Nigeria -- what informed your writing about the country? What's your relationship like with your Nigerian heritage?
I'd say it's a complicated one. I didn't grow up living there, we lived in the Gambia, and it's very close. So we would often go back for summer vacations. A lot of my memories of Nigeria were, like, waiting in airports, or sitting in traffic. But we were able to spend time in different parts of the country, like, we went to the north and the south. A lot of a lot of the writing, especially early on, was placed in a kind of nostalgia, memories, especially a lot of the food and the scenes that I said in the '80s, the university, it required doing a little bit of research. I didn't want to do too much because I didn't want it to feel like I was writing like a term paper or like a nonfiction account. But I did read a couple of books just to get a sense of what the political climate was like. There's an event that happens on campus that is based on a true event that happened.
And sometimes I would ask my parents very cryptic questions, like, my dad speaks Hausa so it'd be like, 'how would you say this?' There was a degree to which it felt a little bit scary to decide to sort of bend right from the point of view of women who grew up in Nigeria and women who are older than I am. But I think that was also sort of part of the appeal; it was exciting and scary, and then sort of like giving myself some authority. I also had a few friends who read it to fact check a few things and make sure that the tonal marks are in the right place and things of that nature.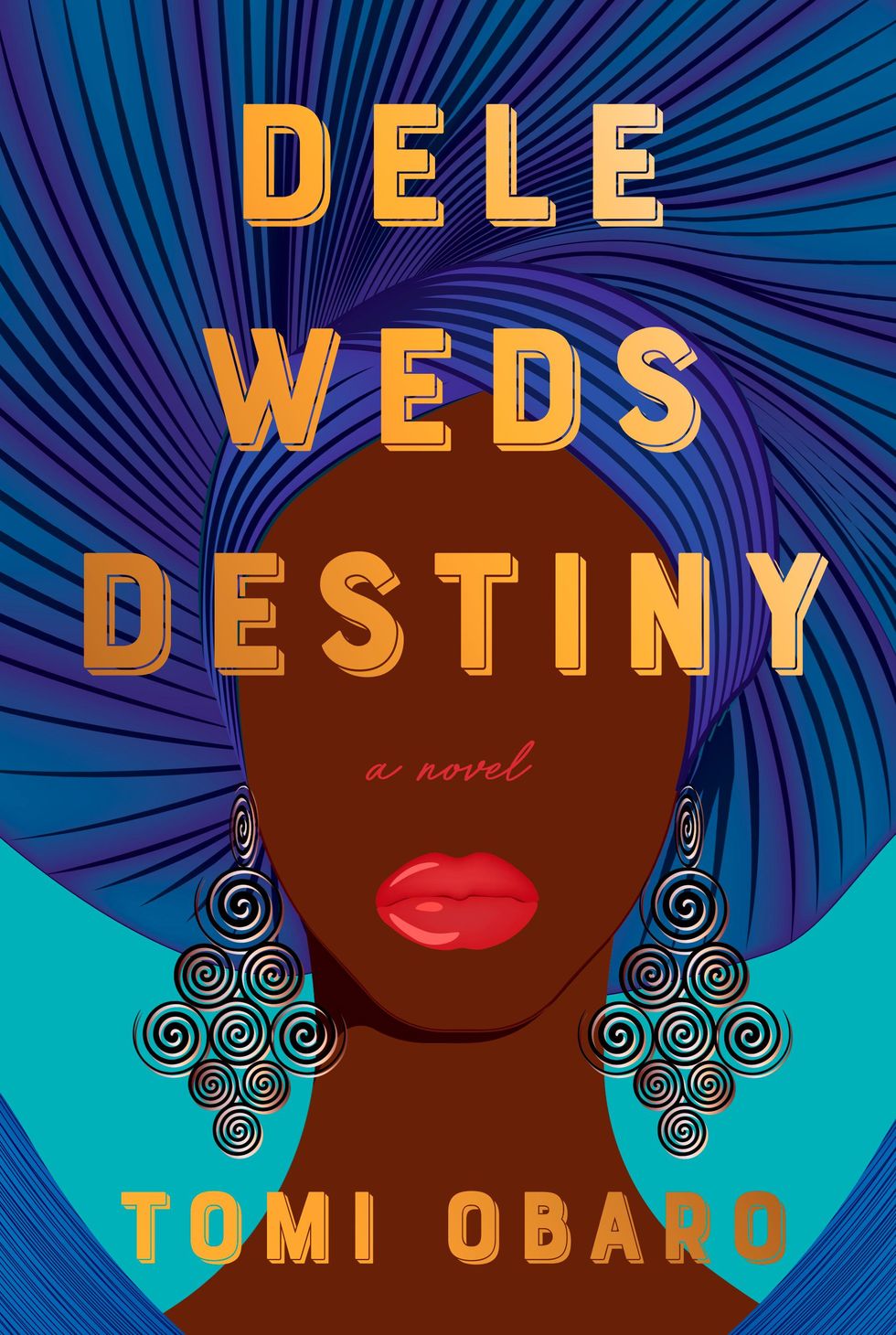 In Dele Weds Destiny, Obaro introduces us to Funmi, Zainab and Enitan, a trio of friends who met at university in Zaria, northern Nigeria, in the 1980s.
Photo: Penguin Random House
Did your parents know you were writing it?
They didn't really know until I sold it. But yeah, I've been surprised, I mean I guess I shouldn't be surprised, but they've been more supportive than I expected them to be. Which has been nice to experience.
How did the process of working on the book change or enhance that part of your identity that is Nigerian?
In the in the process of writing it, I definitely feel like I learned a lot. It was informative. My parents had talked to me about the religious tensions that happened there in college, and I was reading more about those things. Thinking about just even the music of the time period, I was definitely coming from a place of learning a few more things. But I do feel like my relationship to Nigeria is inherently complicated. It's a country that is currently undergoing a lot of turmoil, and it can sometimes feel weird, and the anxiety that one feels arriving in Nigeria, it certainly is the anxiety that I often feel just even when my parents tell me they're going to Nigeria. So it's a complicated country, fundamentally.

Where do you see your novel within Nigerian fiction?
I think fundamentally, the book is sort of in a tradition of domestic fiction, which maybe I think, historically, the West hasn't really [read] with the obvious exception of Chimamanda [Ngozi Adichie]. In the books that I was reading, like Buchi Emecheta, The Joys of Motherhood, and then a book by Senegalese author, Mariama Bâ, So Long A Letter, there is actually a tradition of West African fiction that is fixated squarely on women's inner lives and relationships and their marriages and their relationship to their children. So I don't necessarily think that I'm pushing the needle. What is exciting currently with Nigerian fiction is that there's just so much more of it and many different genres. There has historically been this idea, in Africa in general, that there can only be, like, one marquee African writer of the moment. There's so many different kinds of Nigerian fiction. Selfishly, it can be a little bit jarring; there's so many different Nigerian titles to choose from, how am I going to stand out? But from a reader's point of view, I think being able to read a romance and a thriller, and then a fantasy, that can't but be a good thing.
Do you plan to write another novel?
Probably, even though I think it feels hard to conceive of right now. I had been working on another thing even while I was writing this, so there's definitely things percolating. It's like, you do a hard thing, and then you forget the hard parts and you just remember the joy of it, which is ultimately the only thing you can kind of really hold on to because everything else is so out of your control. So, yeah, it will happen, I just don't know when.