June is "No Borders" month at OkayAfrica. That can mean a lot of things and we'll get to that, but one thing we wouldn't want to miss out on is the sheer joy of travel. So, to honor the carefree black traveler we'll be posting new photo diaries from a wide range of African and diaspora super-travelers of their favorite places and why.
---
Born and raised in Toronto with a Jamaican bloodline, this travel enthusiast from the 6ix is poised to become a trusted figure in the travel industry. His innate desire to travel the globe was first realized at the tender age of 13. However, due to financial restrictions and catering to the fear of the unknown; this dream was never materialized until he turned 26. Since then, he's been on a quest to see every continent. Even at 51 countries and six continents visited, he still isn't satisfied. His impressive list of countries visited also includes many of the most arduous destinations to get to. We asked him a couple questions about his love for African travel.
OkayAfrica: What countries have you visited in Africa?
Brian McIntosh: Besides Kenya, I've traveled to Morocco, Egypt, Tanzania, Seychelles, Ethiopia and South Africa.
OKA: Why was visiting Africa important to you?
BM: Visiting Africa was important to me because growing up, I never saw images of African countries that encouraged me to hop on a plane to go see it. Now that I am older and have more awareness of Africa's hidden history, I want to see it all! I think it's very important to immerse myself in its rich and diverse cultures. What better way to reprogram my views of Africa than to actually go and experience it myself? As a photographer, I love capturing the most picturesque scenery to display on my Instagram. If my photos can encourage tourism that directly benefits the people of the community, then I've done my part.
For more pictures of Brian McIntosh, follow him on IG: @whereintheworldisb
Below check out some of his favorite spots around the globe:
Giraffe Manor, Kenya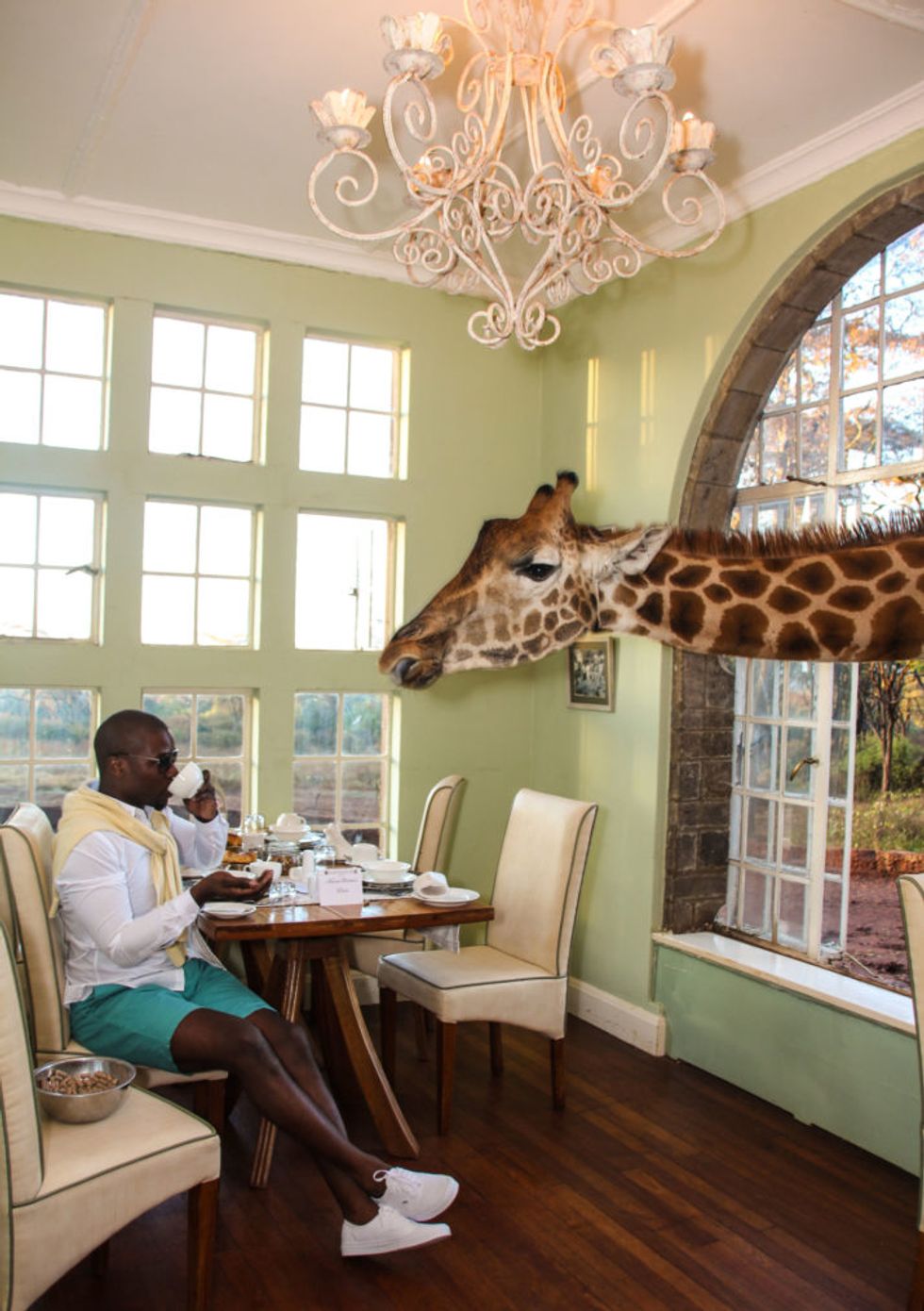 Photo courtesy of Brian McIntosh
"Throughout my travels, I've done a lot of excursions but never once have I had the opportunity to eat breakfast with giraffes as part of my hotel stay. How could I ever pass up on that opportunity?"
Santorini, Greece
Photo courtesy of Brian McIntosh
"Santorini was one of those places that I would always see in a magazine and wonder if the place was even real. It seemed too picturesque! Aside from being aesthetically pleasing to the eye, the people, food and vibe are reasons that brought me back there for a second time!"
Olhuveli, Maldives
Photo courtesy of Brian McIntosh
"The Maldives may boast the purest body of water of I've ever laid eyes on. It truly is a dream to be in one of the overwater villas with the Indian Ocean at your footstep. I've never seen that many stars before. It was an outer space experience to say the least!"
Cappadocia, Turkey
Photo courtesy of Brian McIntosh
"The pictures of the hot-air balloon flights that I always saw on Instagram were so captivating. It's a place that makes you Google it to see if those pictures are real or not. Well, seeing is believing and now I am a definite believer! It's an unreal experience to be floating 500m above naturally made fairy chimneys."
Coco Island, Seychelles
Photo courtesy of Brian McIntosh
"Massive, smooth-looking, granite boulders are really the major draw of the Seychelles; and for good reason! They look photoshopped even when taking the pictures from the worst cellphone camera. I like to call this place, Jamaica Junior. Everything about the vibe of the island reminds me of Jamaica. The reggae music and rastas definitely help out with that image."
Moorea, French Polynesia.
Photo courtesy of Brian McIntosh
It's like Bora Bora's little sister. It's just as beautiful but not as costly to stay on the island. If anyone has the opportunity to visit Tahiti and Bora Bora, then don't miss out on this place. It's the true definition of a hidden gem!