June is "No Borders" month at OkayAfrica. That can mean a lot of things and we'll get to that, but one thing we wouldn't want to miss out on is the sheer joy of travel. So, to honor the carefree black traveler we'll be posting new photo diaries from a wide range of African and diaspora super-travelers of their favorite places and why.
---
Eposi Litumbe is a Cameroonian born, American raised video producer and film maker and the creator of eplleseed.com. Litumbe tells OkayAfrica how she came to be a world traveler and what inspires her about traveling in Africa:
"I was exasperated by seeing tired narratives of 'Africa' as a monolith, so I decided to make what I wanted to see. I would work, save, and make any vacation time I had an opportunity to learn about the people, places and cultures I would visit. I had previously started my world adventures in Southern Europe—Monaco, specifically—before I changed my mind and my focus to highlight different African countries. I wanted to go to all corners of the continent to capture on film just how different each region was.
I ended up being charmed by the different people I met, captivated by the unique elegance of each place and found common cultural threads that tied vastly different ways of life together. I would make a web series and call it 'JANU (Bakweri for 'come here') with Eposi', and hopefully create a work that a much larger network or studio could emulate in the future; Balanced stories from a continent full of intrigue."
Below Litumbe shares some of her favorite places:
The Acropolis in Athens, Greece
Photo courtesy of Eposi Litumbe
"In high school, I was obsessed—OBSESSED—with Greek mythology. The opportunity to go to the temples where real life people worshiped the gods I read about was irresistible. The Temple to Zeus, The Temple to Athena, The Rock of Ares—running around each site, I felt like the kid I was when I first read the stories. I had to go full 'Geek mode' and dress the part so my pictures could be lit. I'd do it all over again."
Essaouiara, Morocco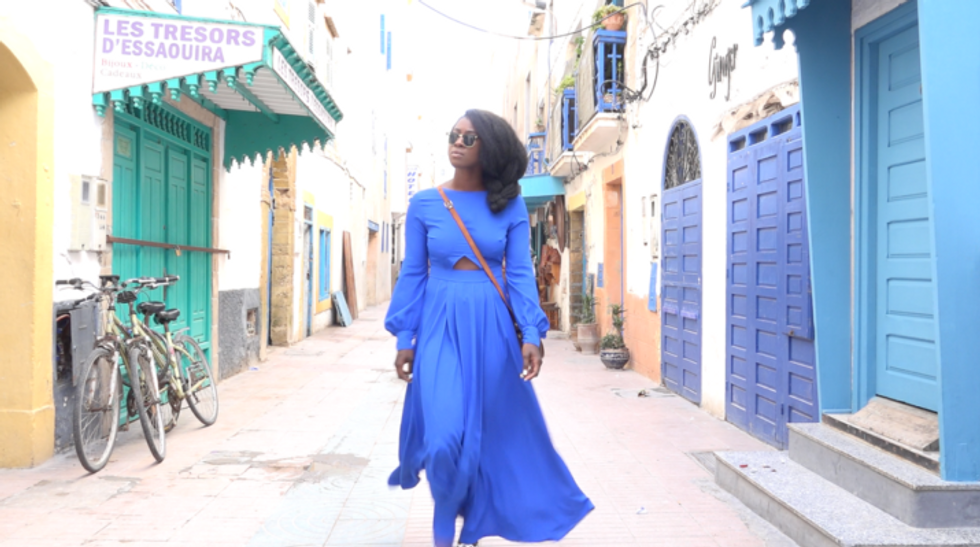 Photo courtesy of Eposi Litumbe
"I am a HUGE Game of Thrones fan. Imagine my surprise when I made the trip to the coastal city of Essaouiara and learned that several scenes were shot on the battlements of the gorgeous ocean side. I went to go learn more about North African Berbers and left feeling like Khaleesi."
Sossusvlei, Namibia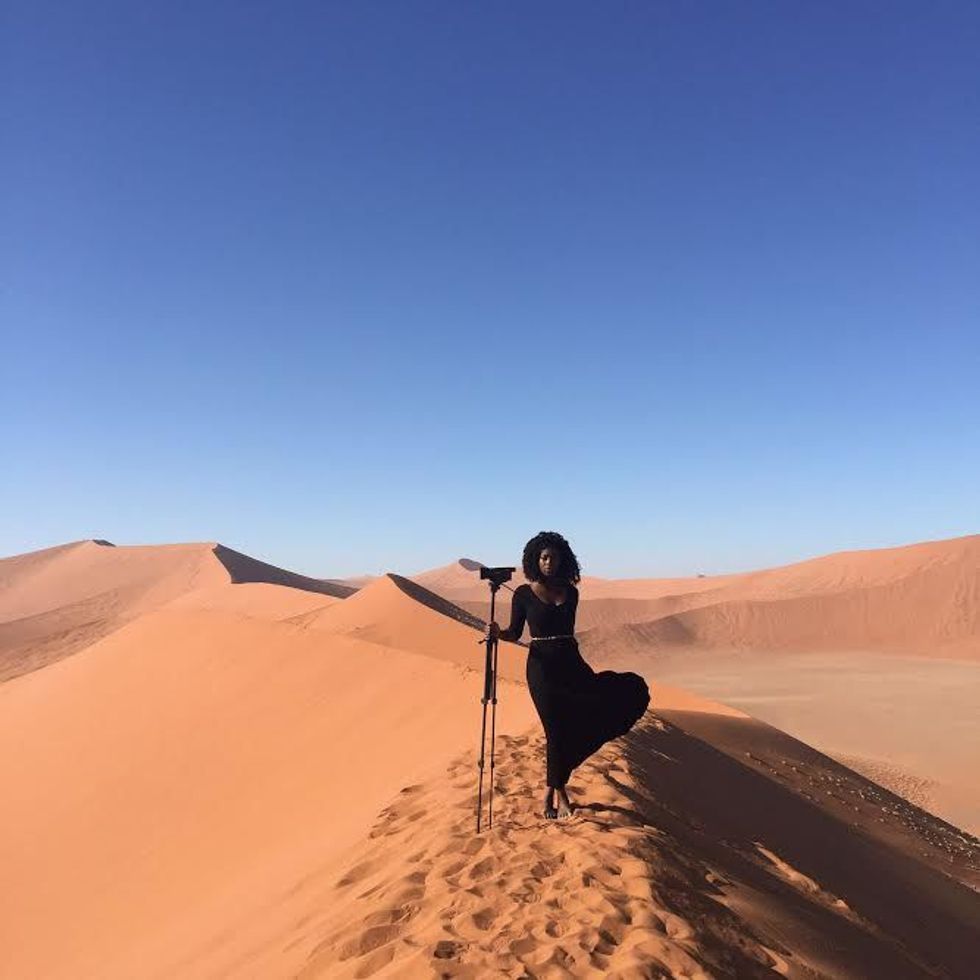 Photo courtesy of Eposi Litumbe
"This place is so beautiful it rivals Southern California and Southern Europe. Get a ticket, fly on down to Windhoek, then make sure you stop at Sossusvlei for the mind-boggling beauty of the Deadvlei. When your eyes have had their fill, make your way to Swakopmund—a coastal city that will have you thinking you are in Miami/Southern France/California. I'm not kidding."
Zanzibar, Tanzania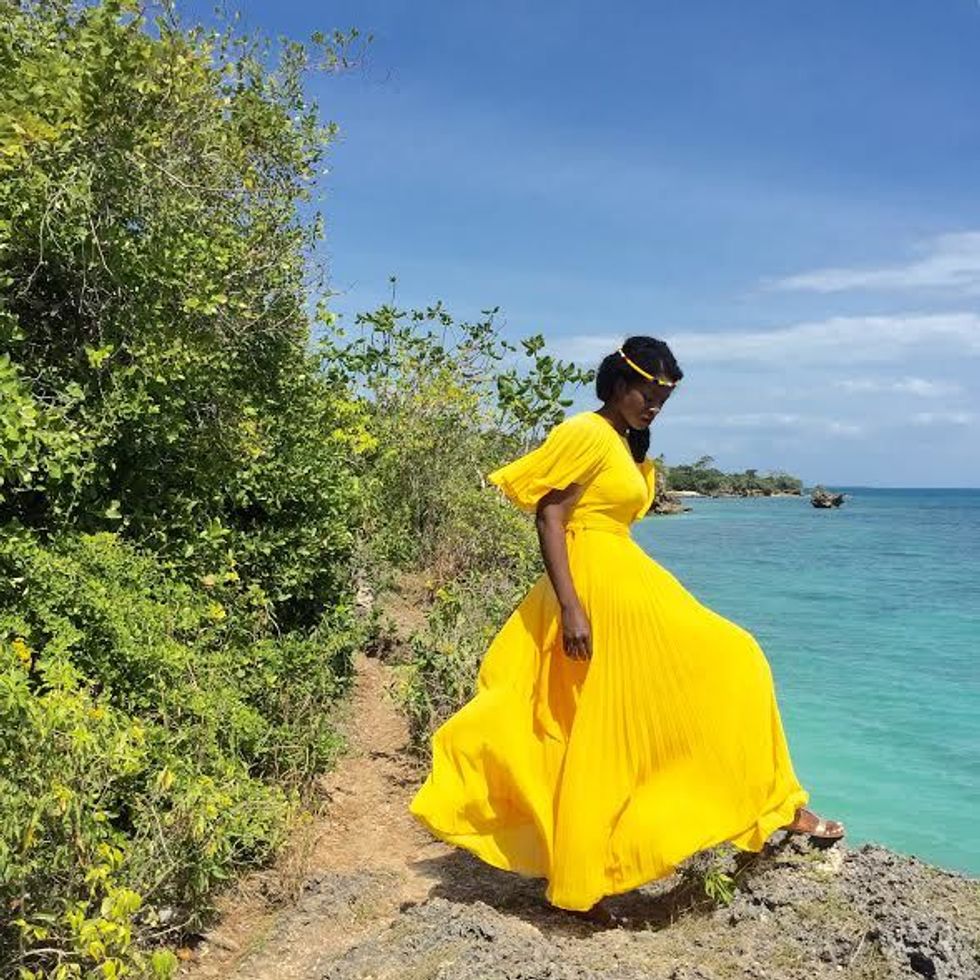 Photo courtesy of Eposi Litumbe
"Long before Papa Pope on Scandal was expressing his longing to run away to Zanzibar, some of the rest of us were falling in love with the crystal blue water, amazing food and hospitable people of this dreamland. To be fair, all countries on the Indian Ocean have a lot to brag about, but this group of islands off the shore of mainland Tanzania will have you wanting to risk it all and disappear from life. I'd want to leave B-613 too after spending some time in Zanzibar. Just saying."
Lobe River, Cameroon
Photo courtesy of Eposi Litumbe
"This stunning area of Cameroon is home to the indigenous Baka hunter gatherers. This tribe of people have resisted Westernization, but are slowly caving to the inevitable. These expert hunters value family, freedom and the luxury of seeing the stars through a canopy of forest trees at night and are a national treasure. An hour canoe ride down the Lobe River will get you to their outer camp where in exchange for food and other goods, they give you a sneak peek into their way of life."
You can follow Litumbe on YouTube, Instagram, Vimeo, Facebook, & Twitter. Check out her web series or catch the Short Film 'THE CLAP BACK', coming in August 2017.