This September, the 2016 Toronto International Film Festival will screen Tuko Macho as part of the Primetime program celebrating the best in international television.
---
It's a strong endorsement for this Kenyan crime drama that explores the concept of justice and other social issues in the form of a riveting, highly-produced web series fit for a prestigious film festival.
Produced by Kenyan collective: The Nest, Tuko Macho follows a vigilante group around Nairobi as they kidnap criminals, and ask the city's residents to vote on whether the accused should live or die.
The show's fans regularly take to Facebook to comment on the characters and the moral issues covered in each episode, detailing whether they think the accused should be eliminated or not. Producer Njeri Gitungo, former "Just A Band" member Jim Chuchu, and the production team collectively responded to the following questions about the production.
Watch full episodes of the Kenyan web series Tuko Macho right here.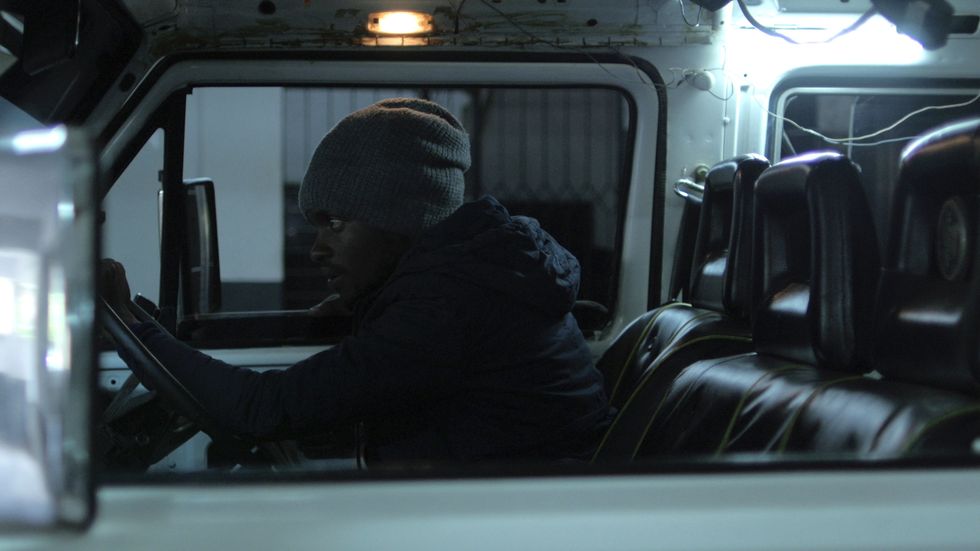 A still from the Kenyan web series Tuko Macho
How did the concept for Tuko Macho come about?
Every day we hear about different instances of violence happening in this city. This ranges from violent crime because of lack of security and poor law enforcement, to the systemic violence of poverty that leads to reduced quality of life and robs people of opportunities to earn decent livings. Years of tragic stories like these have made us numb and desensitized enough to see something bad happen to somebody else and do nothing about it.
We were interested in a story of somebody pushing back against inadequate and corrupt governmental structures and individual apathies, as a mirror for the extra-judicial (if morally ambiguous) ways that people have found to try and solve their societal problems.
What is the significance of the title: Tuko Macho?
It can be perceived in a number of ways. From the point of view of the Vigilante Crew – as a warning to the criminals of the city. It could also be seen as reassurance to the citizens that somebody is looking out for them and seeing the evil lurking in the shadows that makes them afraid.
[oka-gallery]
What is it that drew you to the series and how is it different from any other arts and culture project you've done so far? (Mr. Chuchu)
I have always gravitated towards outlier narratives, and the Tuko Macho universe is populated by misfits of all kinds – characters who have dealt with their dislocation from their surroundings in different ways; some with resignation, others with defiance. I am also really enjoying playing with Nairobi's class and language tropes, and the ways in which Nairobians wear their multiple identities in their speech, their dark humor and expressions.
Other art and culture projects I have done to date have been self-contained one-shot projects; a film, a video – consumable in one sitting. Tuko Macho has been interesting because it plays out over the course of three months, meaning I have had to learn how to craft narrative arcs of delay and satisfaction, and rewarding audiences willing to engage deeper with the material – in order to keep an audience engaged over the entire run period. That has been really exciting, and I'm looking forward to exploring these split narratives in my future work.
A still from the Kenyan web series Tuko Macho
There's a lot of Swahili dialogue, why do you think it's important to use a local language in a series with global appeal?
Actually, it's not really proper Swahili. It's a dynamic evolving language called Sheng that is a mixture of Swahili and many local languages that you find in Kenya, and the combinations vary in different neighborhoods. Using the languages of the place where a film is set gives people a more intimate knowledge of its context.
One of the things we're realizing is that nobody ever accuses even fictional languages in Hollywood productions – Dothraki or Valyrian in Game of Thrones come to mind – of being alienating for audiences. The other thing we noted is the massive errors when African languages are used in more globally distributed stories – Swahili in particular has been butchered with abandon. We feel that by using Swahili and Sheng, we allow audiences to interact with the way Kenyans actually speak to each other and get to know our country a little better.
Finally, film communicates in many ways – cinematic language is wider than just spoken dialogue. Visuals, sound effects and score can be just as powerful as words when expounding plots or themes, and relating with characters.
A still from the Kenyan web series Tuko Macho
Why was it important that Tuko Macho air online as opposed to a local TV station?
TV is a very owned space that often has more corporate agendas than prioritizing content - especially content that tends to be critical. We chose the online space in order to engage directly with our audiences, who have 24-hour access to our content as opposed to waiting for one weekly time slot. Also, considering recent studies showing that more Kenyan youth are moving away from legacy media outlets in favour of curating personalised, online viewing experiences, we felt that releasing Tuko Macho on Facebook would be best.
What was the process for selecting the cast and crew?
Cast and crew had a different process. For crew we called up cool people that we had worked with or had always wanted to work with. For cast, it was a mixture. We called in some directly, found other actors through open call auditions and others through casting agents. We'd worked with some actors before in earlier projects, like Kelly Gichohi (Stories of Our Lives) and Ian Thiong'o. While in the writing process we had always envisioned Timothy King'oo (Gaddafi) as Biko, and we were so glad that he liked the concept and the character. We were privileged to work with some well-known Kenyan actors such as Lowry Odhiambo (Veve), Paul Ogola (Sense 8) and [thespian] Millicent Ogutu. Providence gave us Njambi Koikai (who plays Mwarabu) because nobody had been quite right for that part until we met her. Ibrahim Muchemi plays Salat - it was his first role for screen. We'd initially cast him as an extra but his performance blew us away and that was it.
A still from the Kenyan web series Tuko Macho
What are you most proud of achieving in the making of this series?
This is the most logistically challenging production that we have done to date, so all of us had to do a lot of learning and growing. Also, we had purposely produced this series to be very interactive so we are happy about the developing relationships we are building with our audiences. Kenyans want to discuss the story, ask questions and talk about the characters – and reflect about issues like socioeconomic inequalities or capital punishment, and we're excited to get to open out our thoughts and process to them.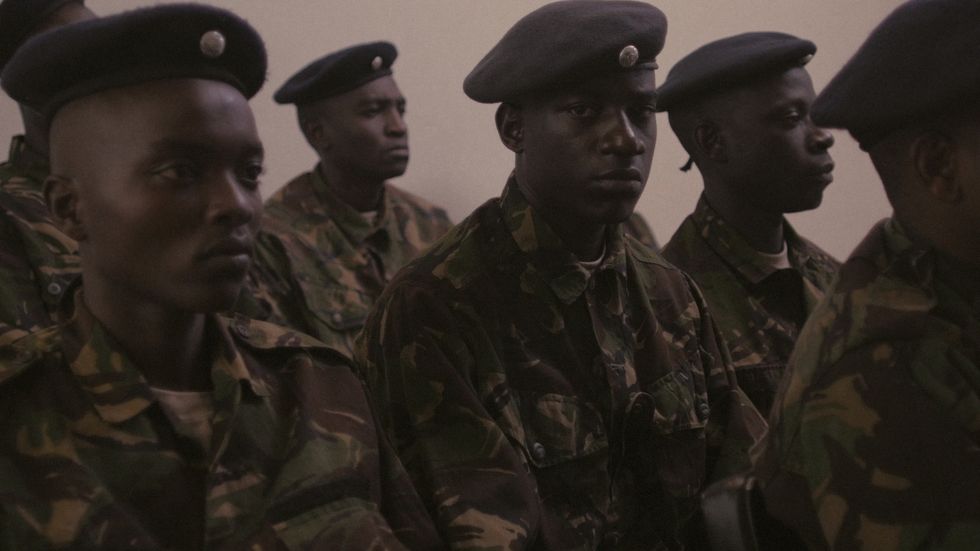 A still from the Kenyan web series Tuko Macho
What were some of the challenges you faced while shooting the series?
One of the main cast members got seriously ill, so we had to extend our shooting schedules and production calendar – but got better, thankfully, and we were able to continue. Also, one location was particularly dusty, so everyone was reacting to it in one way or another. The rains were quite unpredictable this year, which meant more extensions. Our producer and accountant were always shaking their heads at the budget!
Anything else you'd like to add that I have not asked?
As we were forming the story, we knew earlier on (maybe because we are constantly around one another and can pick up on the unsaid) that the series would be very dark – parallel to the story itself, with its themes of isolation, solitary experience of heavy emotions, and the grim things that happen at night or in hidden spaces. It was one of the things that we unanimously agreed upon – that this was how we wanted the story to come across visually.
Something else we've been asked about quite a bit is why we decided to shoot most scenes using a single camera angle. We liked the idea of doing something different and experimenting - doing a series and having such a long shooting process was a first for us, so there was room to do many things in new and uncharted ways. We chose to take an objective point of view to mimic the helpless state that people are in when faced with ungovernable powers or when criminals seem to be above the law. We were also referencing the established culture of submissiveness and silence which keeps said powers untouchable, where there is only so much one can do. Also, we felt that our character's stories would be so familiar that even by stepping back our audience would not feel alienated from their emotional journeys.
Josephine Opar is a Kenyan-born arts & culture writer, womanist and magazine hoarder. You can keep up with her on Twitter at @viewfinderSS.