News
From Lagos: I'm Black But My History Did Not Begin At Slavery
The first in a series of essays by chef Tunde Wey exploring Blackness in America.
This is the first in a series of autobiographical essays from chef Tunde Wey who, as we recently announced, will be taking his From Lagos dinners on a U.S. tour in order to explore ideas and issues around Blackness in America.
Moses Wey was short and stout, and at the beginning of what would eventually become his signature full-bearded look. He was in his final year of university and for his thesis project he was traveling the hundred odd miles, from Lagos to Ogbomosho.
---
Lagos was Nigeria's cosmopolitan capital, where youth was manufactured — Moses was newly minted. Here funk bands blended harmonized folk melodies with James Brown's primal screeches, producing a dish of heat, sweat and sex, drowned in perspiring beer. Moses was prince of the Lagos party. Leaving Lagos for backwater Ogbomosho though wasn't exactly how he had wanted to spend this weekend, but his graduation rested on the completion of this project.
The bus that took him from Lagos to Ogbomosho provided hard, albeit smooth, wooden surfaces as seats. It was surprisingly light of passengers, causing a faint gratefulness to form in him. He stretched into a spacious and rattled sleep. His snoring competed with the new guttural Yoruba dialect he could scarcely make out. In his dreams he saw Lagos' young bodies, dancing and drinking.
Ogbomosho, was an ancient Yoruba city. All business therein followed nature's circadian clock: up at dawn with the ancient sun, and in bed at dusk, falling asleep to crickets and mosquito claps. The city's brown dirt roads carved resolute paths through the tarping greenery. Gold shimmers happened everywhere here, the sun was always busy. It was a city with a soundtrack of playing children, and the rhythmic murmur of their parents hushing them.
The bus deposited Moses at his destination. He surveyed the dusty surroundings unimpressed and yet reassured. He was home — at his family's ancestral compound. On him was a small duffel with a few items of clothing; a small plastic water bottle — its previous contents displaced by a brackish herbal swirl, chunks of bark bobbing in it, "this agbo na for all kind sickness," the purveyor told him when he bought it at the motor park. Also in the bag was an awkward tape recorder. It was 1976, and in 1976 technology was reliably cumbersome and unwieldy.
***********************
It was late evening on Lundi Gras 2016 — the day before Fat Tuesday and two behind Ash Wednesday — or just another ordinary Monday in any other city. But this was New Orleans, and Lundi Gras, Fat Monday, is the equally orgiastic precursor to the Mardi Gras bacchanal.
The promise of the night was plastered on a party invite rudely folded into the car's middle console. On it was a smiling black face, obscured by a festively donned green feathered mask. Loud orange and purple letters announced "AFRICANIZED Mardi Gras Party!"
I was in the passenger side, Wole was driving — we were two Naija boys in New Orleans primed for a good dance party.
I had only a small flask brimming with brown bromide, wedged tightly between my legs as Wole drove. Olamide's Shakiti Bobo was playing loudly and my head bobbed with a metronomic swagger. We both mimed a slowed down version of a sprinter's run, as we mimicked the viral dance the song had sparked.
The driver ahead us, probably uneasy from our festive driving, slowed a bit to allow us pass.
Wole — who had came into his own as a driver in Lagos, on whose roads weak-wheeled drivers are devoured in a torrent of verbal abuse — angrily passed the driver. But not before stretching his arm past my face, in the direction of the vehicle, and fanning his hands to spread his fingers — our version of flipping the bird.
"Oloshi!" he screamed, losing all his previous humor, but recovering it immediately we were past the poor fellow. And on we went, our dancing vehicle darting daringly down a dark road — towards a brightly lit dance-floor.
Somewhere between whiskey, laughing, singing, and dancing, we began teasing each other — the way men do in an attempt to approximate affection.
"E be like say you no sabi my family sha ? Na we own Ogbomosho!" I bellowed in mock anger, over the loud Yoruba rap music.
"Na Lie! Own my ass? Una no even get hut for there!" Wole retorted sharply, each sentence punctuated with laughter.
"You know what? I'm going to call my dad right now, so he can tell you about us" was my defiant counter.
Wole, smiling yet serious, shot me a brief sober look. "Guy, you know say na three a.m for Naija? Ok I gree, na una own Ogbomosho… Abeg no wake your papa."
I was tipsy and it was too late. I gave a mischievous smirk and punched in the +234 country code.
"Hello Daddy… Sorry to wake you up, I know it's late over there but I have a question for you…"
"What's the name of our ancestor, the dude who founded the city of Ogbomosho…"
I listened intently for the answer.
"Agbeyangi! I screamed triumphantly at Wole.
Yes! Thank you Daddy!
I'm out with my friend and I was telling him our family history and he didn't believe… hold on a second, I'll give him the phone so you can tell him who we are"
Wole reluctantly took the phone
"Ma bi nu sir… I'm really sorry for waking you up, I told Tunde not to call you…"
***********************
In 1976, my father, Moses Wey, arranged himself on the floor opposite a group of elderly folk in Ogbomosho. He popped a blank cassette into the portable recorder wedged between his legs. He shut the tape deck. Lifting the wired microphone towards his excited hosts, he hit record.
From the thin lips of these elders, stories passed in a steady rhythm into the microphone. Ancient history was now trapped on a brown, magnetic noodle, looping around in the machine.
One of the stories told to my father forty years ago, is an apocryphal tale of a young courtier in 17th century feudal Yoruba land, named Agbeyangi (he who protects the stone).
A prince and his steward, Agbeyangi, fleeing a war, soon found themselves in a clearing after a harrowing journey. The prince was tired, unable to carry on but afraid to stop.
Agbeyangi, encouraged the prince to rest his head on a nearby rock and sleep. He promised to watch over him.
When the prince awoke he found Agbeyangi standing sentry still. Refreshed, he stood and said, "On this rock I will build my kingdom." That kingdom became Ogbomosho and that steward was my antecedent.
My father is 64 now, and I am 32. He lost those tapes a long time.
But he told me the stories.
And I had forgotten them until I drunk dialed my dad in the middle of the night and he told me them again.
And this is my privilege: that I have a history, dubious probably, but most of history is.
My story, can be conjured up on any whiskey addled night, from a groggy voice, thousands of miles away, across a sea away.
ABOUT THE SERIES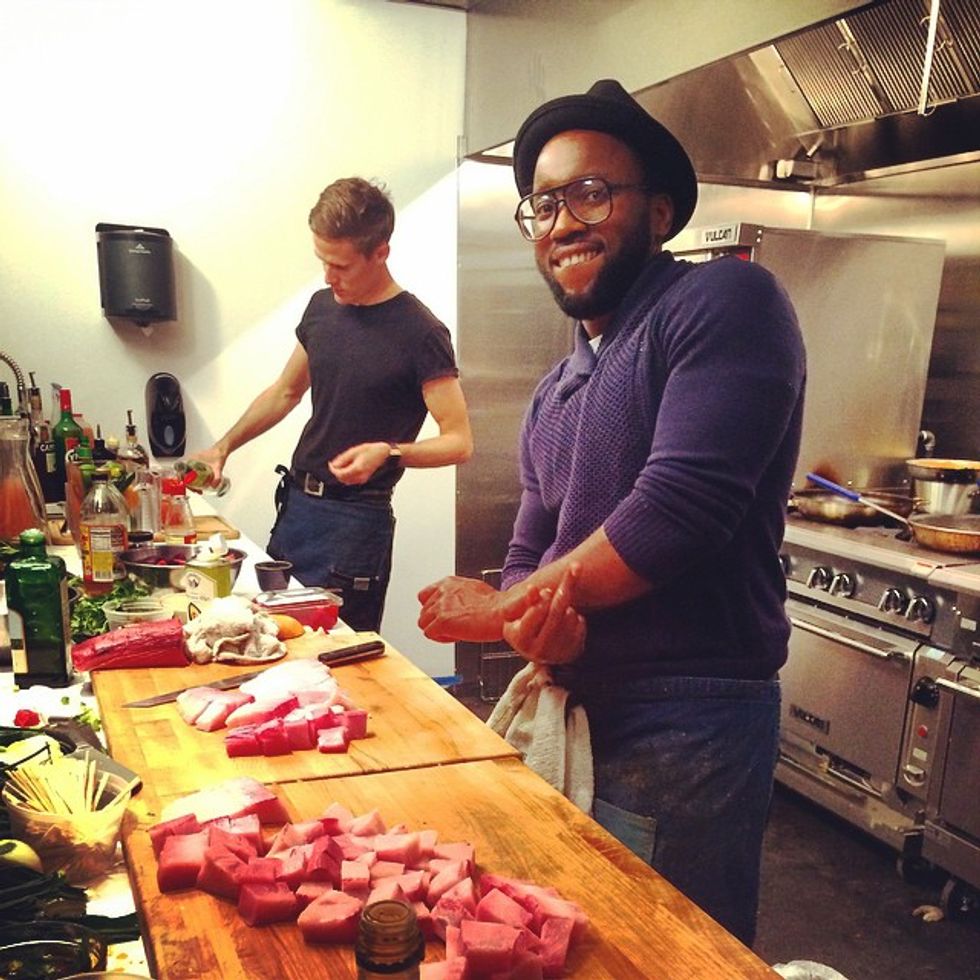 My name is Akintunde Asuquo Osaigbuovo Ojo Wey. I was born in Nigeria to Moses Akinlaja Wey and Oghogho Beatrice Wey (nee Okundaye). I am the third born, wedged between Thelma, Tope and Seyi. At 16 I moved to Detroit, Michigan. I'm a cook + writer, launching a new dinner series exploring BLACKNESS IN AMERICA. Each dinner will gather an intimate group of diners to converse around this theme. We explore this theme by sharing personal stories, and discussing how our lives and work intersects with blackness.
I am accompanying these dinners with autobiographical essays and stories which reflect my own black experience. This is the first installment.