Georgina Fihosy, a UK-born Nigerian and full-time clinical pharmacist, has her hands full as a wife, mother of two children, and new owner of an ethnically diverse greeting card company, Special Touch Designs.
---
Since launching her venture in May of 2015, every day is a balancing act. Fihosy wakes up at 5 a.m. to check emails, package card orders, get her children ready for nursery and is off to work by 7:30 a.m. During her lunch breaks she does interviews, like this one, or mails her card orders. After 6:30 p.m. when she puts her kids to sleep, Fihosy is back to working on new card designs.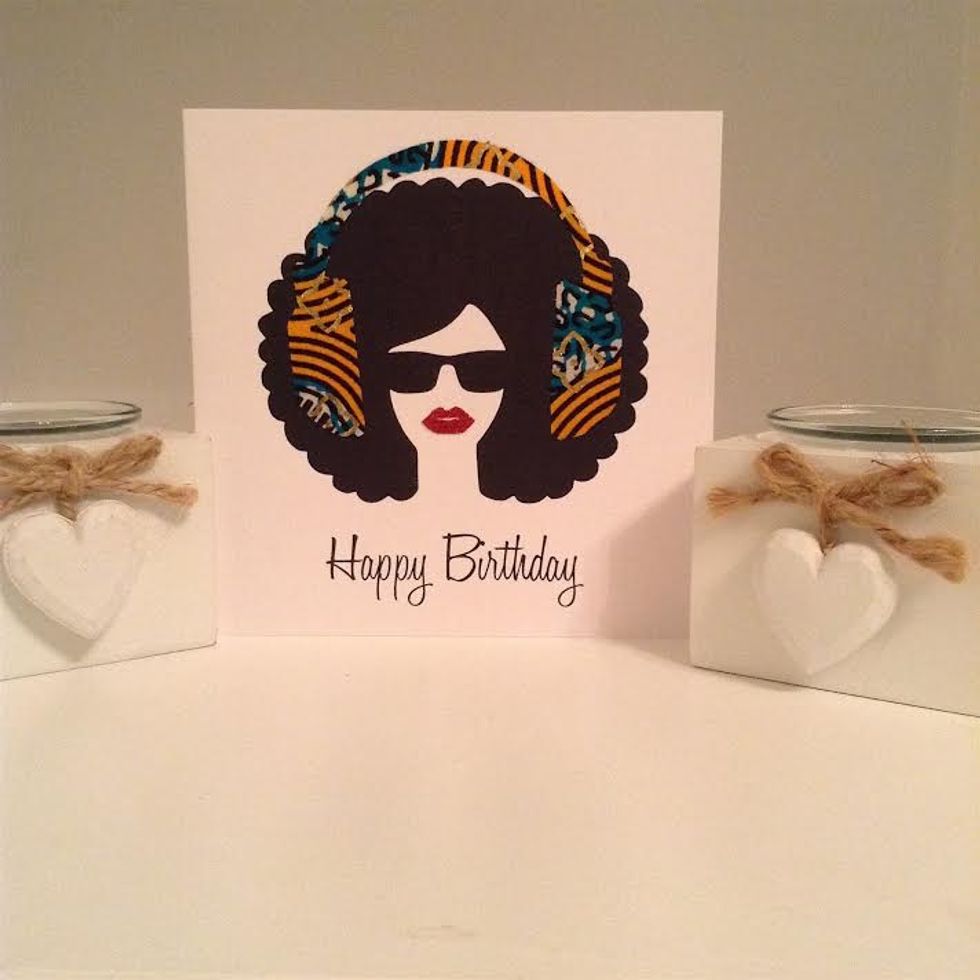 Courtesy of Georgina Fihosy of Special Touch Designs
While the Special Touch Designs founder admits juggling many roles can be challenging, her passion for diversity and "creative side" fuels her.
Fihosy first got an inkling that greeting cards might be her entrepreneurial niche when she designed the stationery for her wedding and did the same for her sister.
But she says the idea really cemented while shopping for her Nigerian friend, who recently had a baby. Fihosy says the ethnically bland card selection offered at London's high-end retailers was uninspiring. "I couldn't find anything she would like, or if I was in her position, a card that I would've liked to receive."
On maternity leave and realizing there weren't any cards offered on the market that represented her Nigerian heritage, Fihosy decided to design the card herself. "And that was basically how the business started," she says.
Okayafrica skyped with Georgina Fihosy in London to learn more about the inspiration behind her African-inspired greeting card brand, Special Touch Designs. This interview has been edited and condensed.
What are some of the challenges you face balancing the various aspects of your life while building your card business?
It's making sure that I balance my time so that everybody, my family and my profession gets 100 percent, which can be a bit difficult at times. I always say there are 24 hours in a day, so I can make use of every single one of them. At the same time, I also have to look after myself and make sure that I get enough rest. I think that's the most challenging.
How did you go about building Special Touch Designs?
I did a lot of online research into the industry. I really wanted to know if it was going to be viable. I went into a lot of card shops. I spoke to family and friends about my designs. Then I just started putting things together at home. I initially started the business through an online marketplace. Once that kind of kicked off, I decided I'd like to have my own website so that customers could buy the cards directly from the website. Also, there was a blog on the website so that I could interact with my customers as well. So it's just been progressing from there, really.
What was it like being a British-born Nigerian and how has that experience influenced your card-making?
My mum was born in Nigeria and came to England in 1976. We were always exposed to African culture, Nigerian culture. I know here in London, we're quite an ethnically diverse population. I find that going into retail shops, there was just nothing that represented the ethnicity and the diversity of Britain. I thought it was such as shame because I find that people actually want to buy cultural-type cards.
Was there a reason for using wax print on your cards?
African wax print fabric, for me, represents a time when people and families come together to celebrate certain things. For example, if someone is getting married in our culture, one side of the family will pick a fabric and everybody will wear that fabric and it will represent a coming-together of families. I wanted to bring that into my cards.
What advice do you have for young creatives and entrepreneurs in the African diaspora?
Be resilient and be passionate, especially when you're trying to build a brand around your culture, you will get a lot of negativity about what you're trying to do because sometimes it can be seen as you segregating yourself as opposed to being inclusive. It's important to maintain the passion and remember the reasons why you wanted to start in the first place. Try to make sure you do the research and make sure you have a viable product, then push that product until the cows come home.