Since its inception in 2014, Unlabelled Magazine has been behind some of the most striking fashion editorials to hit Johannesburg, like this one of the queer performance art duo FAKA, or this colourful one of twins Tumi and Itumeleng Nko in Joburg CBD. There was also once a phenomenal photo essay on Jozi's shoe game.
---
For their latest issue, the South African youth culture publication sets their sights beyond Gauteng. "The fourth issue was about growth, diversifying, moving out of our comfort zone and exploring new territories," says Phendu Kuta, founder, editor and creative director of Unlabelled. "We have documented the Joburg CBD and Braamfontein and we feel that continuing to overly document that scene is regurgitation," Kuta writes in an email to Okayafrica of the magazine's move to more corners of South Africa.
The stunning new issue includes features on musician Nakhane Touré and the fashion world's Bee Diamondhead as well as a story on the Amapantsula and Izikhothane subcultures and an editorial themed around the "narrowing gaze of a black and white South Africa."
In the future, Kuta and her team have their sights set even further. If all goes according to plan, they'll soon make their first leap to the publishing industry. They're currently looking for a publisher for a coffee book table version of Unlabelled, which will feature new photography alongside favourites from the first three issues.
"The book will consist of academic and non-academic articles that will give greater insight and perspectives on African youth culture and lifestyle written by knowledgeable fashion, culture and subculture experts such as Senior Trend Analyst Nicola Cooper among others," explains Kuta, who adds that it will also include architectural photography of inner-city Joburg and photography of individuals who are shaping the South African creative scene.
"We feel that the Unlabelled books will form a significant part of history since young Africans have not been documented or written about enough in books," she says.
Stay tuned for updates and news on the Unlabelled book. In the meantime, Kuta takes Okayafrica inside the magazine's magnificent fourth issue below.
On Nakhane Touré
"Nakhane Toure was the obvious choice for the cover since he represents the modern renaissance man. The styling for this shoot was gender neutral with traditional jewellery from Piece - these jewellery pieces are from the Nguni tribes - Zulu and Xhosa and one is a Kenyan neckpiece. Styling Nakhane with traditional jewellery was a good fit since he is from a family that is part of chiefdom in the Eastern Cape." – Read more
Nakhane Touré photographed by Tarryn Hatchett for Unlabelled Magazine. Creative direction by Phendu Kuta. Styling by Jami Ella Gavin. Photography assistant: Olivia Mortimer. MUA: Jenna Ungar.
On Bee Diamondhead
"We featured Bee Diamondhead, the very outspoken and bold career woman who doesn't not necessarily represent the typical fashion beauty ideal but she is incredibly confident and sure of herself and that's what I think beauty is about." – Read more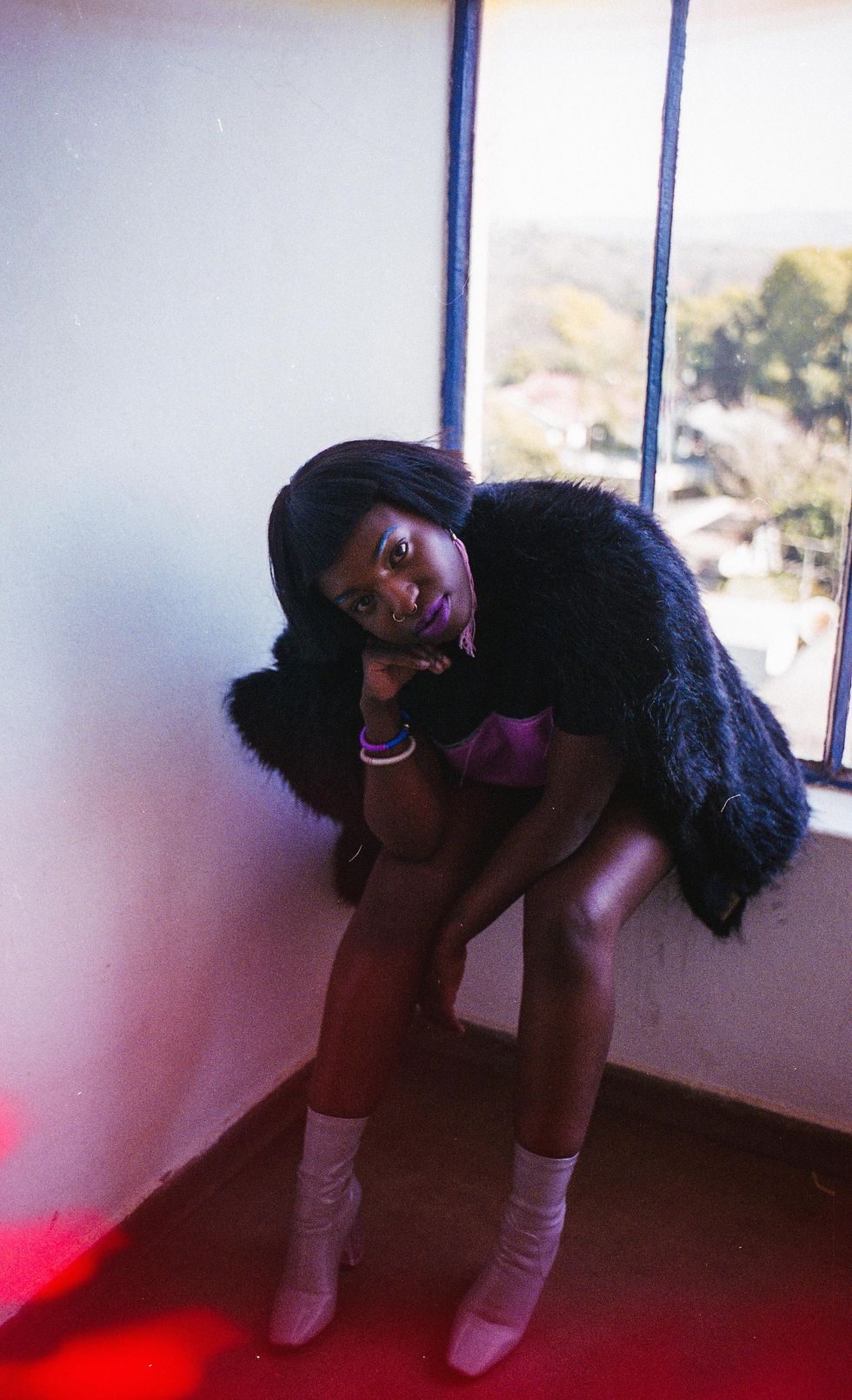 Bee Diamondhead photographed by Andile Buka for Unlabelled Magazine. Styling: Bonolo Moeng. MUA: Danit Gordon.
On Neoteric
"We featured mixed race models whereas we typically focus on melanin models and this was just to touch on the topic that South Africa is often narrowly portrayed as a black and white society especially in issues concerning race, culture and class." – Read more
Lenina Parks and Joshua Gabriel Boulton photographed by Kent Andreasen for Unlabelled Magazine. Creative direction by Gavin Collins. Hair and makeup: Diana Asherson.
On Post-Apartheid Youth Subcultures
"In the Post Apartheid Youth Subcultures shoot we wanted to break down the stigmas and misconceptions surrounding the Izikhothane subculture by understanding the influences and story behind the subculture; this was done by speaking directly to a member of the subculture. We also featured Amapantsula to shine a light on one of the oldest and most prominent subcultures in South Africa." – Read more
Photo by Obakeng Molepe for Unlabelled Magazine. Creative direction by Phendu Kuta. Photography assistant: Sesona Mahlahla
Keep up with Unlabelled Magazine on Facebook and Twitter. Check out issues 1-3 here.