Vlisco presents their new colllection, New Traditions—a celebration of thriving women—in a stunning editorial video with OkayAfrica.
With the beautiful backdrop of the landscapes and stunning structures of Benin, you'll note scenes of striking Beninese women wearing the same Dutch Wax fabric that have been made into one-of-a-kind pieces by Beninese designers. This is a tradition known as aso ebi, where groups of women, families and even communities don the same fabrics or color scheme to denote unity.
"African print is important to me because it reflects my heritage," Alexandra Ahouanmenou, who participated in the campaign, says. "My favorite moment was when all the women walked alongside us in the streets of Porto Novo. It felt like we were the stylish amazons of Benin—beautiful, strong, proud African women."
In this campaign, Vlisco shows women making the statement of ubuntu—I am because we are—through new and classic prints to honor both the unity of each individual and the group.
Watch the editorial video below.
---
"The film consists of powerful striking images and is a visual dance of lines and structures," Vlisco notes in a statement. "The fabrics move through the different characteristic landscapes that make them come to life, strengthened by the women who wear them."

Following up with Vlisco on the concept of the editorial, they say Benin was a key location to execute this vision because it's known as a "wax country."
"You [will] see many, many, Vlisco designs on the streets, at the offices, in the churches and at special events. The atmosphere over there is so special, the people are friendly and warm," Vlisco shares with us. "We thought it is interesting to show the beauty of a country that is like a hidden secret for many."
Get to know all those involved, from Benin especially, in the credits below.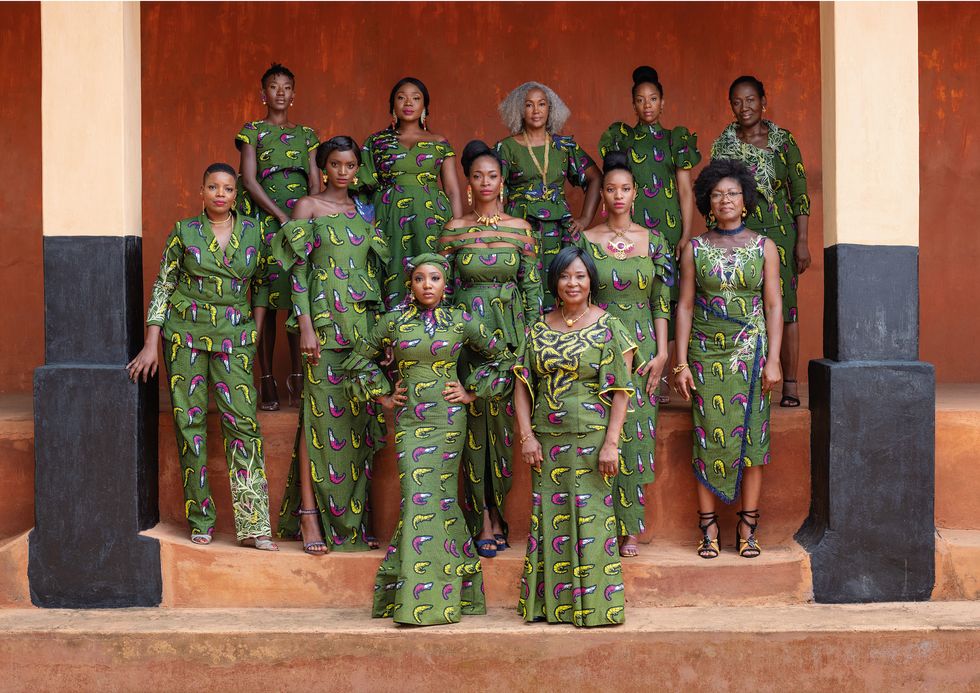 Beninese women in aso ebi, from the 'New Traditions' campaign video.Photo by Nicholas Burrough, courtesy of Vlisco.
Credits
Video
DOP/Director: Gregg Telussa
Assistants: Nicholas Burrough, Marinka Schippers, Michael Ugwu
Photography
Campaign Images: Nicholas Burrough
Lookbook Images: Nicholas Burrough
Assistant Photographers: Marinka Schippers + Michael Ugwu
Models
Faith Johnson (Fowler Models)
Ojima Atawodi (Zahara Model Management)
Ines Dieng
Beninese Women
Agniola Zinsou
Aïda Ahouanmenou
Alexandra Ahouanmenou
Anne-Yolaine Alao
Corinne Agbantou
Delphine Gobbo
Dior Osseni
Farida Saidou
Folashade Olory Togbe Euzen
Gene Crestia
Hermine Da Silva
Idiath Adeoti
Inès Dieng Gobbo
Josiane Chahounka
Nathalie Carrenard Degbe
Nchimunya Kabunda Brown
Nicole Olory Togbe
Rita Amoussou Mamah
Sarah Yaluissi Kpenou
Beninese Dancers
Lucrèce Atchade (Choreography)
Murielle De Souza
Fashion Designers
Pelebe - Zak Kone
Styletemple - Ogugua Okonkwo
Pepita D
Grace Wallace
Esperancia Mode
Fathma
Casterman
Ideal Mode Couture
Elisha Couture
Rafiou A.
Beninese Hairstylist
True as Nature
Beninese Makeup Artists
Marvige Deguenon (Oussy Make Up)
Nadjida Adamon (All in One)
Marie Jesus Aihonnou (Talent Prestige)
Aémanath Roufaï (Fola Beauty)
Chimene Sossah (Lorenor)
Styling + Accessories
Chyba Jewelry - Jana Miklosova
Guide + Location Scout
Euloge Tochoedo
Post Production
Image Retouching: Edge Company
Edit + Grading Video: Maurice Leentvaar
Music Composer: Rutger Reinders
Sound Design: Any Colour You Like
Production
Hotel Rebel (Netherlands)
Primedia (Benin)
Vlisco