At the second annual Africa's Out! benefit, held on Friday at Pioneer Works in Brooklyn, art and music notablesfrom the diaspora showed up and rocked out to support UHAI EASHRI, an organization in East Africa which promotes sexual health and LGBTQI rights.
---
Let the name-dropping begin.
The featured guest roster was an all-star lineup of diaspora talent: Jidenna and Derrick Adams, Santigold and Mickalene Thomas, Jojo Abot and Renee Cox, DJ April Hunt and Hank Willis Thomas—to only list a few. The evening honored Zanele Muholi, a photographer and visual activist who explores black queer identities in contemporary South Africa.
The event kicked off with guests sipping cocktails and nibbling hors d'oeuvres to background electronic beats from Moon Medicin—self-described as "a multimedia concept band that performs against a backdrop of curated sound effects and images of sci-fi, punk, sacred geometry, coded symbology, film noir, minstrels, world politics, and ceremonial dance"—that was formed by visual artist Sanford Biggers.
Cocktails led to dinner that opened with a presentation to Muholi. I spoke with the artist before she accepted her award, an honor she dedicated to the people she's featured in her work. Muholi says of the recognition, "I'm excited. Whoever thought it was difficult to produce the kind of material that I have produced over more than ten years would have at least a reference point to start from to encourage other people who want to document their communities."
Zanele Muholi. Photo courtesy of Richard G. Burrowes.
Back in South Africa, Muholi currently teaches youth photography skills so that a new generation may continue beyond her to use the camera lens as a tool of activism. "[I] cannot be the only one. [Others] deal with different issues and challenges and the more we document the better. It means our voices will be heard in different ways and in different spaces," she explains.
Santigold's performance at the conclusion of dinner was a turning point. The dining space, set up with two rows of formal dinner tables, quickly turned to a boisterous concert venue as guests fled their seats to rush the stage at the other end of the room for a closer look at the L.E.S. Artistes singer. And in response, Santigold invited several people on stage to join her.
For any planned event, venue is an important consideration. The expansive Pioneer Works space allowed for dedicated areas of activity: the dining room, a photo studio where guests could be photographed by the Renee Cox, an exhibition space with artworks by Lina Viktor, Ayana V Jackson, and Omar Victor Diop (again to only list a few) that were auctioned during the event.
In another area a barbershop pop-up where attendees could get temporary tattoos of the Africa's Out! logo—a butterfly. The "barbershop" was complete with vintage chairs and painted signs advertising hairstyles, like those common in Pointe-Noire, DRC.
Detail was a clear priority for the organizers that even extended to the dress code: 'Bougie Jungle.' Based on observation, this lay somewhere in the intersection of chic and funky. The elegant hostess Mutu sported Duro Olowu's Spring/Summer 2016 collection but electrified the look with white cornrows. Ghanaian Afro-Hypno-Sonic songstress Jojo Abot fit in with a neon yellow dress and matching wig that called to mind Lil Kim's monochromatic looks in Junior M.A.F.I.A.'s "Crush on You" video, but with the soulful essence of Erykah Badu.
Muholi punctuated her all black look with beaded accessories from the Ndebele people of Zimbabwe. The charismatic MC Mr. Gandy kept the atmosphere joyous and the schedule prompt while himself managing at least three wardrobe changes.
Ever-dapper Jidenna, who has previously showed his appreciation for ankara, dressed the part in an ankara ensemble. Africa's Out! was my first time experiencing Jidenna perform live, and the man's got moves. When he recited the lyrics, "Now watch pretty mama while I slang my cane," from the song "Long Live the Chief", he skillfully gyrated accordingly. Having a near-front-row-view of the performer, I blushed. He also paused to spotlight Muhammad Ali's passing, dedicating the song, "Extraordinaire," to the GOAT.
Mutu previously told Okayafrica she was inspired to create Africa's Out! by her friend Wanja Muguongo's work with UHAI EASHRI and also by another close friend, writer and activist Binyavanga Wainainahe, who in 2014 revealed in a public letter that he was gay (Only one week prior to Binyavanga's letter, former Nigerian President Goodluck Jonathan passed an anti-gay law, which made same-sex relationships illegal, punishable with up to 14 years in prison. Soon after Uganda followed suit with a similar law).
"I want people to understand where gay rights are in East Africa and do something that actually makes an impact," Mutu said. "So that's what Africa's Out! is, it's this big, big powerful love fest of politically minded cultural makers coming together to do good stuff, important stuff quickly."
Indeed.
The Africa's Out! benefit was not a superficial highlight reel of popular artists from the diaspora. It was a social gathering that remained true to its humanitarian mission. Case in point, the male and female icons that typically identify restrooms at Pioneer Works were each replaced with the butterfly logo, so that a person could use the restroom of his or her choice.
The Africa's Out! benefit was about art and entertainment, but at its core, activism. Take a look at photos from the night below:
Photo courtesy of Richard G. Burrowes.
Photo courtesy of Richard G. Burrowes.
Photo courtesy of Richard G. Burrowes.
Photo courtesy of Richard G. Burrowes.
Photo courtesy of Richard G. Burrowes.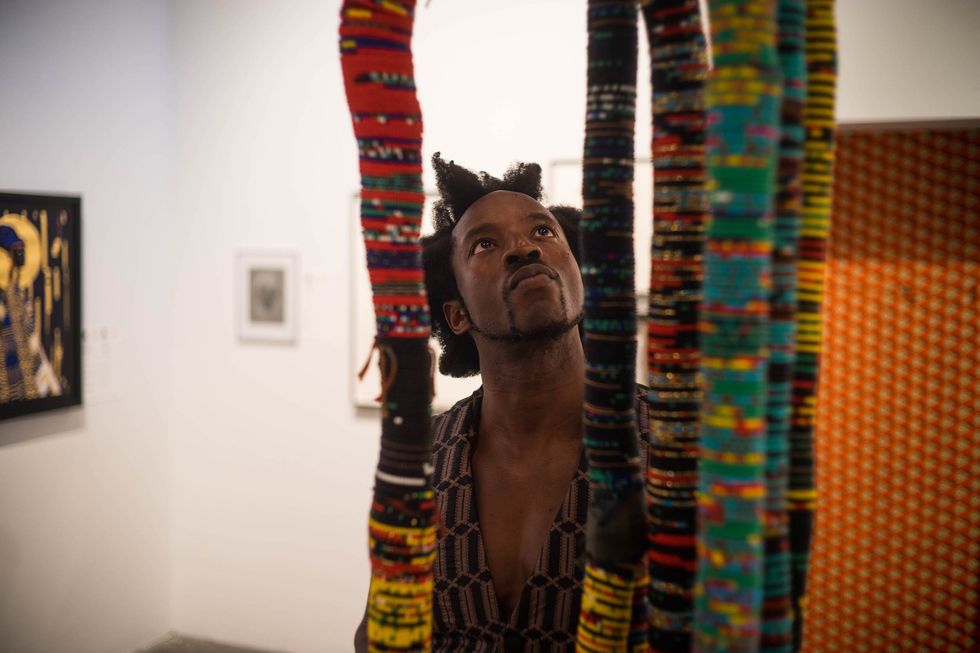 Photo courtesy of Richard G. Burrowes.
Photo courtesy of Richard G. Burrowes.
Photo courtesy of Richard G. Burrowes.
Photo courtesy of Richard G. Burrowes.
Photo courtesy of Richard G. Burrowes.
Photo courtesy of Richard G. Burrowes.
Photo courtesy of Richard G. Burrowes.
To keep up with Africa's Out! events throughout the year, check out their website, and follow on Facebook, Instagram, and Twitter.