Politics
'We Don't Need Another War:' A Conversation With Burundian Peace Activist Pierre Claver Mbonimpa
Burundian activist Pierre Claver Mbonimpa is back to work after narrowly surviving and assassination attempt.
Pierre Claver Mbonimpa is a veteran Burundian human rights activist who has been imprisoned and tortured a number of times by different regimes. In 2015, he narrowly survived a gun attack after he criticized President Pierre Nkurunziza's controversial bid for a third term in office.
---
Three months later his son Welly Nzitonda was arrested by the police and soldiers in uniform and found dead on the street. Soon after his son-in-law Pascal Nshimirimana was shot and killed in Bujumbura the capital of Burundi. We interviewed his daughter,Zygène Mbonimpa, about her losses in 2015.
In 2001, Mbonimpa founded the Association for the protection of Human Rights (APRODH); his association exposed the torture, threats, harassments, arbitrary arrests and inhuman conditions in Burundi's jails which has led to an improvement in prison system.
As a prominent civil society figure in Burundi, Mbonimpa was invited to join the the Burundian peace talks by its moderator, former Tanzanian President Benjamin Mkapa. The talks had been set to resume last Thursday, but the government in Bujumbura decided to boycott the peace talks.
Since the most recent attempt on his life, Mbonimpa was evacuated to Europe for medical treatment where despite having a hard time speaking he attempts to keep advocating for peace in Burundi.
We met Mbonimpa at the United Nations Headquarters in New York City where he was meeting with international representatives to advocate for the peace process in Burundi.
Placide Magambo for Okayafrica: It has been a year and half since you were shot and seriously wounded by gunmen sympathetic to President Pierre Nkurunziza. How are you feeling today?
Pierre Claver Mbonimpa: As you can tell, I am recovering well. If you remember the last time we met last year, it was very hard to listen to my voice, but now I am almost at ninety percent. I am feeling much better and hope that in the next two months I will be at a hundred percent and will be able to sing again in my church choir.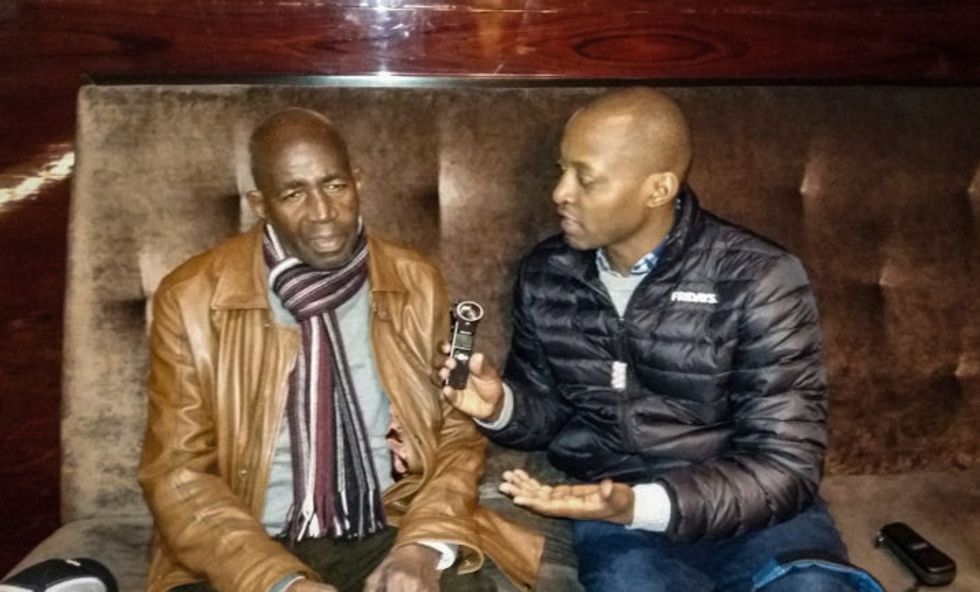 Pierre Claver Mbonimpa interviewed by Placide Magambo at the United Nations in New York.
It has been almost two years of violence and massacres in Burundi, how is the situation now?
The situation is still the same since President Nkurunziza announced his bid for the third term. At the beginning people were killed publically on the street, but today the death squadron has changed its strategy, The opponents and the innocent people who are against his third term are exterminated silently. Some people disappear and their families look for them until they get tired and give up searching. My Human Rights organization APRODH in its research keeps tracking the number of the people kidnapped. We find the bodies of some already killed. An average of forty people are killed every month. As matter of fact, in January 2017, we collected the names of forty people who disappeared and we are in touch with their families, the numbers keep increasing. The violence is still going on.
Some officials from the opposition and soldiers getting killed and others are arrested, what is the opposition side's reaction?
The government is still targeting the same group especially those who denounce the massacres that going on around the country, mostly they target FNL party members led by Agatho Rwasa, lots of unidentified bodies are found around. We know that some are kidnapped by the secret services. Agatho Rwasa himself was threatened by the government and he was advised to collaborate to protect his supporters, but he is still seen as a threat because the government couldn't have total control on his supporters. He was restricted to visit his supporters around the country. The government uses its power to divide the opposition platform CNARED. I would advise them to remain united for the sake of the sustainable peace in Burundi. The good news is that they are willing to solve their internal problems and move forward looking for the peaceful solution for the conflict. Even those who denounced violence on the government's side are excluded and become the subjects of government violence.
Zygène Mbonimpa and her late husband Pascal Nshimirimana.
The mediator and former Tanzanian president Benjamin Mkapa was criticized by the opposition of siding with the government. Recently the government boycotted the peace talks arguing that they cannot negotiate with fugitives from justice. Is there any hope for peace agreements under Mkapa?
In 2005 when we came to peace agreement, Mkapa played a big role working hand in hand with the former Tanzanian President late Julius Nyerere and the former South African President the late Nelson Mandela. So, when Mkapa was named as mediator for peace talk, I didn't question his knowledge about the root of the conflict in Burundi, but when he disparaged the opposition publicaly, I was doubtful on how he would handle the situation as mediator, so did the civil society.
Fortunately he has changed his position and respects both sides and came up with tangible plan for sustainable peace talk. The government boycotts the talks because they want to dictate the process. Mkapa needs to be strong and stand for both sides. I would like to remind you that Nkurunziza took the office in 2005 because of successful peace agreements. He shouldn't ignore the peace talks this time because he want to stick to power. We don't need another war. We lost so many people during the conflicts and we should work all together for peaceful solution.
The foreign countries will not find a better solution for us without our contribution; we came here in New York to explain to the UN officials and different countries what is going on, but it looks they are busy mostly concerned by their own problems. It is up to us to make the first step. We should take ownership of our issues and find sustainable peace solutions. We cannot leave this conflict to our children.
You are travelling the world meeting different personalities. What are your expectations from them?
Look! 23 years ago our neighboring country experienced genocide. The international community didn't come to help the people in danger until one million Tutsis got killed in three months in Rwanda. The same thing can happen to Burundi, and that situation can affect the whole region. I am traveling around the world meeting different personalities asking for help, so that we may end the atrocities going on in Burundi. Around fifteen hundred Burundians have lost their lives since the president Nkurunziza decided to run for the third term; some spend more time discussing whether it is a genocide or not, but the matter of fact is that the people are being killed in the opposition, human rights activists and innocent people who have different opinions. It is United Nations and the International Community responsibility to intervene and stop the violence.
The youth and the Burundians in diaspora should not give up, they should keep advocating for peace to stop violence in Burundi, we have thousands of refugees suffering in the neighboring countries and around the world, it is up to us to keep reminding that the conflict is still going on and try to find a peaceful solution. To Burundian leaders should stop thinking that the best solution of their problems is killing their own people.