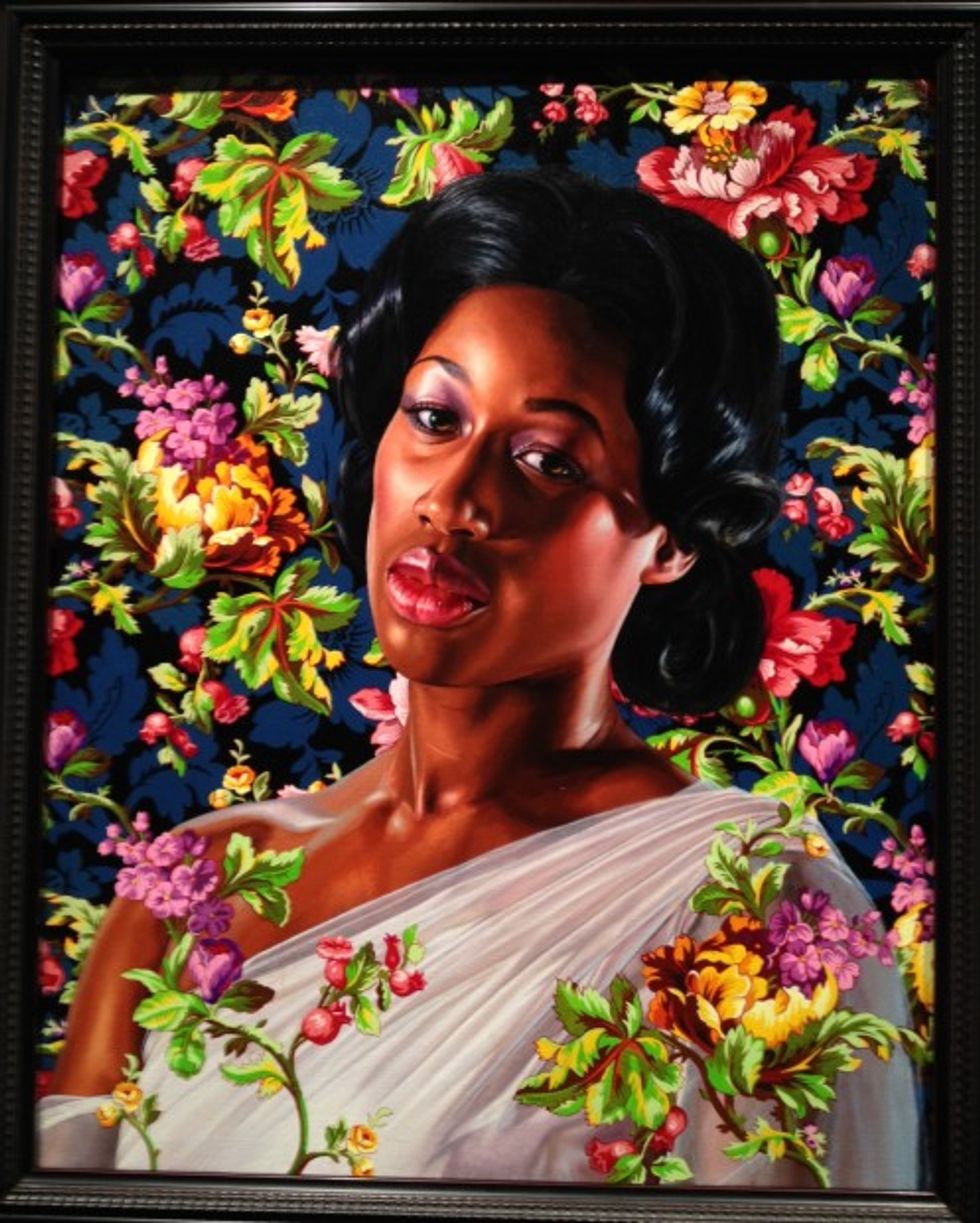 ---
Nigerian-American portrait artist Kehinde Wiley's newest collection, "An Economy of Grace," opened to a packed house of artists and enthusiasts, all present for Wiley's most significant transition to date: Female subjects and costuming in his portraiture. The exhibit is a collaboration with Givenchy designer, Riccardo Tisci, by whom the subjects were costumed in long gowns. "An Economy of Grace" is a highly anticipated departure from Wiley's signature to-date portrayal of black males, often depicted in plain clothes per his "World Stage" series. The metamorphosis is ever important to the ongoing conversation of women of color as subjects in art. The collection, Wiley states, "attempts to reconcile the presence of black female stereotypes that surrounds their presence and/or absence in art history, and the notions of beauty, spectacle, and the 'grand' in painting."
©2012 photo by Rameen Gasery for Gasery Gallery, LLC.
The women, all scouted and cast by Wiley personally on the streets of NYC, are portrayed in varied postures, a nod to portraits of society women by artists such as Jacques-Louis David, Thomas Gainsborough and John Singer Sargent. All of the paintings are underscored by a sense of activity. The women, -- some in pairs, others in repose -- seem to interact within their settings and background in a manner that previous subjects of his paintings did not. Nonetheless, they embody a familiar grandeur present in all his body of work; the women command your attention.
Check out "An Economy of Grace" now through June 16, 2012 at Sean Kelly Gallery, 528 West 29th Street, NYC. And, if you have not already, check out "The World Stage: Israel" up at the Jewish Museum, 1109 Fifth Avenue at 92nd Street, NYC, through July 29, 2012.