As if it wasn't going to happen, after the stupendous success of "One Dance," Wizkid and Drake's new song surfaced as a leak on Saturday evening.
---
The new collaboration was tagged online as "Hush Up the Silence" and appeared on neither artist's social media pages, neither on Twitter, Instagram nor SoundCloud.
It may have been labelled as "Hush Up the Silence" but a sensible title is "Come Closer," seeing that the entirety of the chorus is "yeah baby, come closer" sung twice.
The song is yet another in Drake's excursions into dancehall beginning with his guest verse on Rihanna's 2010 single "What's My Name?" where he broke his straight-rap to do a bit of singing, no different from what many rappers would do.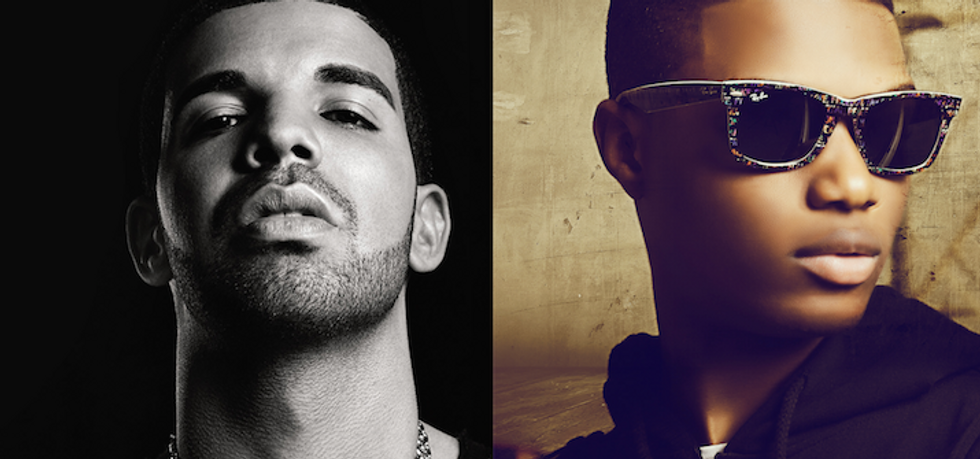 Less than six years later, he's able to confidently modulate his singing with a faux-Caribbean lilt as he did on "Work" off Rihanna's Anti, as well as on three songs off the brilliantly baggy Views, namely: "Controlla," "Too Good" with Rihanna again and "One Dance" with Kyla and Wizkid.
It is this rich vein of form that he takes into this new song with Wizkid who, for his part, has had a stellar year that included a Grammy nomination and Artist of the Year at the Headies, amongst many.
"Hush Up The Silence/Come Closer" is more likely a Wizkid song and a favour returned from Drake on account of Wizkid opening the first verse and chorus while Drake comes in last.
Both artists mesh so well here, a significant improvement on the runaway success that was "Ojuelegba" which also featured Skepta.
Come summer time, this will be a certified BANGER.
Listen to and download Wizkid and Drake's "Hush Up The Silence" here.