Afro-Swing is a genre that takes influence from afrobeat, pop and grime music and is slowly becoming one of the most recognizable genres in the UK today. The rise of Afro-Swing comes a generation of young artists who are embracing their African roots, while shaping their own unique lane and sound. Among this new class is East London-raised artist, Yxng Bane, who has surged the UK charts with singles like "Rihanna" and features including "Bestie" with Yungen. He even hopped on Ed Sheeran's"Shape of You" track, which caught Ed's attention and became an official remix.
While his sound takes influence from his first-generation experience being raised by a Congolese mother and an Angolan father, up until December, Bane had never stepped on African soil. Growing up in Newham, Bane had an enriching, multicultural upbringing. He especially grew an affinity for Nigerian culture via his close friends and his Nigerian-British manager. So it was only right that Nigeria be his first visit and show in Africa, where he performed at the NATIVELAND Festival alongside Skepta, Davido and Burna Boy.
---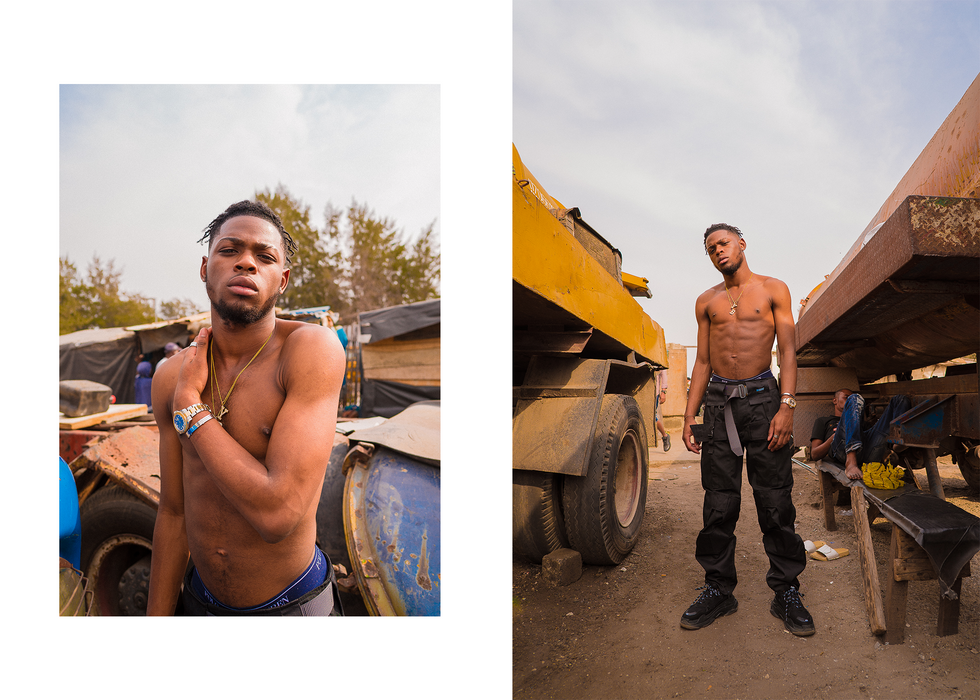 Photo by Amarachi Nwosu.
Although he's new to the African terrain physically, his music has been able to travel and transcend borders, which was clear when many people sang his songs word for word at his debut show. Bane immediately felt a connection and described his time in Nigeria as being at "home."
"So, it's like, okay, you know you're African, but you've never been back. You've never been here," he explains. "I've been in Britain my whole life. To come back and to know myself—I'm coming back home with my shoulders high and my head high, you know what I mean? I love it here so much. I actually feel like I'm in Africa, like I'm home, this is me. No one can say to me, 'Go back home.'"
While many young people in the diaspora are beginning to shape new narratives on what it means to be first-generation and still proud to be African, this has not always been the common notion due to stigmas against the continent. However, Bane notes how artists embracing their dual identity has played a key role in the growing music industry in the UK, where most of the biggest artists in the urban music scene have roots from places like Ghana and Nigeria.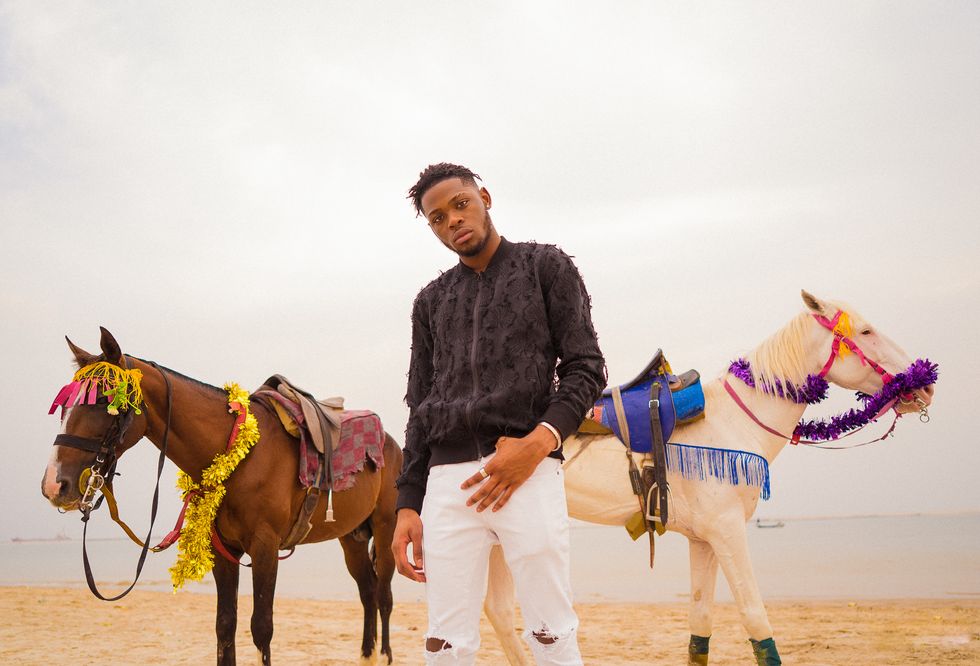 Photo by Amarachi Nwosu.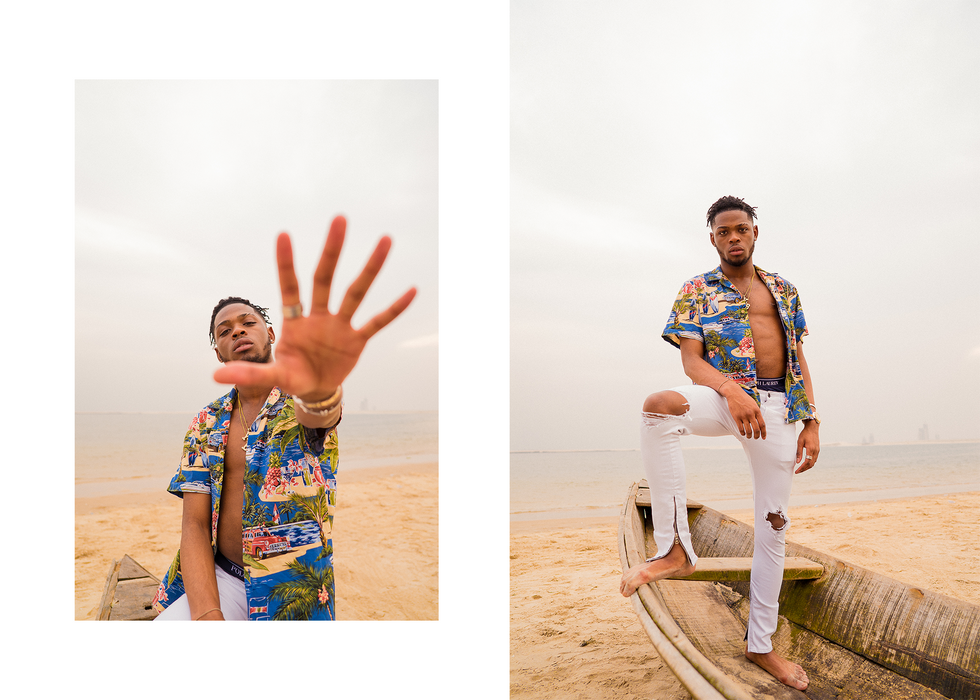 Photo by Amarachi Nwosu.
"It's almost as if the generation is so proud to be African, and that's where the birth of Afro-Swing has come from," he says. "Before that, it was just grime artists. Now you've got artists like Not3s, Kojo Funds; and they all come out and do an afrobeats song. Maybe as we are all getting to this age we are more conscious of who we are, and where we come from, and are proud of it, we just express it in every single way."
Bane also recognizes that he was privileged to have parents that supported his aspirations in music. For many young people with African parents, becoming an artist is a foreign thought due to the risk of pursuing an untraditional career path. However, he has advice for those try to break in: "Nobody will understand your journey better than yourself, that's something that someone said to me once and has stuck with me and has helped me get through this all," he says. "Some people, they don't have the luxury I had. You try doing music and your parents will tell you, 'No." But that's not to say that you shouldn't do it, because nobody will understand your journey better than yourself. Only you will know in your stomach what you're capable of doing."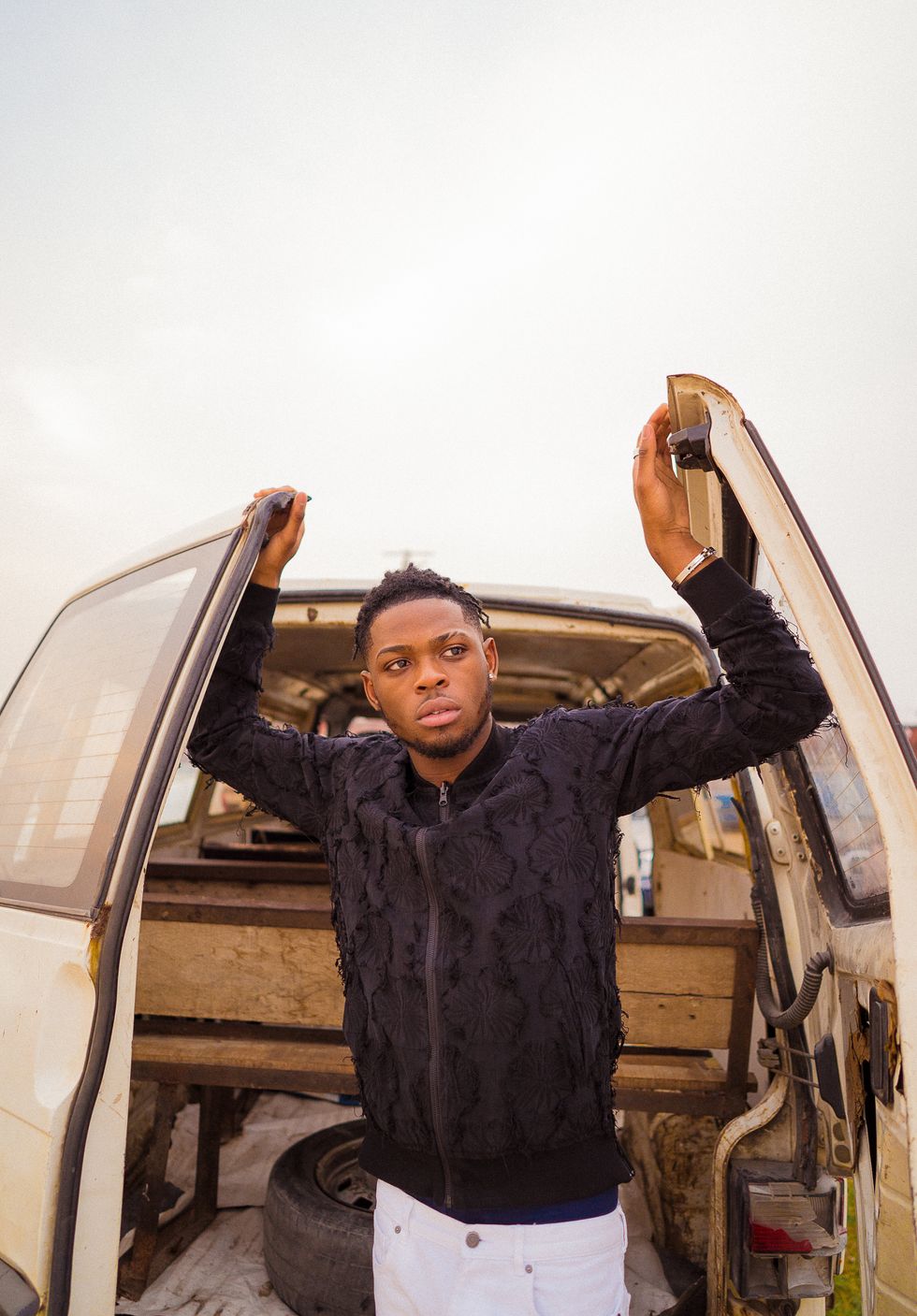 Photo by Amarachi Nwosu.
When speaking with Bane, it's clear that his confidence and strong values are what's pushing him and has allowed him to develop a unique vision for himself and his music. He believes that songwriting is the most authentic when you don't omit pieces of your truth to please other people's idea of who you are and has rejected all comparisons to other artists.
"You have to take in everything that's happening around you," he says. "Especially with the places we've been and the things we've seen, when you go to the studio, being yourself naturally, you'll just express things differently. For me, when it comes to music, it's always been about self-expression and self stories—we are all human at the end of the day. I'm sure if I sing about heartbreak, someone in the world is going to be able to relate and connect. As long as I know I put out a song that someone is going to listen to, and it's going to make them think about a situation and help them, then I think I've done my job. I go to the studio to tell what I've been through and what I'm going through, hoping that once it goes out there it will touch someone in some way."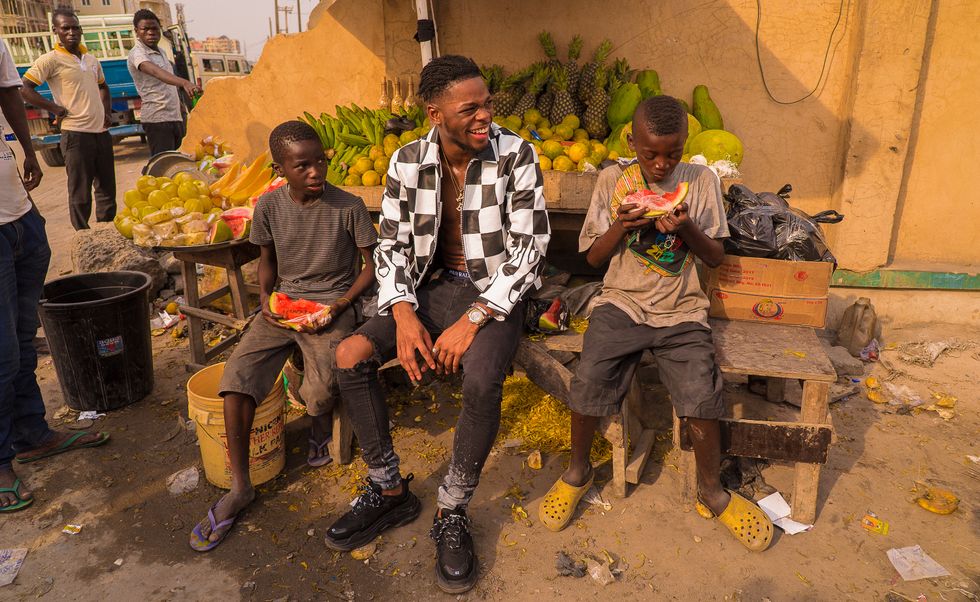 Photo by Amarachi Nwosu.
Bane also explains that blocking out comparison has allowed him to focus on developing his own sound, rather than worrying about what other people are producing. "I don't know why we live in a world of comparisons, we are all in our own lanes," he says. "I'm just trying to be better and make sure my next song is better than my last one. Everyone should be racing against their [own] self. At the end of the day, we're all serving the people. So we all have to just make sure that we're giving them the best versions of ourself; the best music for sure. Whoever you're going to try and compare me to, I probably listen to them and enjoy their music as much as a fan does, do you know what I mean? We're all working for the fan, so let's not forget that. We're not in a competition."
At just 21, Bane is already leaving a legacy and opening doors for more artists to recognize their value and possibility within music. In Bane's next chapter, he wants to continue to push his boundaries and develop a closer connection with his African fans and his fans around the world. He's been in the studio with Wizkid, Mr Eazi and Maleek Berry and will be releasing a new project as well as kicking off his UK tour in 2018.
Although Nigeria was his first stop in Africa, it is clear that he will be back soon with even more tunes to spread.
*
Credits
Photographer + Creative Director: Amarachi Nwosu
Stylist:Prince Aday
Producers:Vivendii
Photography Assistant:Maj Delz