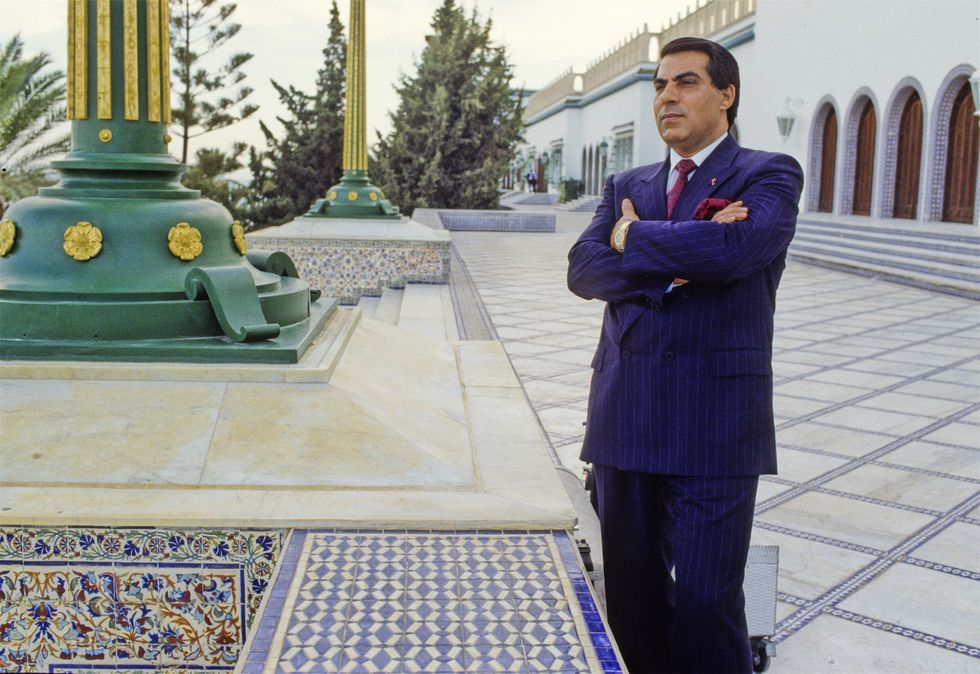 (Photo by Francois LOCHON/Gamma-Rapho via Getty Images )
The former president had been living in Saudi exile since 2011.
Tunisia's former president Zine el-Abidine Ben Ali, 83, has been declared dead while in exile in Saudi Arabia. Ben Ali became interim Prime Minister in 1987. He ran unopposed and was elected Prime Minister in 1998 and served for 23 years – from 1988 to 2011. He was known for using autocratic techniques, eradicating presidential term limits and altering age caps in order to stay in power. In the beginning, Ben Ali was considered a "people's head of state" and garnered the nickname "Benavie" which loosely translates to "Ben Ali for life." By the 2000s, however, he had become deeply unpopular and prompted protests and unrest against his oppressive rule.
---
His reign ended when he fled Tunisia on January 14, 2011 amid protests that ultimately led to a string of revolutions dubbed the Arab Spring. He had been living in exile in Saudi Arabia ever since. As France 24 reports, in 2018 Ben Ali was sentenced in absentia by Tunisian courts to "more than 200 years in prison on charges including murder, corruption and torture."
Though there is no cause of death just yet, Ben Ali had been in intensive hospital care for lung cancer for three months. According to Al Jazeera, lawyer Mounir Ben Salha announced Ben Ali's death to news agencies via phone and the claim was confirmed by Tunisia's foreign minister.
There is footage of a Tunisian lawyer taking to the street at dawn celebrating the news of Ben Ali's death.
January 14, 2011 - at dawn. A few minutes after the announcement of the escape of Ben Ali, Abdennaceur Aouini, a Tu… https://t.co/51X2PfIFE1

— Zakaria Khayar (@Zakaria Khayar) 1568907159.0
This past Sunday, Tunisia held free elections advancing Kas Saied and Nabil Karoui (who is currently jailed) as presidential candidates with neither receiving a majority vote. A run-off election between the two will be held September 29.

Tunisians and others are sharing their reactions to the news across social media. Here are some reactions:
#Tunisia So... this time it's confirmed, Ben Ali passed away. People here already express ambivalent feelings. Nos… https://t.co/KI2g69ZwNJ

— Laura-Maï Gaveriaux (@Laura-Maï Gaveriaux) 1568908559.0
I wish Ben Ali could've lived to face justice in a free and democratic Tunisia 🇹🇳

— Mariem Masmoudi (@Mariem Masmoudi) 1568905005.0
Former Tunisian dictator Ben Ali dies in exile on same week Tunisians voted in 2nd free presidential elections. Ha… https://t.co/81RUjnOS0D

— Asma (@Asma) 1568906733.0
#Tunisia🇹🇳 Very symbolic that the death of former #dictator Zine el Abidine #BenAli in #KSA happens a few days be… https://t.co/CbZ9iLQIDY

— Mourad Teyeb (@Mourad Teyeb) 1568907229.0
The criminal Zine el-Abidine Ben Ali ex-president of Tunisia has died Alhamdulillah. You can be a prince or a stre… https://t.co/RwDV5Bb2Ij

— سيف السودان (@سيف السودان) 1568906923.0