South African hip-hop had a great run in the last decade. As we start a new era, it's important to highlight the women who have played a pivotal role in the growth of the genre.
​Thuli Keupilwe
Thuli Keupilwe is the founder of LAWK Communications, an artist booking and representation agency that now works closely with the likes of DJ Maphorisa and Kabza de Small.
But she's not all about the yanos. Thuli has worked with urban music brands like Dreamteam SA and Homecoming Events, but in 2016, she cast her booking agent net wider and started LAWK Communications where she worked with DJs Capital and Sliqe.
The following year, Thuli received a phone call that would force her to level up. "Boom," she exclaims. "February 2017. PJay from B3nchMarQ called me. I was the one that pushed A-Reece to get onto his first Maftown Heights around 2014 and we're all from Pretoria so I'd known them since forever."
B3nchMarQ and A-Reece were gearing up to leave Ambitiouz Entertainment and when she agreed to be their booking agent, Thuli hadn't anticipated how much it would stretch her. Partly because the artists weren't initially permitted to perform their own songs—problematic for an agent who is meant to book them for gigs.
"I didn't see that coming at all," she says. "I was going up against the big guys, people I looked up to. I realized I needed to get a lawyer." Eventually, the artists were legally permitted to gig. "I had one of my biggest years with Reece after that. I am still with him till today."
A-Reece had managed to amass an enviable fan base size mostly from his online and streaming presence. Thuli works closely with him and counts using A-Reece's "Rich" song in a sync deal with the gambling website BET.co.za as a milestone in their partnership. "It was a good check," she chuckles. "And he was being himself and that's the most important thing to me."
Kay Faith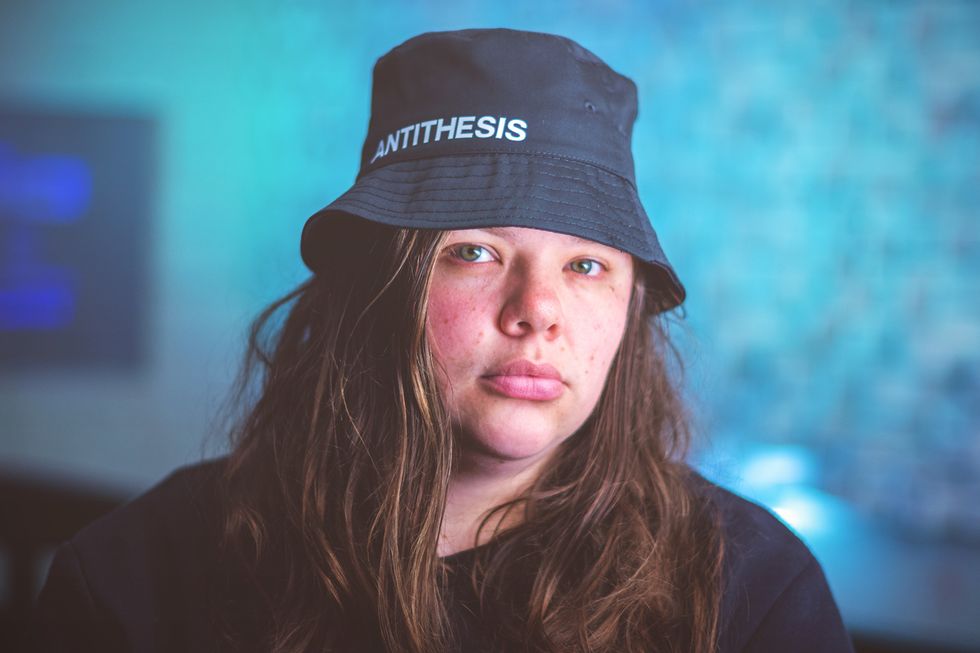 Authenticity has been the drive behind Kay Faith's work. The Cape Town-based engineer, producer and budding vocalist began her career behind the boards during sessions for the likes of Yasiin Bey, Nasty C and E-Jay.

She put out her own EP, In Good Faith, in 2017, and in 2018, she became the first female producer in the world to be featured on Apple Music's New Artist Spotlight.
She has also given us hip-hop bangers like "Slam Dunk" by Da L.E.S and YoungstaCPT. The latter is a frequent collaborator of hers. So much so that when his album 3T won the Best Album category at this year's South African Hip Hop Awards, she felt it was a win for her too. Especially since projects she'd worked on had been nominated and lost before.
"When we started [the song] 'YVR,' I had this emotional feeling that it would be something big for Cape Town," Kay excitedly says. "From recording to mixing to mastering and featuring as a vocalist on 'The Cape of Good Hope' and 'KAAPSTAD NAAIER,' I was behind all of 3T. I even co-produced the 'Pavement Special' intro and the 'Outro' with Chvna.
"We spent 11 months crafting and him trying to get it to be perfect so it was a surreal feeling when we won Album of the Year. I even sent out a tweet saying: 'Can we just take a moment to realize that the South African Hip Hop Album of the Year was entirely engineered by a woman?'"
Kay's upcoming album, Antithesis is slated for a 2020 release. "It's going to be the first album of its kind, I believe," she says. "And I'm really trying to play with that idea of being the antithesis of hip-hop. I am a woman, an Afrikaans kid, in hip-hop. When I walk in, people don't expect me to be an engineer or a hip-hop producer and when I roll out my accolades, then they're like, 'damn, Kay's got game.' That reaction is what this album is about."
Phindi Matroshe
For Phindi Matroshe, the outside reaction to her work is not the most important thing. Phindi is a publicist and talent manager who owns At Handle, a PR and social marketing solutions firm. She was there before Nadia Nakai became a Reebok or Courvoisier ambassador and before she had sold-out ranges with Sportscene's Redbat.

She was also there when Nadia bagged a Best Female pyramid at the 2019 South African Hip Hop Awards. And she was right beside her when she scooped awards at AFRIMA 2019 for Best Artist, Duo or Group in African Hip Hop as well as Best Female Artiste: Southern Africa.
"Winning awards was never the mission," Phindi confesses. "Honestly, we have never done things to try and get awards. Nadia truly loves what she does and it feels great when that is acknowledged and someone pats us on the back for work we've done. I really love and respect what I do and don't see it as a job."
Having handled publicity for the likes of JR, Tumi Masemola (of Gang of Instrumentals), Shane Eagle, Major League DJs and more, Phindi pivoted to managing Nadia. She says: "Seeing the things we talk about come to life or when we're in the boardrooms signing those deals, those are personal milestones for me."
​Ninel Musson
Ninel Musson has been brokering some of hip-hop's biggest deals for over a decade. She co-owns Vth Season, a boutique full-service entertainment marketing agency with Raphael Benza.

A former party promoter and publisher of the wonted.co.za website, Ninel helped start a record label wing of Vth Season where AKA was their first signee. Together, they turned AKA into a mainstream success that the artist could bank on when he started the now defunct BEAM Group independent record label with Prince Nyembe in 2016.
Recently, Ninel and Benza, together with the Sony Music team, presented AKA with diamond and platinum plaques for several songs at a surprise dinner. "The music we went on to create became some of the best-selling records of all time in South Africa," Ninel says matter-of-factly. "When we started with him, the major labels said SA hip-hop would never go this far. We said we believed it would and then we did."
​Sibu Mabena
Cassper Nyovest seems to make it a point to work with women. In addition to Cassper's sisters running his Family Tree store, several Fill Up dates have seen PR maven, Sheila Afari at the helm. And while it's clear that the Fill Up series was always the brainchild of Cassper and his longtime friend and business partner, T-Lee Moiloa, bringing it to fruition has also included the skills and power of women behind the scenes. Women like Sibu Mabena, a multi-hyphenate creative entrepreneur who owns the Duma Collective.
"The day I landed back home from the EMAs, I went straight to The Dome," she remembers. "I said: 'yo, T-Lee, give me a job. I want to work on this thing.' He was like: 'bra, there's nothing for you to do.'" Sibu stuck around at the Dome, watching the production come together when a lightbulb went on in her head.
"I thought: 'Cassper has 11 outfit changes. Who is helping him with those?' So Gareth Hadden from Formative, who was building the stage, said they needed someone to help with those changes. I forced myself into the Dome, and the next year I pitched to T-Lee to run the stage at Orlando Stadium. The following year was Fill Up FNB Stadium and there, I got a bigger job to run the talent operations. That's how we started doing the Fill Up Intern Search."
In the next decade of Mzansi hip hop, Sibu has her heart set on parties with a purpose. "All the things I have learnt along the way have led me to contribute to AKA's Fees For All Mega Concert," she shares. "I'm not coming on as just a creative or event organiser or marketer. It's demanding all of me. We're all tapping into a more philanthropic and less commercial role than we usually have so the pressure is that much greater."
There are plenty more women who've got game. From Lerato Lefafa, who has been a part of the team that brought us the SAHHAs and Back to the City to Bianca Naidoo who is a big part of Riky Rick's triumphant trajectory to women like Spokenpriestess, Caron Williams, Azizzar The Pristine Queen, Loot Love and way more who have, in the last decade, used their media platforms to lift up Mzansi hip-hop. In the next decade, women will still be a huge part of hip hop. It'll be interesting to see where that contribution takes the movement next.