This year marked two decades since Adama Paris, a Senegalese designer with a global footprint, launched Dakar Fashion Week.
Entrepreneurs like her, she said, often don't get the luxury of time to reflect or basque in their accomplishments. But the veteran producer made an exception this year.
"It's a blessing, I'm so proud of myself," she said in an interview with OkayAfrica. "I don't congratulate myself. (But) today I want to take the day to brag about me."
She recalls the first fashion week as "the most beautiful," even though she cried a lot. But the inaugural event also marked when she knew for sure she could do this, and that she was made for this work. It took courage to step up and do this for her country—it's hard to start something.
"That's why in this world you have few leaders and a lot of followers because it's easy to follow," Paris said. "When you start something, the risk is on you. You have to do everything on your own and you have to be also brave enough to fail—and lots of people are afraid to fail. I can proudly say I'm proud of us, of what we achieved because it wasn't easy. We're not looking for ease, but it's just refreshing to still look young 20 years after."
When she first started out, Paris said no one understood why she quit her job as a banker to become a designer. Her stubbornness and belief in herself propelled her, but so did "the fear of staying still." In two decades, she's also witnessed a shift in Dakar, which has catapulted onto the global art scene in recent years.
Paris' assessment of time and place showed up in the run-of-show this year: The anchoring fashion show took place on Gorée Island, once the largest post on the African coast for trading enslaved people. "Everything was 10 times more difficult because it's an island," she said.
Invitees boarded a ferry to the island then traipsed across the shoreline at sunset for a presentation of 20 designers. Paris knew the significance of the show would be worth all the extra work
"It's the symbol of slavery and also the symbol of freedom in a way," Paris said. "Now…it's a beautiful and joyful island, despite the heavy history."
Paris also made her own history this year, producing the first ever Chanel show anywhere on the continent.
In conversation with OkayAfrica she talked about why she loves the fashion emerging from West Africa, the connection between sexiness and comfort, and the items that were essential to a successful Fashion Week and Chanel show.
1

.

Her "Renaissance" Earrings
Photo Credit: Adedamola Odetara
Adama was enamored with her pair of gold hoop earrings featuring a replica of the African Renaissance Monument, the tallest statue in Africa.
She puts them on when she needs a boost. "A little extra is never too much," she added. Paris sported the earrings to the white party that closed Dakar Fashion Week on December 4.
2

.

Her Purple Adama Paris Dress
Photo Credit: Adedamola Odetara
This dress, one of her best sellers, comes with Adama Paris everywhere. It's loose, but sexy, in the way that's popularized here in Senegal, drawing from the traditional boubou.
When she's not producing a show, Paris likes to surf. Still, she believes in showing her body only when she wants to, and that all people should be able to make that choice, no matter their body type.
"The new sexy is being comfortable," Paris said. "Sexy as in tight, short—that's overrated."
3

.

Her Boyette Bag
This leather and wooden structured purse pays homage to Paris' ancestors. Boyette means box in Wolof, and the bag is modeled after the jewelry boxes her mother and grandmother used. It's an example of her trademark aesthetic, merging the past with fresh designs.
4

.

Her Adama Paris Bomber Jacket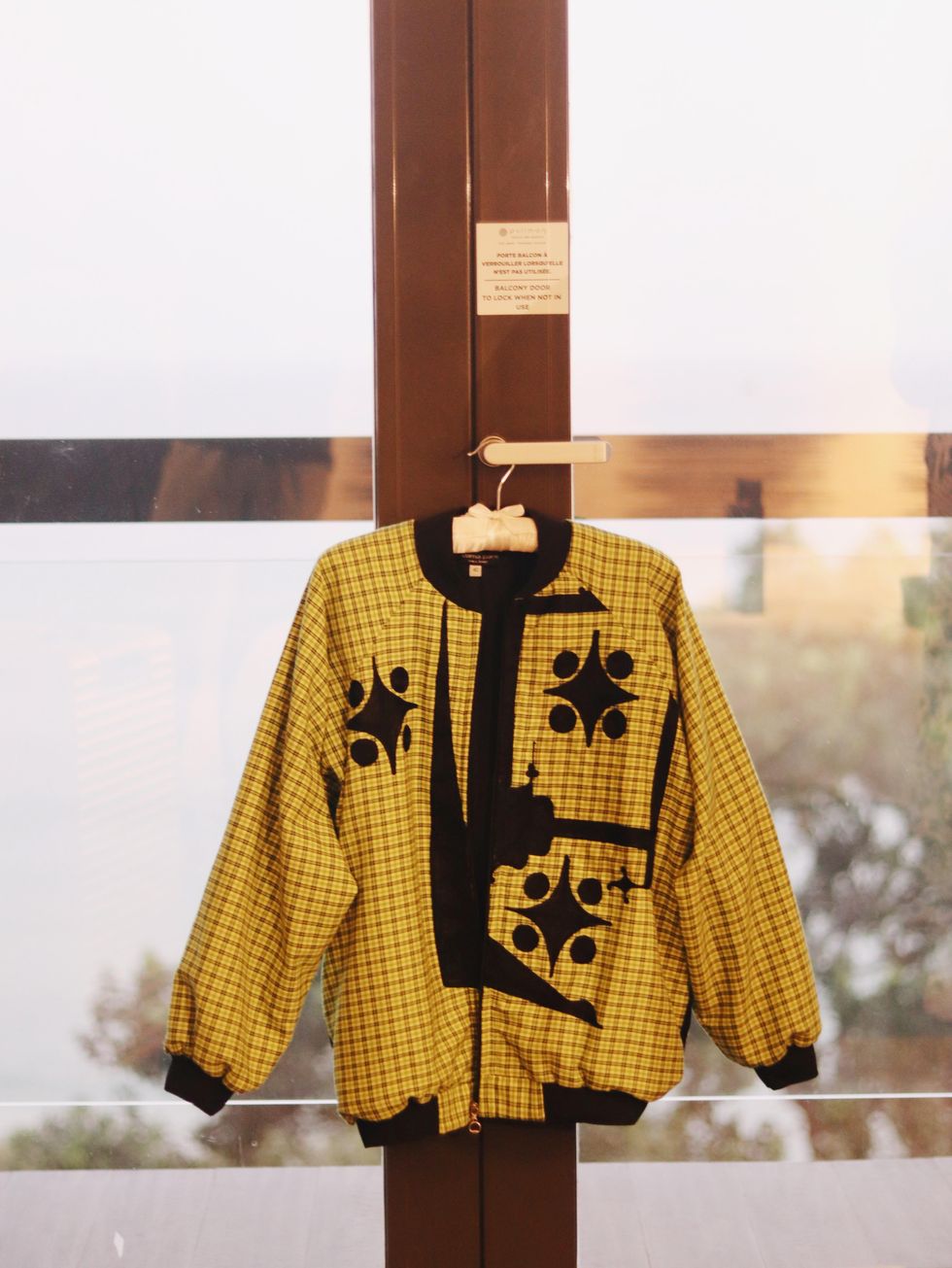 Photo Credit: Adedamola Odetara
Paris' bomber jacket, another best seller in her collection, attracts consumers of all genders, she said. It was a must-have during fashion week because of its versatility.
"Essential pieces need to be pieces you can wear with everything, wherever you are," she said.
5

.

Her Tasseled Kufi Hat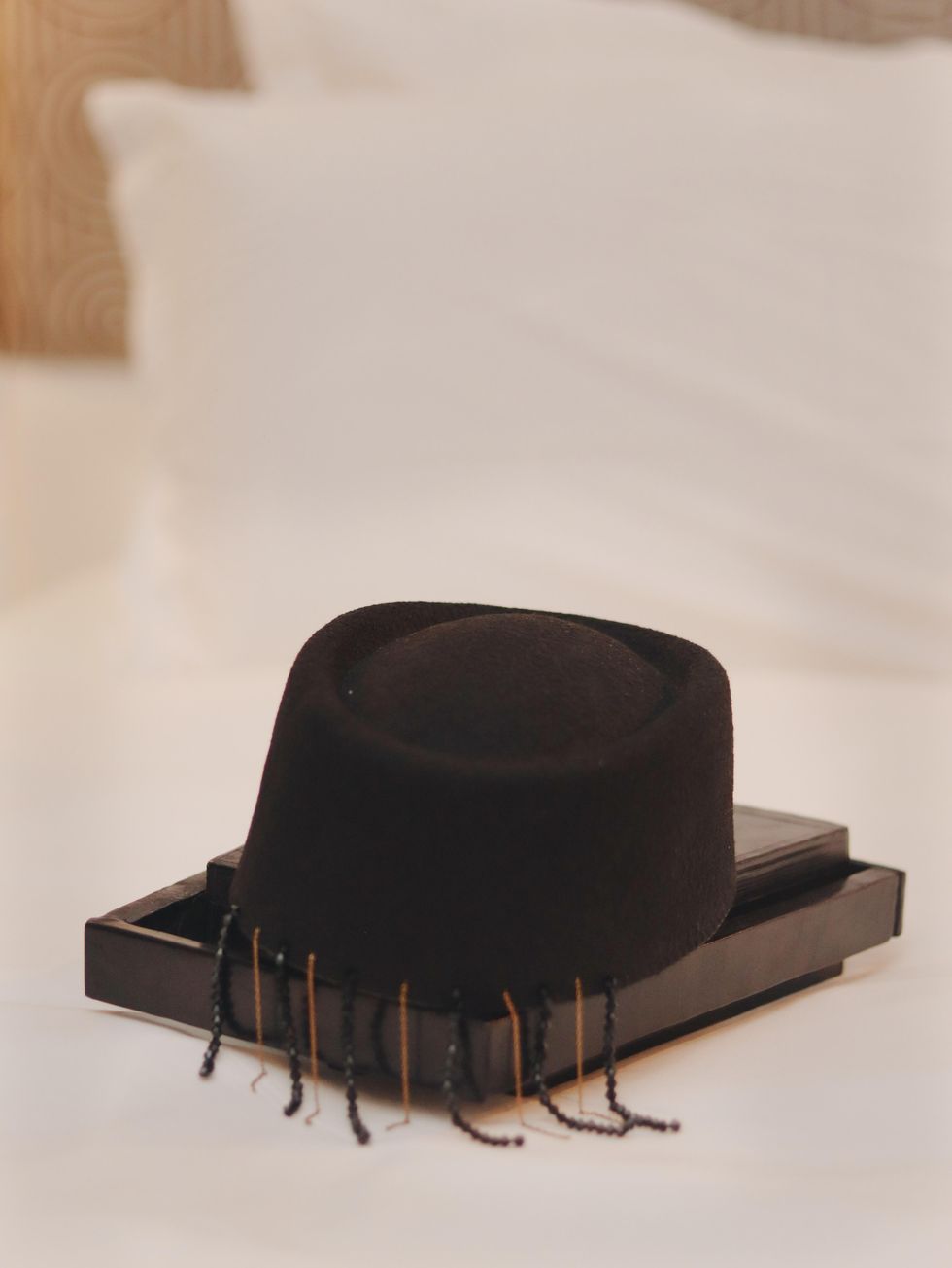 Photo Credit: Adedamola Odetara
Paris loves hats so much she has a wall of them at her place, some of which travel with her. This tasseled cap is styled after the traditional one men wear to the mosques on Friday for Jum'ah. Paris wore this to the opening night of the 20th Dakar Fashion Week, which fittingly took place on a Friday.
She told Okay Africa she loves the fashion emerging from West Africa because of pieces, like this cap, that pay homage to integral parts of the culture, such as faith.