The Western Sahara international film festival (FiSahara). Photo: Giulio Paletta. 
---
Watching films might be a universal pastime, but a new photograph exhibition shows just how diverse the moviegoing experience is from person to person.
Presented by Africa in Motion (AiM,) Scotland's major annual celebration of African cinema, the Ways We Watch Films in Africa exhibition showcases the varied and innovative film-viewing habits across the African continent. Professional and amateur photographers alike submitted their images of local street pop-up cinemas, crowded film parlors, mobile phone cinema, film festival screenings and more to be showcased at the festival.
The special exhibition reflects this year's festival theme, "Connections," which focuses on the interrelatedness of the myriad aspects of African experiences.
"Across Africa local film industries are flourishing, and as commercial and independent cinema spaces slowly begin to cater for African cinema, audiences have found a myriad of innovative ways to watch African films," reads the exhibition web page.
Ways We Watch Films in Africa will be displayed in Edinburgh (Filmhouse) and Glasgow (The Old Hairdressers) now through November 1.
Check out some of the photographs selected for the exhibition below.
All photos courtesy of Africa in Motion
The traveling Rwandan film festival Hillywood at Musanze, Rwanda. (Photo: Peter Bennett/Patrick Nsengimana)
A woman watches a movie in Accra, Ghana. (Photo: Mirabel Mavis Awuah)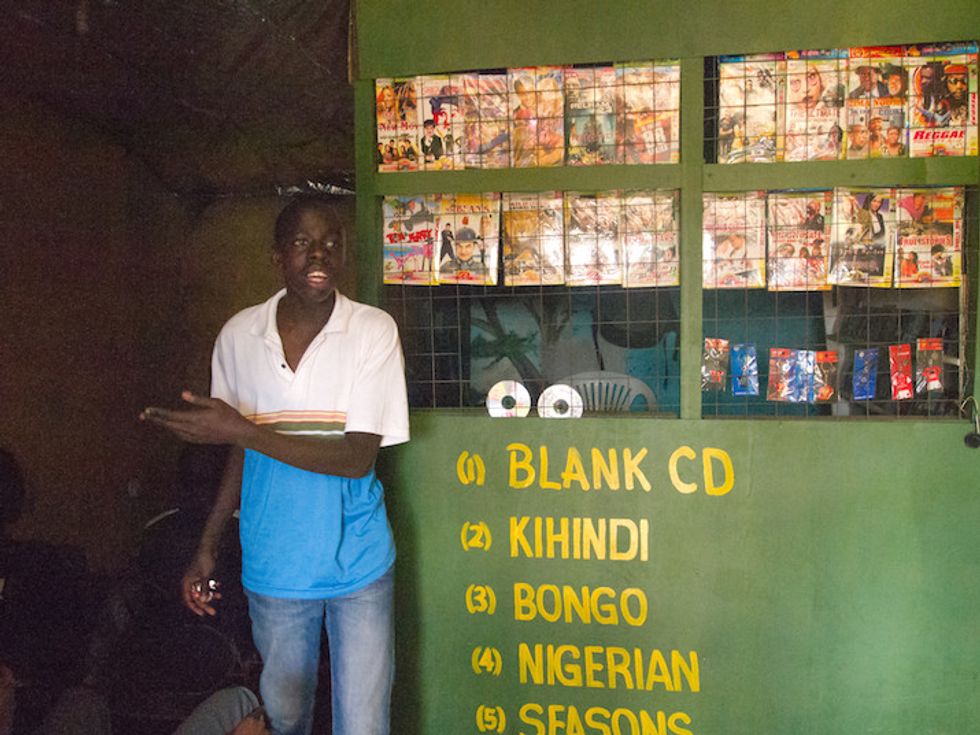 A DVD librarian in Kibera, Kenya. (Photo: Joshua McNamara) 
Outdoor cinema presented by The Bioscope in Johannesburg, South Africa. (Photo: The Bioscope)
An announcement about the construction of Ciné Guimbi in Burkina Faso. (Photo: Marilia Guiraud/Ciné Guimbi)
The Mabatini amphitheatre in Mathare, Kenya. (Photo: Joshua McNamara)
The Western Sahara international film festival (FiSahara). (Photo: FiSahara)
A screening in Kibera, Kenya. (Photo: David Mbuthia Mwangi)
Paje, Zanzibar, Tanzania. (Photo: Martin Mhando)
'The End of the World' cinema in the Sinai Peninsula, Egypt. (Photo: Kaupo Kikkas)