Two years ago, when Susette Adjoa requested her family's seamstress to dress a Barbie doll that she'd bought at a local shop, she didn't know she'd end up finding a new business venture – and the chance to expand her passion for telling African stories through toys.
A Barbie fan, Adjoa created Cheza Toys, using the Swahili word for play, to give African children a sense of pride. She found, through her interactions with other toy creators, that it was believed little Black girls across the continent and globally were connecting more with white dolls than dolls reflective of themselves. Unhappy about this, Adjoa decided to create toys and design apparel that would allow children to have a better understanding of their roots.
"When little girls see their African mothers, they are their first hero, friend and role model," Adjoa told OkayAfrica. The apparel and toys depict, promote and teach the children their African heritage." Having herself been bullied as a little girl and lacking in self-esteem as a child, she began designing the dolls around 2014, with the company really taking off around 2018.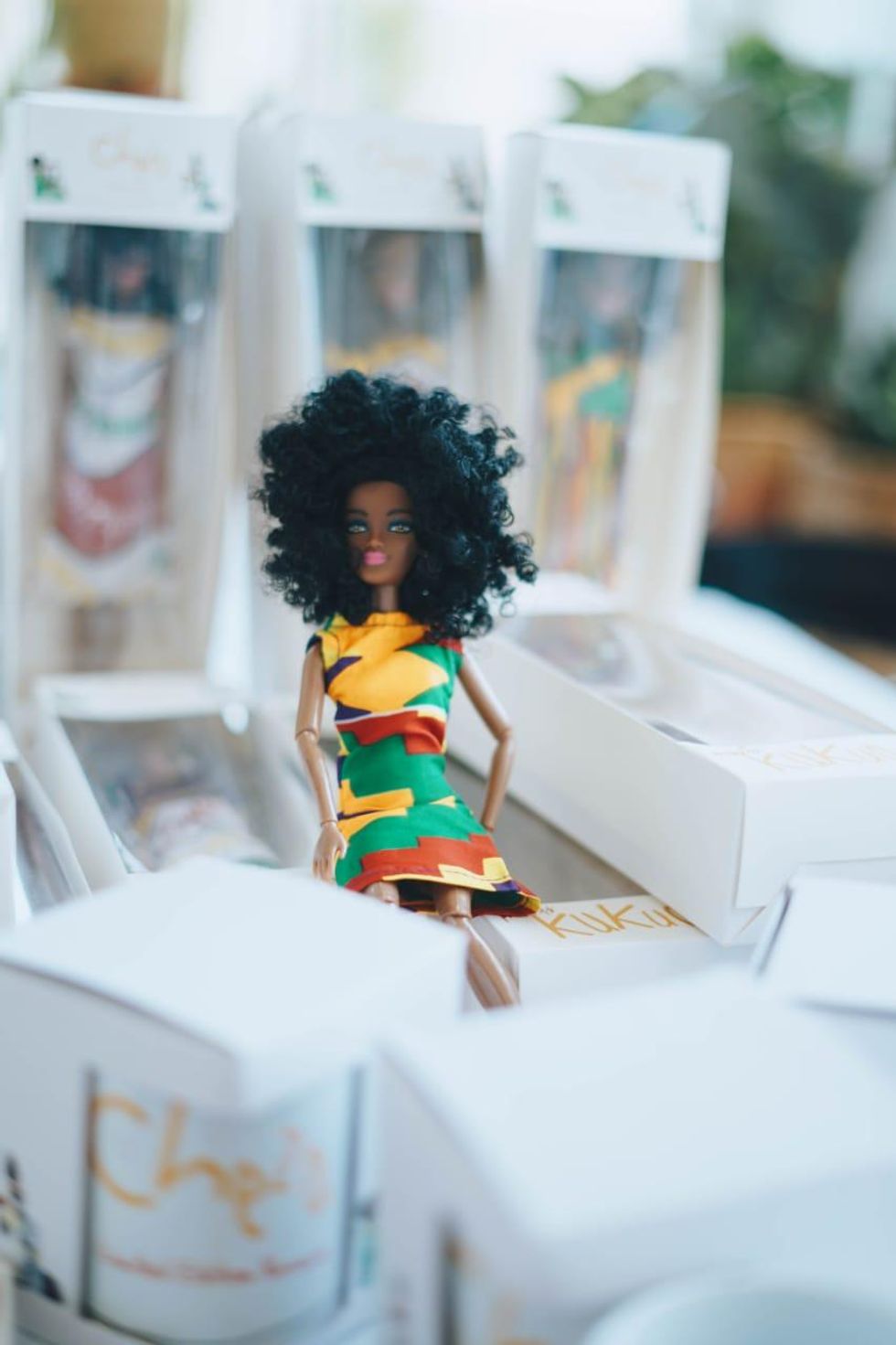 Susette Adjoa created Cheza Toys to give African children a sense of pride and wants the clothes they wear to do the same.
Photo: Susette Adjoa
The collection of doll's clothing, called "Atade," was born out of that request Adjoa made to her family's seamstress. The seamstress went ahead and made four beautiful outfits that left Adjoa in an excited daze. What started off as a simple appeal in 2020 has now transformed into a business venture.
"Our seamstress is Ghana-based and since she delivered the first four pieces, I never looked back," says Adjoa. "We have worked together since then. It also allowed her to hire other young people to help with her shop now that she had additional income from the production of our clothing line for fashion dolls."
Additionally, Adjoa is collaborating with local creatives, especially up-and-coming ones across the region, where she features their designs on her platform. She further explains that most of the clothing made for the collection and other fashion dolls are based on traditional Ghanaian looks, and mostly are from scraps of the fabrics with prices ranging from $20 - $22.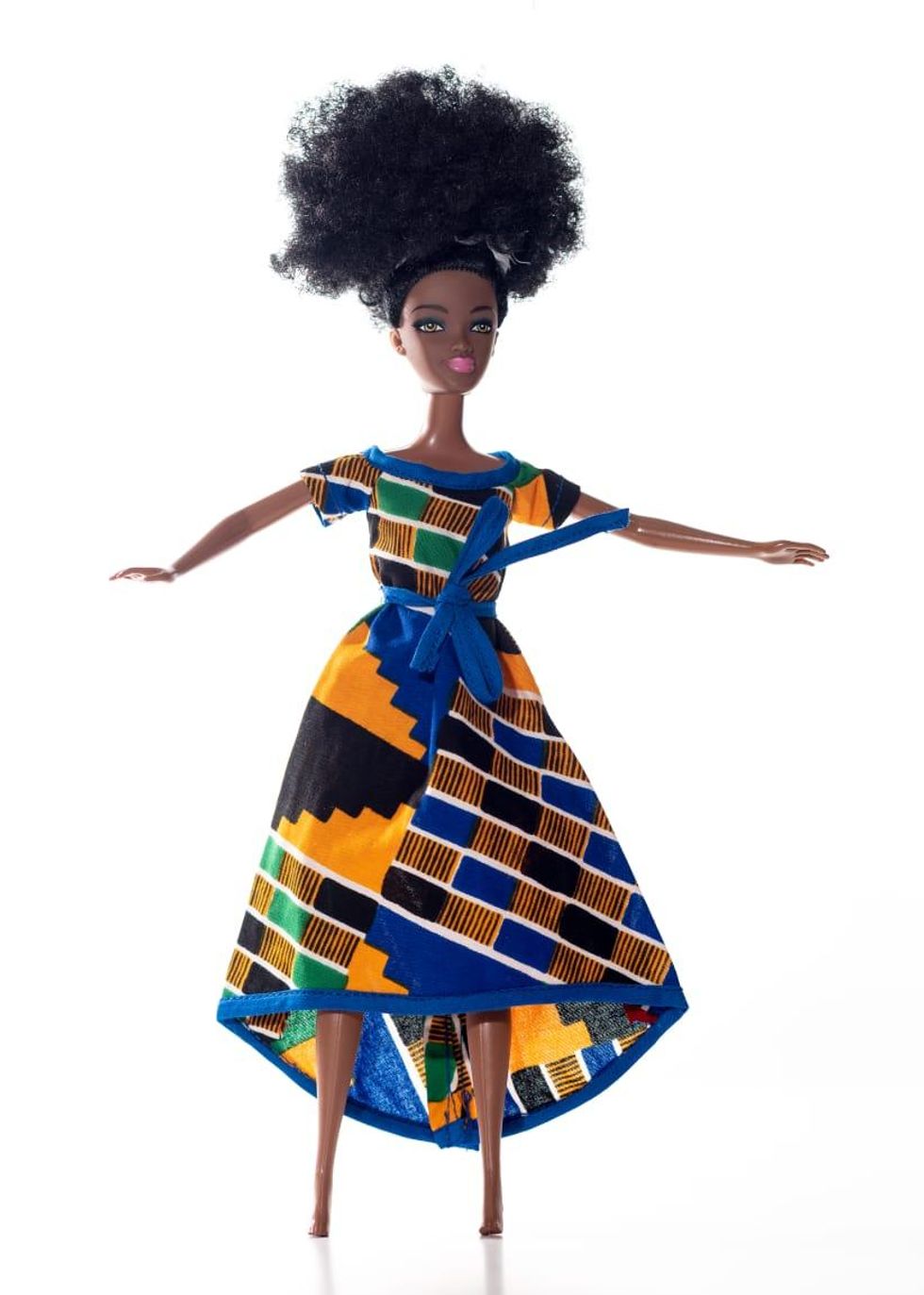 The collection of doll's clothing, called "Atade," was born out of that request Susette Adjoa made to her family's seamstress.
Photo: Dex Studio Ghana
Apart from Ghana, Adjoa's toys and apparel are now sought after in countries like Kenya, USA and Brazil, where she is collaborating with a number of small retail shops. As Adjoa explains, her apparel has an international outlook and can be worn by any doll globally.
And there's more. "We are looking to upscale with more African-featured products and into a full scale story-telling platform, "she says. Adjoa notes that the biggest challenge for the company today is the development of new ideas in line with their business objectives, as they look into expanding into a larger platform with other vehicles such as animation and digital magazines. In addition to that, Adjoa says they are figuring out how to foster and develop working relationships with seamstresses from across the continent.
"These are not challenges we are not able to overcome, but these are things on my mind at the moment," she says. Finding the right creatives who are willing to invest their time in designing the clothes and dolls and are aligned to her vision is key for Adjoa.
Urian Ross, her business partner and also an avid fashion doll collector, concurs with Adjoa about the issues the company faces: from brainstorming, designing, and searching for seamstresses, to figuring out the logistics. But, he believes, there is nothing they cannot handle as a team. "For me, it's balancing being a fan of fashion dolls and now being in business mode to produce fashion dolls. Going from hobby to business is very interesting. I would say the development process of literally everything is a challenge," Urian told OkayAfrica.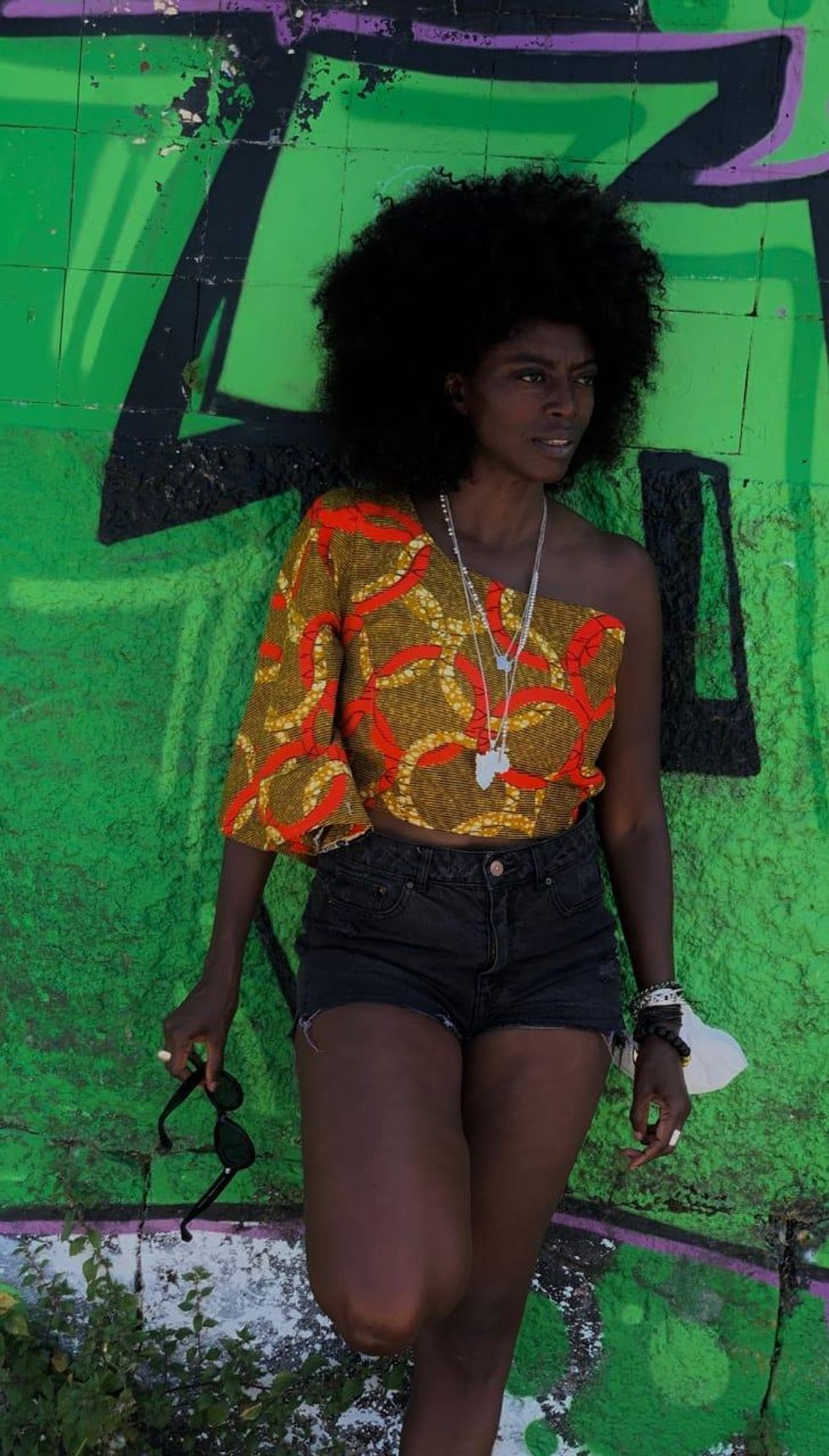 Susette Adjoa is working with local seamstresses to design and make African-inspired apparel collections for dolls.
Photo: Melvin Smith
Ross, who met Adjoa in Lisbon says they connected instantly after their first encounter and eventually became business partners. He has a collection of dolls that consist mostly of Black dolls with a variety of skin tones, facial features, hair styles and textures in traditional African outfits for both boys and girls using Kente cloth.
"In my day to day work, I am influenced by dolls from different parts of Africa that consist of fashion dolls from Ghana, Kenya, South African and many more, just to name a few." Urian said. "That African fashion isn't just fashion. Each pattern, each meaning, each thread sewn to make these garments all tell a story. I think that's beautiful and I cannot wait to share all this with the world."
When the COVID-19 pandemic hit the world, Ross says he needed a distraction to keep himself sane and busy. He felt it was the perfect time for Barbie to re-enter his life, which eventually led to him working as Chief 'Slay' Officer for Kukua at Cheza Toys.
Every day, Ross keeps himself motivated and he is always inspired by the doll community as well as the fashion industry. "I want to be better than myself," he says. "I stay grounded and remind myself not to get caught up with distractions, not to compare myself to others, to have fun, grow and know that making mistakes is okay, and it's part of growth."
Growth is on the cards for Cheza as a company, too. Ross and Adjoa are looking at bringing in male fashion dolls, as they continue to build on the idea of "disruptive playtime." In light of a recent report indicating that traditional toys and games in Africa and the Middle East are two of the fastest expanding toy markets in the world, Cheza Toys will continue to mix work and play.