"Empowering the African girl child."
---
That's what Nigerian entrepreneur Taofick Okoya has been aiming to do since he created popular Queens of Africa doll line in 2007, which outsoldMattel's Barbie in the Nigerian market in 2012.
Now, Okoya is bringing his fashionable dolls — featuring a range of skin tones, hair textures from afros to braids, full lips on curvy figures, complete with wax print clothing accessories — and spreading his message of black girl empowerment on a Coming to America tour this summer. He'll touch down in Atlanta, New York, and Chicago, where he plans to meet with potential U.S. distributors. Los Angeles, Houston, and Washington D.C. stops are also on the docket.
Okoya, based in Lagos, told Forbes his daughter inspired his vision for the dolls after he realized her collection of white dolls and favorite characters on Disney programs aired on DSTV in Nigeria, who were also white, influenced her longing to be white.
"I started to understand why she'd feel the way she did," the Queens of Africa maker explained to Forbes.
After doing research, which revealed the dearth of dolls of color in the Nigerian market, Okoya decided to do something about it.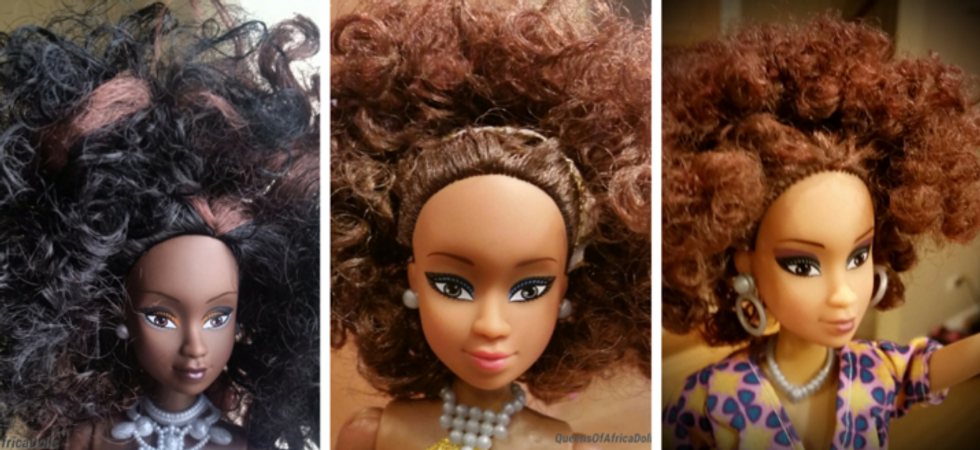 "Queens of Africa" doll line by Taofick Okoya
Not only did he create the dolls, manufactured in China and assembled in Nigeria, but Okoya also established a book series that instills self-worth and African pride under the Queens of Africa umbrella. What's more, he employs stay-at-home moms who braid the dolls' tresses and create their garments.
The success of Okoya's dolls hasn't come overnight, initially he was met with resistance from Nigerian store owners who were reluctant to sell the Queens of Africa dolls because, as he explains to Forbes, "There's still somewhat of a colonial brainwash present in the country." However the entrepreneur's persistence has paid off, blazing a trail for showcasing diversity and body positivism in dolls, seen as of late, with doll lines: Angelica doll, Positively Perfect, and Barbie.
While Queens of Africa doll sales have declined in 2016, possibly driven by Nigeria's volatile economic situation, Okoya seeks to tap into the U.S. market, which he says is more structured and presents fewer barriers.
Watch the doll entrepreneur discuss the Queens of Africa collection below, hit up Okoya's  Coming to America tour and browse or buy a doll here.