After being immersed in the vast, wondrous exhibition that is Africa Fashion at the Brooklyn Museum, visitors exit through the gift-shop–an experience not unlike many major exhibitions at museums around the world. But this is a gift shop unlike any other. It is a pop-up version of Reni Folawiyo's Lagos concept store, Alára, and it's bursting with the work of a hundred or so African designers and artists.
When Folawiyo founded Alára nearly a decade ago, she wanted to create a space to "celebrate, elevate, and educate the world about African design." That aim is taken to another level with the retail experience that's staged at Africa Fashion. Debuting in Brooklyn, the pop-up store offers merchandise from many of the designers on view in the exhibition itself.
Collaborating with the Brooklyn Museum's Entrepreneur in Residence, Rachel Shechtman and the museum's Retail Director Kate Foley, Folawiyo worked to bring the concept to American audiences for the first time. From dresses to furniture, design objects, home accessories and kids' toys, the space reflects Folawiyo's dedication to showcasing the range of talent an exhibition like Africa Fashion encompasses. From dresses by Christie Brown and Tongoro to beaded accessories by Lafalaise Dion, visitors are able to peruse so many popular names in African fashion all in one place. And the store will rotate its offerings–there will be merchandise drops throughout the show and new introductions for New York Fashion Week in September.
OkayAfrica spoke to Folawiyo to find out about her vision for the retail experience and whether there are plans for Alára to find a U.S. home.
The interview below has been edited for length and clarity.

Coming to an exhibition like this and ending your experience through the store, it almost gives you a way to be part of it, to take what you've seen home with you. Is that part of the thinking for bringing Alára here to Brooklyn?
It's a lived version of the exhibition. It's an experience where you feel that energy from learning, you feel the reality of it, when you come into this space.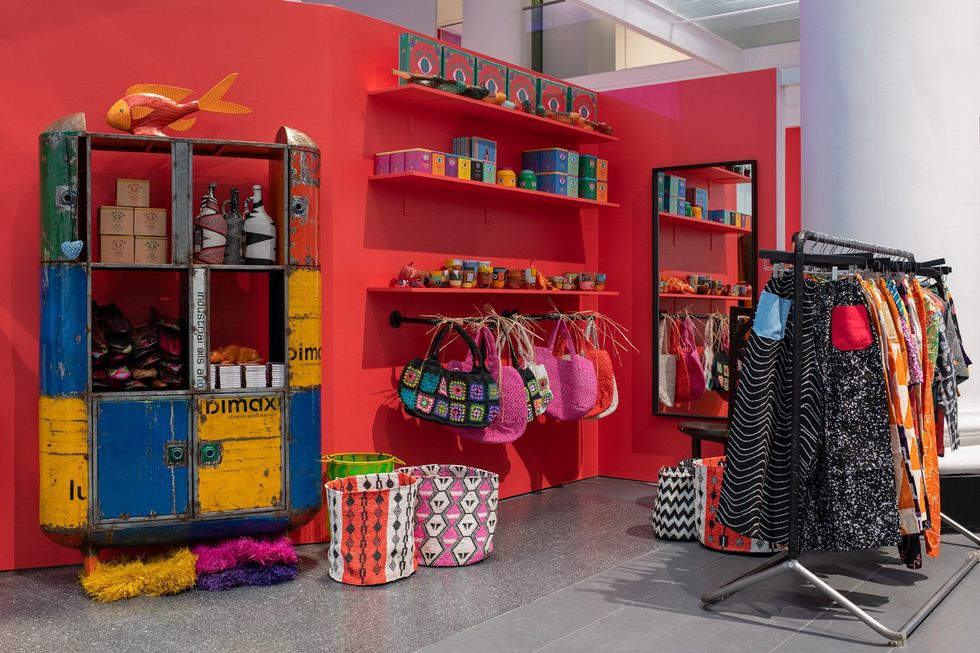 Installation view, Alára at the Brooklyn Museum, part of Africa Fashion. Photo courtesy Danny Perez.
How many designers' work do you feature and how did you decide who to include?

At the moment it is 70 but it's also 100 because we will be having different drops at different times, but it's around 100. Since we have the store in Nigeria, historically we've worked with most of the designers that we feature in one way or another–apart from some of the Brooklyn-based designers that we're carrying for the first time, like Brandon Blackwood and Luar. Largely, we've worked with most of the brands here before. We might have discovered a new name here or there.
For example, [glass sculptor] Hugh Findletar is one of them. He's Haitian, raised in Italy. This is the first time we have his work. We've always wanted to have an exhibition around his work in Lagos, but we never made that happen. When I spoke to him about this, he said, 'Oh, I want to be there!' He made that happen. So it's nice to have his pieces here.
What do you feel when you walk through Africa Fashion?
It's a beautiful exhibition. I like the breadth of it. Apart from situating the pieces in a way that celebrates them, it also situates it within our culture–in terms of music, in terms of art, in terms of process. I think the depth of it is very, very interesting. And it's all-encompassing, including the diaspora brands. The celebration and elevation of it. It looks a bit different from London, because of the space and there's a bit of drama around it; it seems to be more prominent and you feel the impact a little bit more. And I think the work deserves that, deserves that impact. Of course, I know most of the designers so I knew what to expect. But this was sensational. Thoroughly enjoyed it.
The exhibition comes at a time when African fashion is really taking its place in the global conversation around fashion. What do you hope it will do for those who want to know more about the continent's designers and creators?
I think the variety is interesting. It is about time that Africa is in the global conversation about creativity. We have the depth to do that. We've always had it. I think this will show that depth and that breadth. Going forward, the global conversation around fashion is not able to exclude Africa anymore, with this kind of exhibition–understanding that, actually, there's a lot from Africa that needs to be seen that hasn't been seen before. And should be included in the fashion consciousness, on a higher level than previously.
That's why I think of this exhibition as a point of reference; it elevates and exposes the beauty, and the fact that it's quite advanced. I think it's time, it's a good representation, with which, from now on, we can be respected on the global fashion scene in a way that's not forced on you, but you can see that it's inevitable, because it's there. A platform that we have created as Africans is the best way to consume it. It's authentic. It's believable, and should be consumed as such. The quality of it should literally automatically let people know that we should be part of that global community in fashion.
Are there plans to give Alára a permanent space in the U.S.?

This is a test, so watch this space. Let's see how it goes!
What are some of your favorite pieces in the retail experience?
I like many pieces, that's why they're here [chuckles]. It's great to have Hugh, as I mentioned before, since I've never had him here before. It's also great to see young designers. Like Thebe Magugu, he is a wonderful storyteller, you can tell from the dresses he makes. He made some of them especially for this particular occasion. Each dress has meaning, so it's good to have him here.
Dye Lab, from Lagos, made shorts especially for us for this occasion. They are, of course, the designer [label] of the moment. People love them and they sell out fast, so we're glad to have them here, too. It's great to have Atang Tshikare, the sculptor. And of course, the likes of Orange Culture, who always does the drama, and [Sarah] Diouf ['s Tongoro] is here. Éki Kéré is fun, she works almost exclusively with raffia. We have artists and creatives from all over.