One of the standout moments at the 2022 World Cup happened in the group-stage game between Switzerland and Cameroon. Breel Emboloscored from a low cross, putting Switzerland ahead, but he did not celebrate in deference to the Cameroonians. Although he wears Swiss colours, he is from Cameroon and was born in Yaoundé. Embolo is only one of many footballers of African ancestry who play for non-African, often European, countries.
At the Qatar World Cup, over 50 players of African descent played for non-African countries. Likewise, dozens of players with African roots participated in the Euros' 2020 edition. Some of these players have been hailed by fans and pundits alike as some of the best of their generation; and many of them have won both team and individual awards.
France's captain Kylian Mbappe is one such player of African descent. His performance at the 2018 and 2022 World Cup editions have had many compare him to Brazil's Pelé and tipped him to pick up from where football icons like Lionel Messi and Cristiano Ronaldo left off. Bukayo Saka, who is of Nigerian descent but plays for England, has also been hailed as one of the current best wingers in the world, his sparkling form for The Three Lions winning him the England Player of the Year award last season over Declan Rice and Harry Kane. There are many more such players of African heritage who play for other non-African countries—from Jamal Musiala to Alphonso Davies to Cody Gakpo—and OkayAfrica ranks them in ascending order.
10

.

Cody Gakpo / Ghana-Togo / Liverpool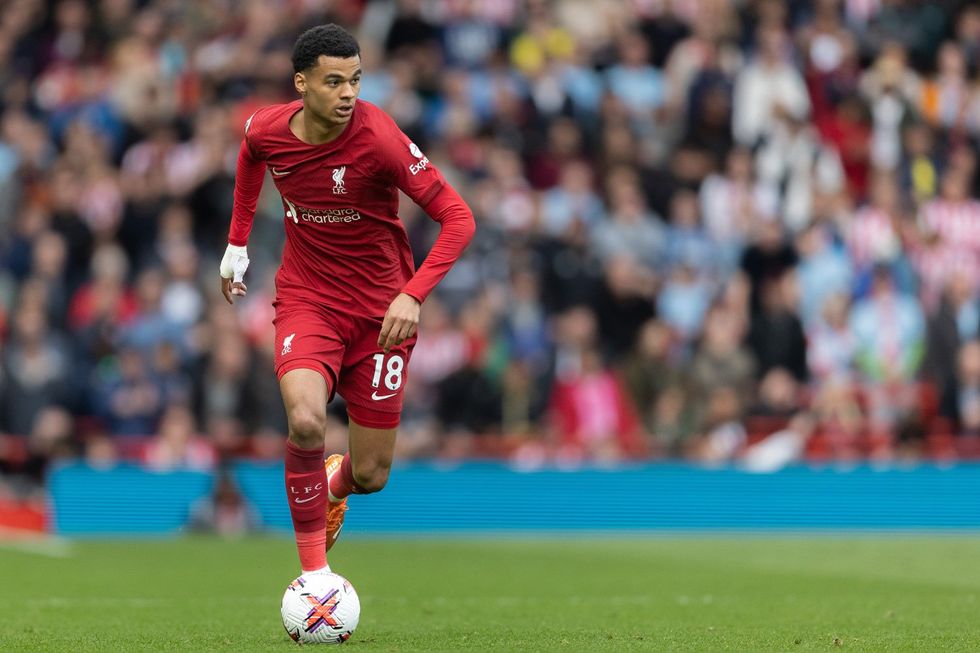 Cody Gakpo of Liverpool during the Premier League match between Liverpool FC and Brentford FC at Anfield on May 6, 2023 in Liverpool, United Kingdom.
Photo by MB Media/Getty Images.
Cody Gakpo was born in Togo, is of Ghanaian descent, and has played for The Netherlands' senior team as a forward since 2021.
While Gakpo looks to build a legacy in the Dutch team, he has already established himself as a reliable talent, showing a lot of promise for the Dutch at the last World Cup.
His performance at PSV won him the Dutch Footballer of the Year award for the 2021–22 season. And currently, at 24 years old, his weekly performances for his new club Liverpool show why he is one of the best young players in the world.
9

.

Antonio Rüdiger / Sierra Leone / Real Madrid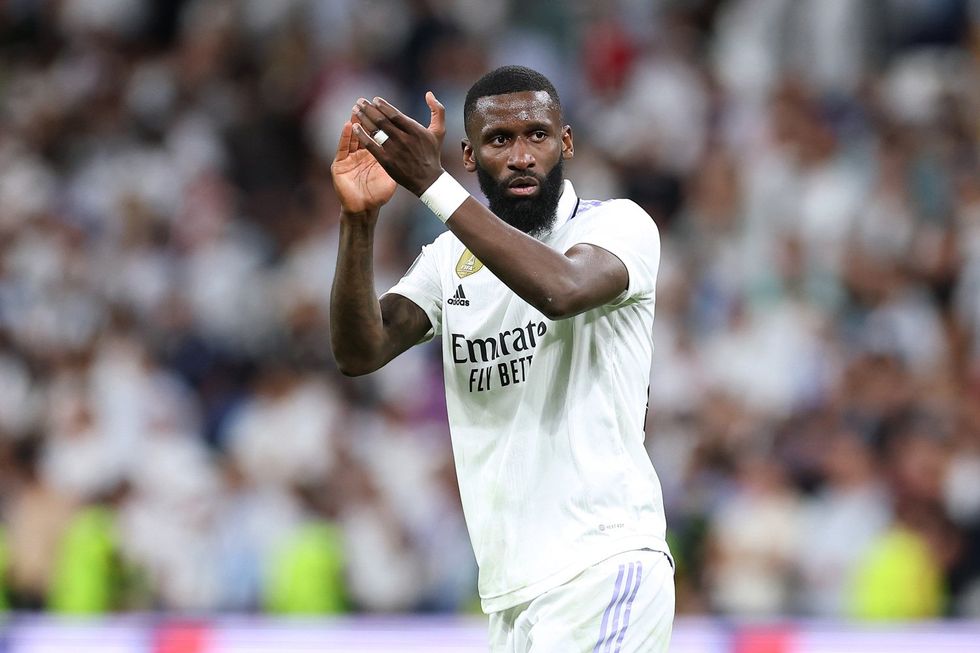 Antonio Rudiger of Real Madrid applauds their support after the UEFA Champions League semi-final first leg match between Real Madrid and Manchester City FC at Estadio Santiago Bernabeu on May 09, 2023 in Madrid, Spain.
Photo by Alex Livesey - Danehouse/Getty Images.
Rüdiger's African heritage comes from his mother, who is Sierra Leonean. Since his debut for the German national team in 2014, Rüdiger has proven his bona fides as a centre-back.
He was part of the German national squad which won the 2017 FIFA Confederations Cup in Russia. At six feet and three inches tall, Rüdiger is adept at dispatching aerial threats. His anticipation and keen reading of the game also allow him to complement his physicality with a cerebral touch. He is, no doubt, one of the world's best defenders at the moment.
8

.

Aurélien Tchouaméni / Cameroon / Real Madrid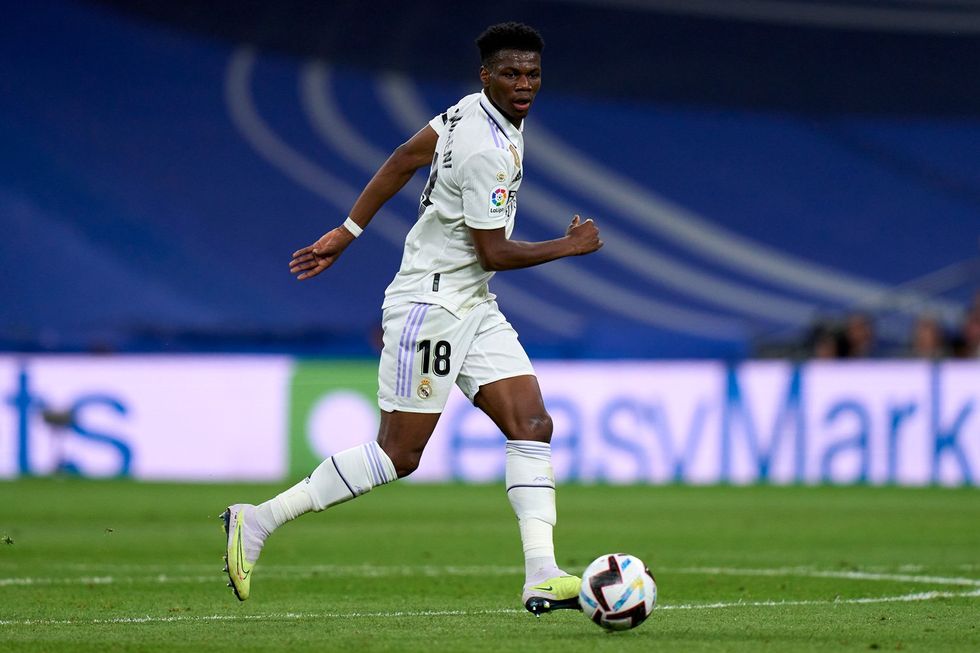 Aurelien Tchouameni of Real Madrid passing the ball during the LaLiga Santander match between Real Madrid CF and Getafe CF at Estadio Santiago Bernabeu on May 13, 2023 in Madrid, Spain.
Photo by Diego Souto/Quality Sport Images/Getty Images.
At the 2022 World Cup, Aurélien Tchouaméni gave a standout performance for France as a defensive midfielder, scoring a golazo against England in the quarter-finals. Like Mbappé, he is of Cameroonian descent.
He made his France debut in 2021, the same year he was
named
Ligue 1 Young Player of the Year for the 2020 - 21 season. At both France and Real Madrid, he is building a reputation through his work rate and precise passing, his spatial awareness and reading of the game, and his ability to break through the lines.
7

.

Ansu Fati / Guinea-Bissau / Barcelona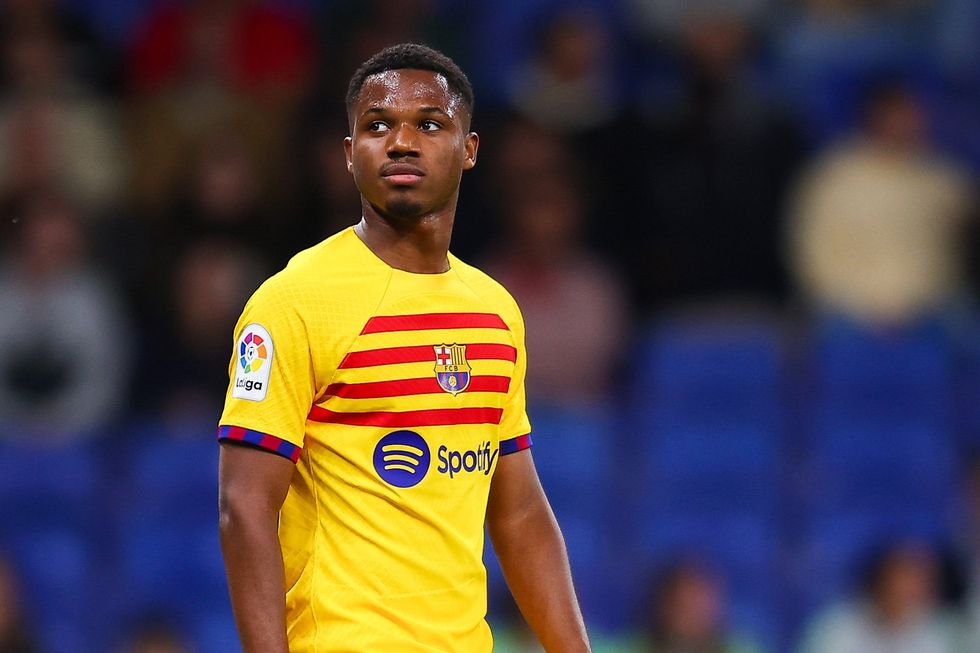 Ansu Fati of FC Barcelona looks on during the LaLiga Santander match between RCD Espanyol and FC Barcelona at RCDE Stadium on May 14, 2023 in Barcelona, Spain.
Photo by Eric Alonso/Getty Images.
Nothing bespeaks Ansu Fati's football talent more than that FC Barcelona bestowed on him the number 10 jersey, previously worn by the club's greatest player Lionel Messi.
Like Messi, Fati is of stocky build and has a low centre of gravity which, as markers often find, makes it hard to shake him off the ball. He combines that with an ambidexterity that makes him an unpredictable shooter. He has also shown a facility for playing in multiple positions upfront, either centrally or on the wings.
Fati has played for Spain's senior team since 2020, but he originally hails from Guinea-Bissau. He scored in his debut international game and became Spain's youngest ever goalscorer at the time. That September, he won the La Liga Player of the Month award.
However, a spate of injuries has slowed Fati's momentum, especially for Spain. For instance, a knee injury put him out of action for nearly a year, between November 2020 and September 2021. If he can find a way to stay fit, there is little doubt that the 20-year-old will soar even higher in his career.
6

.

Ousmane Dembélé / Senegal-Mauritius-Mali / Barcelona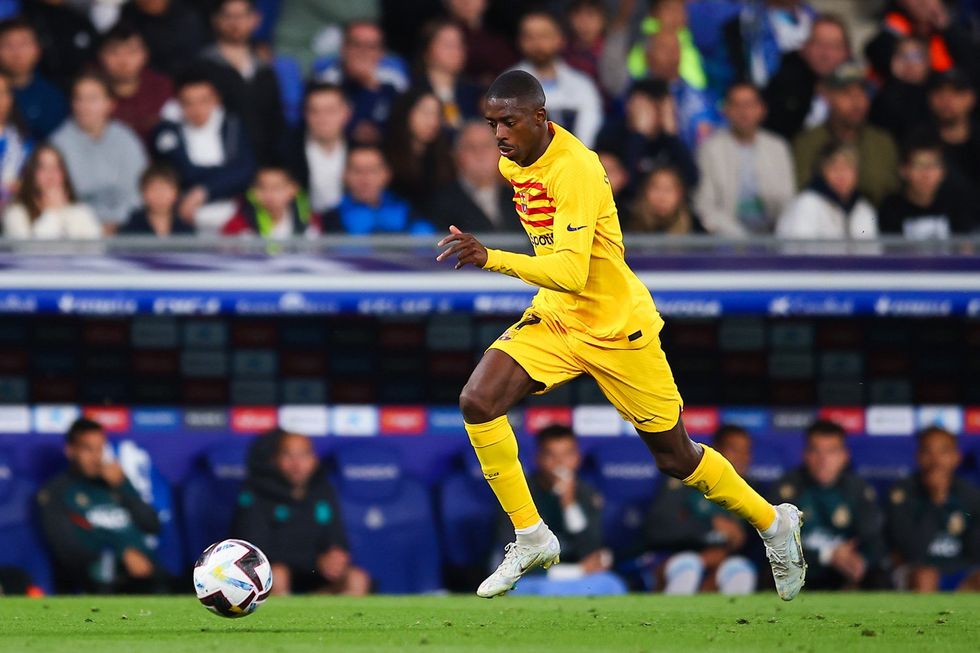 Ousmane Dembele of FC Barcelona run with the ball during the LaLiga Santander match between RCD Espanyol and FC Barcelona at RCDE Stadium on May 14, 2023 in Barcelona, Spain.
Photo by Eric Alonso/Getty Images.
In Vegedream's "Ramenez la Coupe à la Maison" — the anthemic song made for the French national team during the 2018 World Cup — a line dedicated to Ousmane Dembélé goes: "Can't remember if I'm better on the left or the right/ I shoot with both my feet."
Dembele's ambidexterity makes him both an unpredictable dribbler and shooter. He combines this with a blinding speed and for several seasons has been one of the best wingers in the world, despite his spell of injuries.
He has been crucial to Les Blues since his debut in 2016, a potent force on the wings as France cruised to their third World Cup title in 2018. And yet as French as Dembélé is, he is of Senegalese, Mauritian, and Malian descent.
5

.

David Alaba / Nigeria / Real Madrid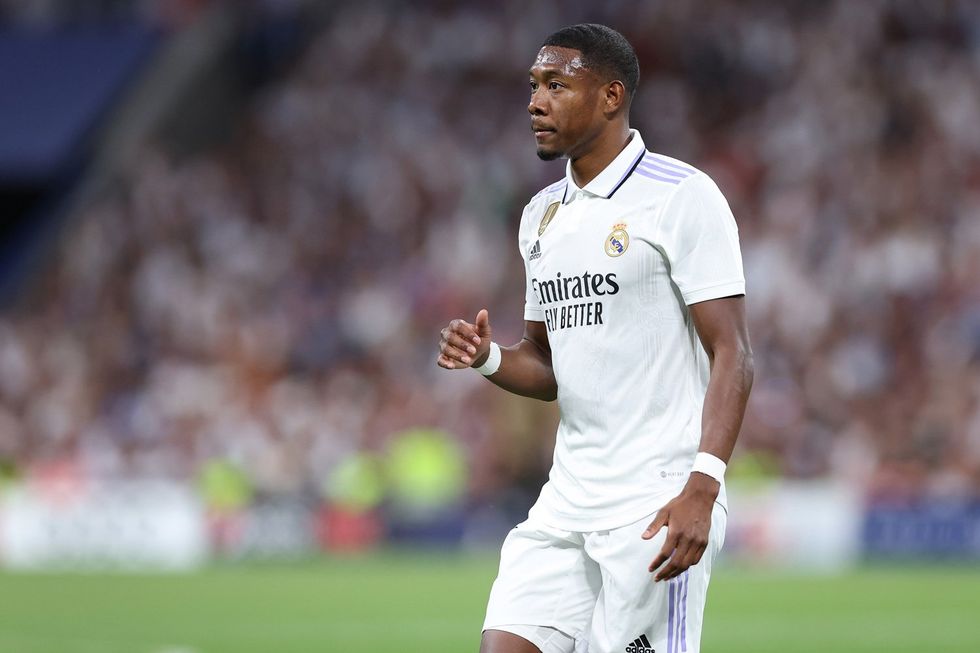 David Alaba of Real Madrid looks on during the UEFA Champions League semi-final first leg match between Real Madrid and Manchester City FC at Estadio Santiago Bernabeu on May 09, 2023 in Madrid, Spain.
Photo by Alex Livesey - Danehouse/Getty Images.
Like Bukayo Saka, David Alaba hails from the Yoruba tribe in Nigeria. But he has played as a left-back or centre-back for Austria since 2009, where he has often dazzled with his attacking nous and set-piece ability. When he made his debut at 17 years old, he was the youngest player in the history of the Austrian national team.
Having won the Austrian Footballer of the Year award nine times, Alaba is an icon in his country. He has also won the Austrian Sports Personality of the Year award twice.
Alaba's career rests mostly on his exploits at Bayern Munich, for whom he played 11 years, winning many trophies, including 10 Bundesliga and two Champions League titles. He now plays for Real Madrid, with whom he won the Champions League last season, in which time showing why he is still one of the best in his position at 30 years old.
4

.

Alphonso Davies / Liberia / Bayern Munich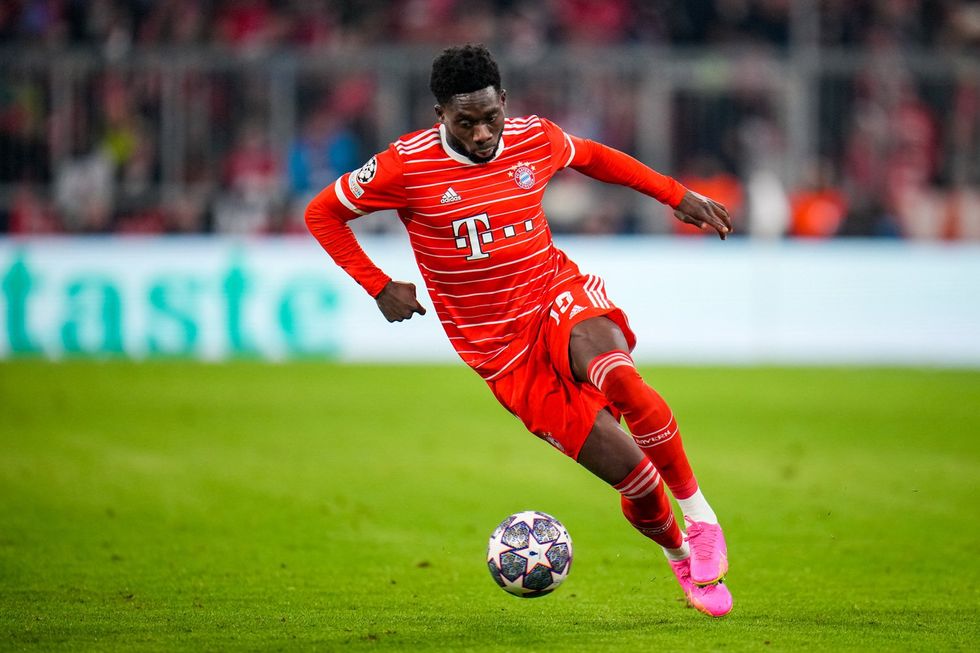 Alphonso Davies of FC Bayern Munchen dribbles with the ball during the UEFA Champions League Quarterfinal Second Leg match between FC Bayern Munchen and Manchester City at the Allianz Arena on April 19, 2023 in Munich, Germany.
Photo by Rene Nijhuis/BSR Agency/Getty Images.
Although Canada went out in the group stage at the 2022 World Cup, the competition holds a fond memory for the North American country. In the game against Croatia, the country scored its first-ever World Cup goal. And it was scored by Alphonso Davies, Canada's pacy left-back who has two Liberian parents.
Davies has endured a difficult childhood to become one of the best players in his position at only 22 years old. He was born in a refugee camp in Ghana, after the Second Liberian Civil War had displaced his family.
He made his debut on the Canadian team in 2017 and in that time has built a formidable reputation, winning the Canadian Men's Player of the Year award four times. He was also the CONCACAF Men's Player of the Year for 2021.
Davies likewise remains a cornerstone in his club Bayern Munich, whom he helped to win the Champions League in the 2019-20 season, shining particularly in the quarterfinals against FC Barcelona. His merry-go-round dribble past Barça's Nelson Semedo became stuff of legend in the football world.
3

.

Bukayo Saka / Nigeria / Arsenal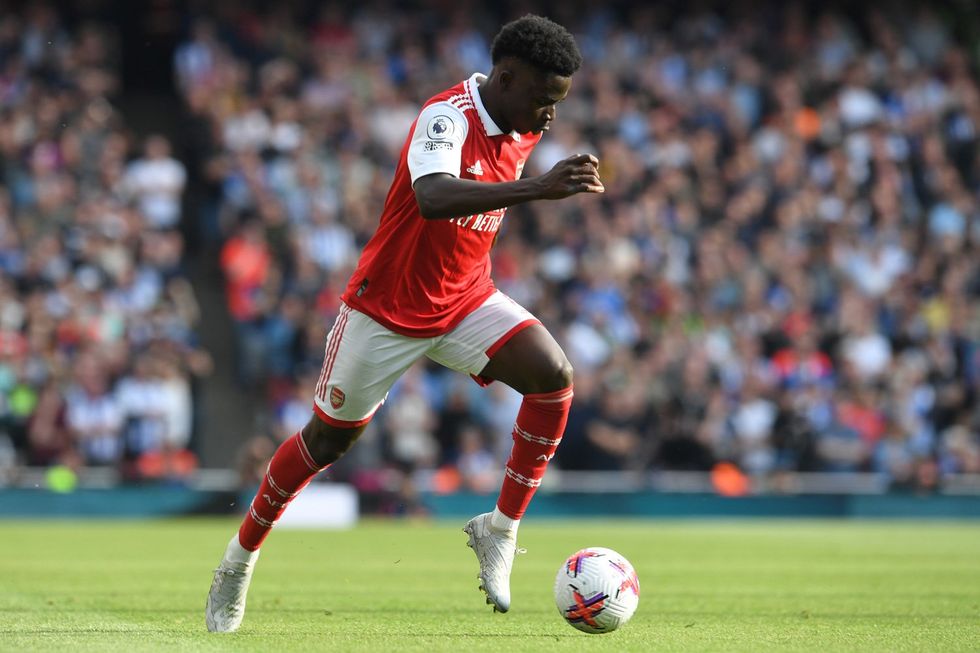 Bukayo Saka of Arsenal during the Premier League match between Arsenal FC and Brighton & Hove Albion at Emirates Stadium on May 14, 2023 in London, England.
Photo by David Price/Arsenal FC via Getty Images.
With only a few matches left to play, Arsenal lead in the sack race to win the Premier League this season, a trophy that has eluded them since the 2003-04 season. They owe a large part of their success this season to their right-winger Bukayo Saka, who has scored 13 goals in 36 league matches. Saka has also been instrumental as a playmaker, providing 11 assists in the league this season.
Saka was born to Nigerian parents from the Yoruba tribe. He was born in England and has represented the country since 2020 in senior international football. Combining speed with sharp dribbling skills, he has made himself indispensable in The Three Lions' squad. He was crucial to England reaching the final in Euro 2020 and was one of the country's best performers at the 2022 World Cup. His contributions to the team made him England's Player of the Year for the 2021–22 season.
As he is only 21 years old, one can only imagine the dimensions his talents would take. He is already among the world's best young players, with a host of individual honours to his name. He has been Arsenal's Player of the Season twice and was the club's top scorer in the 2021 - 22 season. Last month, he was named the Premier League Player of the Month.
2

.

Jamal Musiala / Nigeria / Bayern Munich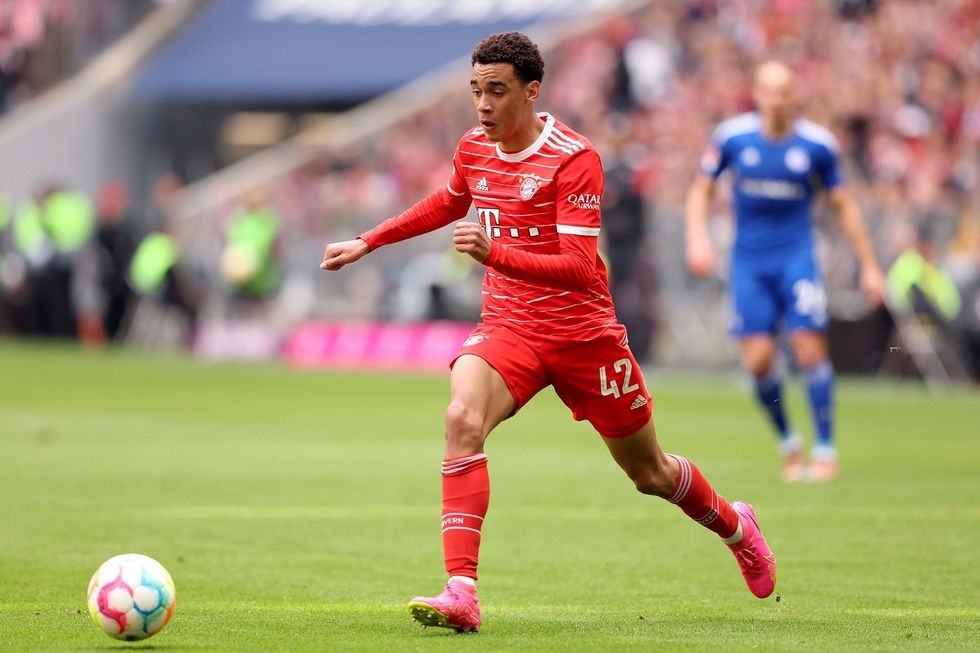 Jamal Musiala of FC Bayern München runs with the ball during the Bundesliga match between FC Bayern München and FC Schalke 04 at Allianz Arena on May 13, 2023 in Munich, Germany.
Photo by Alexander Hassenstein/Getty Images.
Jamal Musiala is of two worlds: England and Germany. He played at the youth level for the former and since 2021 has played for the latter at the senior level. But he is also of Nigerian descent. Nigeria's Super Eagles can only wish he played for them, what with his seeming incapacity to lose the ball, even when severely pressed. A master of the body feint, Musiala dribbles past defenders with an effortless fluency. When Germany faced Costa Rica at the 2022 World Cup, Musiala (then 19 years old) completed 12 dribbles, the most by a teenager in a World Cup game since 1966.
But Musiala is also a competent goalscorer, proof of which are his 11 goals in 31 Bundesliga matches for his club Bayern Munich this season. For an attacking midfielder whose duty primarily is to create chances rather than score goals, this is applaudable. His accurate passing and vision also allow him to create many goal-scoring opportunities in a game for his teammates.
At only 20 years old, Musiala has become indispensable for the German national team. He was their best player at the just concluded World Cup, for which he was named Germany's 2022 Footballer of the Year.
1

.

Kylian Mbappé / Cameroon-Algeria / Paris Saint-Germain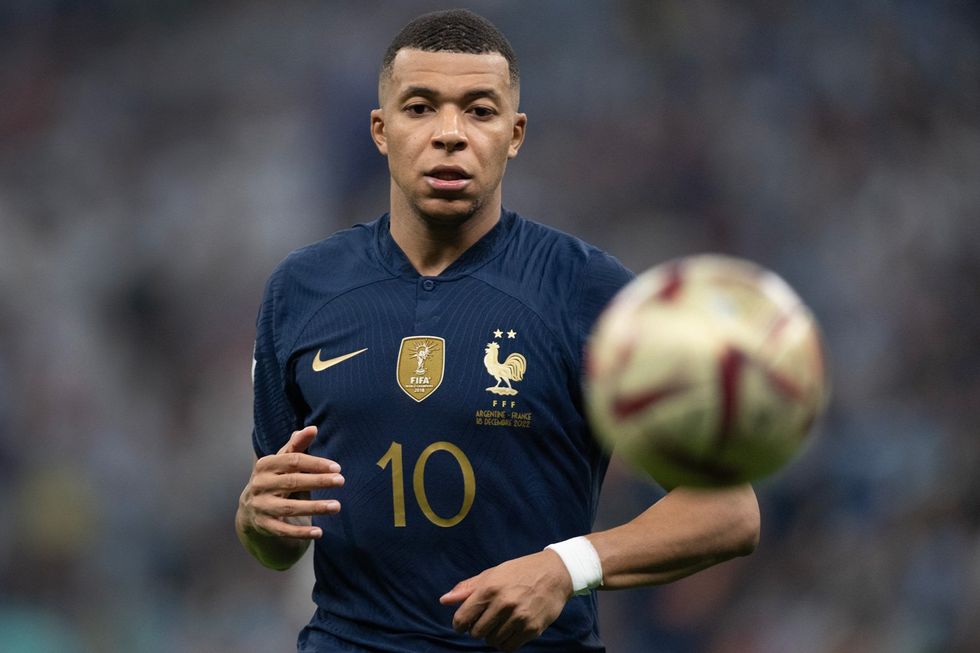 Kylian Mbappe of France in action during the FIFA World Cup Qatar 2022 Final match between Argentina and France at Lusail Stadium on December 18, 2022 in Lusail City, Qatar.
Photo by Visionhaus/Getty Images.
Among football fans of a certain age, France's Kylian Mbappé inspires jokes about the speed force, the fictional dimension in the DC Comics universe that is the source of the preternatural speed of superheroes like The Flash. Using his speed, Mbappé often splinters even the most organised defence, leaving defenders breathless as they helplessly chase after him.
But Mbappé is more than a fast pair of legs. He's also a prolific goalscorer. This season he has scored 26 goals in 31 appearances for Paris Saint-Germain in Ligue 1, holding his own even against his peerless teammate, Argentina's Lionel Messi. He has also proven to be a big-game player, most recently at the last World Cup, where he scored a hat-trick in the final and won the Golden Boot award. At the 2018 World Cup, he also scored in the final, helping France to its third World Cup title.
But while Mbappé brings football glory to France — a country in which he was born and raised — he is of African ancestry. His father is from Cameroon and his mother is of Algerian Kabyle descent.
Already a three-time recipient of the French Player of the Year award, and having once placed fourth in the Ballon d'Or, Mbappé is on course to become the greatest footballer of his generation.