Football in Africa dates back to the earliest years of the 20th century. Though the pace of development has been tardy, that century produced some of the finest talents the game has ever seen on the continent. Football became prominent amongst African nations when most started gaining independence.

Egypt began its exploits in the game earlier on when they became the first African nation to participate in the 1920 Summer Olympics at Antwerp. Players like Mohamed Shawky and Hussein Ragab didn't know they were setting up the pace for a game that would grow in the hearts of generations to come on the African continent.
Ghana, at the time, also had a vibrant footballing scene, having clubs like Hearts of Oak formed as early as 1911. In 1951, a group of players set to be the National team one day were sent on a football tour to the U.K. Ghana lost eight of their 10 games on British soil. Players like C.K Gyamfi, Dogo Moro, Baba Yara, and others left a lasting impression.
This trip created a domino effect. Other African nations began starting their own teams and national leagues. That bred a crop of players in different African countries that still live — even long after their retirement — on the hearts of fans in the pubs, amongst older folks discussing sports news in their lazy chairs, and fans who were there to see the women also showcase their talents.
It is on these routes and paths that the new generation is following to make more significant strides. Most African players today have shot significantly into the stratosphere but the names that served as a launchpad for most of them, cannot be forgotten.
Here's OkayAfrica's list of the greatest footballers to ever grace the green pitches in Africa, and the world beyond as history would have it.
12

.

Genoveva Anonman
Genoveva Anonman Nze of Equatorial Guinea runs with the ball during the FIFA Women's World Cup 2011 Group D match between Equatorial Guinea and Brazil at FIFA World Cup stadium Frankfurt on July 6, 2011 in Frankfurt am Main, Germany.
Photo by Friedemann Vogel/Getty Images.
Anonman is a native of Equatorial Guinea and was born in the southern town of Cogo. Little did she know that one day, she would lead her country to its most unprecedented victory in football, and that she would shine as one of the surprise stars of the 2011 Women's World Cup.
Nicknamed "Ayo," Anonman started playing football when she was just five years old. She began her career with Malabo Kings, one of the biggest clubs in Equatorial Guinea. She subsequently earned a call-up to the national team and did the unthinkable with her team at the Women's African Cup of Nations (WAFCON).
In 2008, she led her team to an emphatic and historic victory by winning the trophy after they trounced the South Africans in the final. She replicated the same feat with her team by making it to the final of the 2010 WAFCON but they fell to the quality of a Nigerian side, who sought revenge against the team for eliminating them in the semi-final of the previous edition.
In 2012, they hosted the WAFCON and Anoman won it for the second time with her teammates. Prior to that year, she featured in the 2011 World Cup in Germany and scored her country's only two goals to date at a World Cup.
Anonaman continued her club career in FC Jena, a team in the Frauen-Bundesliga after her one-year stint with Mamelodi Sundowns (2006-7). She finished as the team's top scorer for two consecutive seasons. She moved to Turbine Potsdam and netted 60 goals in 79 matches.
She has since played for Portland Thorns, Atletico Madrid, Maccabi, and a host of teams around the world including South Korea's Suwon FC Women. Anonman currently plays for Rafelbunyol in the Spanish Primera Regional Championship. In 2012 she won African Women's Footballer of the Year.
11

.

Essam El-Hadary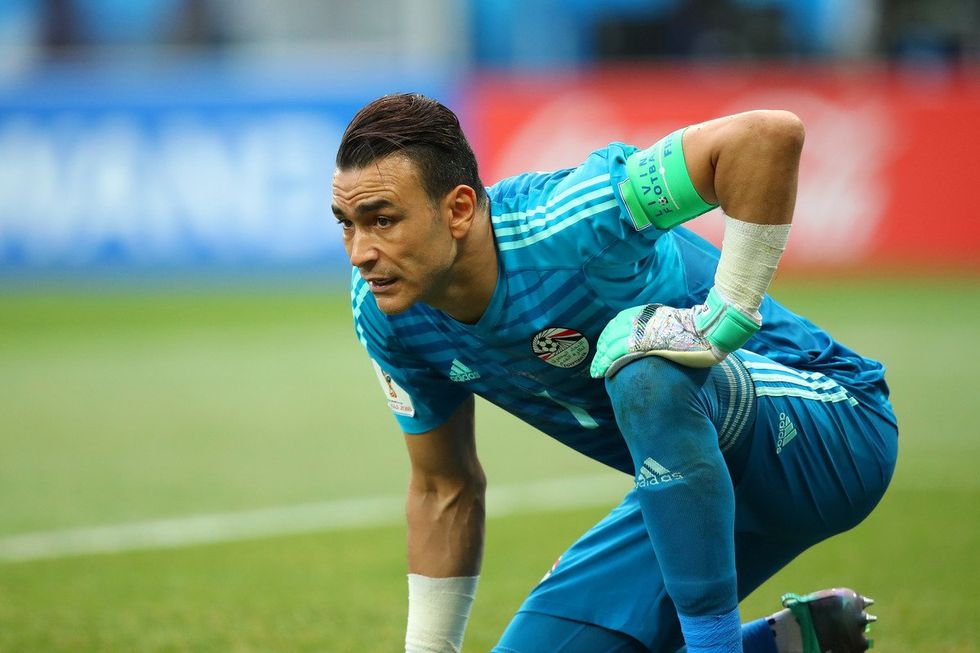 Essam El Hadary of Egypt looks on during the 2018 FIFA World Cup Russia group A match between Saudi Arabia and Egypt at Volgograd Arena on June 25, 2018 in Volgograd, Russia.
Photo by Robbie Jay Barratt - AMA/Getty Images.
El-Hadary is a regular face in goal for the Egyptians. He has for the longest time been the trusted hand safeguarding the goalpost of the Egyptians. He has 159 appearances for the Egyptian Men's National Team. He was pivotal in their AFCON wins in 1998, 2006, 2008, and 2010.
At club level, like Hossam, El-Hadary spent most of his time playing for Al Ahly, his hometown. He won six Egyptian Premier League titles with them, four CAF Champions League, three CAF Super Cups, one Arab Club Champions Cup, and two Arab Super Cups.
He was nicknamed "High dam" for his reflexive goalkeeping skills which earned him captain of the side after Hossam retired in 2006. He retired from football in 2018 and became the goalkeeping coach of the Egyptian National team in 2021. El-Hadary moved to join the coaching staff of the Syrian National team in February 2023 and has been there since.
In his personal awards cabinet, the decorated goalkeeper has won
CAF Champions League Best Goalkeeper
for the years 2001, 2005, and 2006. He complimented that by winning AFCON Best Goalkeeper for the years 2006, 2008, 2010, and 2017.
10

.

Perpetua Nkwocha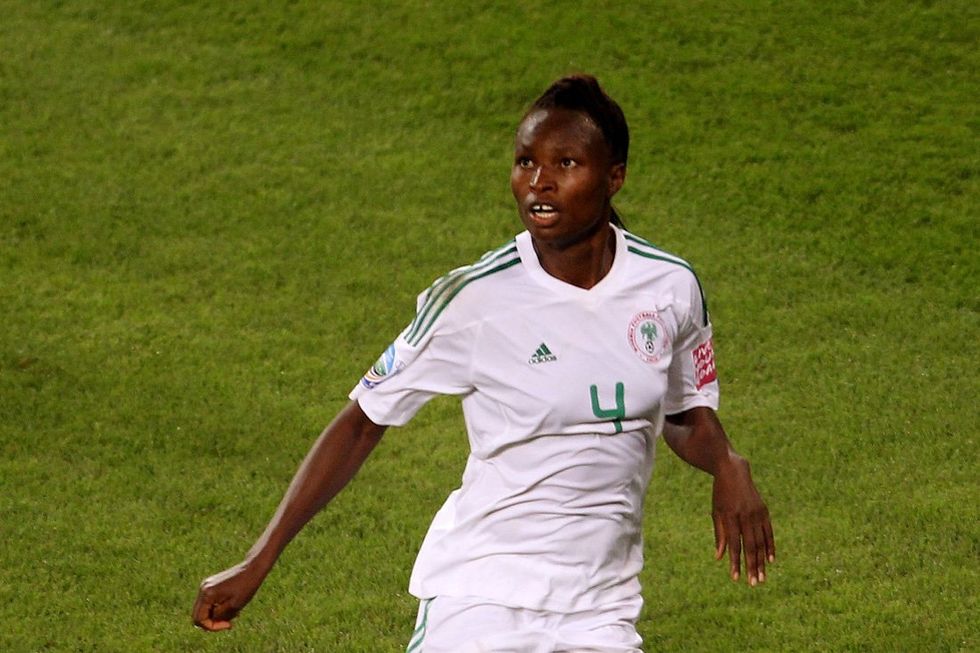 Perpetua Nkwocha of Nigeria in action during the FIFA Women's World Cup 2011 Group A match between Canada and Nigeria at the Rudolf-Harbig Stadium on July 5, 2011 in Dresden, Germany.
Photo by Scott Heavey/Getty Images.
She is a legend and somewhat of a myth in African Women's football. Her innate abilities and skills on the ball have inspired the Super Falcons of Nigeria into winning a plethora of Women's African Cup of Nations, five of which she was actively involved in. In 1976, the town of Okpalla birthed Perpetua — a girl who wanted to pursue law or be a nun, but football captured her soul and the rest is beautiful history. Her four goals against Cameroon in the 2004 African Women's Cup of Nations final in South Africa are still remembered fondly by Nigerians.
After making her first Senior appearance in 1999, she has been a goal-scoring machine for the Super Falcons. Out of 139 caps, she has found the back of the net in national colors 65 times, making her the all-time top scorer of the Nigerian Women's National team.
She played Rivers Angels and Pelican State in Nigeria before transitioning into the Swedish Women's League in 2007. She played there till 2015 when she announced her retirement. Perpetua is the first African Woman to score in the Summer Olympics. This was during the 2000 Sydney Olympics.
She is also the first to win African Woman Player of the Year a record four times in the years 2004, 2005, 2010, and 2011. The 47-year-old decided to take up Swedish citizenship after retiring and now coaches Swedish Women's fourth-tier-side Clemensas IF. African Women's football history can't go without Perpetua's brilliance. She truly was an enigma on the field.
9

.

Yaya Toure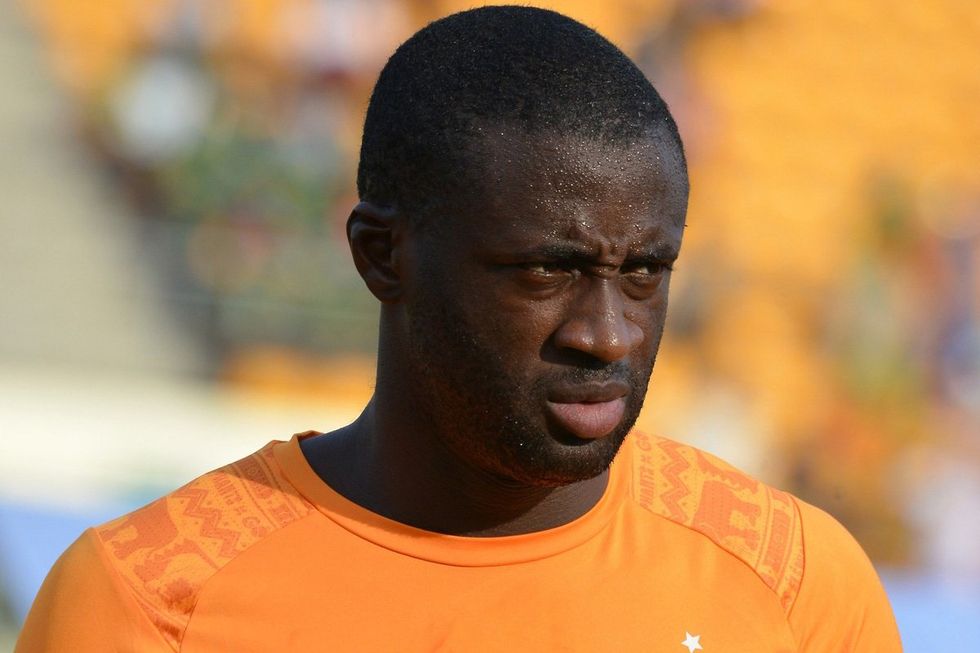 Ivory Coast's midfielder Yaya Toure poses ahead of the 2015 African Cup of Nations group D football match between Ivory Coast and Guinea in Malabo
Photo by SSOUF SANOGO/AFP via Getty Images.
Manchester City fans demanded a statue erected for the 40-year-old after his immense contribution to making them one of the greatest Premier League teams currently in England. Born and raised in Buoake, Ivory Coast, Gnegneri Yaya Toure began his football career playing in Youth Teams.
His footballing skills earned him a special call-up to a European football program in Belgium. The football program was mainly to showcase Ivorian talents in Europe and Toure was one of 14 players chosen for this experiment.
His adept footballing skills eventually earned him an Arsenal try-out in 2003 because the 20-year-old had grasped the attention of Arsene Wenger. Those North London dreams fell through the rocks when Toure couldn't get a work permit.
He decided to take the long route to success and started out in Ukraine and then moved to Olympiacos where fans praised his skills as reminiscent of French Legend Patrick Vieira's. He propelled the Greek giants into winning the double. He moved on to the French Ligue 1 side Monaco, where he was key in saving them from relegation. Barca swooped in 2007 to sign the Ivorian.
The highlight of his European exploits came when he won the UEFA Champions League with the Catalans in 2009 and then moved to Premier League side Manchester City. Here, he wrote history in the club's colors as one of the greatest midfielders in the game.
He led City to their first Premier League title in 2012 and won the FA Cup subsequently as well. In Ivorian colors, he featured in six African Cup of Nations, and won runners-up in 2006 and 2012 before finally, captaining his team to the ultimate trophy in 2015.
He won BBC African Footballer of the Year twice in 2013 and 2015. Like a Domino effect, the other laurels followed and won the CAF African Footballer of the Year four consecutive times in 2011, 2012,2013, and 2014. Toure is highly regarded as one of the midfield greatest of all time.
8

.

Jay Jay  Okoacha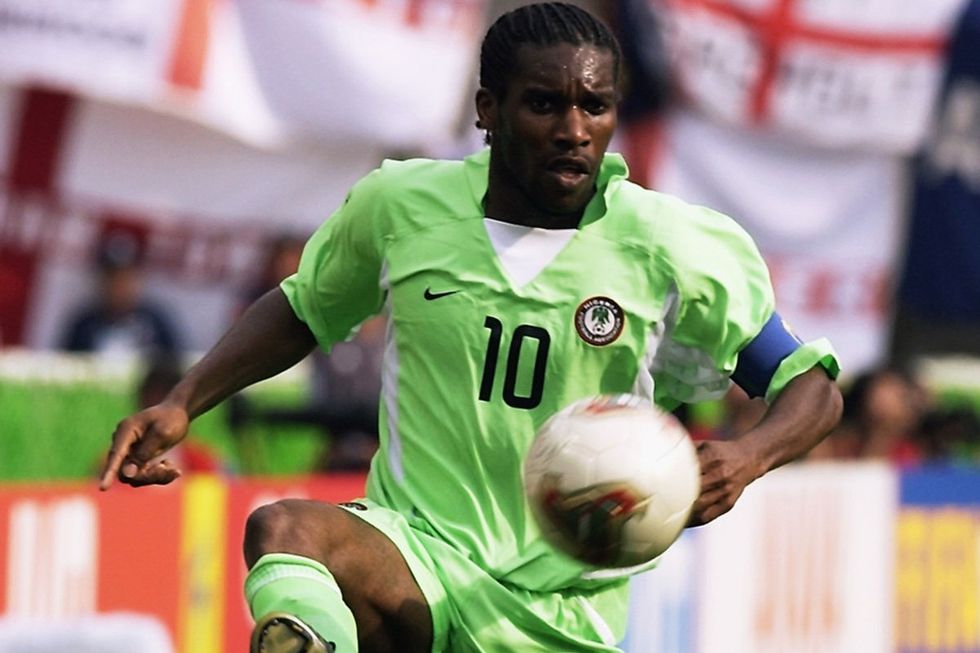 Jay Jay Okocha of Nigeria brings the ball under control during the FIFA World Cup Finals 2002 Group F match between England and Nigeria played at the Osaka-Nagai Stadium, in Osaka, Japan
Photo by Stu Forster/Getty Images.
This is the player many claim influenced Ronaldinho's style of play in PSG. And to this day, is remembered on the streets of Horwich by Bolton fans for steering them away from relegation during the 2002-03 season in the Premier League. Before winning the hearts of Europe's top-flight leagues, Augustine Azuka Okocha was and is still loved dearly in Nigeria, his home.
He scored 14 goals for his nation between 1993 and 2006. At club level, he had a good run in Germany when he signed for Eintracht Frankfurt in 1992, where his midfield and playmaking prowess was a thing of beauty to witness for the fans. He scored 30 goals in his four-year stint with the Bundesliga club till Paris Saint-Germain (PSG) came knocking.
Again, his attacking midfield role hardly deterred him from finding the back of the net (18 times) for the French giants. His set piece prowess became a renowned phenomenon in no time.
Bolton Wanderers were on the verge of playing in the English Championship until Okocha arrived with the "messiah touch" to help them maintain their Premier League slot. As a young blistering playmaker in his National team, he powered the Nigerian U23 to gold at the 1996 Summer Olympics.
He went on to win the African Cup of Nations in 1994 and was awarded BBC African Footballer of the Year in 2003 and 2004. At Bolton, his name at the time, "Jay Okocha" was inscribed on the jerseys of fans, as "Jay Jay " and the latter stuck.
Okocha signed for Hull City in 2007 and led them to their first-ever Premier League qualification in their 104-year history. He retired in 2008 at age 34 and set up the Okocha Foundation.
7

.

Didier Drogba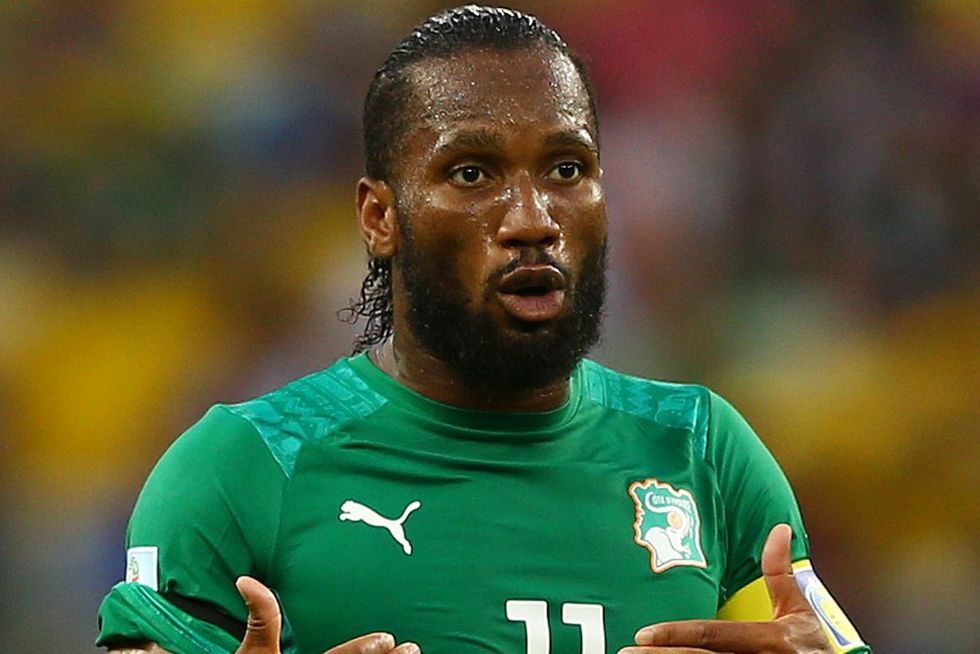 Didier Drogba of the Ivory Coast looks on during the 2014 FIFA World Cup Brazil Group C match between Greece and the Ivory Coast at Castelao on June 24, 2014 in Fortaleza, Brazil.
Photo by Michael Steele/Getty Images.
​Drogba's name reverberates in African hearts and that of Chelsea fans the most. The Ivorian legend is regarded as one of the best football stars to come out of Africa. His story begins in the city of Abidjan where he developed his love for football.
Dire family circumstances moved him to France where he resided with his uncle. Drogba's journey to stardom began in a semi-professional team in France called Le Mans. His impressive form will see him sign for Marseille and then later to Chelsea, a place he is regarded as a legend.
Drogba cemented his name as one of the most prolific strikers in the Premier League and for the 226 times he played for the Blues, found the back of the net 100 times.
Drogba won the UEFA Champions League with Chelsea in 2012. He won the Premier League Golden Boot in the 2006-07 and 2009-10 seasons respectively. He boasts of a wide array of laurels in his footballing journey including a BBC Player of the Year award in 2009 and 2012, named two-time African Player of the Year, and Time Top 100 for his influential philanthropy and his ambassadorial role with the UN.
Drogba is regarded as a hero in Ivory Coast for his
incredible speech
after Ivory Coast qualified for the 2006 AFCON. This was during a time the country was torn by civil war when elections were close. His speech in the dressing room changed the course of an election where bloodshed was anticipated to one where peace prevailed.
6

.

Samuel Eto'o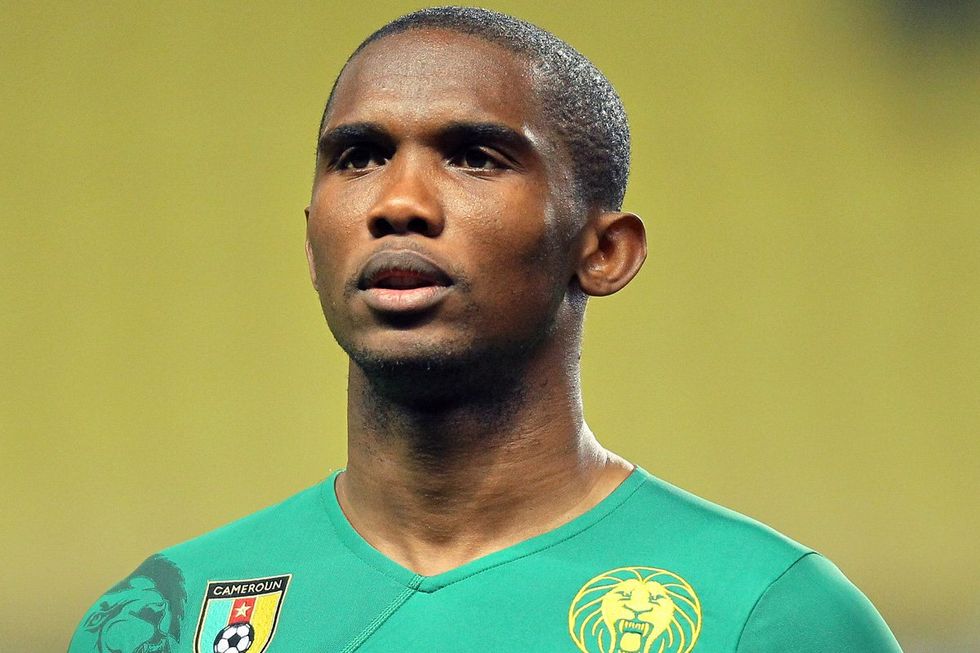 Cameroon's Samuel Eto'o poses before the friendly football match Italy vs Cameroon, on March 03, 2010 at Louis II stadium in Monaco.
Photo by Valery Hache/AFP via Getty Images.
Samuel Eto'o, widely regarded as Eto'o, is regarded as one of the greatest strikers to come out of Africa. He was a star right from a young age when he started out at Kadji Sports Academy in Cameroon. His fine form in the academy sent him to Real Madrid Academy at just 16, but was immediately thrown into the hamster wheel of loan spells.
Albeit his inability to play for Madrid, he made sure to prove himself in every team he was loaned to. He easily fit into every coach's style of play because, with Eto'o, all he knew was scoring goals from any angle. In 2004, he immediately became a regular starter in the team featuring five seasons for Barcelona and scoring a total of 130 goals with the team.
He went on to win the treble with Barca in 2009-2010. The 42-year-old holds the record as the most capped African in La Liga. His achievements continued to Italy after he signed for the Serie A club, Inter Milan. At Inter, Eto'o shone and made history as the only African Player to win back-back trebles with two different teams.
His name is mentioned amongst the greats now and it only gets better from there. In Cameroon, he won gold with his team during the 2000 Summer Olympics in a football tournament. He played in four AFCONs and is Cameroon's all-time top-scorer with 18 goals. He had stints with Chelsea and Everton in 2013 and 2014 respectively, before retiring at Qatar SC in 2019.
He won African Footballer of the Year a record four times in 2003, 2004, 2005, and 2010. He was the top goal scorer in Copa Italia in 2010 and won a Pichichi trophy in La Liga after scoring 30 goals that season in 2006.
He won the top assist provider for the UEFA Champions League in 2006 and won the AFCON top-scorer in 2006 and 2008. A true legend in the game and will forever be remembered.
5

.

Abedi Pele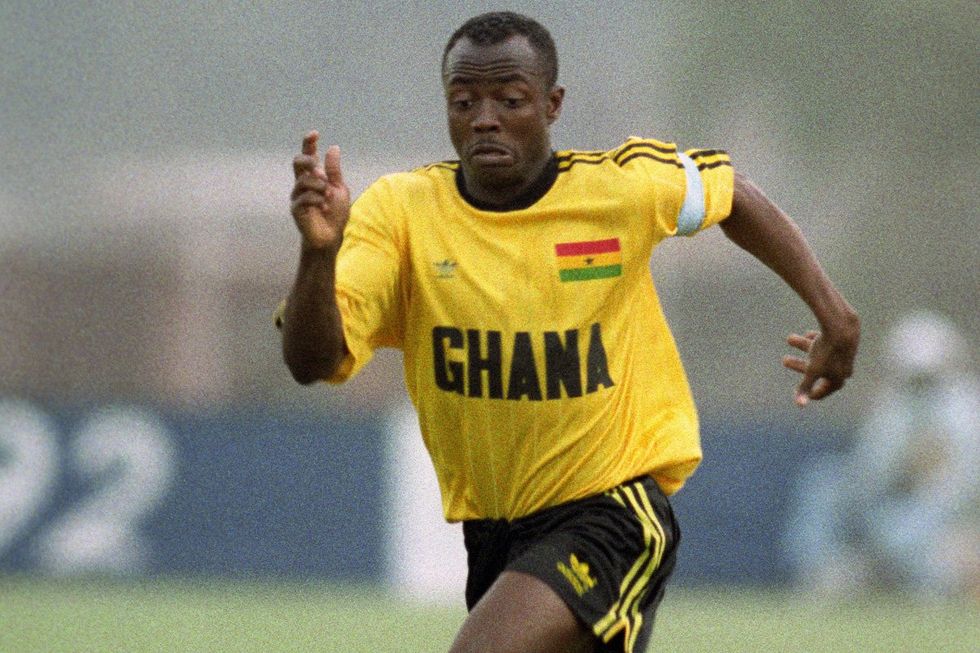 Abedi Pele chases after a football at the 1992 African Nations Cup in Senegal in the Group D match between Ghana and Zambia
Photo by Neal Simpson/EMPICS via Getty Images.
The name "Ayew" has been sealed in Ghana as a staunch football family name. A legacy that has been left by one of the greats in Ghanaian and African football and still lives on. Abedi Ayew is a Ghanaian International who grew up in Kibi, a town in the Eastern Region of Ghana.
Abedi's footballing prowess manifested from a young age in the Great Falcons-Ghana's youth team at the time. These skills earned him a plethora of nicknames. He was so impressive, fans compared him to fellow greats like Pele and Maradona.
His style of play, speed and adept dribbling skills made his transition from the Ghanaian League to the French Ligue 1 a smooth process. In Europe, the then 23-year-old became a force to reckon with, making him an important piece of the puzzle in his team, Olympique Marseille.
But, before earning his spot on the Marseille team, he had a loan stint with Lille where he scored 16 goals out of 61 appearances for the team. In 1993, Abedi Pele became the first Ghanaian to win the Champions League. It is a moment etched in the minds of Ghanaians and Africans because it encapsulated how great of a playmaker he was.
He featured 73 times for the Ghana National team and was pivotal in his country's African Cup of Nations title win in 1982. Ghana hasn't won any since then.
Abedi has a great array of personal awards including the 1991 BBC African Player of the Year, African Footballer of the Year three times in a row from 1991 to 1993, CAF Golden Ball, Ghana Footballer of the Year, Featured in the African All-Stars Dream team, IFFHS 3rd Best African Player of the century.
He bagged 159 goals out of 479 appearances in his club career and scored 19 goals for the Ghana National Team, The Black Stars. The big disappointment was fans not seeing him play at a World Cup before his retirement.
4

.

Hossam Hassan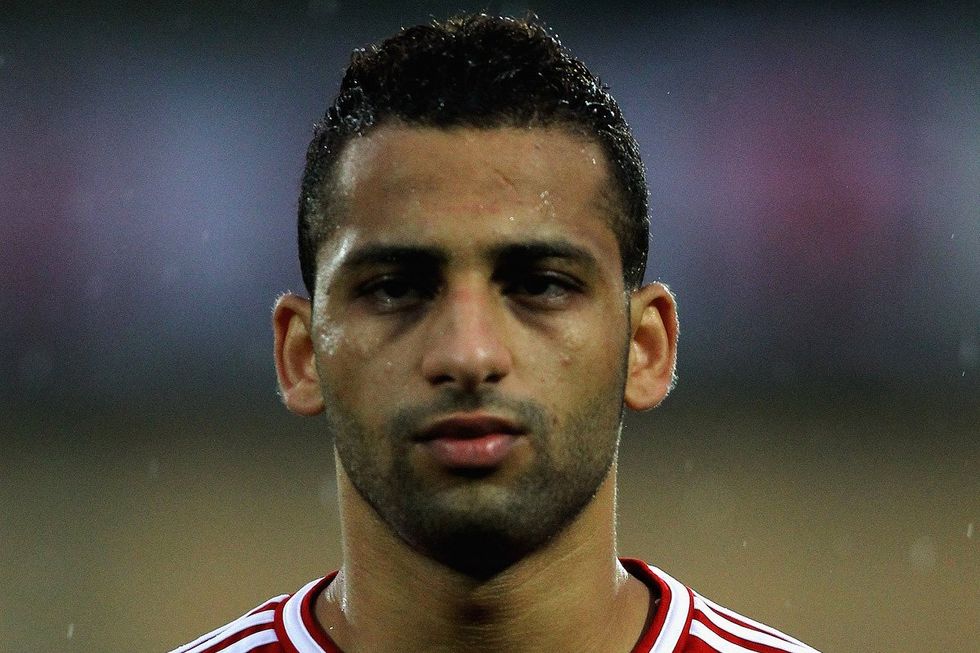 Hossam Hassan of Egypt looks on during the Toulon Tournament Group A match between Egypt and Turkey at Stade Perruc on May 25, 2012 in Saint-Raphael, France.
Photo by Matthew Lewis/Getty Images.
​Building a world-class legendary status mainly in your home country is an incredible feat, and it's more mind-blowing when an African can pull that off. Hossam Hassan was born and bred in Egypt and built his legacy as one of the finest footballers in the nation and the world there.
He is Egypt's all-time top scorer with 83 goals after 176 appearances for the Pharaohs. He was pivotal in all of Egypt's AFCON title victories in 1986, 1998, and 2006. On the club level, he dedicated a good 18 years of his life playing for his hometown team and one of the most decorated African football teams, Al Ahly.
He won 25 titles with the team before moving on to Zamalek, another Egyptian team where he won the 2002 CAF Champions League at age 34. Hossam was a joint top-scorer with Benni McCarthy in the 1998 AFCON. He resorted to coaching after he hung his boots at 42.
3

.

Roger Milla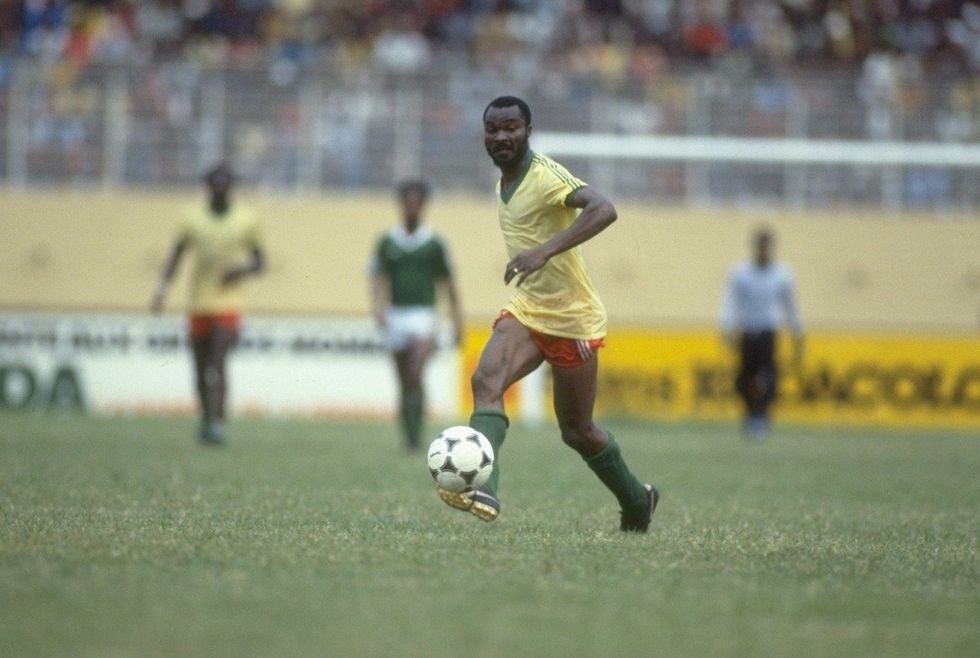 Roger Milla of Cameroon in action during a match against Nigeria. Cameroon won the match 3-0.
Photo by David Cannon/Allsport.
He is a fan-cult favorite in Cameroon and you can make a boisterous claim by calling him the greatest African Striker of all time. He averaged a total of 405 goals out of 606 appearances in his professional football career, a feat no Cameroonian striker has been able to best yet.
Born in Yaounde, the capital of Cameroon, Milla began his youth football with Eclair de Douala and transitioned into professional football after signing for Leopard Douala. He netted 89 goals for the Cameroonian football club.
In 1977, he left the local football scene to test international pitches in the French Ligue 1. For the Cameroonian national team, he scored five goals in the 1990 FIFA World Cup which made him the African with the most World Cup goals till he was overthrown by Ghana's Asamoah Gyan's six goals.
Milla moved to France and played with Valenciennes (1978–79), AS Monaco (1979–80), Bastia (1980–84), Saint-Étienne (1984–86), and Montpellier (1986–89). At Bastia, he scored a fantastic goal in the team's victory in the 1981 French Cup final. He also won a French Cup in 1980 with Monaco. He ended his club career in 1990 after a season with Saint-Pierre in Réunion.
2

.

George Weah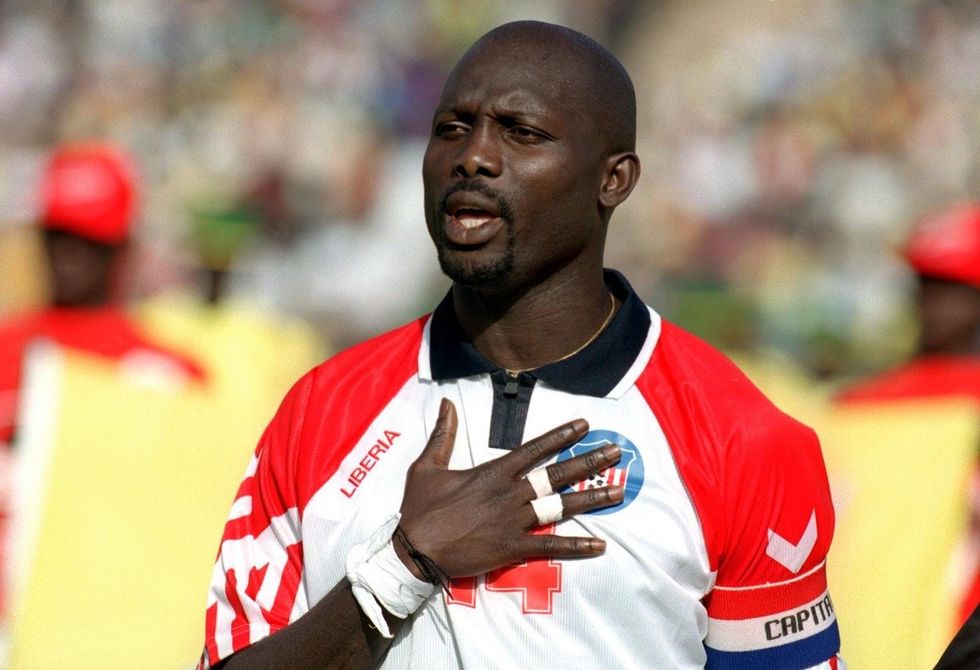 Liberia's George Weah at the African Nations Cup 2002, Group A match between Mali and Liberia.
Photo by Adam Davy/EMPICS via Getty Images.
The pipeline from football to being the president of a whole country is unthinkable, yet George Weah made it possible. Hailing from Libera, a rather underdog National team, his mercurial achievements in football have earned him legendary status in African football and globally.
Weah grew up in one of the poorest areas in Liberia but football was his way out. His immense talent flew him to Europe under the courtesy of Arsene Wenger, and that began his journey in French Ligue 1 club Monaco. George went on to play in Europe's top-flight leagues and teams including AC Milan, PSG, Chelsea, and Manchester City and he won major trophies including the Ligue 1, Serie A, and the FA Cup.
Weah was widely known as one of the most prolific strikers to ever grace football and that featured him in Pele's list of Top 125 footballers in 2004. Prior to that, he made history as the first and only African to have won the highly coveted Ballon d'Or in 1994.
That same year, he won FIFA Men's Player of the Year as well. Although he didn't get to win the UEFA Champions League or feature in the World Cup, like the lone star in his country's flag, George shone brightest in football and continued that in his political career. He is the President of Liberia , currently making him the first African player to become a Head of State.
1

.

Bruce Grobbelaar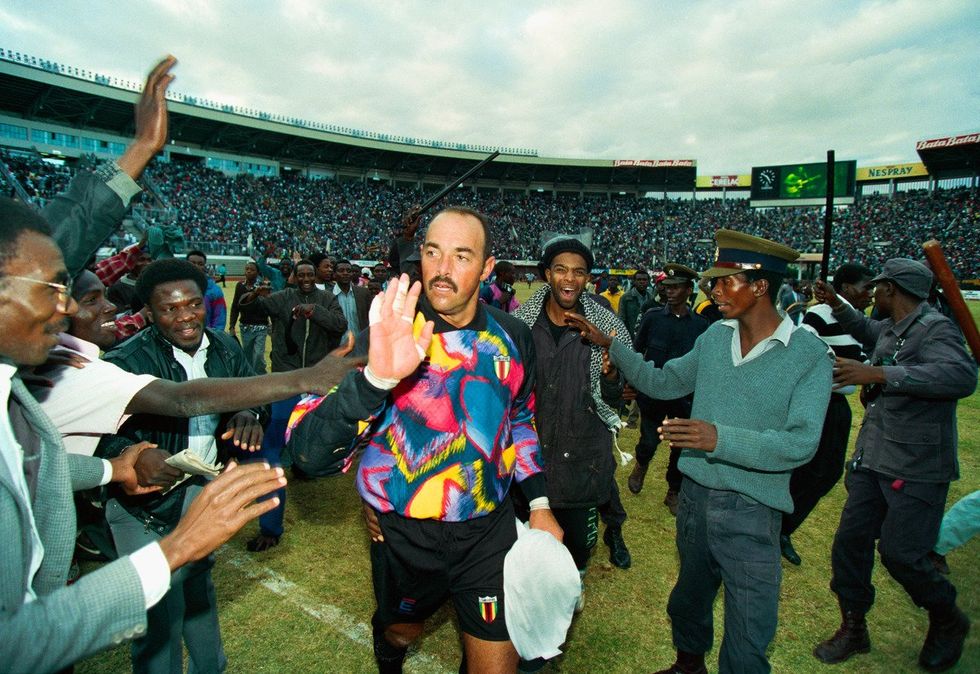 Zimbabwe goalkeeper Bruce Grobbelaar acknowledges the applause after the FIFA World Cup Africa group C qualifying match between Zimbabwe and Cameroon on July 4, 1993 in Harare, Zimbabwe.
Photo by David Cannon/Allsport/Getty Images.
He etched his name in the history books when he became the first African player to win the European Cup (now UEFA Champions League with Liverpool). The Merseyside team would not lift the trophy again until 2019 when they bested Tottenham to win it.
Born in South Africa, Durban, the Zimbabwean's legendary status in England came at the back of his loan spell with the English side Crewes Alexandra. He originally played for the Vancouver Whitecaps in the North American Soccer League at the time.
His goalkeeping skills for the fourth-tier side at the time, caught the attention of Liverpool and he played under Head Coach Bob Paisley for two seasons (1981-1983) before Joe Fagan took over the reins and with Grobbelar in post, led the team to a historic treble.
As an African, this was a great moment for the then 27-year-old, the true highlight of his career. For the next 10 seasons, Grobbeler was the trusted goalkeeper for Liverpool. He won six Premier League titles and three FA Cups for the Reds and averaged a total of 440 caps. He is regarded as one of the best African players to date. He officially retired in 2007 and took on some managerial roles in the Zimbabwean National team.