Resuming on March 22 are the qualifier rounds of the Africa Cup of Nations (AFCON), the biggest football and sporting event in Africa. 46 African nations compete to be among the 24 who will partake in the 34th edition of AFCON, taking place next year in Ivory Coast. Actually, 45 of the 46 nations are truly brawling for a spot—Ivory Coast, being the host nation, will enjoy an automatic qualification.
Besides Cameroon, Namibia, South Africa, and Liberia, the other 42 teams have each played two games since the qualifiers began last year. Each team will play a total of six matches to qualify for the tournament, playing each team in their group twice.
On March 22, the round of qualifiers will resume with a Group L fixture between the Republic of Benin and Rwanda, to take place at the Stade de l'Amitie, in Cotonou. Both teams will be hoping to land their first win in the qualifiers, after each failed to beat Mozambique and Senegal, the latter the title holder currently topping Group L.
Later that day, Sierra Leone will take on São Tomé and Princípe, the Group A fixture taking place in Adrar Stadium, in Agadir, Morocco. The pair will also be aiming for their first win in the qualifiers. But with São Tomé and Princípe suffering an embarrassing 10-nil defeat to current group leader Nigeria last June, all hope of qualification seems lost for the Central African country.
Favourites to qualify for the 2023 AFCON
Thus far, based on which teams currently top their group after winning their previous two fixtures, these nations seem bound for AFCON 2023: Nigeria, Burkina Faso, Algeria, Mali, Morocco, and Senegal. Considering all six countries have a better head-to-head record than each of their next respective opponents, they likely will, at the least, clinch a point in their next game, bringing them closer to qualifying for the tournament.
Qualification seems a given for these teams because they are also some of the most highly-ranked African teams on FIFA's most recent world rankings.
Traditional favourites like Ghana, Tunisia, and Egypt are also expected to scale through the qualifiers. Other favourites include "Gabon, Cape Verde, Guinea Bissau, and South Africa," said Lloyd Badeji, owner of the sports blog Sports Faculty, over a phone interview.
Players likely to impress in the qualifier round
Victor Osimhen is bound to blaze a trail during the qualifiers. The 24-year-old Nigerian striker is currently one of the top goalscorers in Europe this season, only behind Erling Haaland, Harry Kane and Kylian Mbappe. Known for his clinical finishing and athleticism, Osimhen, this season, has scored 21 goals in 23 matches in the Serie A for Napoli, leading the Italian club to its first league title in 30 years.
It is no surprise that Osimhen, with 5 goals, is currently the top scorer in the AFCON qualifiers, scoring four of those goals in the game Nigeria trounced São Tomé and Princípe 10-nil. Nigeria's coach Jose Poseiro will be hoping the striker is in his element as the Super Eagles welcome Guinea-Bissau this Friday to the Abuja National Stadium, where they hope to maintain their lead in Group A.
Another player to watch out for is Ghana's Mohammed Kudus. At only 22, Kudus boasts of a technical ability beyond his age, with clubs like Manchester United courting him. With 11 goals and two assists this season for his club side Ajax, Kudus is that rare thing: a goalscoring midfielder.
As Ghana takes on Angola on Thursday, coach Chris Hughton will be hoping the midfielder is in fine form. Hughton will also be banking on Thomas Partey and Inaki Williams, both of whom have been impressive for their respective clubs this season and likely will be some of the standout performers during the qualifiers.
Also likely to be a standout performer during the qualifiers is the Moroccan midfielder Sofyan Amrabat. The 26-year-old, who is known for his stamina as well as his ball-winning ability, was one of the stars of the 2022 World Cup held in Qatar — where he made 33 recoveries, six interceptions, and 143 passes with an 87% success rate.
This season, Eric Chuopo-Moting has played 17 games for Bayern Munich in the Bundesliga, scoring 10 and assisting two. He plays as a forward for Cameroon, where he has enjoyed 72 caps, scoring 20 goals in that time. Given his current form, he, too, will likely be a standout performer during the qualifiers.
The Cameroonian side, likewise, will be counting on 31-year-old Vincent Aboubakar, whose daring lob goal against Brazil was one of the highlights of the 2022 World Cup. Aboubakar, who currently plays for Beşiktaş, is known for his dribbling and ability to create space for his teammates. He scored the winning goal in the final of the 2017 AFCON tournament and will be one to watch in this year's qualifiers.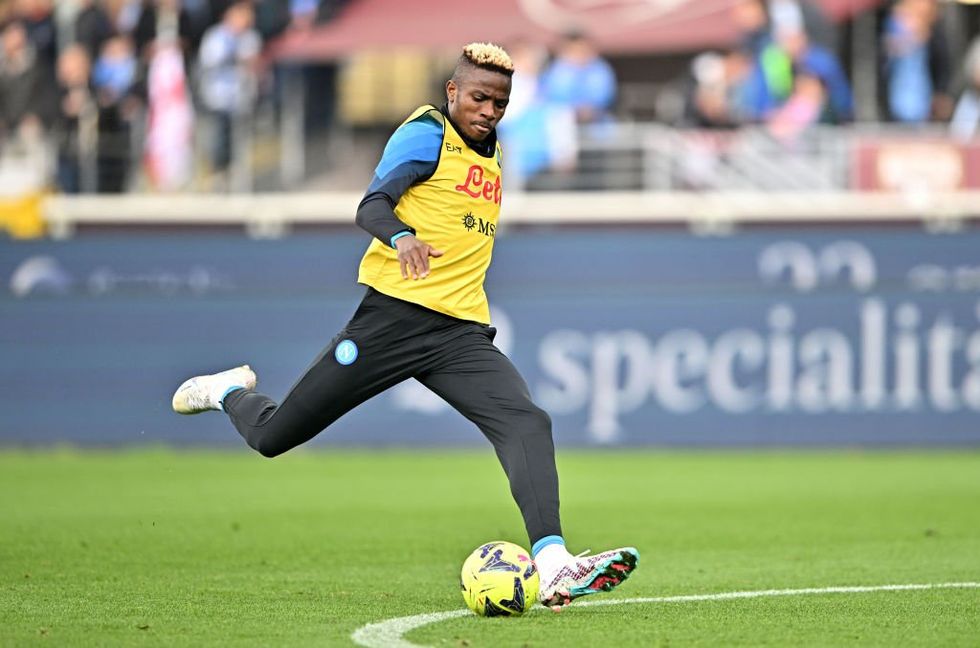 Victor Osimhen of SSC Napoli during warm up ahead of the Serie A match between Torino FC and SSC Napoli at Stadio Olimpico di Torino on March 19, 2023 in Turin, Italy.Photo by Chris Ricco/Getty Images
Youngsters to look out for
Sadly, fans will not get to see Tariq Lamptey, the promising 22-year-old Ghanaian right-back who has been ruled out of the qualifiers due to injury. However, there are several other youngsters to look out for, such as Fasistencio Maria Faza Joa, the 19-year-old Algerian goalkeeper who has often impressed with his quick reflexes and ability to play with his feet.
Also likely to impress is the 19-year-old Daniel Bameyi, who plays as a defender for Nigeria. He is nicknamed The Major, speaking to his dominant presence on the pitch, and has proven to be great at dispatching aerial threats.
Ahmed Shereef, who is 19 years old and plays as a forward for Egypt, is one of the young stars to look out for in the qualifiers. Another 19-year-old to watch out for is Samba Diallo, who plays for Dynamo Kyiv. So far, Diallo has scored three goals in the qualifiers.
The youngest of the players likely to impress in the qualifiers is Zambia's Charles Mumba, who plays as a midfielder for Atletico Lusaka. As proof of his ability, the 18-year-old was named the best player at the 2022 COSAFA qualifiers.