"Kalemba" is one of the most well-known electronic music tracks recorded by African artists in the 2000s. Released in 2008, the song, with its unforgettable "wegue wegue" chorus was a dance floor banger across Europe and the US, and made it to the 2010 FIFA video game soundtrack.
It was not surprising to see the Angolan-Portuguese group Buraka Som Sistema performing it one year later at the Sónar, the Barcelona's festival which, today, is one of the most renowned electronic music events in the world. Buraka was the only African-related at the Sónar stages back then. So it was fairly surprising seeing the same "wegue wegue" track being performed last month at the very same festival.

On Sónar's 2022 main stage was Pongo, the original "Kalemba" singer. Not only she was delivering a good dose of nostalgia, but the 30-year-old artist was also dropping some of her new singles to the crowded, open-minded Sónar public. This time, Pongo was not alone. Ten artists deeply connected to African music were lined-up for this year's festival. There was a new message echoing around for 2022: African electronic music is the Western dance floor soundtrack for the next decade—and African artists are taking the lead.
"It's important seeing artists from Africa in festivals like this because music comes from Africa," says Pongo. "And since the very beginning, I see myself as an electronic music artist." After a successful breakthrough in the late 2000s, Pongo went solo in an industry that was interested in music beaming out of African dance floors. Among several trends holding a grasp in the US and Europe, Pongo's Kuduro was a good call on bets. But the following years showed it was a rocky road to the top. On both sides of the Atlantic, the superstar/celebrity DJ phenomena took over the charts with the EDM frenzy and the underground went way deeper into the auto referential digital culture.
---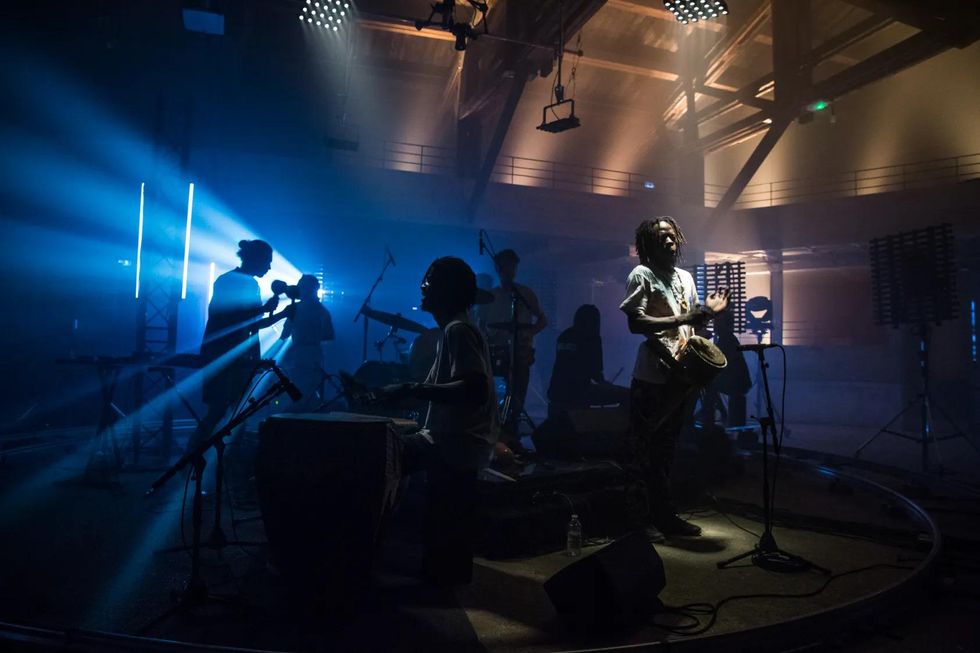 Nihiloxica.
Photo: Vincent Ducard for Milgram Productions.
From D'banj's seminal afrobeats hit "Oliver Twist," released in 2010, to the Nyege Nyege festival's first edition, held in 2015 in Uganda, African electronic music has paved a solid bridge to the West over the last years. Beyoncé's 2019 The Gift was one of the first top-charting records to draw inspiration from this massive wave of electronic music coming from Africa. By that year, Pongo was garnering the sounds that would build her next album, Sakidila, an afropop catalog that melds together revamping takes on Kuduro, melodious afrobeats vocals and hints of amapiano and baile funk. "Sakidila means 'thank you' in Kimbundo," she says. "Africa as a whole is in my album."

Born in Angola and raised in Portugal, Pongo found in France a pool of collaborators for the making of her album. Producer King Doudou and rapper Meryl are two of the artists that lent their music-making skills to the singer in her solo debut. Connections of that sort are another important key to understand the strength of African electronic music today. It's impossible to deny that multi-million dollar industries based in Lagos or South Africa have been active hives in providing a solid ground for the growth of local electronic music acts. It's also not surprising to watch the likes of DefJam and other major-related imprints arriving in the continent recently, once the toughest part of the job is done. But linking the dots between Africa and the rest of the world has also pushed genres like Gqom or Kuduro onto the global dance floor.
Such an international endeavor isn't rare today. It ranges from short-span collabs, such as Black Coffee and Drake's joint work in the rapper's last album, Honestly, Nevermind, to massive projects, like Boddhi Satva's trilogy—the album Manifestation released in June, sealed his ten-year-long oeuvre started with his 2012 Invocation. More radical sounds have also their place in this sonic web. Nihiloxica, another African electronic music act that performed in Sónar 2022,embodies on-stage this multi-national entanglement. The group is formed by Ugandan percussionists Isabirye Henry, Kasooma Henry and Mwanje Jamiru and British musicians Jacob Maskell-Key and Pete Jones. In Barcelona, they showed off a set of feverishly, genre-busting sound pieces bred all-along the Uganda-UK bridge.
"Nyege Nyege definetely created a scene in Kampala," says Jones, who first landed in the Ugandan capital in 2017 with his friend Maskell-Key. Once there, the duo met up with the percussion group Nilotika Cultural Ensemble and kicked off the collective project. What could be a one-off team became a unique maelstrom-display of entangled drumming cells, melodious synths and blasting Bugandan percussion with a couple of EPs, one released album and another one in the making. "We fit in a weird slot in electronic music festivals, it's nice," says Jones. "And we have some difficult songs, I look at people at crowd and sometimes they're struggling to dance to our music!"
Taking unusual, off-beat rhythms to the main stage is also a drive for the Barcelona-based collective Jokko. On top of closing off one of the night's on the Boiler Room stage at the 2022 Primavera Sound festival, the five-year-old crew had also a representative at the Sónar festival. That role was played by Mbodj, an alias for Maguette Dieng, a Spanish DJ with Senegalese upbringing and one of Jokko's founders. "When we first started the collective, the music that people were used to was traditional or modern African music, but nothing was up-to-date," she explains. "We missed a place where we could listen to contemporary African music."
In the last years, party collectives like Spain's Jokko, France's La Creole or Canada's Moonshine have beamed out around the world the freshest electronic music tunes crafted in African studios or throughout the diaspora. While attending to a younger audience, eager to find new music or connect to their roots, they've also laid the ground for diverse Black identities to set new club trends. "I believe people are more open-minded to understand electronic music that is not made in Europe," says Dieng. "And discovering new music is the most interesting thing of being in a club: the body is learning different languages, different codes."
Dieng believes some bridges need to be crossed when it comes to fusing African electronic music in the global club music landscape. A cultural agitator, she assumes that many European bookers can't afford visa and travel costs for African producers and DJs. At the end of the day, a party or a concert also needs to make money. On the other hand, there are those who see Africa's leading club music artists as a temporary golden goose or as an exotic filler made for more diverse line-ups. "Electronic music is a big money-making industry right now," says Jacob Maskell-Key, Nihiloxica drummer. "And it's still very hard to infiltrate these places, techno music, with our styles."
With a ten-year career and several summer dates in festivals such as Canada's afro-centered Nuits d'Afrique or UK's dancefloor-oriented Blue Dot, Pongo sees new horizons for African electronic music—but she's not naive. The artist recalls her performance at Portugal's preliminary stage for the 2022 edition of the Eurovision music contest. Along with DJ Marfox and singer Tristany, she presented the Kuduro-laced song "DÉGRA.DÊ" and made it to the semi-finals. "It was great, we felt our music was included, it was part of Portugal," she says. "But this is just the beginning. The question is: and after that?"