The dominance of Afrobeats can't be denied at the moment. Its global run in 2021 was a profound turn for the genre, with artists like Burna Boy, Wizkid, Tems, Ckay taking a deserved spotlight. But all players don't get the same praise or attention, especially those behind turntables. While these artists are visible totems, sculpted down to their artistry and branding, the ecosystem still places DJs on the fringes despite their contribution to Afrobeats' global momentum.
After the coronavirus pandemic struck two years ago, digital solutions emerged to fill in the void. Clubhouse, in particular, became an internet blockbuster success. The audio-chat platform weaved the world into a hive, and this was where DJ A-K found a following curating songs in a dedicated space titled Afrobeats in the AM.
DJ A-K , whose initials stand for Aaron Kordie, is originally from Ghana but is now based in New York. He held his first room in late 2020. The audience grew bigger the following year, attracting people of the Black diaspora and beyond.
For DJ A-K , initial reactions were mind blowing. People were tuning in from all over the world and often tweeted their reactions during the show, appreciating the music they heard. The room quickly became a favorite. Afrobeats was already huge outside of Clubhouse, but being trafficked into the platform brought a different experience. In the third year of the pandemic, DJ A-K reflects on establishing Afrobeats in the AM, his other creative endeavors and the trajectory of Afrobeats.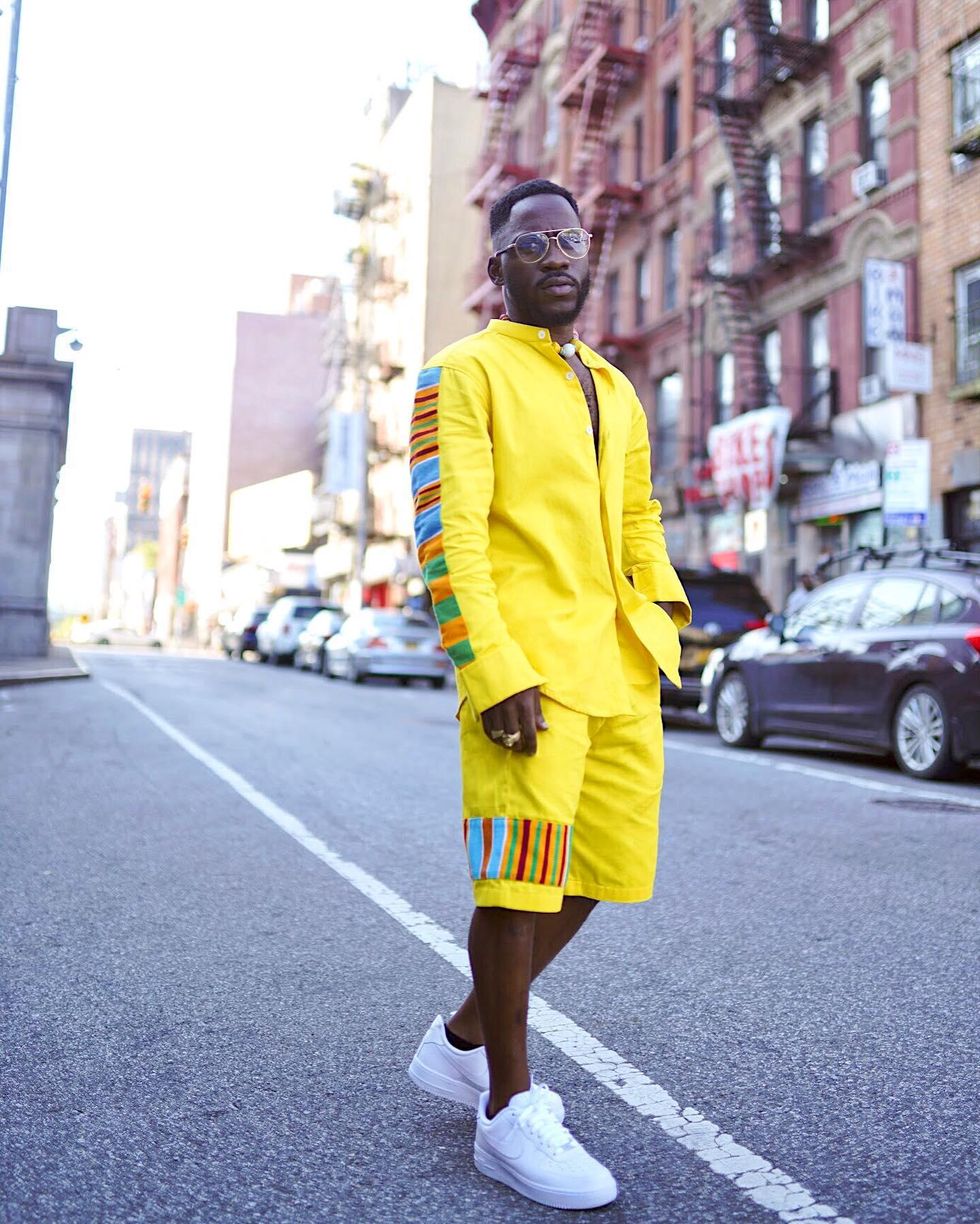 "The goal was to help people get their mornings or days started with some great positive energy and great music to help uplift their spirits," DJ A-K said.
Photo Credit: Kofi Dua

What motivated you to create a Clubhouse room dedicated to playing Afrobeats?

The motivation to create a Clubhouse room dedicated to playing Afrobeats came from my love for music, and for the Afrobeats genre as well as the yearning to spread great vibes through a different medium, since we were all stuck inside during the mandatory quarantine. After a quick group chat conversation with my friends and co hosts, Brieri Ake, Akosua Ayim and Olive Uche, a 90 minute morning show was created on Mondays, Wednesdays and Fridays from 7:30 - 9AM EST. The goal was to help people get their mornings or days started with some great positive energy and great music to help uplift their spirits, as the world was going through so much with the pandemic. I also aimed to grow a dedicated audience and community that would appreciate, support and help the show grow in the future.
It's been almost a year since Afrobeats In the AM came to Clubhouse. What has changed between then and now?
Due to busy schedules, the show is now [only] on Friday mornings from 8 - 9 AM EST. Several app updates have also made it easier for the room to be discovered and there have also been some improvements in sound quality as well.
Why did you decide to host the room in the morning (US time)?
For one, the current morning shows that we hear on our commutes to work don't play enough of the music we want to hear and I wanted to solve the problem of underrepresentation of Afrobeats music on radio. We would often hear the same two or three songs constantly repeated on (New York based radio stations) Hot 97 or Power 105, and I wanted to bring some variety directly to our audience members who love and appreciate the culture.
How do you select songs?
I select the songs for the show based on the tempo and energy that I feel would be best for the morning or afternoon. I try to select songs with positive messages but still have enough energy to not dull the listener. I also incorporate requests from audience members as well as new songs from popular artists as well as artists on the rise. I also include sounds from across the continent of Africa such as Highlife, Amapiano, Zouke, Afrodance, Coupé-décalé, and more.
What's your thoughts on the current momentum of Afrobeats globally?
I always knew that Afrobeats was going to take over and dominate the global sound waves. It was only a matter of time. The Afrobeats sound is naturally eclectic and reminiscent of so many other elements of other genres that it immediately gets you in a great vibe and mood. This aspect makes the sound easier to absorb regardless of any language barriers of the lyrics. Additionally, the genre has a lot of talented artists and producers who have been contributing to developing the sound for a significant amount of time, so it's inevitable for the fruits of their labor to create a significant worldwide impact.
How important are DJs in the future of Afrobeats' domination?

DJs are tastemakers and help expose new and classic records to their audiences. The way a record is played in the clubs or at events affects how people from all types of backgrounds will discover and come to love and appreciate that song as well as the genre. Without the constant contributions from DJs, it would be difficult for songs to have a significant impact.
Aside from hosting Afrobeats in the AM, you run an event company that put together events like Ghana Made in the US. How did Ghana Made come about?
My event team, Big 5 Productions, has been responsible for creating various successful events in New York City and has served as a bridge for African cultural experiences. Ghana Made was birthed 8 years ago with the goal to fulfill a need and to create the largest and most successful cultural celebration of Ghana's Independence, while uniting the Ghanaian diaspora across the tristate. We aim to continue this event and improve upon it with live artist performances, art installations, brunch events and many more.
Which Afrobeats artists are you really into currently?

I am currently listening to Black Sherif, Buju, Amaarae, Juls, Wizkid, Bella Shmurda, NSG, Fireboy DML, R2Bees, Yung D3mz, and Lojay, to name a few.
What's the future of Afrobeats in the AM?
The future of Afrobeats in the AM is to create a strong community around the brand and to take the show to a platform that would support our efforts in showcasing the music while expanding our audience. I have been in recent talks with the good people at Airtime and we are very excited to collaborate with them and utilize new technologies to spread the great vibes of the Afrobeats genre. We are also working on creating events, where we get to partner with other brands and celebrate with listeners. We also most definitely aim to become syndicated in the future and reach much wider audiences across the globe.