Afro Nation, the world's leading Afrobeats celebration, has reached a delectable spot in its maturation since the festival first hit the scene in 2019. Creators Obi Asika and Smade have taken their creation to Portugal, Puerto Rico, Ghana, and Mexico. Over memorial day weekend, they finally took Afro Nation to the United States, testing the waters of Miami Beach, with a lineup that featured Burna Boy, Wizkid, Uncle Waffles, and more.
Here is what went down at the inaugural Afro Nation Miami.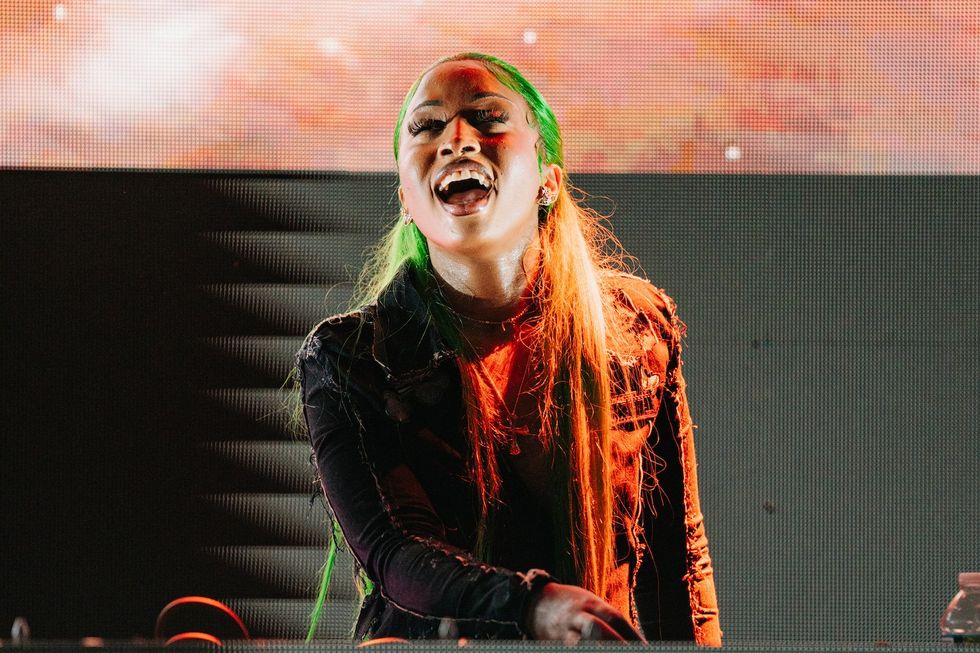 Uncle Waffles at Afro Nation 2023 in Miami.Photo by Melody Timothee for Afro Nation.
Saturday Serenades and Salty Oxtail

Reggatone and Norteño serenaded Afro Nation attendees as we descended on the retractable, spaceship-like loanDepot park. The South Florida location, where the Miami Marlins typically play, feels like the perfect cultural hub for the diaspora to feel comfortable enough to party. However, while the size was adequate to fit all the cousins, having the majority of the attendees sitting so far away from the stage and VIP area made for an awkward, and almost cold, gap.
The festival organizers offered a limited selection of African, Caribbean, and Mexican foods. Most festival-goers anticipate a lengthy experience trying to get food, but the reality of having so few choices was kinda crazy. Thankfully, the arena's own food court was open for business and guests had the option to fill up on traditional American classics. We were there for the culture, though, so one salty, over-priced oxtail sandwich later, and we were ready to hear some music.
Nigerian singer Nissi— the younger sister of Burna Boy—put on a show that emphasized her determination to stand out for her talent, rather than familial ties. The singer commanded the stage as she opened the floodgates to the roster of incredible talent set to follow her and get the party started. Suave Cape Verdean-Dutch singer Nelson Freitas had the folks grooving in harmony, while Ghana's Black Sherif packed a powerful punch and performance for his electrified fans to write home about. Africa's Boyfriend, Nigerian singer Ckay, had the ladies swooning, and the fellas booming as his slick vocals bounced along the stadium.
Over on the Piano People stage, South Africans Musa Keys, Focalistic, and a neon green-haired Uncle Waffles reigned supreme and had their audience in a fit, screaming "Haaibo" and other South African slang terms that were a trip to hear in the middle of Downtown Miami. As a South African, I still get tickled when I realize how far African creativity has come in the last few years. The sheer talent and determination to flourish on a global scale having made my people and my culture the norm is still settling in.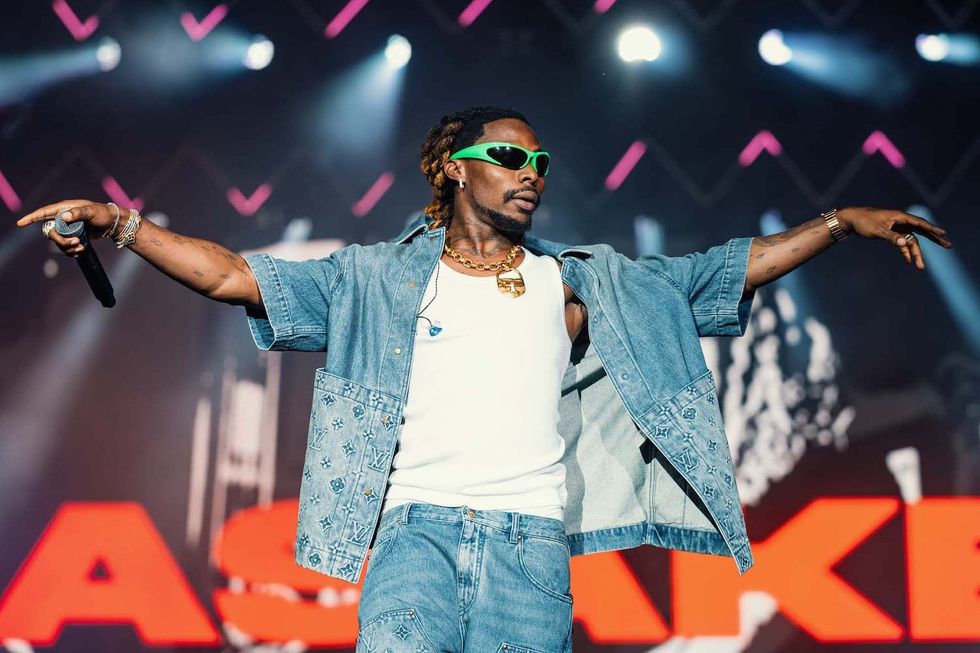 Asake at Afro Nation 2023 in Miami. Photo by Kenneth Dapaah for Afro Nation.
The in-between moments were even fun as an abundance of Amapiano tunes and hype men Young Prince and DJ Kapo kept us satiated and distracted from the fact that we had been on our feet for going on four hours while the latter tried to make British rugby chants a thing. Nigerian hitmaker Asake hit the stage in socks and the power of having all ten toes on the ground was tangible because he killed his performance. The singer made his way into the crowd, dodging ravenous grips to party with his beloved fans. It was cool, until it wasn't, and his trusty security was there to scoop him out in time to effortlessly go into his hit "Ototo".
Headliner , and long-time friend of Afro Nation, Burna Boy had the crowd in the palm of his hand within the first few notes of his hit "Science." He's a fantastic performer, loves the stage, and creates music that people want to dance and sing along to — we pray neither party tries to fix what is working divinely. Burna delivered another potent rendition of his universally adored track "Last Last," as those clever enough to sneak out earlier skipped the rush to find their Ubers in time to rest up for another day of merriment.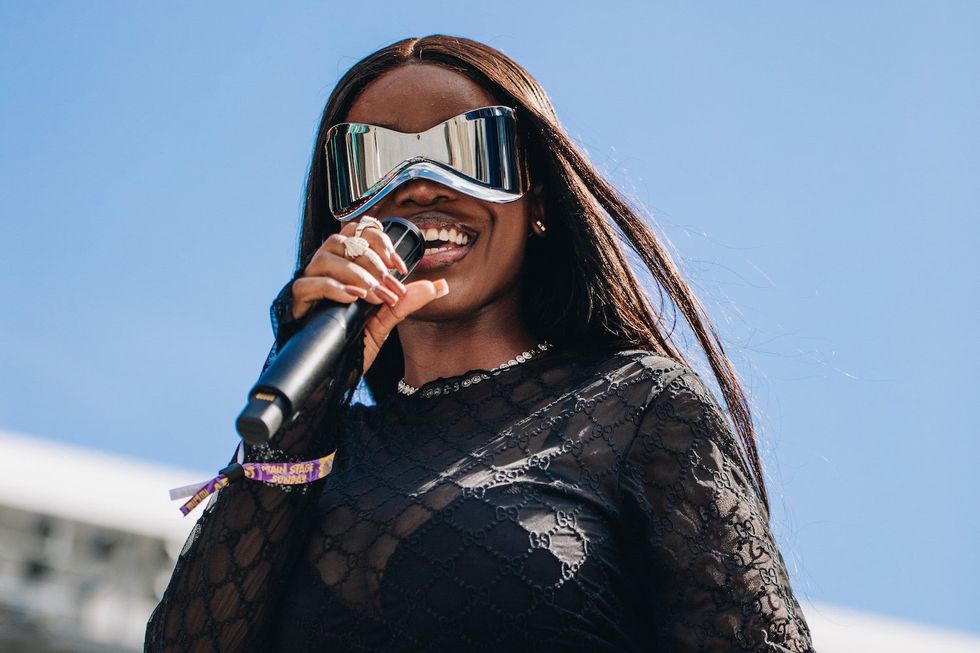 Gaykie at Afro Nation 2023 in Miami. Photo by Chris Allmeid for Afro Nation.
Daytime Dancehall and Wizkid Cap-off Sunday
The day started off calmer as we all better understood what to do and where to be. The main stage crowd grew slowly over the day, however, Ghanaian singer Gyakie's performance communicated that she was gonna slay no matter what. African time was in full effect on both days, but the second saw artists BNXN and Sech bring order to the party as they took turns performing for the crowd.
The Piano People stage gifted us an ethereal and intimate experience as DJ's Kelvin Momo and DBN Gogo played hypnotic beats against the backdrop of a sun-drenched, palm tree-filled Miami skyline. I got caught up in an Amapiano trance and realized I could have stood there dancing for three more hours and would've been completely satisfied.
Back on the main stage, Jamaican dancehall singer Shenseea effortlessly replaced Beenie Man, and the Jamaicans in the house were happy to be included, having a good time nonetheless. Nigerian performer Fireboy DML felt right at home with Miami's sex appeal and gave a raunchy performance, bringing on a beautiful Jamaican fan to demonstrate just how serious his lyrics are. His global hit "Peru" had the crowd phones out, singing along on their Instagram stories to show their friends that they too, "Just flew into Miami." Bostonian act DJ Prince made sure to represent all regions of the continent and diaspora, using nostalgia and national pride to keep people in the moment and keen to stay around for what's next. A body of classics from Brenda Fassie's "Umqombothi" to "Murder She Wrote" by Chaka Demus & Pliers reemphasized the belief that we all did in fact have the same childhood.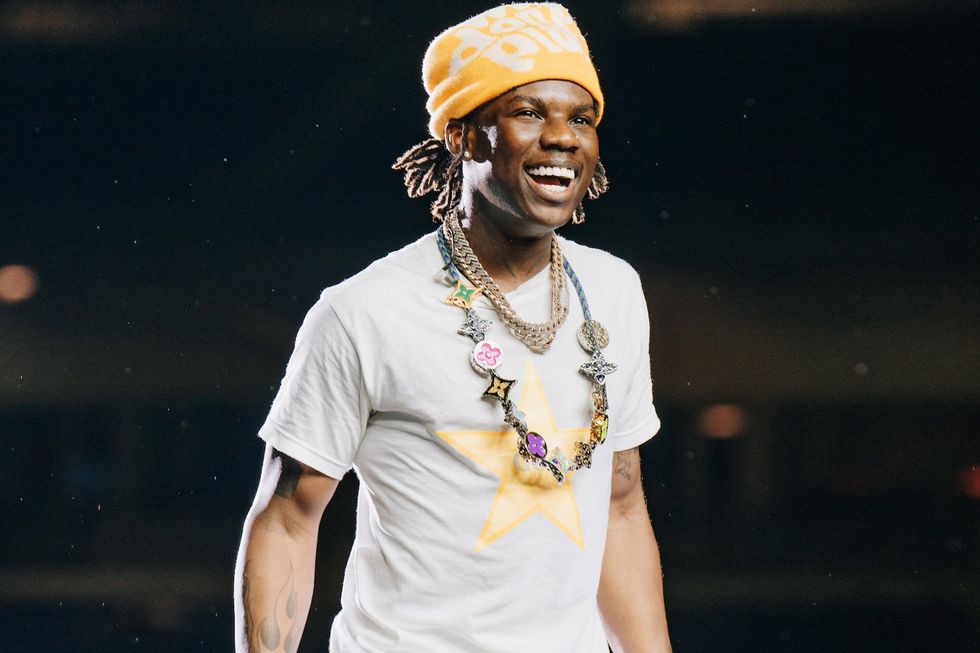 Rema at Afro Nation 2023 in Miami. Photo by Melody Timothee for Afro Nation.
Global star Rema employed someone to dance around in a bear costume in 29° weather, and, honestly, we love a man committed to the storyline. "As long as I'm on this stage it's no longer Afro Nation–this is a Rema Party," he declared to the audience who agreed wholeheartedly. The "Calm Down" singer gave an enormously energetic performance, a testament to the stamina he's built by performing his music around the world. The singer, like many of his fellow performers, arrived in enough layers to make one think he didn't get the Miami memo. But, by the end of the show, his adoring fans were gifted a full frontal of his glistening pectorals and a mental image to last them a lifetime. South African DJ duo – and identical twins – Major League DJz brought a showstopping set that included a gratifying appearance by fellow South African singer and composer Msaki as the crowd bid farewell to the indescribable experience at this year's 'Piano People' stage. The grounds reeked of alcohol and we knew the people were ready for Big Wiz.
International superstar Wizkid sauntered his way down a set of stairs as he set started the party on a high note with the hit "Bad To Me." The singer's set hit every mark, allowing fans to enjoy his first and latest records in abundance. The singer's sparkly, but casual getup gave him plenty of room to gyrate and seduce the crowd with his combination of tantalizing vocals and stage presence. Wizkid has also been a part of every iteration of Afro Nation so far, and his music continues to stimulate global interest in all things Africa.
Bodies moved and grooved for hours on end and the hoard of good-looking attendees showed respect and admiration for each other and their space. The inviting weather paired with the intoxicating nature of Amapiano, Afrobeats, and Dancehall made Afro Nation's Miami affair a dreamy Memorial Day Weekend for those in attendance.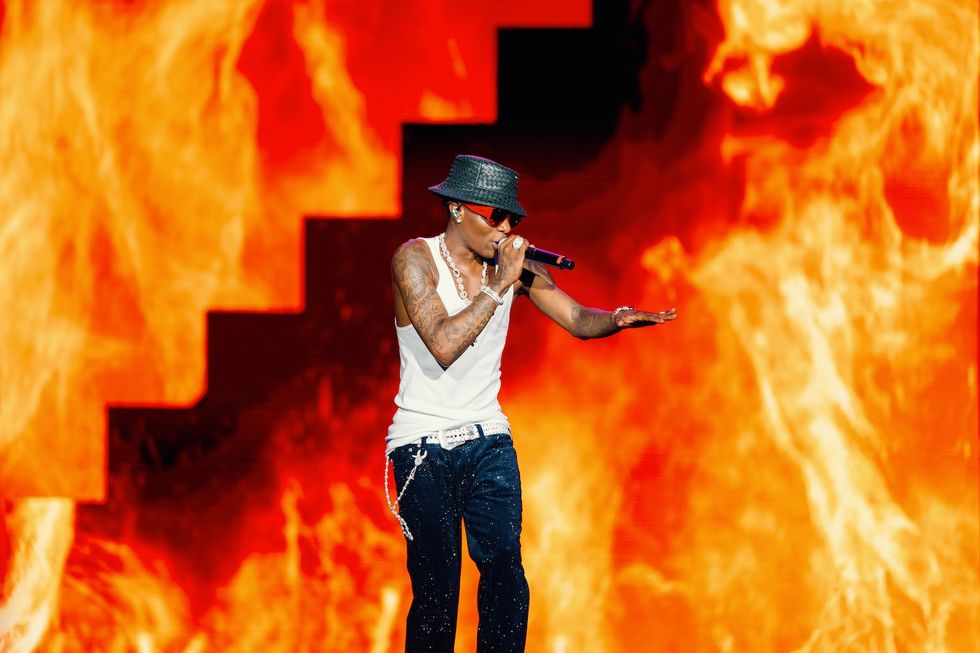 Wizkid at Afro Nation 2023 in Miami.Photo by Kenneth Dapaah for Afro Nation.