Featured
Aminé on Dressing Up as Erykah Badu For Halloween and Repping Ethiopia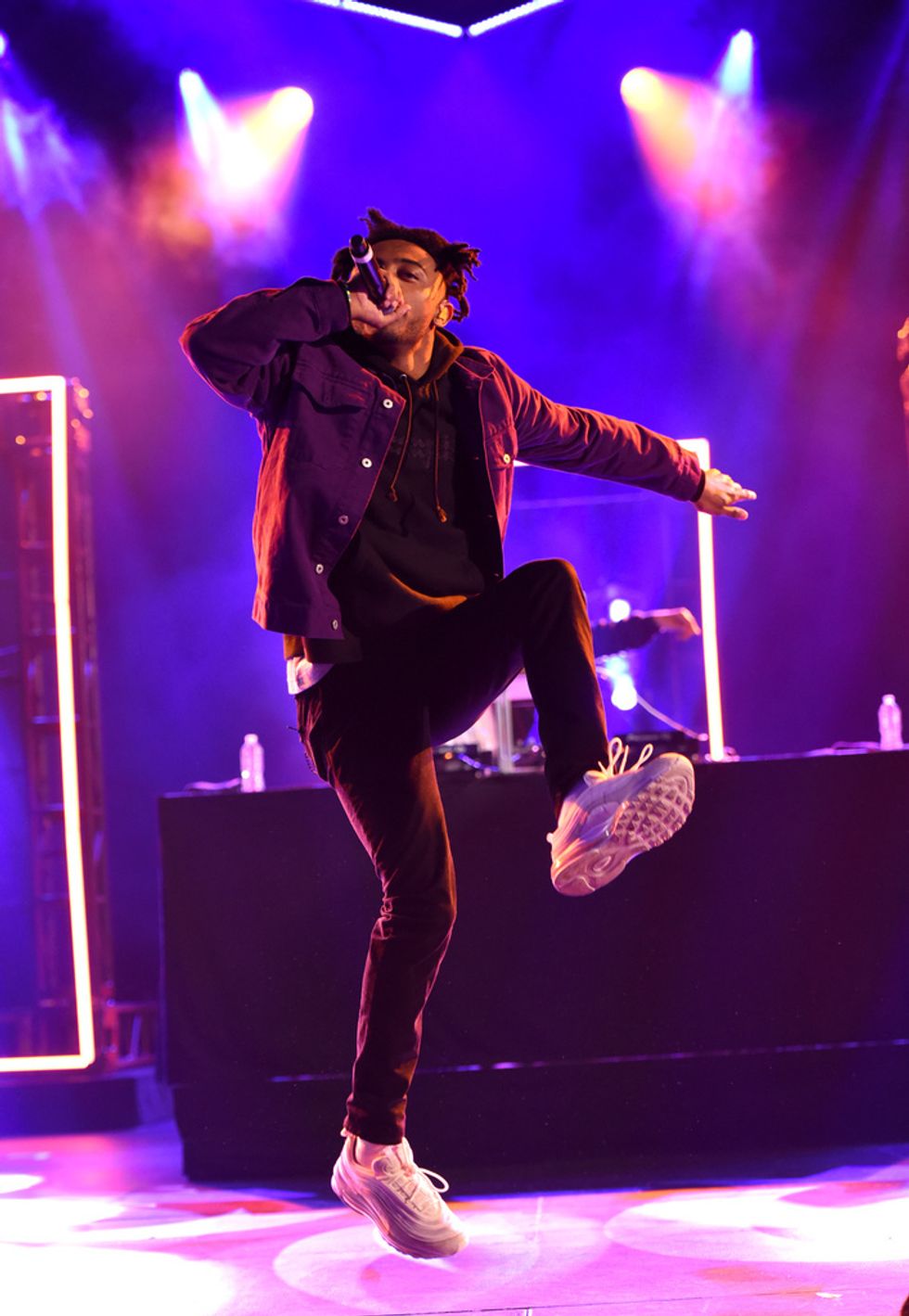 RICHMOND, CA - OCTOBER 28: Amine performs onstage at Vevo Halloween 2017 at Craneway Pavilion on October 28, 2017 in Richmond, California. (Photo by C Flanigan/Getty Images for Vevo)
Our favorite new rapper wants Michael B. Jordan to play him in a horror movie
Where were you the first time "Caroline" came on in the club? You remember that moment—in between two paint-by-numbers trap bangers—a kid with a quaver in his voice, hilarious lyrics and minimalist production that quickly brought the whole place down.

---
Aminé is everyone's favorite new artist. His songs and videos combine a genuinely fresh approach to lyrics with catchy, genre-bending production and a regional accent that's impossible to pin down. The Portland, Oregon born rapper is also proudly Ethiopian-American and has followed up his hit with a string of genuinely original songs with DIY videos to match.
We caught up with Aminé on Saturday at the Vevo Halloween party in Richmond, California where he performed alongside other buzzy acts like Khalid, Julia Michaels and Jessie Reyez.
OkayAfrica: You released the video for "Spice Girl" earlier this month, featuring Mel B herself. If you had to dress up like Scary Spice for Halloween, what would you wear?
Aminé: Definitely the hair things, or I can tie up my hair like her. Damn, I want to wear... plaid. No, not plaid, cheetah print.
Like, a body suit?
A body suit. That's what I'm doing. I don't know if I'd do it in real life, but yeah.
Alright, so you have to dress up as Erykah Badu, what's your costume?
That's really funny. I would do a head wrap, a sundress ...
Oh, a vintage Badu.
Vintage, yeah. Sundress, and then a men's dress shirt, only super baggy with a Bob Marley tee under. Oh, see I know my Badu.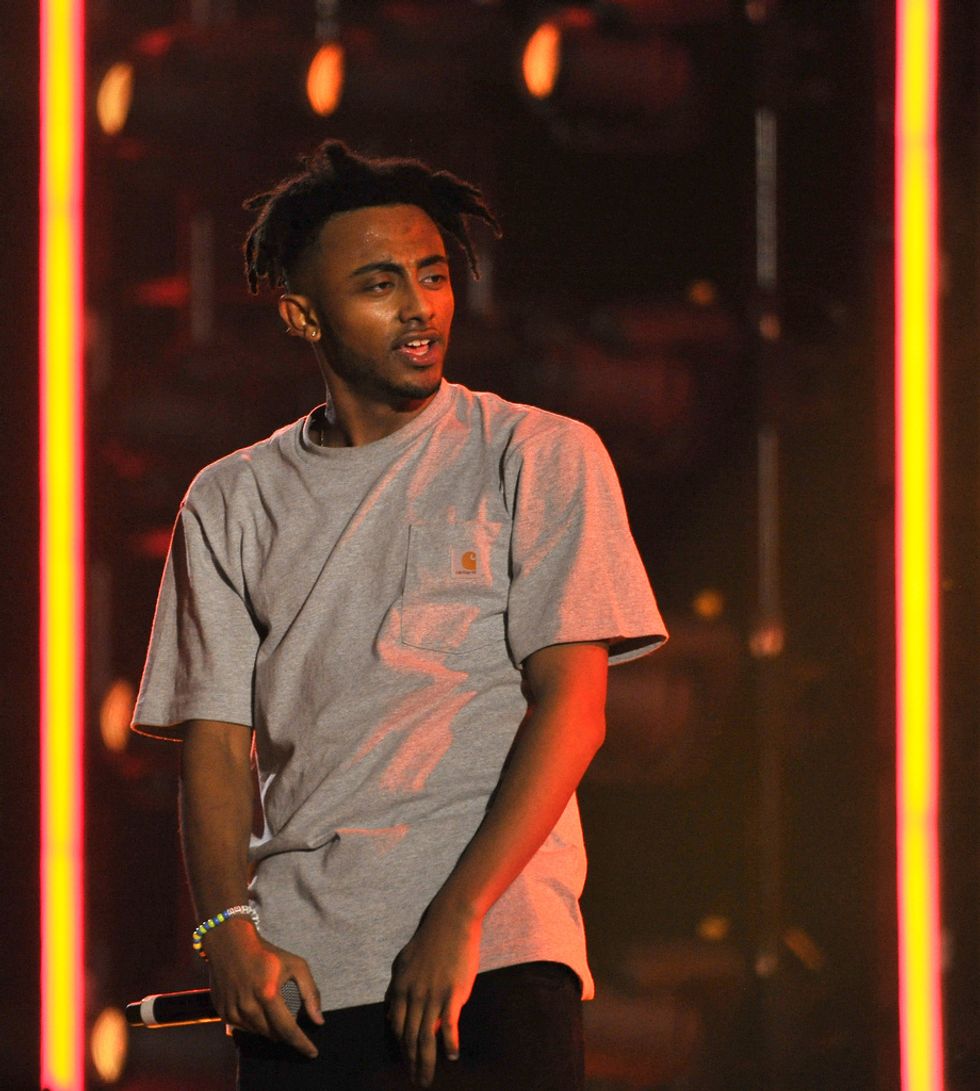 RICHMOND, CA - OCTOBER 28: Amine performs onstage at Vevo Halloween 2017 at Craneway Pavilion on October 28, 2017 in Richmond, California. Photo by Steve Jennings/Getty Images for Vevo
This might be your costume this year.
Yeah! Maybe.
Who is the most famous person in your phone?
John Mayer.
If you're about to die in a horror movie, do you call John Mayer to save you?
Yes, but I feel like he'd think I'm joking.
Who would play you in a movie? A horror movie, where you're again, about to die?
Man! That's hard, because no one has really my hair like that that's that good. But, I'd want Michael B. Jordan to play me. I love Michael B. Jordan. But I want to play "Static Shock." I want to do Static Shock.
So, you're in a horror movie, again, because it's Halloween. Are you're the first person to die. Are you the one that's fighting it out and making it to the end, or are you the one who's just like, "I'm not built for this. I'm outta here"?
I want to be able to fight to the end, but I feel like they always kill off the black dude. In scary movies, that's a thing. I don't know.
How is being African is a part of your identity, and how does it lend itself to your music?
At every show I have on my tour right now, every show we've got a blob of Africans in the audience. They come, and raise my Ethiopian flag at shows. It feels good. It's just like your own little subculture community to have. I'm proud to be African. I feel like I'm a part of something bigger.
Interview conducted by Rachel Hislop