---
We have all been there before: watching television with an adult presence and then a raunchy scene comes on. Awkward, much? How do you handle it? Play it cool and avoid the adult's accusatory gaze? Pretend you don't understand what is going on? Pray that the ground opens up and swallows you?
---
A similar scene plays out in Mirror Mirror , the new short film directed by South African filmmaker, Sandulela Asanda, which is debuting at the Berlinale in the Generation section . Astute, playful yet effective in its handling of its primary concerns, Mirror Mirror tells the story of a 17-year old girl trying – unsuccessfully, at first – to explore the sensual pleasures of her own body.
When we meet the heroine, Luthando, played by winsome first-timer, Luhle Macanda , she is expressing her frustrations to her bestie. They have tried all the tricks in the women's magazines but Luthando is still unable to climax by touching herself. Even more worrisome for her curious self is the environment of shame that surrounds the discourse of female sexuality.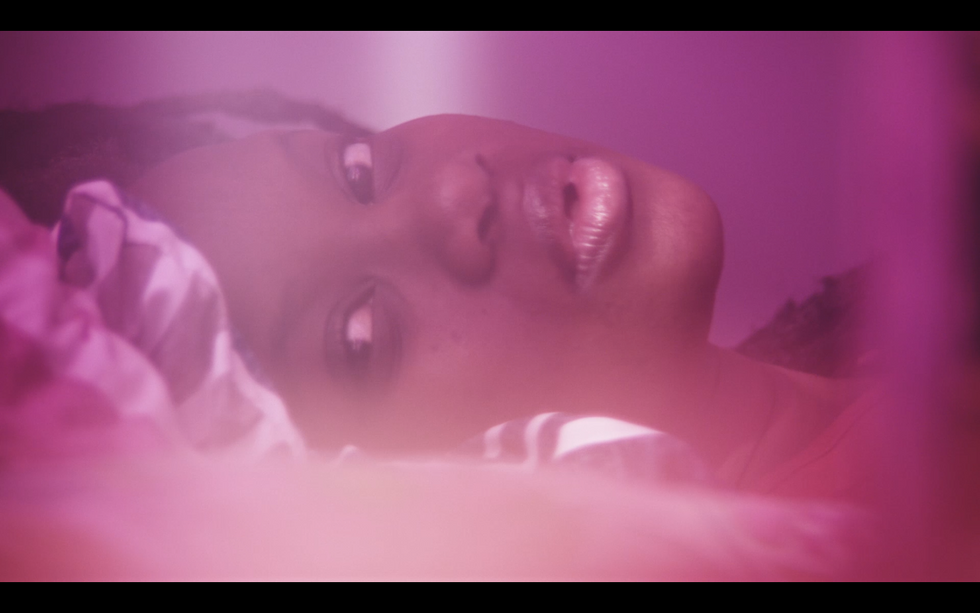 Luhle Macanda plays the main character in Sandulela Asanda's debut short, 'Mirror Mirror.'
Photo: Urucu Media.
Unable to get help from the adults – Luthando's disapproving mother dispatches her to her room immediately when things get heated up onscreen, the two girls create a virtual safe place for themselves where everything is open for discussion. Mirror Mirror started life as a proof of concept short for an upcoming queer coming-of-age feature film, which Asanda is also scripting and directing. The film is a welcome intervention as it plays firmly in the teen drama space but dares to spark frank discussions on self-pleasure, sexuality and the curiosity of teenagers.
Asanda told OkayAfrica about her impetus for creating an environment where issues like this are highlighted without fear of judgment: "Female pleasure is something that I and my friends speak about a lot, but I grew up in a household where we never spoke about those things. It was a scary learning curve for me, so I have wanted to tackle it as an adult. People still aren't talking about masturbating openly so I wanted to show it as explicitly as possible on screen to get the conversation going because it is way past time."
Once Asanda was convinced about her idea, she reached out to Urucu's Cait Pansegrouw with whom she shared a working relationship. Asanda had worked as an assistant to Urucu's founder Elias Ribeiro before joining the company as an intern, and rising to producing and becoming a development executive, before quitting to pursue filmmaking.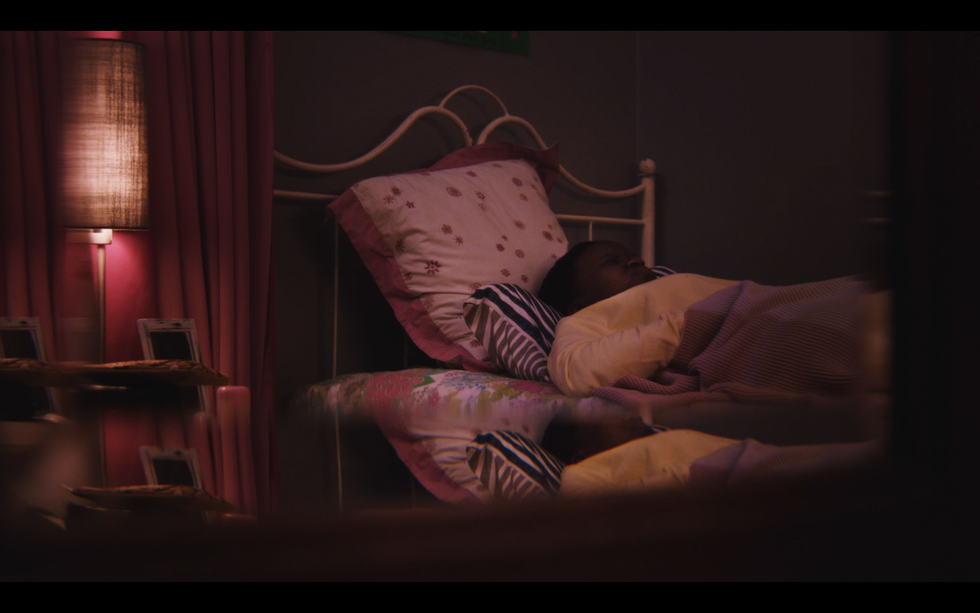 'Mirror Mirror' is produced by Ucuru Media, where Sandulela Asanda worked as a development executive before quitting to pursue filmmaking.
Photo: Urucu Media.
Pansegrouw, who has amassed an impressive collection of credits, including John Trengove' s Inxeba (The Wound) and Lemohang Jeremiah Mosese 's This is Not A Burial, It's a Resurrection, was stimulated by Asanda's screenplay. "In the grander landscape of [European] cinema, pleasure has been explored but never from a Black perspective," Pansegrouw told OkayAfrica . "To talk about masturbation and female pleasure openly but also to have this through the lived experience of a Black character was something that was really important to us."
Asanda's direction is confident and dynamic with visual and aural sparks employed to improve the viewing experience. For reference, in developing the vibrant cinematic language, she would always go back to shows like Michaela Coel 's Chewing Gum and Phoebe Waller-Bridge 's Fleabag , intrigued by how both shows wrestled with the complexities of sexuality and womanhood. "I have always been an awkward Black girl," she says. "I know there are so many of us out there. Black women want that space to be awkward and messy. We are not only strong or experiencing trauma. I want to make the type of films I never got to see while younger. This film is really about creating that space for people who want to live life and take that next step."
The working draft of the screenplay was as uncomplicated as possible, though, in order to accommodate her teenage actors, some of whom had never been on screen before. "I tried to have it clear in the drafts that this is a fun conversation between friends and at the end of the day that is what it needs to be," says Asanda. "The content needs to be light, as I do want it to reach as wide an audience as possible."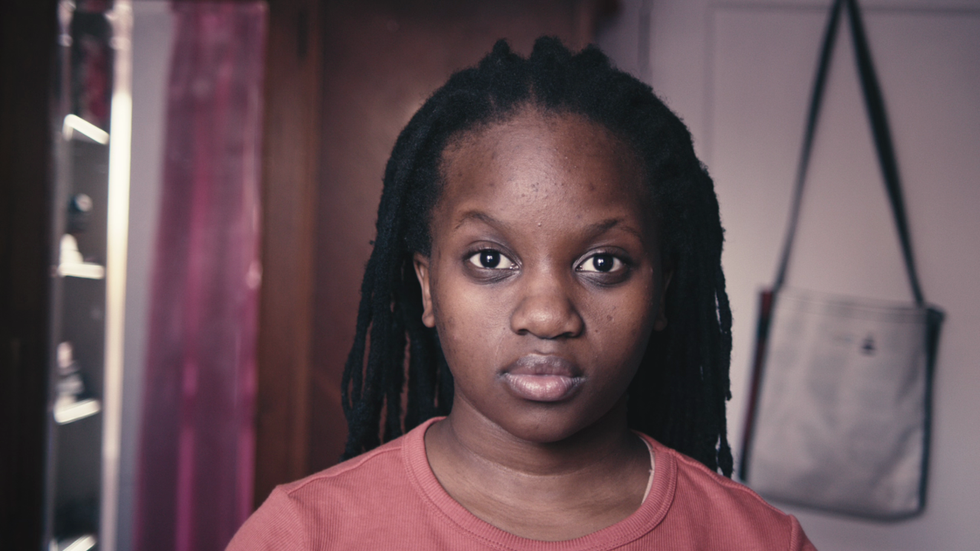 'Mirror Mirror' is being developed into a full-length feature, which Sandulela Asanda hopes will start shooting this year.
Photo: Urucu Media.
Because this was right in the thick of the COVID-19 pandemic, the shoot also needed to reflect the times. Asanda came up with the idea to have it play out as a virtual conversation between the two girls, one that could be shot with a minimal crew and under socially-distanced conditions. "As much as COVID was a tough time logistically, I am grateful for it in this instance because I don't know if it would have been the same film otherwise. It is one of those cases where the limitations push you further," she says.
Mirror Mirror also makes time to touch on the complicated relationships between daughters and their mothers. There is a generational divide between Luthando and her mother that spurs her to embrace life and live it on her own terms. For Asanda and Pansegrouw, this was perhaps the trickiest part of the project; how to approach this relationship authentically and truthfully, without creating textbook villains out of either character.
"I wanted to be empathetic to the mother but also acknowledge that there are some shortfalls in her approach," says Asanda. "That is a journey everyone comes to; the realization that while your parents tried their best, perhaps it wasn't the best. It was one of the toughest sections to write even in the feature, but I needed to reflect that."
The feature film project is moving along well in the financing stages, with Pansegrouw having recently received some good news that could see them start shooting by the end of the year. In the feature, Luthando's search for self is complicated by the realization that she is queer. Portions of the film will be dedicated to her dealing with this reality. "I like that Luthando is not necessarily preparing herself for sex," says Pansegrouw. "She is just trying to feel the most amazing she can feel in her body. A similar theme that will be explored fully in the feature is learning to love yourself for who you are."

Having worked with Asanda for some time now, Pansegrouw, who comes from a small town conservative upbringing says she has been inspired by the younger generations' progressive approach to sexuality and their willingness to prioritize their needs. "I like that Sandulela's work is incredibly feminist, and is fighting against these notions of shame and fear. This year feels like it is going to be her year, and I am excited about it."