In the opening shot of The Cemetery of Cinema (Au cimetière de la pellicule), Thierno Souleymane Diallo walks the dusty streets of Conakry, Guinea, with an enormous boom mic sticking out of his backpack, a camera in his hand, and shoe-less. He seems to be looking for something. Soon, the audience comes to learn what he's searching for: a long-lost film made by a Guinean director 70 years ago.
---
The lack of shoes, like everything Diallo does, is purposeful. It's a protest – against his government's seeming lack of interest in paying to create and to preserve cinema. This lack is why he's on the hunt in the first place; if the country – and, indeed, much of the continent at large – had the will and means to archive old films, he wouldn't have to go searching for a particular film.
The film in question is called Mouramani, directed by fellow Guinean Mamadou Touré in 1953. It's 23 minutes long, and is considered to be the true first film made by an African – a few years before Paulin Soumanou Vieyra's Afrique sur Seine in 1955, and Ousmane Sembène's Barom Sarret (The Wagoner) in 1963, which was the first film to be released by a sub-Saharan African director.
To Diallo, Mouramani, although it never had the same profile, and remains a mystery, is an important part of Guinean and African cinema. It's a film, he tells OkayAfrica through a translator, that he first heard about while studying his master's in creative documentary in Niger, where he went after he'd earned his degree at Dubréka Art University of Guinea. "When I heard about it, I knew I had to do something about it," he says.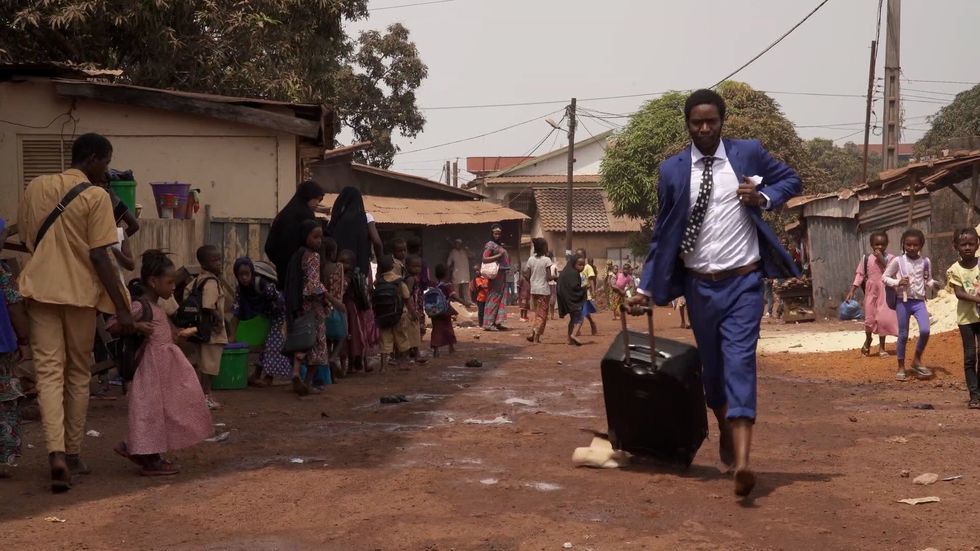 Thierno Souleymane Diallo travels across Guinea and France, barefoot, in search of the film, 'Mouramani.'
Photo: Noise Film PR
"Mouramani is the first cinematographic achievement of my country, Guinea, but also of Black francophone Africa," says Diallo. "But when I studied, my teachers never spoke about the cinema of our country. It is important for me to know the origins of Guinean cinema." Diallo believes that looking for the film is his contribution to laying a solid foundation for Guinean cinema – "to talk about its origins, what it was in the past and what it has become."
In making The Cemetery of Cinema, Diallo's first full-length film, he travels all across Guinea and then, eventually, to France, where a great deal of African films were stored. The audience follows along, encountering what he encounters: filmmakers, archivists, students. In his poetic ode to cinema, and particularly African cinema, he shares more about the recent history of his home country.

As the first Francophone country to gain independence from the French, in 1958, Guinea created its own burgeoning film industry. It was, if not the first, among the first in Africa to create a national cinema policy, and set up labs in 35mm production to make documentaries and educational films – all housed under the state-led Sily-Cinema.
But the government's totalitarian regime stifled any sense of independent filmmaking, and in the early 70s, imprisoned rising directors like Mahomamed Lamine Akin and Costa Diagne, on accusations of plotting a coup against President Sékou Touré. Diallo revisits this, in a poignant scene where he finds out that Diagne continued to write screenplays on bits of cardboard from the prison guards' sugar boxes.
Diallo shares this fervent love of story-telling through film; it's close to his heart. He remembers going to his first film at the age of ten - an Indian film. "It was magical," he recalls. With cinemas, not just in Guinea, but around the world, decaying, and streaming taking over, Diallo is concerned about what the loss means for us as a society.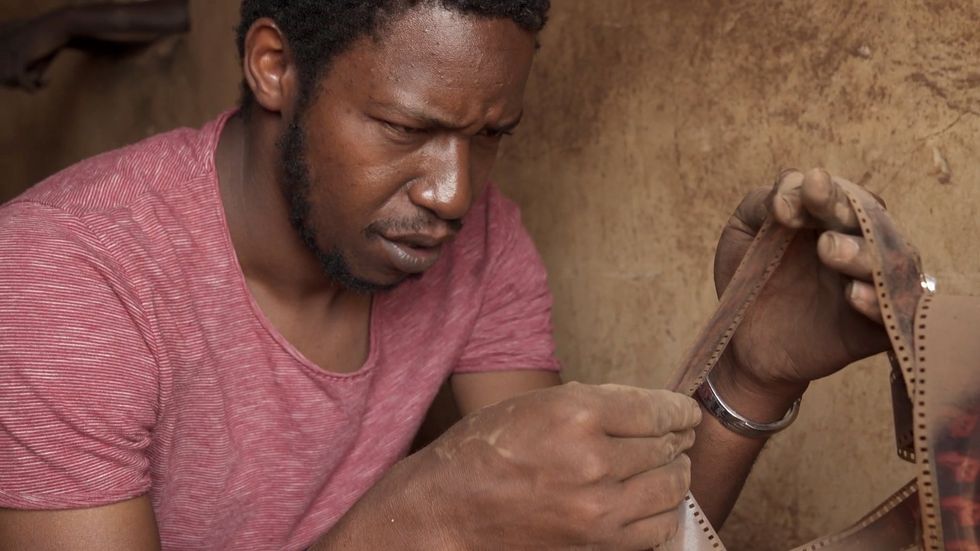 Thierno Souleymane Diallo visits old cinemas and looks through tins of film in his quest to find out more about Guinean film history.
Photo: Noise Film PR
"There was a kind of life around the cinema, and as we saw the films together, we shared emotions together," he says. "And lately in Guinea, with the disappearance of cinemas, it's as if we are closing in on ourselves. We no longer have time to share emotions together."
Diallo's charming and lovingly-made documentary is, in part, an homage to this experience, as he traipses among the ruins of old movie-houses and rummages through whatever remnants are left of a time when people used to gather in a darkened room to watch projections on a screen together. "I was always told cinema was a waste of time," says Diallo, who made several short films while studying and has also worked for Guinean television. "So here I am, wasting my time," he jests.
But his film has a deep purpose; it's a reminder of the need to archive the works of those who came before, to acknowledge the creations of those who're no longer around. As one of the interviewees emphasizes in the film, "We do not have a culture of archives."
The Cemetery of Cinema is a response to that. "A system needs to be created so that the new generation can access its cultural heritage and be inspired to make their own films," says Diallo. His documentary is a valuable addition to reclaiming the history of cinema on the continent and enhancing what is already known -- while also uncovering just how much remains unknown.