"I had almost forgotten how to be among stars," tweeted Bobi Wine, tongue-in-cheek, as he posted pictures of his arrival on the red carpet at the Venice International Film Festival for the premiere of Bobi Wine: Ghetto President . Billed as an 'observational documentary,' the film brings Wine's story – how he rose from the informal settlement of Kamwokya and became a star himself – together with his pursuit of justice and democracy in his homeland of Uganda, to an international audience.
Bobi Wine: Ghetto President is showing out of competition and so isn't up for the festival's main prize, the Golden Lion. But that's not why Wine, aka Robert Kyagulanyi, traveled to Italy, wearing the trademark red beret symbol of his People Power movement. Instead, he's hoping the film draws attention to a cause he's been championing for the last 5 years.

"I want the people in the international community to know that somewhere in the world, somewhere in Africa, in a country called Uganda, people are being massacred for what they think," he told The Hollywood Reporter . Above that, Wine is calling for an end to the support President Yoweri Museveni has received, and wants the international community – specifically the US, which provides aid to Uganda – to be aware of how that money is being used to "undermine human rights and democracy in Uganda."
Taking the film to a prestigious international festival such as Venice presents Wine with a global platform. In a tweet posted by the Venice Film Festival, he's quoted as saying, "What is happening in Uganda is terrible. I am glad #BobiWineGhettoPresident will bring it to light. People are voiceless there: they need someone to speak for them."
\u201c#BiennaleCinema2022 #OutOfCompetition @HEBobiwine: \u201cWhat is happening in Uganda is terrible. I am glad #BobiWineGhettoPresident will bring it to light. People are voiceless there: they need someone to speak for them."\u201d

— La Biennale di Venezia (@La Biennale di Venezia) 1662028065
The film shows how Wine has endeavored to be that voice, both in song and in speech. It traces the start of his grassroots political campaign in 2017 up to 2021, when he ran against Museveni in the presidential elections, and lost, in what many international organizations deemed was a questionable outcome, with claims of vote tampering and fraud.
Ghetto President is directed by Christopher Sharp, who was born in Uganda, and Moses Buyo, an activist who took over camera duties when the film's previous camera people left the production. Both Sharp and Buyo knew of Wine through his music and had been fans of the messages he sought to share in his music. Following Wine and his wife, Barbie, with fly-on-the-wall footage, the film immerses the audience in their relationship and the trials its undergone as a result of Wine's political activities. One such attack left Wine seeking treatment from the US for his injuries . Indeed, Buyo, too, has suffered his share of assault in making the film, having been shot in the face with a rubber bullet , and also arrested numerous times, while filming.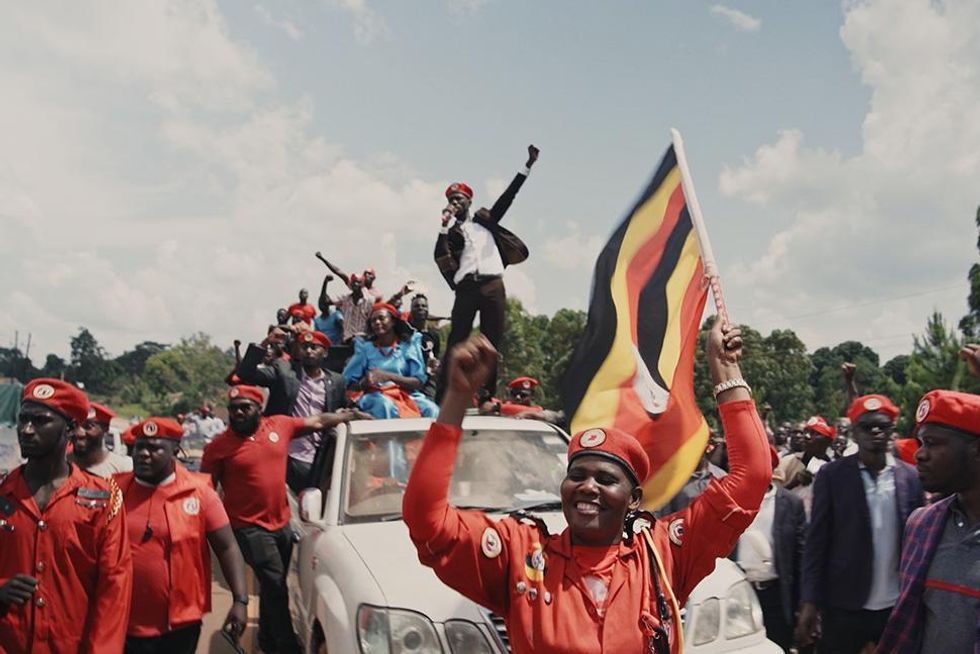 A still from the documentary Bobi Wine: Ghetto President, which is currently playing at this year's Venice Film Festival.
Photo: La Biennale Di Venezia

Festival director Alberto Barbera called the documentary "powerful" and "unbelievable," and it's received positive reviews so far, with Deadline lauding its 'stirring' scenes and message of hope. Similar to Sam Soko's documentary, Softie , which followed Kenyan photographer-turned-politician Boniface Mwangi, the film is also being heralded for the love story at the center of it, between Wine and Barbie, and how they've persisted in the face of numerous violent actions .
While Ghetto President details Uganda and Wine's specific struggle to fight for democracy, some reviewers have noted it holds a message for governments further afield too. The Hollywood Reporter 's Daniel Feinberg says its call to action to hold Museveni accountable speaks to the West's need to ' keep an eye on its own democratic virtues too.' In bringing his message to the world, through the form of a documentary that gets people talking, Wine may also find it resonates far beyond Uganda in ways he could not have imagined.