News
Watch Buraka Som Sistema's Explosive 'Vuvuzela (Carnaval)' Video
Watch Buraka Som Sistema's new video for "Vuvuzela (Carnaval)," off their first major label album 'Buraka' (out now via Universal).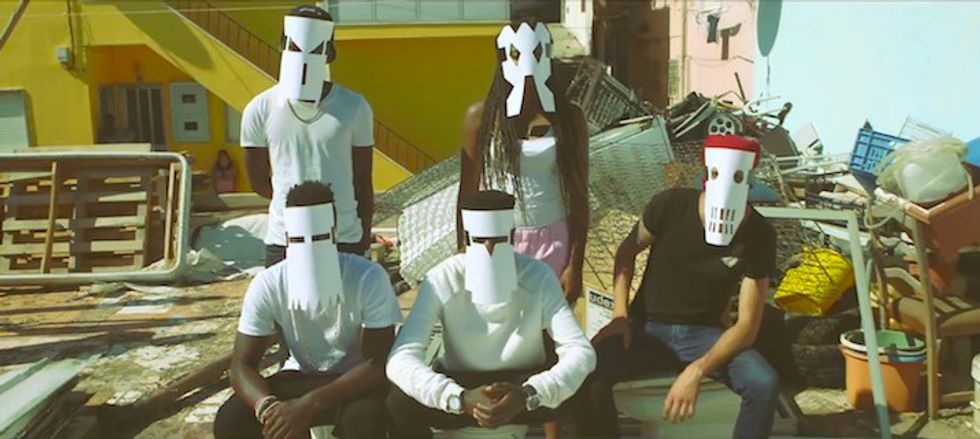 ---
Global club hitmakers and Portugal's own, Buraka Som Sistema released their first major label album Buraka earlier this month on Universal. The first single off the album, "Stoopid" came out in early May and continued showing off Buraka's signature taste of dance music across the cultural gradient. The second track, "Vuvuzela (Carnaval)," was released earlier this summer and was supported almost immediately in DJ sets from the likes of Diplo, Toy Selectah, and Crooker's. Linking up once more with director João Pedro Moreira, who also directed the crew's documentary Off the Beaten Path along with Buraka's "Hangover (BaBaBa)" and "Stoopid" videos, the zouk bass innovators have now dropped the visual for "Vuvuzela (Carnaval)."
Set in the crew's hometown of Lisbon, the video begins with what seems like a calm before the explosive Buraka storm. Residents grin, as if in on a secret, while a group of  people in the neighborhood craft masks out of paper and tape. What happens next is what we've come to expect from Buraka, and also the secret to their electrifying videos. In lieu of the street, the group takes it to the roof, where they erupt into kuduro dance soundtracked by the song's screwed electronic and bass heavy sounds. Without missing a beat, they're suddenly transported inside an 18-wheeler truck where the masked party continues and the Buraka crew appears with Andro Carvalho aka (Conductor) imaginatively blowing a vuvazela. Watch the video for Buraka Som Sistema's pulsating "Vuvuzela (Carnaval)" below.