News
Burundi: A Letter To A Dead Friend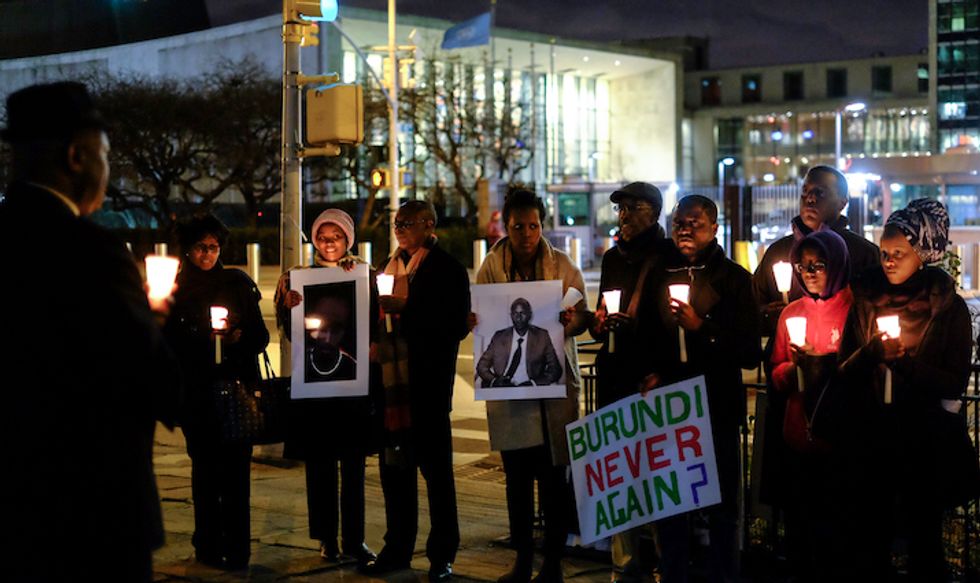 A Burundian activist and blogger pens a letter to a friend who was shot dead during the ongoing political crisis in Burundi.

New York vigil for Burundi, December 2015. Source: Placide Magambo for Okayafrica
---
The National Council for the Defense of Democracy-Forces for the Defense of Democracy (CNDD-FDD), a Burundian political party, nominated Pierre Nkurunziza as their presidential candidate for the 2015 elections on April 25. Many deemed the decision as violation of the Arusha Agreements and the constitution of Burundi. The next day, people took it to the streets. Police violently repressed the demonstration that lasted for six weeks. Below, Burundian activist and blogger Cynthia Rama writes a letter to Freddy, a friend who was shot dead on June 5, to update him on the events that took place after he left.
January 16, 2016
Dear Freddy,
I gathered enough courage to write you this letter for the first time since you left us on June 5, 2015. I am sure you are in a better place. I miss you.
If there is one thing I wish I would've told you while you were still alive is how much of an inspiration you were to me and to many of our friends. If you did not join the protests, it would've been understandable with your success as an entrepreneur and your promising career prospects. You truly epitomized the longing of our generation for a better Burundi. I'm going to try, nonetheless, to fill you in on the many events that happened months following your death that are hard to tell.
We once had a discussion about this woman in Gihanga who confided in me after she lost her oldest son on May 13. Do you remember? She told me, "None aba bagabo bariko bica abana babo bashaka kuzotwara igihugu kirimwo abasaza gusa (These men are killing their sons. Are they planning to lead a country with no youth)?" That sentence, which seemed a bit exaggerated at the time, now takes its full meaning. Being a young male from the neighborhoods where the protests took place is a crime. Today, there is a "JEUNocide" taking place in Burundi.
Things worsened in Musaga and in many other places a few days after you were shot. The harassment against journalists and civil society members intensified. Police assaulted Ange, the human rights activist who operated in Musaga, on the same day you got shot. Nearly all journalists and fixers who used to come to Musaga fled. They arrested Bertrand in mid-July and held him at the National Intelligence Service (SNR) for three weeks. He fled as soon as they freed him. Claude, the journalist who lives on Second Avenue, got beaten up by Désiré Uwamahoro in September and escaped death in October before fleeing. Pierre-Claver Mbonimpa was shot in his car but luckily he survived and is now in Europe. His son and son-in- law were not as lucky, they both got killed.
People who want to measure the gravity of the situation by death toll are missing the real picture — the level of barbarity is at an all time high. They arrested Radio France Internationale correspondent, Esdras Ndikumana, at the site where General Adolphe Nshimirimana was killed, and taken to SNR where he suffered beatings for reasons still unknown today. He fled the country shortly thereafter. Adolphe Nshimirimana was killed one month after being cited as a member of a police force that executed people on July 1 in Mutakura. Do you remember Philippe from there? He was the retired soldier with a limp who owned a shop on Eighth Avenue where we once sat and had a drink sometime after the failed coup. His younger brother, who worked as a security guy, was one of the July 1 victims. Police shot and killed Philippe in the head in his shop at the beginning of November.
A few of our friends opted to get weapons for self-defense in the middle of June, as the repression became more and more violent and a hunt began against anyone who protested. As you very well know, I'm not cut out for that. I joined hands with some people whom I wish you had the chance to meet and to get involved in a few initiatives.
You and I chatted once with a guy from Mugamba who told of the lack of media coverage despite the fact they demonstrated as much as we did. They still don't get media coverage as Pierre Nkurunziza's killers kidnap and harass people in rural Bujumbura and other parts of the country. I fear we may never know what happens outside Bujumbura. The government keeps saying the problem is limited to a few neighborhoods, but as I write this letter, the number of Burundian refugees is at least 230,000 people.
Nkurunziza was sworn in on August 20. He pulled it off, giving him extra time to kill more Burundians. Knowing very well he doesn't have legitimacy from the people, the references to God and visions are becoming more and more frequent and daring, in an attempt to show his legitimacy comes from the Most High. On August 26, Abatwip (Burundians on Twitter) launched a campaign under the hashtag #10MillionPresidents, where we all got sworn in as presidents.
The modest level of security that women used to enjoy when you were still around isn't there anymore. Security forces arrest, torture and kill women. Gone are the days when women would walk in front of men during protests. Gone are the days where the biggest risk we would run into was being slapped or being fired at with tear gas. Recent reports of rape by security forces have left me speechless and seeing these horrific acts reduced to a Twitter war nearly made me lose it.
Do you remember the negotiations that would go on to try and get a protester out of detention and the 250,000 and 500,000 Burundian Francs that families would eventually pay? Now people pay a million to get evidence that their loved ones are still alive. Families pay huge sums only to find their loved ones dead. The person carrying the money may get arrested as well. In one case, a woman who carried the ransom to free her husband was arrested and they both ended up killed.
When a person who gets arrested makes it to Mpimba or the prison of Muramvya or Gitega we thank God. Little did we know, on April 17, 65 people who got arrested and transferred to the Muramvya prison had just received a blessing in disguise.
The seed of ethnic division that the government via Willy Nyamitwe tried to sow at the beginning of the protests slowly grew. Since that time, a couple of CNDD-FDD officials gave several hate speeches, albeit incoherent and were on repeat on the official radio. The following sums up their sentiments:
"Sindumuja wants to bring Buyoya and his boys back to power and are selling the country to the Belgians who have always loved Burundian eggs. They have support from Sankara's heirs and Kagame because they are from the same ethnic group and Samantha Power is supporting these terrorists that are planning to exterminate the democratic population. But on D-day, when the signal comes, the security forces will 'work' and terminate this thing and if need be, they will get help from 9 million Burundians."
If you read the above sentence out loud, you will sound like the CNDD-FDD's spokesperson reading an official statement.
The hate speech resonates with members of the security forces who are killing innocent Burundians. They say things like, "We will finish you." Needless to say, we are all very worried about where things are headed.
Things are worse than anyone could imagine. On December 11 and 12, after a rebel attack on military camps, Pro-Nkurunziza security forces massacred innocent people in Nyakabiga, Musaga and Mutakura/Cibitoke. Many families still haven't found the bodies of their sons, fathers and brothers that were buried in mass graves. While there were still bodies on the streets, the government organized a "peace march" that looked more like a victory march. I don't think I can ever forgive them for that.
Freddy, all of those we worked, debated, demonstrated with, who are not dead, are facing the biggest battles of their lives. I can't even go into details. The luckiest ones are alive in exile, with no income and a bleak future. I'm among the luckiest ones — I fled.
The scariest thing right now in Burundi is the eerie silence. With radio stations and civil society organizations shut down by the government and their members forced to flee, many people are left to fight alone. Many families whose loved ones are kidnapped have to try to get them back on their own. Nkurunziza and his people intentionally put the whole country in darkness and all the vampires and creatures of the night have come out.
We are under attack and our response is unplanned. There are those who try to bring back the light, light their own candle and hope the monsters will never come to their door and those who are getting used to the darkness and are organizing to fight back. With the new rebel group, FOREBU (Republican Forces of Burundi), we have a lot of hope that it will oust Nkurunziza. It's not clear whether the hope is based on anything tangible or if we are hoping because we know if we stop hoping we'll go crazy.
There's a chance of dialogue under the mediation of Yoweri Museveni, but unfortunately it looks like armed struggle is how this will end. The African Union (AU) even proposed to deploy a 5,000 strong force to halt the violence, but Nkurunziza strongly rejected the proposal, calling the deployment an invasion and boldly threatening to fight the troops if they set foot on Burundian soil.
As we wait for the the AU and UN to weigh their options and deliberate on how to deal with a madman like Nkurunziza, our people continue to die with bodies littering the streets. We have to get organized and play the hand we've been dealt. In the end, it always was our fight and no one else's. If you were still around and this was a telephone conversation, this would be the time when one of us says, "Uraza kundaba tuyage hari ibitavugirwa kwi telephone (Some things can't be discussed over the phone, come see me sometime)."
One of my best memories of you, from the little time we spent together, is how in the middle of those loud group discussions where my voice couldn't rise beyond the noise you would silence everyone and say, "Cynthia, wewe ubona twokora gute (Cynthia, what do you suggest we do)?"
If you get this message and get back to me, this is what we can do — I want you to get a list of the Burundians who are there with you so that we can end the suspense of the families whose loved ones have disappeared and who don't know if they are alive or not. I will work on finding a way to tell them. Once that's done, we'll see how to proceed.
Looking forward to hearing from you,
Cynthia RAMA
*Some of the names mentioned in this letter have been changed.