The world of football is in a state of confusion and fear, as reports continue to circulate about the fate of Christian Atsu, the Ghanaian footballer who was reported to have been trapped under rubble following an earthquake in Turkey. It has been exactly 11 days since the initial reports, and the uncertainty surrounding his whereabouts has left many Ghanaians worried and deeply concerned.

Atsu plays for the Turkish Süper Lig club, Hatayspor, and was reportedly on the ninth floor of the collapsed building with nine other players and two officials. On Tuesday, February 6, Atsu was reported to have been pulled out alive from the wreckage after 26 hours and was taken to the hospital for treatment.
However, on Wednesday, February 8, Gurbey Kahveci, the team doctor of the club, said that both Atsu and the sporting director, Taner Savut, were still yet to be found, indicating a case of mistaken identity.
Atsu's whereabouts were unclear, and the Ghanaian ambassador to Turkey, Francisca Ashietey-Odunton, said they were unsure where he was, although attempts were ongoing to locate him.
Christian Atsu's wife, Marie-Claire Rupio, pleaded with the governments of Turkey and the United Kingdom to deploy more personnel and equipment to help rescue her husband and other people trapped in the rubble.
---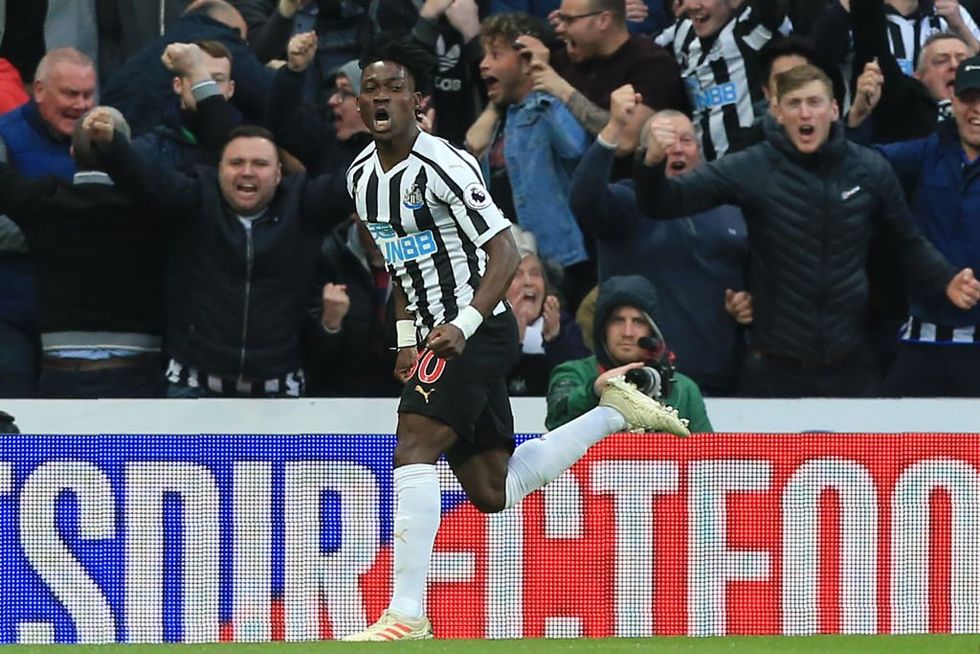 Ghanaian midfielder Christian Atsu celebrates after scoring their first goal during the English Premier League football match between Newcastle United and Liverpool in May, 2019. (Photo credit should read LINDSEY PARNABY/AFP via Getty Images)
Nana Sechere, the agent of Christian Atsu, who was in southern Turkey's Hatay province with the winger's family, pleaded for more resources and help to locate the Hatayspor player. Sechere revealed that Atsu's room had been located, and two pairs of his shoes had been found, but they were yet to locate him through the rubble.

The situation has been further complicated by the lack of cooperation from Atsu's club, Hatayspor. According to Atsu's agent, no one from the club is currently on the ground to help with the search, leaving Atsu's family and friends to fend for themselves.
His agent however revealed to CNN that they have requested for Atsu's picture to be placed across local and national hospitals to bolster their efforts in finding and rescuing him.
There hasn't been a newer update since then. When OkayAfrica reached out to the agent for an exclusive statement via Whatsapp on Thursday afternoon, he mentioned: "Unfortunately, we have no update to give at the moment. If anything changes we will let you know."
Despite the desperate pleas for help, the Turkish FA and Atsu's club have reportedly turned a blind eye to the Ghana Football Association's emails. Henry Asante, the Director of Communications for the Ghana Football Association, expressed his frustration at the lack of response, telling OkayAfrica that they are relying on personal contacts in Turkey and Ghana's High Commission in Istanbul for information.

"We have sent numerous emails to Turkey's Football Federation and we have since not received a response; no one is minding us. We are relying on personal contacts in Turkey and Ghana's High Commission in Instabul for information because even efforts in getting the club's (Hatayspor) cooperation in finding Atsu have also proven futile," he tells us over a phone conversation.
"It hasn't been easy for us at the FA," he added.
\u201cTheir position and influence, accompanied with their local knowledge would be extremely helpful. We implore the President of the club and mayor of Hatay, L\u00fctf\u00fc Sava\u015f to provide additional resources to speed up the rescue efforts as a priority.\u201d

— Nana Sechere (@Nana Sechere) 1676381217
Atsu's situation has struck a chord with many, as he has risen from humble beginnings in Ada Foah, a small town in Ghana, to playing for top European clubs such as FC Porto, Everton, and Newcastle United.
His time at Newcastle United was a defining moment in his football career, propelling him to the ranks of rising stars in the sport.
Back home, Christian Atsu has been an important player for the Ghana national team, the Black Stars, having made his debut in 2012. He has played a total of 65 games for the Black Stars, scoring 10 goals and providing 8 assists.
Christian Atsu is a Ghanaian footballer who has gained recognition not only for his skills on the field but also for his benevolent acts off the pitch. Atsu has been involved in various charitable activities that have made a significant impact on the lives of people in his home country, Ghana.
Under the umbrella of the Christian Atsu Foundation, he has assisted underprivileged children in Ghana. He has also supported various initiatives that promote education and healthcare.
Apart from providing educational opportunities, Atsu has also been involved in helping prisoners who are unable to pay fines. In partnership with the Crime Check Foundation, Atsu has paid court fines for several petty offenders, securing their release from prison.