After nearly two weeks since earthquakes rocked Turkey and Syria on February 6, the body of Christian Atsu has been found under the rubble where he lived in Turkey, according to his agent. Playing for Turkish Super Lig side Hatayspor, the 31-year-old Ghanaian international forward — in the time he was reported still missing — had been an anxious, nerve-racking subject across football media and beyond.

Newcastle,Chelsea, andEverton have sent their commiserations, English football clubs for which Atsu had a stint with, as well as an outpouring of tributes from the football community. His move to the Turkish side in September 2022 now feels like a capstone to his eventful and wide-spanning football career.
Gradually entering the hall of fame of Ghana's national team, the Black Stars, his journey to this point in football has been one of resilience, dilemmas, strenuous encounters, love, and uncertainties. And it all began in Ada-Foah, a town in the Greater Accra Region of Ghana.
Christian Atsu Twasam and his twin sister, Christiana Atsupie Twasam were the last to complete a set of 10 siblings born into the Twasam family. Beginning his football education at Feyenoord Academy, now known as West African Football Academy in Sogakope, Atsu's brilliant performance caught the attention of former Porto coach, Andres Villas-Boas in 2010. His dreams of playing professional football were unleashed at only 19 with a prospective fruitful career ahead of him.
---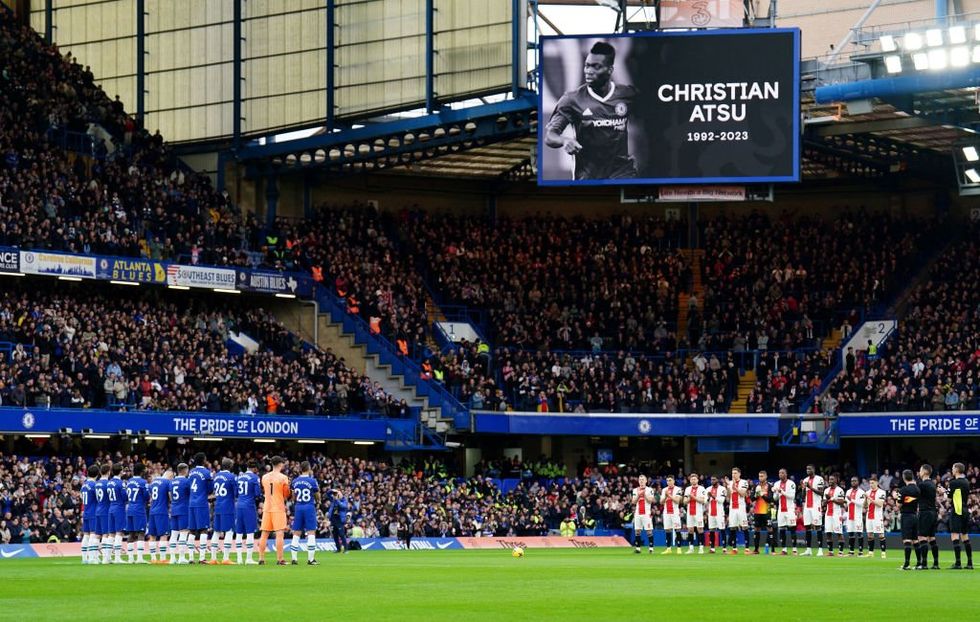 Chelsea and Southhampton players observe a moments applause in memory of Christian Atsu prior to the Premier League match at Stamford Bridge, London on Saturday February 18, 2023.(Photo by Zac Goodwin/PA Images via Getty Images)
Little did he know that he would be a cog in the loan machine of clubs around Europe. He managed to make lemonade out of lemons. Porto loaned him to fellow Portuguese side Rio Ave where he netted 6 goals after 27 appearances. In 2012, he returned to Porto and made history with the team by winning the Primeira Liga and the Portuguese SuperCup Championship.
At this place, he found love in Marie Claire-Rupio, a German author to whom he got married. The couple has three kids currently and adores their family.
He seemed to be having a great time with his Portuguese team when Champions League winners at the time, came knocking. Admittedly, Atsu found it difficult to leave Porto but he had dreams of playing in the Premier League and Chelsea offered that entry point.
Unfortunately, his hopes of playing Premier League football with the European Champions were abated. He never got featured in any match for the club. Instead, Chelsea decided to make a profit from their £3.5 million investment by loaning him out to Vitesse,Everton, Bournemouth, Malaga, and Newcastle United within a span of 4 years.
The Rise of "Ghanaian Messi"
His rise in the Black Stars was meteoric and the brilliance in his left foot earned him the nickname "Ghanaian Messi." It all began in June 2012, when the 20-year-old winger left a lasting impression in the minds of Ghanaians. He featured immensely in thrashing Lesotho by 7-0 in Ghana's World Cup Qualifier. He further etched his name in Ghana's first eleven when he scored against Malawi in the 2013 African Cup of Nations (AFCON)qualifiers.

Afterwards, Ghanaians were convinced he was the Messi of the country and hailed him as such. He built on this momentum and continued his incredible run during the 2013 AFCON, where he scored his debut goal in the tournament in a 3-0 win against Niger.
He capped that terrific performance by bagging the Man-of-the-Match prize as well. He justified these appraisals by winning Goal of the Tournament and Player of the Tournament in the 2015 African Cup of Nations. In the subsequent AFCON, he made the team of the tournament in 2017 after helping Ghana finish fourth.
Atsu sustained an injury in 2019 during Ghana's AFCON Qualifier against Cameroon and claimed he was neglected by the Ghana Football Association (GFA). This got him sidelined by his club, Newcastle, and affected his playtime. The impasse with GFA influenced his decision to quit the Black Stars after 65 Caps for his National Team colors.

Newcastle saw Atsu's potential in their squad and secured his permanent move to the club in 2017. He still felt grateful for signing with Chelsea because he believes that is what led to his move to the Magpies. For Atsu, he felt his career around Europe was a dream. He didn't grow up in an affluent home so all this new wealth he had felt like a miracle.
"Christian has always been a humble man," his nephew Emmanuel Twasam tells OkayAfrica, "He's got nothing but love for everyone and is often on great terms with all. I remember whenever he visited Ghana, we used to go over to his house to play FIFA."
Atsu was a philanthropist
Atsu grew up in a staunch Christian home and loved to show his gratitude to God for every milestone in his over-a-decade-long career. It didn't come much as a surprise when he was an ambassador forArms around a Child, a charity foundation based in South Africa, Ghana, and India whose mission is to support kids who have been abandoned, abused, infected with HIV/AIDS, trafficked by providing education and resources for them.
The community outreach didn't end there, as he built a school in his hometown, Ada Foah, which currently provides 300 kids with education. He also paid thousands of pounds in fines to facilitate the release of offenders with petty crimes.
Playing for Turkey's HataySpor FC

Atsu went on to sign a contract with Al-Raed in Saudi Arabia after his contract ended with Newcastle in 2021. He continued his exploration in the Middle East when he penned a one-year contract with HataySpor FC in Turkey after his stint in Saudi Arabia.
With only 3 caps under his belt, Atsu made a memorable mark in the New Hatya Stadium with his stoppage-time winning goal against Kasampisa on a cold Sunday night in February. That win sealed his team Hatyaspor FC's place in the fourteenth position on the Turkish Super Lig table.
For Atsu, it was a major milestone and even moreso, to send fans of the club smiling home with his pivotal lone goal.