Music
Get to Know Kengol DJ's Cameroonian Drill Music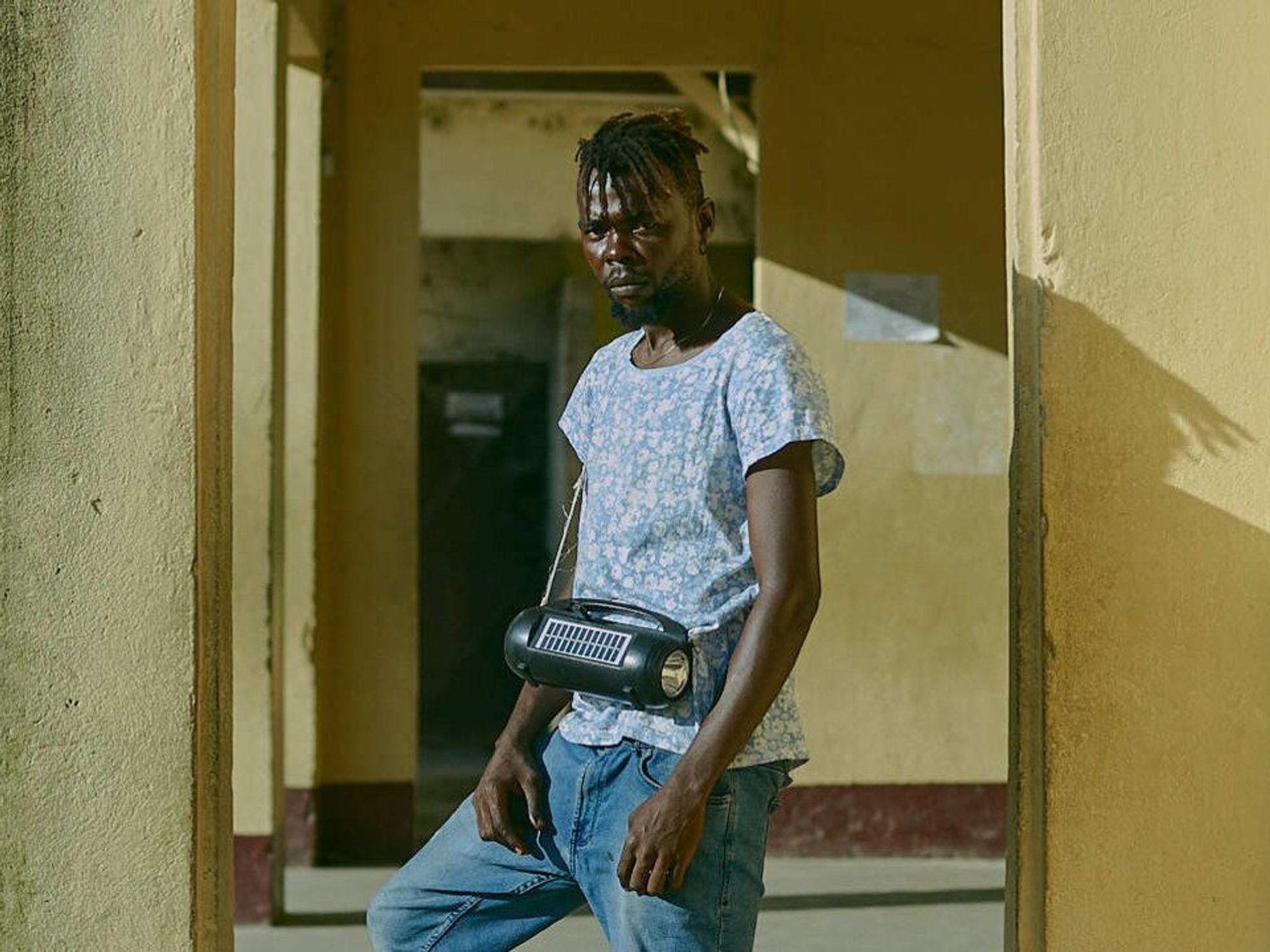 Credit: Lokol Kye.
Kengol DJ, born Magloire Noumedem, entered a world of suffering when faced with intense stares from the shadows of the notorious Central Prison of Douala—a place which operates more like a small walled city than a high-security jail.

"Arriving in prison is exactly as you might imagine — I can only laugh now, everyone half-naked, and the voices ringing out...it was terrifying." Kengol is an emotional man. Over two hours in his presence, he acts out his life experiences rather than recount them. It becomes an interview that is as much a performance, where Kengol lays himself bare—spitting bars wide-eyed one minute, singing his heart out the next, gesticulating wildly as tears run down his face.
The 32-year-old's latest single "Ca Va Aller' (It's Gonna Be Ok)," his cry of survival, is a fresh take on Drill that "Cameroon has never seen before--I call it Atalaku Drill," Kengol explains, "I've crossed it with coupé-décalé." It was released this month on Jail Time Records, a label set up in prison to rehabilitate talent fallen to the wayside.
Noumedem was, by his own admission, lost to the streets when he was arrested for possession of drugs and sentenced to a term of 6 months: "Not many go inside to find the light, but I started to have visions. I could work day and night on my music, my God-given talents were no longer lost."
---
Kengol DJ.Credit: Lokol Kye
Childhood & Early Inspirations

As a child in the small port of Bonabéri, he would dance to the local high-energy party rhythms of Makossa and the fast dance rumba sounds of Soukous from the Congo.
Possessed by artists such as Papillon and Kotto Bass, he has never forgotten how his mother once exclaimed: "My glory, I know you will make music one day," as he showed off his moves to his siblings.
Kengol's father was a DJ and sold CDs, importing hits from France and the US. He became responsible for introducing acts to a wave of music covered by Cameroonian artists. "Musicians came to my father for the songs that would make them popular — they would end up singing a version of a Johnny Hallyday song but in an African dialect."
His happy childhood was disrupted when his mother suddenly left the marriage. "My father built that house, so she was forced to return to her family- we remained with him; he was an angry man." Once a new woman was moved in, a young Kengol was shipped out to his aunt to live in a rural area: "I was listening to Sisqo, French/Moroccan rap artist La Fouine and reggae/dancehall but hanging in a forest with all kinds of animals.".
At one point in his early '20s, he ended up back with his mother, helping with her cosmetics business on the border with Guinea, but within a month, she had tragically died in a car accident. In deep shock, he returned to the family home.
"The problem was that my father wanted me to work in factories or as a welder, and I would not accept that, so again, he kicked me out."
He made his way to Edea, where he began to define his rap and singing talents. Smoking cannabis by the Sanaga river and freestyling with new friends led him to attend open-mic sessions, where he started to make a name for himself in a small scene.

"For two years, my family didn't know where I was, they went to the police and even broadcast appeals on the radio." When he finally returned in 2012, he found that his older half-brother had returned from Paris to set up a studio and label.
"I thought God had looked after me, but it was five years of disaster. Opportunities to work with big labels were lost as my brother was too controlling. When it was finally over, I just flipped."
Life on the Streets
Physically and mentally shot and consumed with rage, he took to the streets as a hustler, working in the taxi ranks, crying out the destinations and loading the cabs.
"When you are in the street, you forget your family. You forget everyone that loves you. There is no emotion, just an intense rhythm where time passes." His life became one of survival. Haunted by his failed career, he was pushed to the margins of society. "People will see you in dreadlocks, see how you're living and think you're a criminal, but the real criminals are in suits. Any man can fall and end his life on the streets."
From sleeping "next to a man who had murdered a woman with kids in her belly," releasing new music has been his salvation. When "Ca Va Aller" drops, allowing only the full force of his guttural flow, there is no death, sorrow, or pain. It is only freedom that courses out of him. "Ca Va Aller is for the street, for those fighting to know that no matter what, they can come back. In a world of poverty and injustice, we are all in the same sauce".
Kengol DJ stands up and turns to one of his fans that have crept into the room. "I am them and they are me," he says. The young shirtless boy stares up at him in awe.