For decades, Kenya has been East Africa's (and the continent's) anchor when it comes to running. Did you know Kenyans holdworld records in virtually every category of mid- and long-distance running? The country takes 17 of the top 25 male record holders for the 3000-meter steeplechase, and eight of the top 10 fastest male marathoners and four of 10 female marathoners are Kenyan too.
---
Since Wilson Kiprugut won bronze in the 800m in the 1964 Tokyo Olympics, Kenya's abundance of talent has translated into a gold mine—for a few. Earlier this year, a scandal rocked the country as Kenyan athletics officials pocketed money intended to train poor athletes. While a handful of Kenya's most famous runners earn lucrative sponsorships and coveted prize money, the vast majority of Kenyan runners remain impoverished.
Navalayo Osembo-Ombati and Weldon Kennedy are two social entrepreneurs who want Kenya to benefit more from its famous running reputation. Their new start-up, Enda—meaning "go" in Kiswahili—aims to make the first high-performance made-in-Kenya running shoe. Since launching a crowdfunding campaign less than a month ago, Osembo-Ombati and Kennedy raised $100,000, which will help Enda kickstart production later this year.
Weldon Kennedy and Navalayo Osembo-Ombati. Photo courtesy of Enda.
Growing up in a village near Eldoret, located in Kenya's North Rift region and home to the country's running champions, Osembo-Ombati dreamt for years of ways of leveraging Kenyan sports to better support local development. After meeting Kennedy at an entrepreneurial workshop, the idea for Enda was born.
To break into the $17 billion athletic shoe market, Enda hopes to take advantage of preferential tariff rates for importing footwear and apparel to the United States under the African Growth and Opportunities Act (better known as AGOA), a trade deal between the U.S. and 40 African countries renewed last year for a decade. Under AGOA, Enda's shoes will be exempt from import taxes.
The company's debut shoe, the Enda Iten, is a lightweight, neutral training shoe named after a small, nondescript town that isincreasingly gaining a reputation as the world's foremost producer of elite running talent.
To develop the Iten, the Enda team partnered with Birdhaus, a design studio that has worked with Under Armour, Reebok, and Keen. For Osembo-Ombati, comfort comes first. "People have different running styles and gaits, so we developed a shoe that would be universally appealing. It has a wider toe-box, so the feet aren't squeezed together and features just the right amount of cushion for trail running."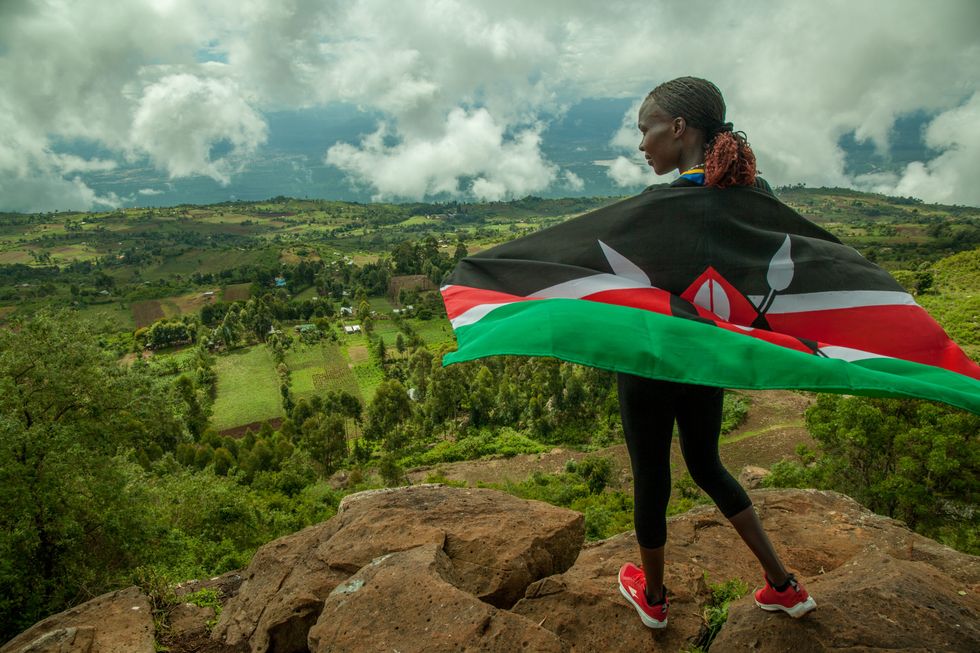 Photo courtesy of Enda.
The shoe's design features nod to Kenya's heritage. The Iten's three colors—green, red and black—and the spear logo nod to Kenya's flag while its heel mimics the shape of the Rift Valley hills. Twelve lines appear on the lateral side of the Enda Iten to recognize Kenyan Independence Day, December 12.  On the sole, the word Harambee—Kiswahili for "all pull together"—celebrates the community-focused drive at the heart of Enda.
But making the shoes in Kenya isn't easy.  "We want to champion national pride by proclaiming that Enda products are fully Kenyan-made. The material we're using for our mid-sole is just not available locally," Osembo-Ombati says.
In the long term, Osembo-Ombati and Kennedy plan to source all components of Enda shoes in Kenya, but in the meantime, they plan to assemble and package shoes in Kenya, and increase local sourcing as they go along.
Photo courtesy of Enda.
"We're hoping that through economies of scale and building a global market for our shoes, it'll provide an incentive for factories in Kenya to increase local availability of materials," Osembo-Ombati says.
For Enda, social enterprise isn't just a catch-phrase—it's a commitment. Founded as a benefit corporation, the company is legally obligated to make reports on activities contributing to its social mission, and is held accountable by stakeholders. Enda plans to set aside a portion of profits to fund community development projects. In the future, anyone who buys a pair of Enda shoes will be able vote to determine which projects benefit from their purchase.
According to Osembo-Ombati, "Having a social impact extends not only to the people we hire, but to the communities we touch."