Much of Africa's history has been preserved through cultural practices like singing, storytelling, and dance. In Ethiopia, the local folk music and indigenous sounds have played an important role in conserving the heritage and traditions that are passed down from generation to generation. At first glance, the thought of 'getting down' to folk music in this day and age might seem less than ideal, but the joy of younger generations being exposed to their culture early on means that they'll usually recreate it in ways that reflect their worlds.
---
Up-and-coming folk singer and songwriter Wegdayit, real name Dawit, is one such example. The Addis Ababa-based musician is years deep into experimenting with the native sounds, rhythms, and stories that painted much of his life and is mastering his sense of self every step of the way.
A self-proclaimed "Ethiopian and African folklore singer and writer," Wegdayit's passion for honoring what came before him and building on it has helped unearth bodies of work that many in his community have long forgotten. The singer is an avid fan of the 6th-century Aksumite composer Saint Yared, who is credited with being the first to develop traditional music in Ethiopia and Eritrea, and most of the music in the early days of the Ethiopian Orthodox Church.
With close to 70% of the country's population being Christian – 44% of them belonging to the Ethiopian Orthodox Church specifically – Wegdayit's music is geared towards resonating with the inner children of the majority of the nation. The little exposure that Ethiopia's deeply rooted sonic smorgasbord has had within Africa, let alone on a global scale, makes his venture that much more exciting.
Wegdayit's eager desire to collaborate with indigenous artists from across the continent too, speaks to the respectable pride he has in his origins. The dude thrives off of braiding Ethiopian and African folk sounds into audible retellings of the lifeforce and soul of Africa. What manifests is a genre that he's labeled 'Tiru Musica.' It encapsulates what you would label the sound of reggae, jazz, hip-hop, Ethiopian music, and a sprinkle of Christianity mixed together.
OkayAfrica sat down with the cultural connoisseur to discuss heritage, pan-Africanism, and more.
Wegdayit | ወግዳይት - Tiru Muzika | ጥሩ ሙዚቃ (Official Music Video)www.youtube.com
What's the inspiration behind your name?
Wegdayit: I've spent most of my life uncovering Ethiopian literature and sounds. My inspiration comes from Ethiopian traditional folklore that has been told through generations. I was always very interested, especially the indigenous ones, so my inspiration came along the way in search of my roots.
When did you decide that a career in music was for you?
It was really a tough decision for me, but, as I said, I've always loved Ethiopian culture and could not tear myself away from the art. True talent, passion, and my purpose calling me brought me to the decision, and it's been my career for five years.
Were there any Ethiopian musicians that inspired you when you were growing up?
Yes, of course! There are so many that I couldn't even mention them all. But, I just love to collaborate with good musicians – to get inspired by and understand their work. For example, we have the Queen of Soul and Jazz music, Ejigayehu Shibabawe, who we call "Gigi". I really love her work and she really inspires me. Tewodros Tadesse, too.
How would you describe your sound to someone who hasn't heard your music yet?
Wegdayit's music mainly focuses on Ethiopian musician, composer, and creator Saint Yared. We relate his music to legends like Mozart, Beethoven, and Chopin. My sound is a fusion or an experimental phenomenon where I fuse the spiritual side of the melodies into the modern music era. So, I can describe it as a heavenly sound.
Can you describe the culture around music in Ethiopia?
The culture around Ethiopian music is getting better. Nowadays, Ethiopian music is growing and expanding so that many talents can get an opportunity to stay with the industry. There are many business opportunities in the music market. There is a glimpse of hope in the Ethiopian music industry now, but the culture came along from our historical ways of sharing art – being passed down from generation to generation.
And how are you hoping to stir it up?
My art mainly focuses on Ethiopian community, traditions, and norms. We're accepted because the music we create has the power to relate to the community itself. I was a part of that community and I'm doing it. Now, it might even be convenient to be closer in sound, literature, and music arrangements. Ethiopians know spiritual traditions, for example, Saint Yared. Almost all Ethiopians know of his music, but they haven't experienced it in this experimental way. They know it from the church as very spiritual music, but now, I fuse it with the whole world, to the whole world – to Africans.
How are you experiencing the relationships between the different regions and their genres of African music?
I believe that African music and sounds, from every corner of the continent, interrelate with each other. For example, in the last few years, West African music has basically taken over the world. And in the last five years, East African music has been making astonishing strides. So, Pan-Africanism has been very powerful in the art industry. I believe, as an Ethiopian musician, I have a higher chance of being played throughout Africa because most songs are talking about things that are related. I'm really delighted to be a part of this.
What makes Ethiopian music special compared to the rest of the continent? What is that specific flavor that only Ethiopians can get right?
That's not a very difficult question. We have our language, our Amharic language, and from the continent, the only country that was not colonized by any of the countries. So, we're special in many ways.
What do you hope to achieve with your music in the next year?
I'm preparing myself to put my all into joining the African music industry as a jazz folklore singer and experimental fusion artist. It gives me the freedom to fuse traditional sounds with the modern music we hear nowadays. I expect my music and my art to penetrate not only Africa but the world with a very new sound. I'm focused on making African indigenous sounds, not necessarily from Ethiopia – they could be from Namibia, Cameroon, or maybe even Kenya. But, we're trying to discover or make new sounds with the African flavor. I'm working with a great team at Meedo Records and I'm so thankful as we're trying to build a record label in Ethiopia.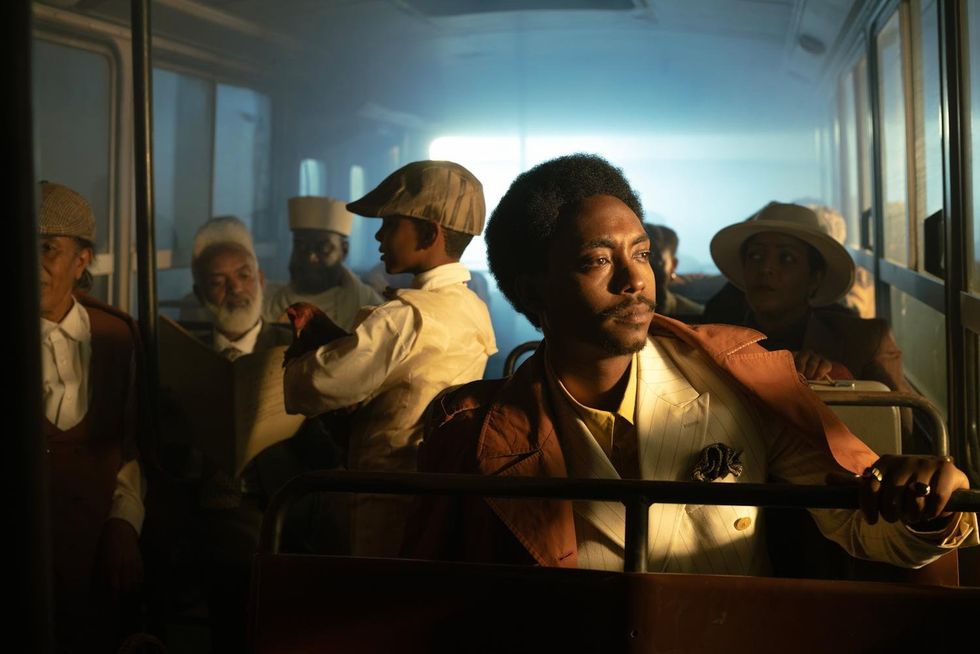 Pictured: Ethiopian jazz and folklore singer Wegdayit
Photo credit: Yonas Tadesse [@yonas_tadesse_]
Listen to Wegdayit's debut album "Asalafi" here: