Another Fasika , or Ethiopian Easter, has come and gone without East Africa's darling son The Weeknd or Abel Tesfaye (yeah I'm jelly of him, give me some toast), visiting the motherland. Maybe next year, as Tesfaye hinted in a recent Vogue interview.
---
One of the most important holidays for Ethiopian Christians, Orthodox Easter fell this year on May 1st. After an intense fast, many celebrated the occasion with locally made but not gluten free tej (an alcohol brewed with honey), and some bomb doro wat eaten with injera or a, "thin crepe like bread of a sponge consistency" as a non-Ethiopian might annoyingly say.
Easter in the East, as I like to call it, fittingly follows the eastern computus or calculation, a method of complex observation used for hundreds of years. The moon and how it shimmies on a pale but dark spring night's waters is observed (something like that) to figure out what day Easter should fall on. Fasika is usually celebrated after Easter in the West. It is one of the most important Christian holidays.
Easter, is of course, a celebration of the alleged resurrection of Jesus of Nazareth after he "died for our sins." The method of death was crucifixion. Those who worked in the Roman criminal (in)justice system were a brutal bunch.
What isn't widely known is that Christianity has a long history in Ethiopia, arguably the longest history.
[caption id="attachment_82993" align="alignnone" width="715"]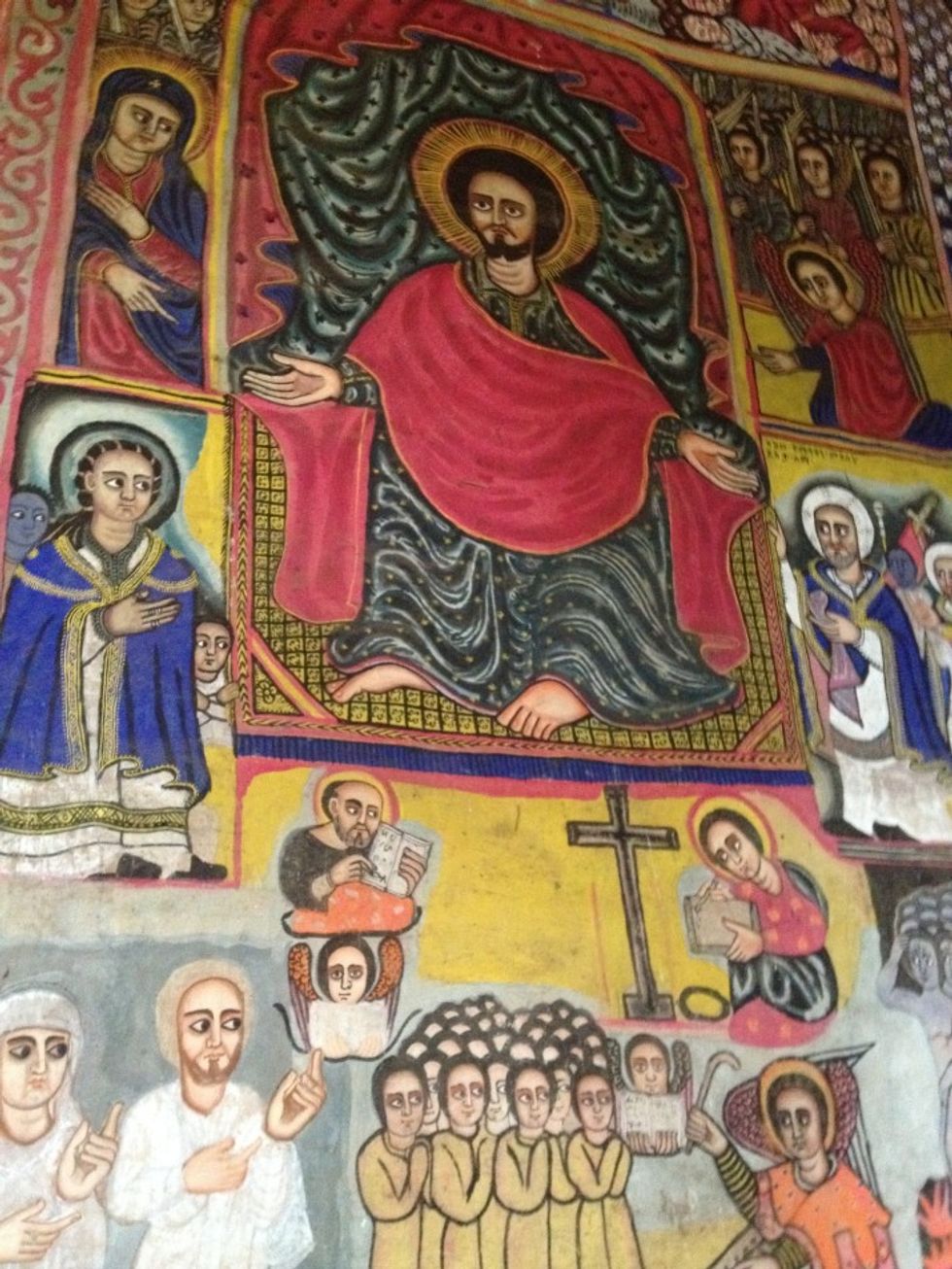 Ethiopian Christian art. Photo by: Abel Shifferaw
[/caption]
The lands of what were to become Northern Ethiopia and Eritrea, the Kingdom of Axum, is thought by many to be the world's first Christian nation. The Armenians dispute this, and assert that it was they who were first to officially adopt the Abrahamic religion.
Ethiopia has many firsts and many lasts. It was the last free nation standing in the face of colonialism and the first nation to convert to Christianity.
A Greek born in Tyre, Lebanon named Frumentius is credited with influencing King Ezana of Axum and subsequently the whole empire to convert to Christianity.
Prior to the introduction of Christianity both traditional religions and Judaism were practiced . Ethiopian Jews or Beta Israel as the Emperor Ezana began calling them, revolted following the institution of Christianity, and formed an independent kingdom.
Centuries later, as Islam began to gain influence, Axum became geographically isolated off from other Christian nations. As the countries around it converted to Islam, Axum remained the only Christian nation in the region. And centuries after that, as much of Africa fell to colonialism, Ethiopia remained free.
Although Christianity was practiced in the area decades prior, it was in the year 330 AD it was made official by King Ezana (primary sources say he put a ring on it), making Axum or the area of modern day Ethiopia and Eritrea, arguably, the world's first Christian nation.
Lalibela. Photo by: Abel Shifferaw