News
Ibeyi Announce North American And European Tour Dates
French-Cuban twin sister duo Ibeyi share their extensive 2015 North American and European tour dates in support of their XL Records debut.
---
Already on a tour that has included stops at the Music Hall of Williamsburg and SXSW, French-Cuban duo Ibeyi have announced additional dates in North America and Europe. As their sessions on NPR's World Cafe and in Seattle's KEXP studio show, twin sisters Naomi and Lisa-Kaindé Diaz perform the heartbreakingly beautiful songs from their XL Recordings debut album Ibeyi with an intriguing mix of sensitivity and passion which they translate to their live show. Catch Ibeyi's upcoming tour dates below via Bandsintown. For more from the group, watch their 'Day Out' record shopping with Okayafrica TV in NYC below.
Update 5/27: Ibeyi have added a North American leg to their tour this fall, check out the updated dates below.
Ibeyi 2015 North American Tour Dates: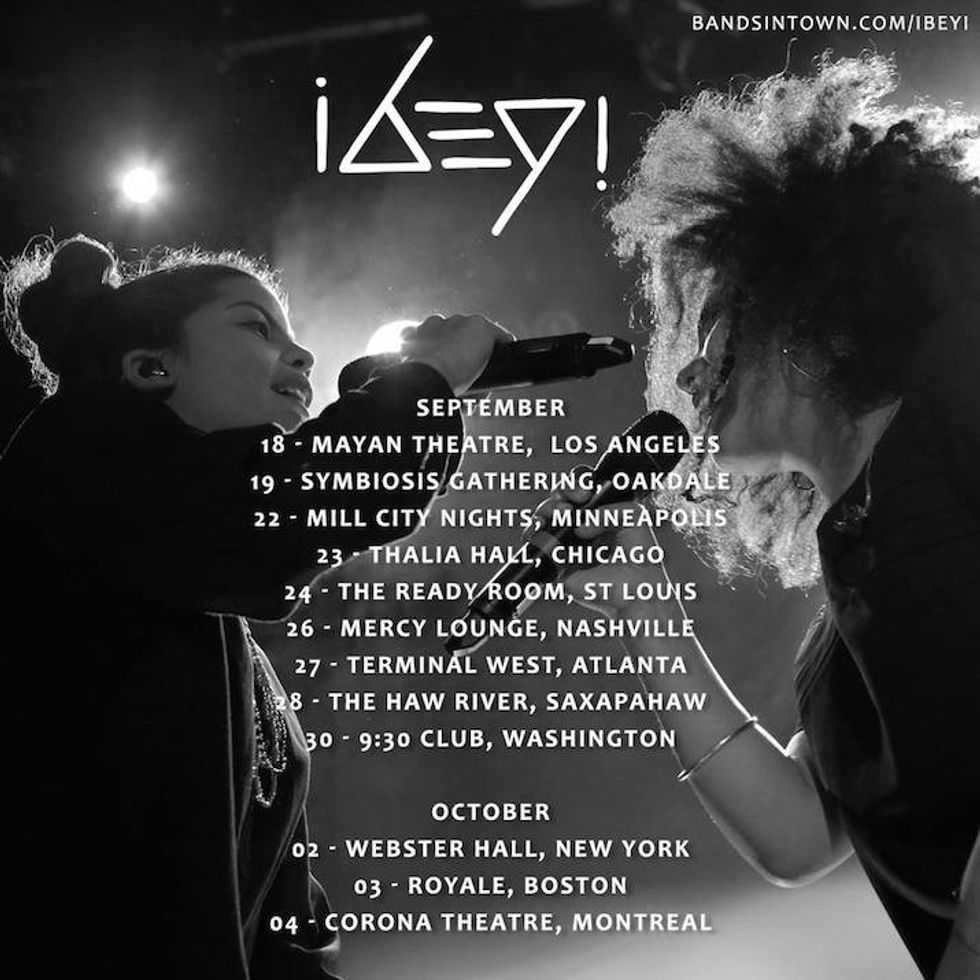 Ibeyi 2015 Full International Tour Dates:
| | | | |
| --- | --- | --- | --- |
| Apr 22 | Le Moods | Zurich, Switzerland | |
| Apr 25 | Antipode Mjc | Rennes, France | |
| Apr 26 | cabaret vauban | Brest, France | |
| Apr 28 | La Sirene | La Rochelle, France | |
| Apr 29 | LE FUZZ'YON | La Roche Sur Yon, France | |
| Apr 30 | La Luciole | Alençon, France | |
| May 09 | Midi Festival | Toulon, France | |
| May 12 | Islington Assembly Hall | London, United Kingdom | |
| May 14 | The Great Escape | Brighton, United Kingdom | |
| May 17 | Les Nuits Botaniques | Brussels, Belgium | |
| May 22 | Stereolux | Nantes, France | |
| May 23 | Festival Papillons de Nuit | Saint Laurent De Cuves,France | |
| May 24 | Festival Art Rock | Saint Brieuc, France | |
| May 26 | Primavera Sound - Sala Apolo | Barcelona, Spain | |
| May 30 | Festival Les 3 Éléphants | Laval, France | |
| May 31 | L'ASTROLABE | Orleans, France | |
| Jun 04 | Rockhal | Esch Sur Alzette,Luxembourg | |
| Jun 05 | Heartbeats Festival | Auby, France | |
| Jun 06 | La Laiterie | Strasbourg, France | |
| Jun 13 | Festival l'Edition, | Marseille, France | |
| Jun 17 | NXNE | Toronto, Canada | |
| Jun 20 | Central Park Summerstage | New York, NY | |
| Jun 21 | Arts & Ideas | New Haven, CT | |
| Jun 22 | World Cafe Live Philadelphia | Philadelphia, PA | |
| Jun 25 | Festivalpark Werchter | Werchter, Belgium | |
| Jun 26 | Rock Werchter | Rotselaar, Belgium | |
| Jul 01 | Festival Days Off | Paris, France | |
| Jul 04 | Les Eurockeennes | Belfort, France | |
| Jul 06 | Mojotic Festival | Sestri Levante, Italy | |
| Jul 07 | Unaltrofestival | Milan, Italy | |
| Jul 09 | Nice Jazz Festival | Nice, France | |
| Jul 11 | Pohoda Festival | Trencin, Slovakia | |
| Jul 17 | Marlay Park | Dublin, Ireland | |
| Jul 18 | Latitude Festival | Southwold, United Kingdom | |
| Jul 19 | Melt Festival | Gräfenhainichen, Germany | |
| Jul 24 | Womad Festival | Malmesbury, United Kingdom | |
| Jul 25 | Secret Garden Party | Huntingdon, United Kingdom | |
| Jul 30 | Les Nuits De Fourviere | Lyon, France | |
| Jul 31 | Esperanzah! | Floreffe, Belgium | |
| Aug 02 | Fiest'A Sète | Sète, France | |
| Aug 13 | Haldern Pop Festival | Haldern, Germany | |
| Aug 14 | Way Out West Festival | Gothenburg, Sweden | |
| Aug 22 | Dockville Festival | Hamburg, Germany | |
| Nov 02 | Concorde 2 | Brighton, United Kingdom | |
| Nov 03 | KOKO | London, United Kingdom | |
| Nov 04 | Trinity | Bristol, United Kingdom | |
| Nov 06 | Oobleck | Birmingham, United Kingdom | |
| Nov 07 | Brudenell | Leeds, United Kingdom | |
| Nov 08 | Gorilla | Manchester, United Kingdom | |
| Nov 10 | King Tut's Wah Wah Hut | Glasgow, Uk | |