Jade Osiberu is not a stranger to Nollywood. Over the last decade, she has worn various hats on movies and television shows as a writer, producer, and director. Her impressive portfolio includes projects such as the web drama series Gidi Up ; the wildly loved romantic comedy Isoken , which she received the Best Director award at the 2018 Africa Magic Viewers Choice Awards; the crime action comedy Sugar Rush ; and the crime thriller Brotherhood , which came out last year.
In 2022, her production company, Greoh Studios, signed a three-year deal with Prime Video, where she is expected to develop and produce original scripted TV series and feature films for the platform. The first of these projects is the just-released Gangs of Lagos , which also doubles as the first Nigerian original film on the streamer.
The crime thriller, which stars Tobi Bakare, Adesua Etomi-Wellington, Chioma Akpotha, and a diverse range of actors, tells the story of a group of friends who grow up in the bustling neighborhood of Isale-Eko and have to navigate their destiny in a place that sucks them in even when they want to leave.
In an exclusive interview with Okayafrica , Osiberu talks about her experience working on the project for over a decade and why it's necessary for it to happen now.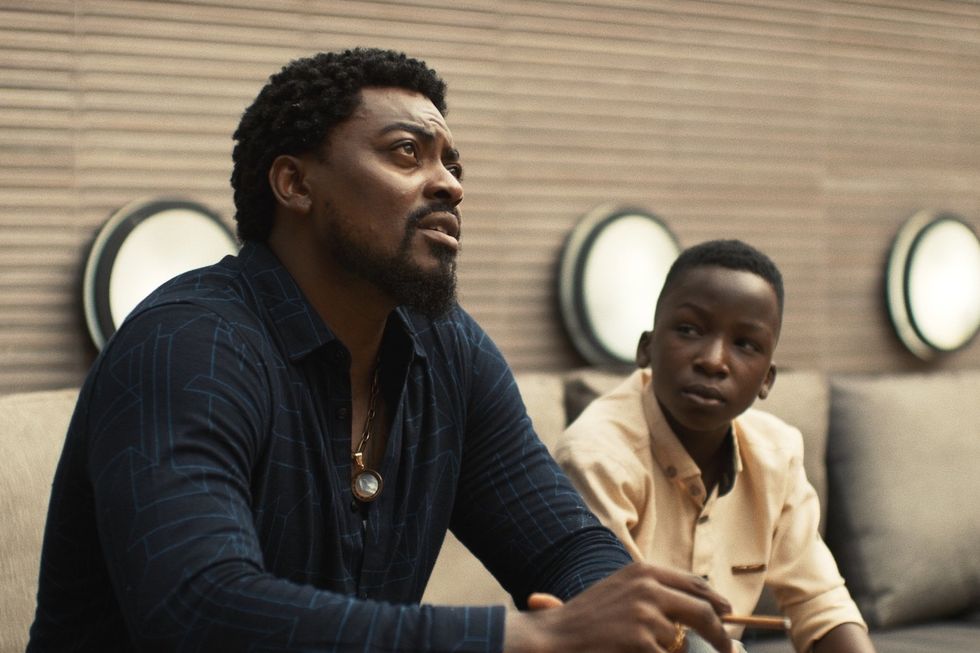 Tayo Faniran as Nina Lowo and Maleek Sanni as Young Obalola in 'Gangs of Lagos.' Photo credit: Prime Video
The following interview has been edited for length and clarity.
Can you tell us about Gangs of Lagos and where the idea came from?
This idea came in 2016 while making the second season of Gidi Up . We were shooting in Isale-Eko, and I saw how people were living, how close the houses were, and it just felt like you could see into another person's life. So, the idea of what it would be like to be born into this life and be stuck in this life came. Also, it's unique because Isale Eko is densely populated but surrounded by wealth around Marina, the city's commercial capital. So you can see wealth around you, but you can also not have much, so I was just obsessed with the idea — what it would look like to want to leave but remain there against all. And that's why we start with the characters as children and see them dreaming. Do they achieve all of this?
How did you research and plan this?
I've been working on the idea for a long time, and then I met Kayode Jegede, my co-writer on this film. We met about five years ago, and luckily, his family is from Isale Eko, so he came with a wealth of knowledge that helped ground the film even more. That collaboration was just dynamite and made it work so right.
What was the development process from when Kayode came on board?
It took us three years to develop a draft I was happy to take into production, but we were still changing until the last day. Before Kayode came on board, I tried to co-write with two other people, but we didn't see eye to eye on the story direction. When Kayode came in, he had a lot of reference material and brought in a lot of elements that, luckily, I hadn't thought about.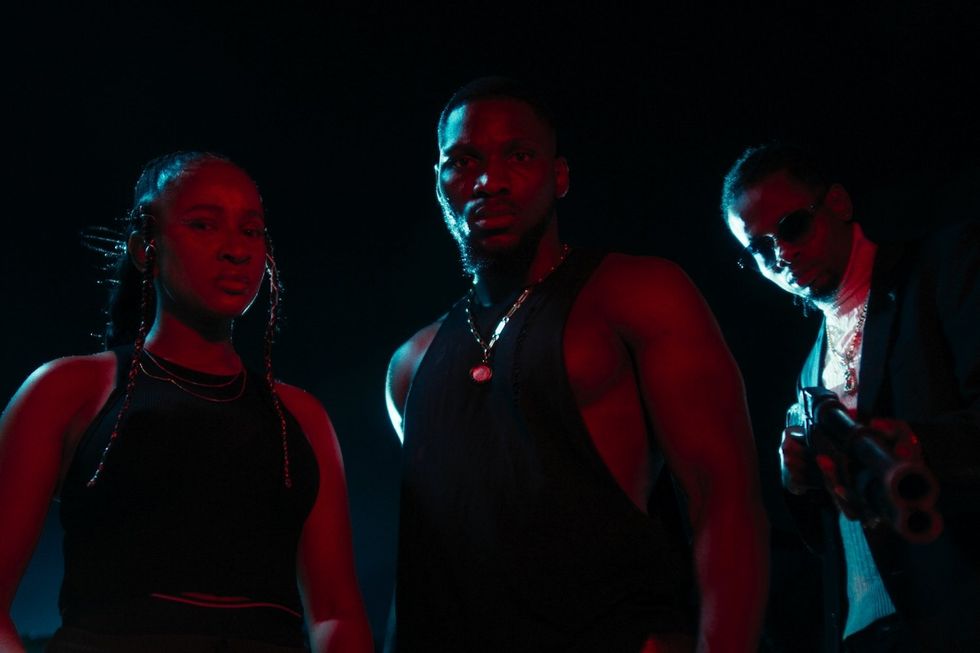 Adesua Etomi Wellington as Gift and Chike Osebuka as Ify Tobi Bakre Obalola in 'Gangs Of Lagos.' Photo credit: Prime Video
Were there any of the scenes that almost made it to the cut?
There was a scene from Obalola's fight sequence with Kazeem where he was supposed to be on the edge, but it didn't quite work. It wasn't as exciting as we thought and may have distracted people, so we took it out. Also, when they were children, we took out the scene where Obalola was being a rascal and stealing things here and there because it overextended the beginning, and we just wanted to strike immediately with the first scene.
How did you bring together the talents for Gangs of Lagos, and do you think they met your expectations?
I had worked with some of them before, and I've seen their work for most of them. I wanted to not speak to stereotypical names that you would see in a Nollywood film. You have people like Tayo Faniran, who I've never worked with before, and Chike, who I've seen on television before. With Pasuma, we saw him growing up, and he has a long history of acting in Yoruba films. Zlatan was the one person I hadn't seen coming, but I was scouring the internet and watching his videos, and something said this guy could do it.
Tell us about the fight sequences.
We needed to be authentic to that, and we had a stunt coordinator who was very committed to putting his back to it. He was particular with the actors, careful about training them and even training for the crowd scenes. We shot one of the fight sequences for three days and another for four days. I had never directed anything like that, and it was a very collaborative process.
Gangs Of Lagos - Full Trailer | Prime Video Naija www.youtube.com
How much of a concern for you was it to make this film in the Yoruba language?
My approach to filmmaking is to be true to the world you're telling. When I made Isoken, you didn't hear people speaking the Nigerian language because most people in that world don't talk like that. But I cannot have made Gangs of Lagos, made in Isale-Eko, and people speak British English. You would be disconnected, and nobody would watch and believe it. For me, it wasn't even a concern. I was more concerned about authenticity because that's primarily my job as a director and a filmmaker. The audience for it will come, and they'll watch it for what it is.
As a country that just had its elections, one can see some scenes from the film that work with it. Was this deliberate for you and your co-writer?
I couldn't see the future, and politics is a subtext in the film. The film is about people. If you're born in Nigeria, you know the society and how it's structured. For me, it was essential to see the people beyond the gang and the politics and just see them as people. What is the cost of living out their dreams? What does it cost them to be a part of this life? But fundamentally, Gangs of Lagos mirrors back our society. Also, this idea has been fresh in my mind for a long time, plus we finished working on the set about two or three years ago, so it wasn't inspired by anything particularly.
How did you get around shooting in Isale-Eko?
Like every other organized place, there's a hierarchy, and we were able to speak to the people up the line, and they could control people in the streets. It's not to say we didn't experience issues, but when we did, the people mentioned that we were with them, which solved it. We shot for 50 days, and they became our friends and part of the project.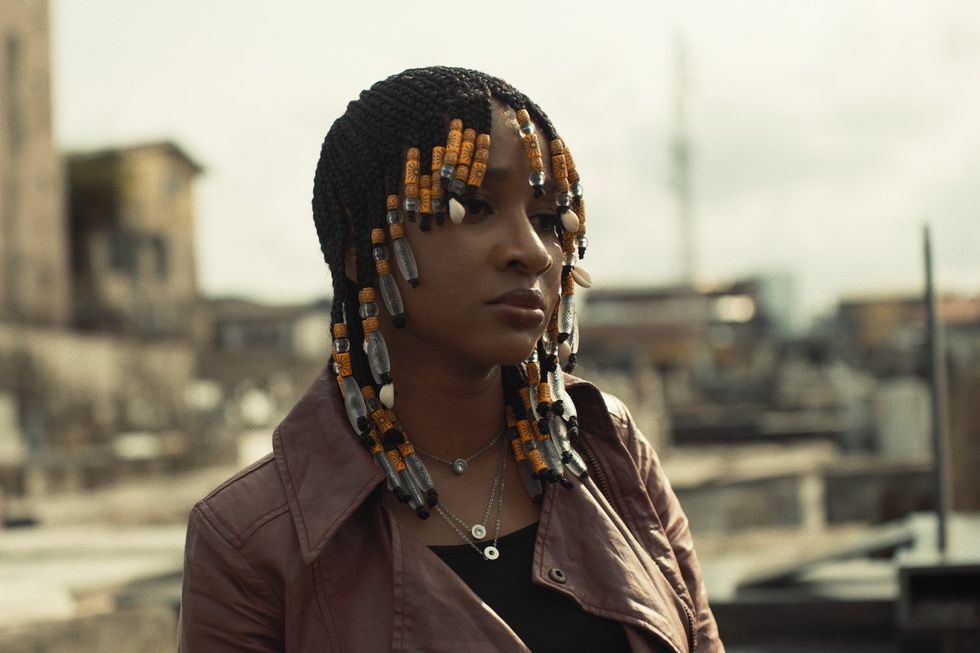 Adesua Etomi Wellington as Gift in 'Gangs Of Lagos.' Photo credit: Prime Video
Did you have influences for this film?
The material is the influence. But, of course, City of God was a massive influence. I'm a big [Martin] Scorcese fan. People will compare this to Brotherhood because it's from me, but I say they're different films. Brotherhood is excitable, but I think Gangs is a character study of Isale-Eko.
Gangs of Lagos is about the second action crime-thriller you worked on after Brotherhood last year. Is this a new obsession of yours?
I mean you'll see more. You'll see more of all-sort. I have a three-year deal with Amazon, and you'll see more: horror, romcom and everything else.
What do you want the audience to take from it?
It is humanizing people. Society inspires it in Lagos. It's about people and dreams and how you achieve your goals. No matter how much you believe in the work that you did, there's always some anxiety; I can't lie. I've been trying not to focus on the release. We're just hoping it goes very well and the audience embraces the film with love, just like we made it.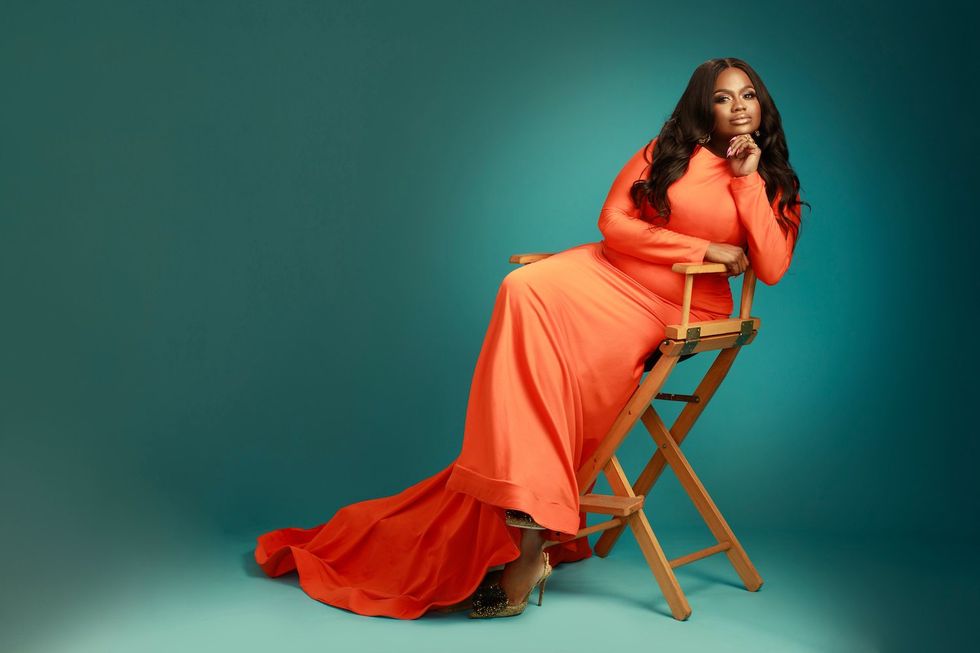 Jade Osiberu. Photo credit: Prime Video