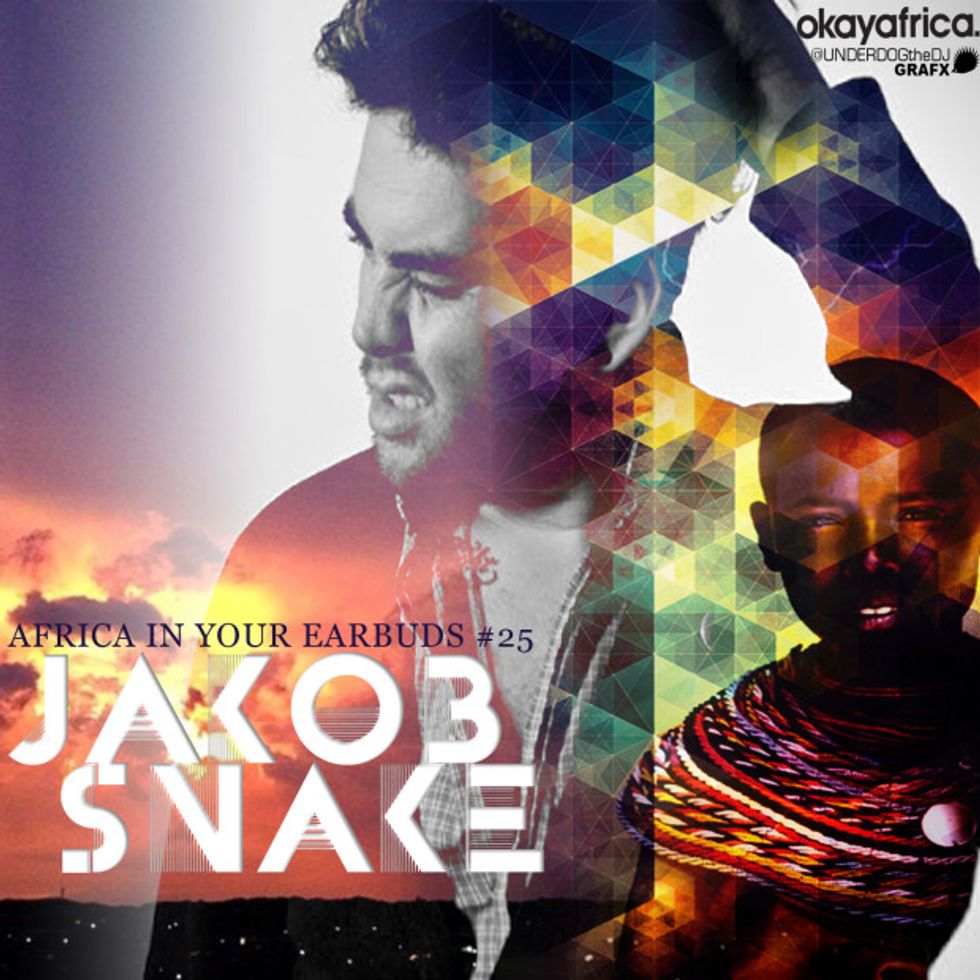 ---
JakobSnake's a man of many trades: producer, Spoek Mathambo drummer, rapper in Cape Town's Voicetag, DJ for BTEAMand organizer of the Cape Town Electronic Music Festival.Like his projects, JakobSnake's selections in Africa In Your Earbuds #25 hover closely to the Cape Town scene; his mixtape features electronic bliss from Jumping Back Slash, Richard The Third, Ruffest and others.
"This mix is an extension of a series of parties I started called AfroClap!" writes JakobSnake via e-mail, "A platform to expose Tropical, African and South African culture to a market who love it, but who also are inundated with sounds from the rest of the world." Stream/grab AIYE #25: JakobSnake below! Shouts out to Underdog for the cover art.
TRACKLIST
1. JUMPING BACK SLASH - TRANSMISSIONS (SA)
2. TWA – AMALIZA (RWANDA)
3. RICHARD THE THIRD – UNFORTUNATE FOOL ft. NONKU PHIRI (SA)
4. FELIX LABAND – DIRTY NIGHTGOWN (SA)
5. JOHNNY CLEGG & JULUKA – SCATTERLINGS OF AFRICA (SA)
6. BIG SPACE – OPEN BAR (SA)
7. IDIOTPROOF & EATS EVERYTHING – ZULU (UK)
8. ATJAZZ & JULIAN GOMES – OVERSHADOWED (UK / SA)
9. TERRENCE PEARCE – MAJIK (SA)
10. MIA DORA – FRECKLES (UK)
11. DJ MZI – JAIVA (SA)
12. DJ WHAT WHAT – ROUND & ROUND ft. MATHABO (SA)
13. DJ ZINHLE – MY NAME IS (SA)
14. LVOVO – INAMANDLA (SA)
15. SCRATCHA DVA – JAMBAZZRUFFMIX3 (UK)
16. DJ FRESCA, BLACK MOTION & TUNA – AMAPHOYISA (SA)
17. RICHARD THE THIRD – UFUNANI ft. RUFFEST (SA)
18. HOSTAGE – VERSATILE SOUND (UK)
19. MJ COLE – TGV (UK)
20. LUBA KASAI – LUMPUNGU (CONGO)
Previously on Africa In Your Earbuds: CHRISTIAN TIGER SCHOOL, SAUL WILLIAMS, TUNE-YARDS, MATHIEU SCHREYER, BLK JKS, ALEC LOMAMI, DJ MOMA, AWESOME TAPES FROM AFRICA, PETITE NOIR, OLUGBENGA, RICH MEDINA, VOICES OF BLACK, LAMIN FOFANA, CHICO MANN, DJ UNDERDOG, DJ OBAH, SABINE, BROTHA ONACI, DJ AQBT, JUST A BAND, STIMULUS, QOOL DJ MARV, SINKANE, CHIEF BOIMA.