Joakim Delivers 'A Very Broad Mix Of African Music' For David Byrne Radio
French producer & DJ Joakim shares 'A Very Broad Mix Of African Music,' an introduction, of sorts, to William Onyeabor.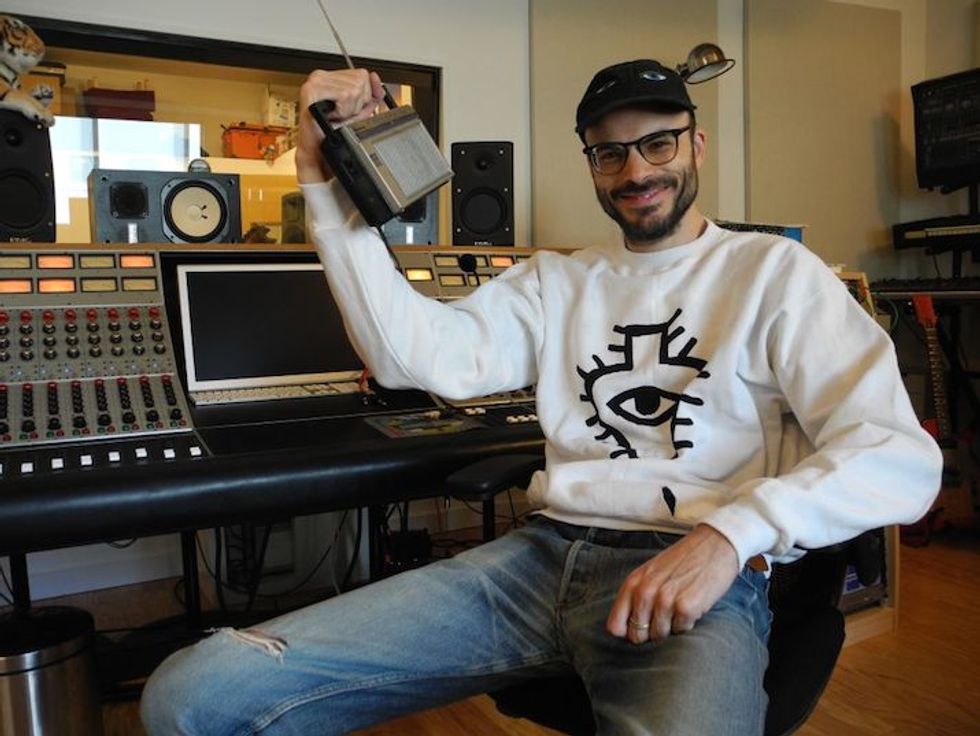 ---
For the May edition of David Byrne's curated online radio show at his official website, French producer and DJ Joakim was recruited to mix nearly two hours of music focusing on the sounds of Africa on behalf of Byrne's label Luaka Bop. Clocking in at a little under two-hours, Joakim's set features an eclectic collection of everything from field recordings to unreleased demos–dating anywhere between the 1960s to present-day. Joakim displays an incredible knowledge of rare African grooves and even throws in a couple tracks that don't necessarily originate from the African continent, but are inspired by its music and expansive variety of artists. Originally intended as a kind of introduction and tribute to the famously elusive William Onyeabor, it was recorded at MoMA PS1 during the NY Art Book Fair in the fall of 2013. We're glad it's finally available for our listening pleasure. Have a listen and check out the tracklist for Joakim and Luaka Bop's A Very Broad Mix of African Music below.
May 2015: A "Very Broad Mix of African Music", by Luaka Bop by David Byrne Radio on Mixcloud
1. Eric Welles & Joakim - Introduction
2. Chris Watson - Male Capercallie Display
3. Guem & Zaka Percussion - Le Serpent
4. Angele Asselé - Etre
5. Ambuya Nyati - Bukatiende (Levez-vous et allez-y)
6. Chris Watson - Elephants (Family Group Asleep In Rough Grassland)
7. Unknown - Unknown
8. Fax The Fax - African Vacation
9. Surutu Kunu - Yaya Ho
10. King Sunny Ade - Synchro System
11. Francis Bebey - La Condition Masculine
12. African Connection - Tiembelema
13. Al Diamon - Tashi mu taka (hausa)
14. Tohon Stanislas - Mi Tchinker
15. Issa Bagayogo - Once In A Lifetime (Soft Rocks Remix)
16. Tam Tam Pour L'Ethipie - Tam Tam Pour L'Ethiopie (B Side)
17. Black Soul - Africa Africa
18. Sofrito Specials Presents - African Disco Power (Sofrito Edit)
19. Babatunde Olatunji - Jin-Go-Lo-Ba (Drums of Passion)
20. Guem & Zaka Percussion - La Foret Vierge
21. African Head Charge - Stebeni's Theme (Jimi Bazzouka Refix)
22. Diskoking Burnhart McKoolski - Togetherness
23. Bunny Mack - Supafrico (Instrumental)
24. Carlos & Miki - Walking Down The River
25. William Onyeabor - When The Going Is Easy (Jimi Bazzouka Edit)
26. Larytta - Voodoo Things (Difficult Lee)
27. Moton 14 - Sweet Drums
28. Xitsonga Dance - Xitsonga Dance
29. Tony Tete Harbor & The Star Heaters of Nigeria - Tete Muo Bu Muo
30. Bola Johnson & His Easy Life Top Beats - Ezuku Buzo
31. William Onyeabor - Why Go To War