Sports
How Joel Embiid Shot His Way to NBA Super Stardom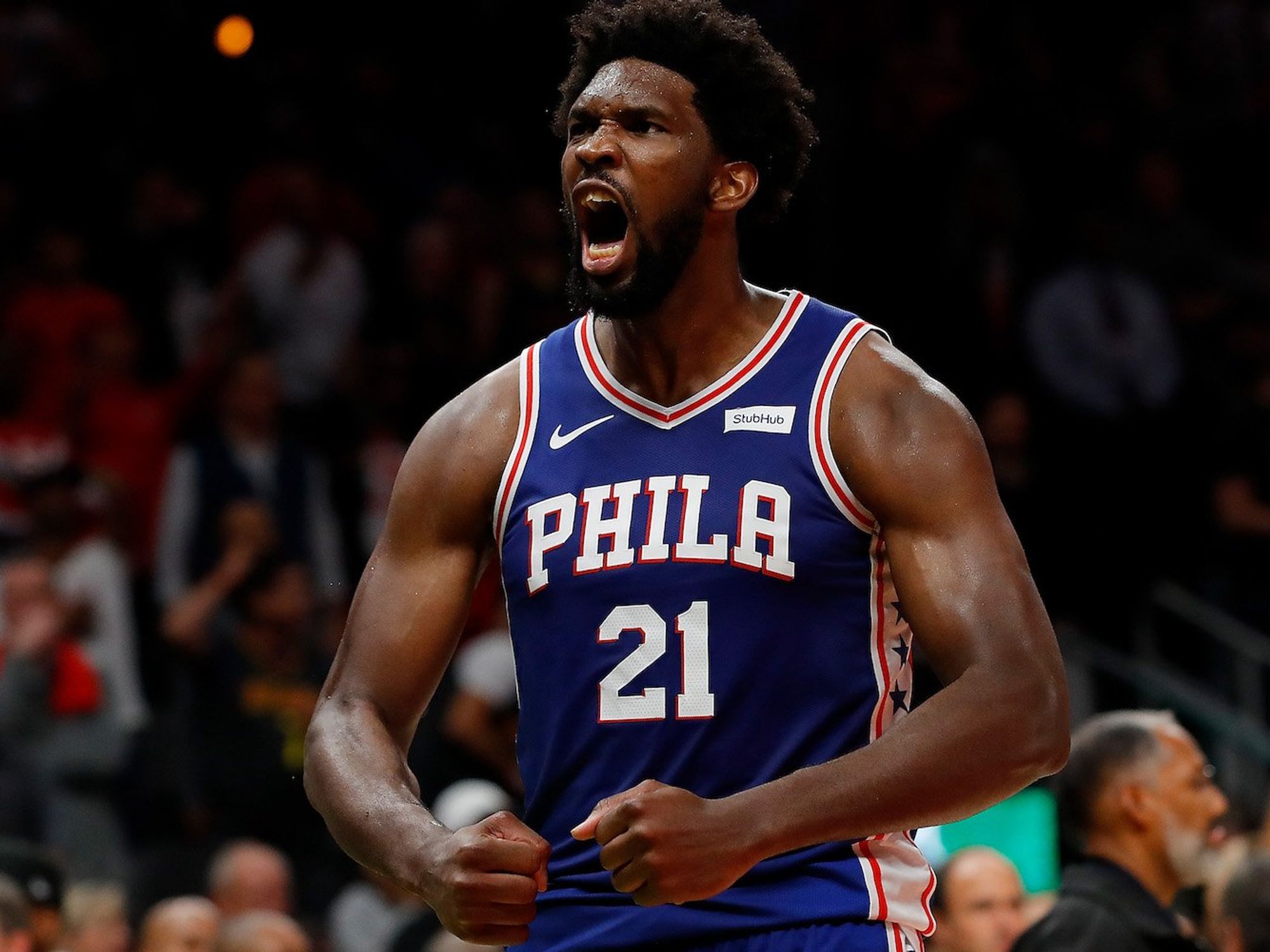 Photo by Kevin C. Cox/Getty Images
Cameroon-born centre Joel Embiid was named Most Valuable Player after his most dominant season yet. Here's how he defied several odds to become an inspiring figure in the basketball world.
"My life is a movie," Joel Embiid said the morning after attaining the greatest achievement yet as a professional basketball player. On the evening of May 2nd, the National Basketball Association (NBA) announced the Philadelphia 76ers centre as the winner of the Michael Jordan Most Valuable Player award. Embiid beat out fellow unicorns, the Denver Nuggets' Nikola Jokic and Giannis Antetokounmpo of the Milwaukee Bucks, and there was no shortage of delight-filled quotes during his award reception press conference the following day.
Of the many instantly memorable remarks in his speech and responses to questions from the press, that quote stands out because of its consistent presence when Embiid talks about his path to professional basketball. ("My life is like a movie," he toldSports Illustrated back in 2016, a time when his career was mostly defined by intriguing potential and debilitating injuries. )
There's no need for embellishment when he invokes that quote; Embiid's life has been marked by the kind of twists and turns that would easily make for a great biopic. Winning an MVP is undoubtedly a triumphant moment, but the path to this point has been anything but easy.
An Unlikely Hoop Dream
Embiid was born in Cameroon's capital city of Yaoundé. Raised in an upper middle class home, he enjoyed certain material privileges that comes with growing up in a typically high-earning African family—like having a housekeeper. His father was a military officer and there were strict rules in the house; Embiid had to handwash his clothes and put his educational endeavours in front of any sports activities.
As a kid, Embiid played football (soccer) and volleyball. As he approached his teens, he seriously considered the possibilities of being a professional volleyball player, planning to enroll at the National Institute for Sports and Physical Education (INSEP) in France. Then Basketball happened: Joel watched the late, great Basketball icon Kobe Bryant during the 2010 NBA Finals—seeing Kobe's dominance on the hardwood immediately ignited his affinity for hoops.
Even as he shot volleyballs at the rims in school, Embiid wasn't quite keen on playing basketball seriously. At 16-years old, he was only beginning to learn the rudiments of the sport, and the chances of playing professionally were already very slim since he was playing catch-up, skill-wise. A few months into playing organised basketball, he reluctantly tried out for a Basketball Without Borders camp held by former NBA player Luc Mbah a Moute in Yaoundé, who caught a glimpse of his potential on a fast break play and decided to single him out as an NBA-level prospect.
In short order, the INSEP plan was scrapped and a scholarship from Montverde Academy—Mbah a Moute's alma mater—relocated Embiid to Florida. It's reminiscent of Hakeem Olajuwon, the Nigerian-born, '93 and 94 NBA MVP who didn't start playing basketball until he was 15-years old and became the No. 1 pick in the 1984 NBA Draft, six years after getting into the sport. Olajuwon, who was also a two-time NBA champion and a perennial all-star during his career, quickly became a stylistic point of reference for Embiid as he tried to accelerate his development and there's a similarity in their paths that's uncanny.
The Gruelling First Steps to Hoops Stardom
At Montverde, the disparity in nascent skill-set between Embiid and his teammates quickly affected his playing time. Unlike his few months of familiarity with the game of basketball at that point, several of the young men he practised with had been dribbling and shooting since they could walk, some already being five star recruits for college scholarship programs. It also didn't help that they had a prejudiced perception of Embiid as a young boy from Africa who barely spoke any English. No one cared that he was raised in a privileged background and previously lived in a city where French was the predominant language.
Barely playing any meaningful minutes, Embiid sparingly got a chance to exhibit the patented dream shake and footwork he learnt from watching and studying videos of Olajuwon six days a week. The next year, he transferred to The Rock School, a Christian academy also in Florida. It was there his game started to blossom, averaging 13 points and nearly 10 rebounds per game, en route to a state championship.
Amidst this second year breakout, he committed to the University of Kansas on a basketball scholarship program. Arriving at Kansas, he faced the same skill disparity issue, some of it fuelled by his own doubts at the heights he could reach. "I was trying to get redshirted," he shared in a 2022 interview on The Draymond Green Show. "This was when I thought I would be at college for five years, 'cause guys were dunking on me in practice."
When he went to tell the coach of his redshirt decision, he wasn't having any of it, telling the recruit that he could be a lottery pick as soon as the next draft. Similar to Mbah a Moute, the coach saw the boundless upside to Embiid's talent: A 7-footer with the sort of size and effort that couldn't be coached, with a developing offensive touch that showed how easily the game came to him. It also helped his visibility that, at Kansas, he played with Andrew Wiggins, the highly scouted Canadian player who many had anointed as the best draft prospect since Lebron James.
As Embiid developed at a great pace in college, his stock shot through the roof in the months leading up to the draft, with many draft boards even predicting that he could be the first pick. In addition to the aforementioned upside, the boards saw Embiid as a championship-level defensive anchor, a player that could deter opponents at the rim and also seamlessly switch on to perimeter and wing players if need be.
During a pre-draft workout in Cleveland, Embiid suffered a stress fracture in his right foot with a broken navicular bone, undergoing surgery that already ruled him out of his first year as a pro. There were concerns that the injury could see him fall out of the lottery positions in the draft, but the Philadelphia 76ers took the Cameroonian centre with the third pick. Naturally, criticism followed this decision from the Sixers, especially since their sixth pick from the previous draft, centre Nerlens Noel, also lost his first year to a season-ending injury.
For the Sixers front office, led by Sam Hinkie at the time, Embiid's upside was too tantalising to miss out on because of a one year absence. Despite frustrations that the Sixers were losing a lot of games, Hinkie repeatedly told fans to "trust the process," hoping that successive years of lottery picks would form the formidable core of a long-term championship contending team in the future. Like the several Sixers' draft picks in the mid-2010s, Embiid was emblematic of an era that has been dubbed "The Process," and his scenic path to kick-starting his NBA career fit that tag.
While he was adjusting to the delay in getting into the pros, Embiid suffered a deeply personal loss. Arthur, his 13-year old younger brother, died in October 2014 after a truck crashed into a schoolyard. In addition to rehabbing his injured foot and mourning his younger brother, he had to watch from the bench as his team suffered 64 losses in its 82-game schedule. In a sliver of light, Embiid started to ramp up preparations for pro ball at the end of that season.
For a few weeks, he played in pickup games and, by all accounts, dominated. "[Embiid] literally almost ran all our bigs out of the gym," then teammate Robert Covington told ESPN of those pickup games in May. "It was a joke how good he was," former NBA guard Jamal Crawford said. "I saw then that the league had nothing for him." Just when it seemed like he was ready to go, though, Embiid and the Sixers found out that his injury hadn't been healing properly. That meant a second round of surgery that would render him ineligible to play for a second consecutive season.
The Giant Finally Arrives
Embiid played zero games two years after being selected with a lottery pick. Young NBA players have been called busts for far less, but no one could call Embiid a failed endeavour. Part of that was his outward personality, which involved a lot of social media usage. Even as he wasn't playing, he assumed his place as the face of the Sixers franchise by being incredibly funny online, up to the point of trolling everyone—himself included.
He even adopted "The Process" as his nickname, following the unceremonious exit of the man that drafted him. That refusal to cower behind the shell of injury meant the world just had to wait and see when he eventually took the floor. On October 26, 2016, Embiid played in his first regular season game against the Oklahoma City Thunder, recording 20 points, seven rebounds and two blocks in 22 minutes of action as the starting centre. The debut wasn't just promising, it felt like a dream that was starting to come true.
"I stepped on the floor, Stephen Adams was guarding me," he recounts on The Draymond Green Show. "I scored my first bucket and then I was like, 'Hey, this is easy.' We ended up losing the game but that's where the culture completely changed in Philly." Playing on restricted minutes that kept him around 25 minutes a night, Embiid showed dominance by averaging 20.2 points, almost 8 rebounds and 2.5 blocks per game. Through late January 2017, he played in 31 games and helped win 15 of those games, five more than the total number of Sixers wins in the previous season.
In early February 2017, it was announced that Embiid had suffered a torn meniscus in his left knee, but that it wouldn't require surgery. After initially ruling him out of action indefinitely, the Sixers shut him down for the rest of the season. Even with his limited play, it was instantly evident that Philly had a transcendent superstar in its ranks. The franchise brass had seen enough to offer its budding star a max contract worth $146.5 million over five years, which Embiid gladly signed.
Going into the next year, the only concern about Embiid was staying healthy. Even during his long layoff, he kept growing his game. He's repeatedly stated that he learned to improve his shooting by watching YouTube videos of "regular white people. They really put their elbow in and finish up top." It's indicative of an all-time basketball mind that seeks out and processes information at great speed, while clearly putting in a lot of practice.
In the third full season of his playing career, Embiid was criticised by Hall of Famers Shaquille O'Neal and Charles Barkley for not being more dominant on the offensive end, leaning more into tough jumpers than using his physique to barrel his way into higher percentage shots at the rim. It didn't take long for the centre to add more muscle to his low post game, alternating between tough fadeaway jumpers and easy layups at the rim. From his official sophomore season, he quickly became central to everything the Sixers did on offense and defense, the sun around which his teams' and opponents' game plans revolved.
It's no coincidence that the franchise has made the playoffs every year since the 2017-18 season, with Embiid being named an all-star every year. He's been the league's scoring champion in the last two regular seasons, topping 30 points per game on both occasions. He's made an All-Defensive team three times since and also been named to an All-NBA team four times—it will be five in the next few days. These accolades speak to a superstar level of productivity that has climbed with each subsequent, a marker of how he's evolved his game over the years.
MVP! MVP! MVP!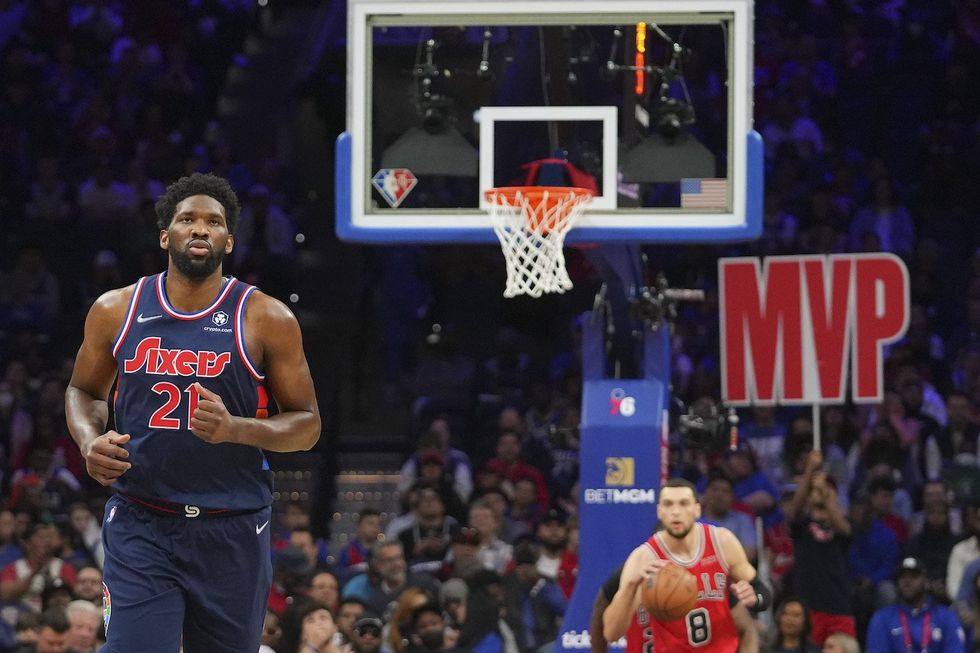 Photo by Mitchell Leff/Getty Images
Over the past five years, it's not uncommon to hear chants of "MVP! MVP! MVP!" from fans at Philadelphia's Wells Fargo Centre when Embiid makes a stunning play or is simply heading to the free throw line. It's a chant he encourages, since the Most Valuable Player honour is one he's aspired to even before entering the league. Now that he's won, it's a testament to the work he's put in to become the perfect model of the Big Man in the modern NBA.
Thanks to the evolutionary audacity of flame-throwing guards like Stephen Curry, Damian Lillard and James Harden, offenses in the NBA are stretched beyond the 3-point arc more than ever. That means operating in space is the premium for superstar playmakers. In previous eras, it used to be that big men exclusively operated in the post, leaning heavily on their size to create their shots. While Embiid came into the league as a bonafide stretch big that could hit shots all the way to the 3-point arc, the majority of his game happened on the low block for his first four-plus years.
Some of that came from sharing the floor with point guard Ben Simmons, who didn't shoot the ball anywhere away from deep inside the paint. With Simmons as his running mate, the Sixers were always successful in the regular season. But the lack of spacing often limited their offense in the playoffs. Teams could conveniently double-team Embiid in the post since Simmons wasn't a shooting threat.
As a major adjustment, Embiid largely operates in the mid-post—the area around the free throw line—to afford him more space to operate, and it's also helped that the Sixers roster has been upgraded to include better outside shooting threats these days, including 2018 MVP James Harden. Against single coverage in the mid-post, Embiid has the option of hitting mid-range jumpers, which he's gotten incredibly proficient at over the last two seasons. Or he can make his way to the rim. If teams choose to double, he can make the right read and pass to any of the shooters or cutters left open. Or he can make the heady play and just shoot above both defenders since he's almost always taller than the coverage.
A year after averaging 30.6 points per game, Embiid scored 33.1 points across 66 games this past regular season, with a 55% field goal percentage and 86% from the free throw line. He also anchored a Philly defence that was ranked as the 8th best of the season, averaging 1.7 blocks and deterring way more shots at the rim with his mere presence. Simply put, he was at his most dominant on both ends of the floor, and his MVP was well-deserved.
After the valleys of his first few pro years, winning the highest individual honour in American basketball is utterly inspiring. Embiid becomes the third player of African descent to win the award, following Olajuwon and Greece-born Giannis Antetokounmpo. He's the first player to attend a Basketball without Borders camp to win the award, which is particularly encouraging for young African hoopers.
"I've always felt like I'm a role model, especially to my Cameroonian people and my African people," he said at Wednesday morning's press conference. "I feel like, looking at my story, they can look at it and go, 'Wow, he did it.' The probability of someone like me who started playing basketball at 15 to get the chance to be the MVP of the league is probably negative zero. But improbable doesn't mean impossible."
At 29-years old, Embiid is only at the peak of his powers, which means there will be more milestones to come. He's already stated his great desire to win championships and also wants to win more MVPs and the Defensive player of the Year award. A day after his first MVP win, he wore a knee brace in game 2 of the Eastern Conference semi-final matchup against the Boston Celtics, returning earlier than expected from a knee sprain, in a game the Sixers would lose. It's the latest proof of how far he's willing to go to win at the highest level. Joel Embiid's basketball life is a movie and the script is still playing out.