Cape Town-based hip-hop producer and engineer Kay Faith, real name Karien Barnard, is Apple Music's New Artist Spotlight for January 2018, making her the first woman producer to achieve that feat.
---
She released her impressive debut EP In Good Faith in September of last year. The project features rappers such as Ginger Trill, Uno July, Big Star, YoungstaCPT, Patty Monroe, Dope Saint Jude among others. Faith produced most of the EP with fellow producers Buli and AirDee, co-producing the songs "Feelings and Stuff" and "High Note."
For the past few years, Faith has been working with your favorite South African rappers. Songs such as YoungstaCPT's "Own 2016," the hook to Kwesta's "Day Ones," among others have all gone under her hand. She recorded, mixed and mastered Uno July's Uno 'n Only andZero Hour Zonealbums and Dope Saint Jude's Reimagine EP.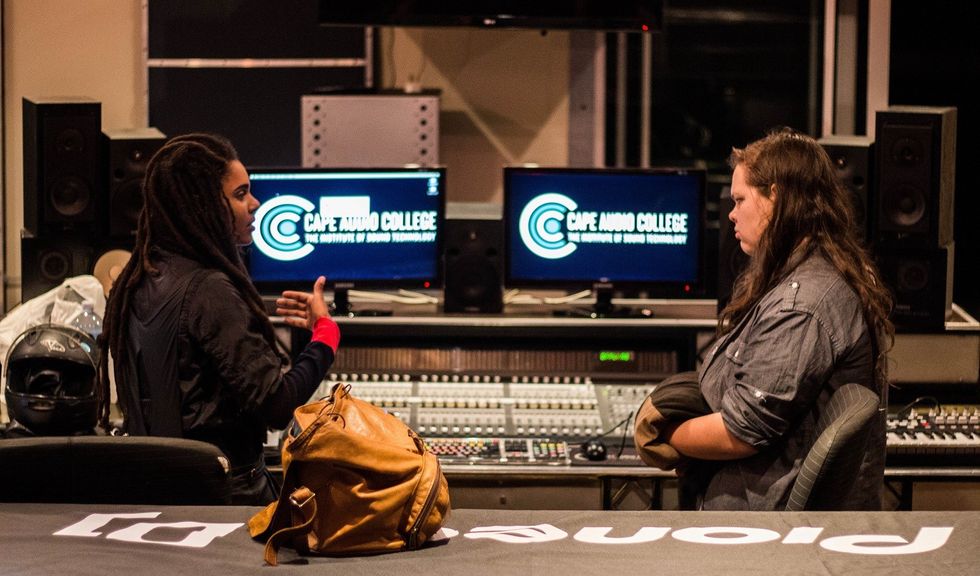 Dope Saint Jude and Kay Faith. Photo by Sabelo Mkhabela.
Rappers such as Nasty C, Spoek Mathambo and Reason, have all worked with her and she also engineered Mick Jenkins and Soulection's Cape Town shows last year.

About four years ago, Faith found herself in a session with Yasiin Bey, through working with the Brooklyn-born rapper's ally, Whosane. "Whosane opened a lot of doors for me," says Faith. "He introduced me to Ill Skillz. He also brought Mos Def through, and I ended up engineering for that session."
It was through Whosane that she found herself in studio with Da L.E.S in 2015. "It was supposed to be Da L.E.S and AKA actually," she says, "but there were issues with AKA's bags, so he had to stay at the airport. Da L.E.S came through, recorded some demos for his album, and we had a nice connection."
Growing up on a farm

Faith grew up on a farm in Knysna, in the Western Cape province, where there weren't a lot of kids to play with. What opened her mind to other cultures was being friends with the farmworkers' kids. "I had black, coloured, white and Indian friends," she says.
Faith went to an Afrikaans medium school. "Most of the music consumed at school concerts was Afrikaans music," she says, "which I was never into." It was her elder brother who introduced her to various genres. "My music taste is influenced by what he was playing in the car or at home."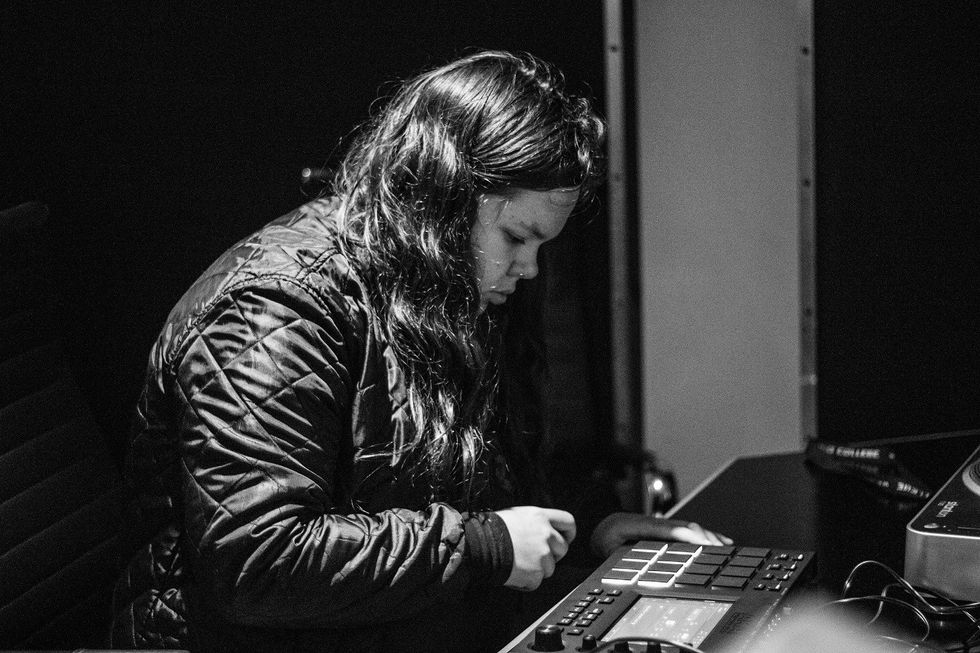 Photo by Sabelo Mkhabela.
"He listened to everything, from Peech Boys to Missy Elliot to Nirvana, so at a young age I was exposed to a lot of genres, but for some reason, hip-hop just stuck with me. There was something about it. My brother always tells me stories like, 'you were rapping along to "Let Me Blow Ya Mind" by Eve and Gwen Stefani.'"

After matric, Faith applied for a fine arts course at the University of Cape Tonw (UCT). But her portfolio, which was supposed to accompany her application, got lost in the mail. She re-applied for the following year, and enrolled at Cape Audio College for a one-year sound engineering course, in the meantime. She fell in love with the craft, and found herself ditching art, and going back the following year for an advanced diploma in sound.
After graduation in 2012, she interned at different companies and also Cape Audio College. It was then that she met Whosane. She was just supposed to set up the studio for the rapper, but they ended up having a working relationship. She then got employed as a sound engineer at Cape Audio College in 2014.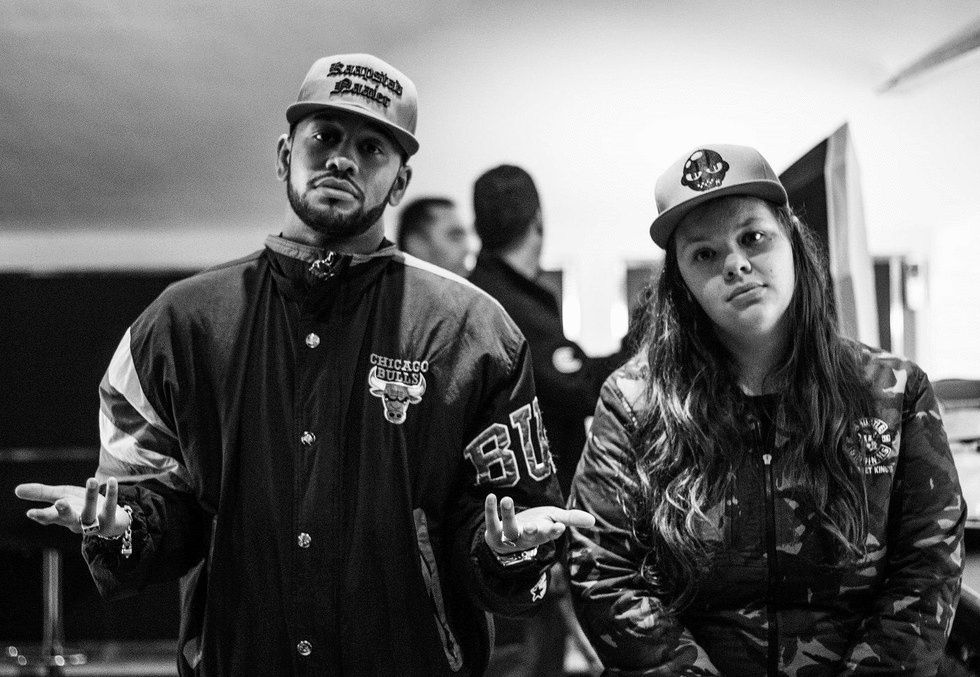 YoungstaCPT and Kay Faith. Photo by Sabelo Mkhabela.
Being a woman in sound engineering
Faith says she doesn't get why there aren't that many women in the field. "I've been looking for other women to collaborate with," she says, "but just finding anyone, it's tough." I imagine being a white woman must somehow put her at the bottom of the hip-hop totem pole. "I do get the 'Wow, a white chick [who's] a hip-hop engineer.'," she says. "I feel like it's a secret weapon, because when you get undermined, and then you prove yourself it's like, 'Oh wow I take back what I said.'"
In 2018, Faith looks to dropping lots of visuals and more music. Needless to say, we are looking forward to all that.
Listen to In Good Faith below and download it here.
An earlier version of this article was published on Live Magazine SA on 6 June 2016.