Reflecting on the early days of Cash Money Records during a conversation with legendary New Orleans producer Mannie Fresh earlier this year, Lil Wayne said:
"When we started, record labels had one producer for the whole record label. Meaning that Mannie Fresh produced every song on every album, from the intro to the artist."
Some labels, groups and collectives still observe that tradition. It, however, takes a producer with such versatility they could be mistaken to be different personalities altogether.
Joburg-based producer 808x is a great example of that type of producer. Being the in-house producer and engineer for one of the country's most versatile collectives and contemporary hip-hop labels, Innanetwav, 808x has to craft beats that slice through the spectrum of genres with inimitable fluidity and creativity.
---
808x combines vintage genres cushioned by vinyl hisses for popsnotthefather's ethereal croonings, whips out his trademark pulverising basslines for The Big Hash, Solve The Problem, Nicole "CoCo!" Nyaba and Southside Mohammed's diverse rapping styles and mellows everything down when The Big Hash artist takes on his R&B singer form.
The collective's individual catalogs and 808x's singles and his 2019 release Station 2097 all tell his story and showcase his abilities as a beatmaker, producer, engineer and artist.
808x, who in the crew's early years, stayed out of the spotlight, is beginning to show more of himself to the world. 808x is outspoken and, just like his Innanetwav acolytes, believes in maintaining professionalism while being "organic" from how he creates music, chooses friends, and deals with brands.
Apart from the Innanetwav roster, 808x has worked with the likes of Kwesta, A-Reece, Ginger Trill, DJ Sliqe and several others. In the interview below, the producer takes us through his working process, relationships with some members of the Innanetwav, approaching collaborations and more.
This interview has been edited for length and clarity.
How did you come up with the name 808x?
I got one letter in my name. Tell me that's not cool? I got one letter in my name. I used to chop a lot of samples when I started, and I just put 808s over the sample. Whether it's a gospel song, or any genre, I'd add 808s. It would turn out sounding so intense because my 808 patterns were super long. The patterns didn't just loop all the time, so the "x" just meant 'undefined' - as had become my signature.
What do you use to make beats?
FruityLoops and Pro Tools. It depends on what sound I am in pursuit of. Certain sounds cannot be found in FruityLoops, but may be default sounds in Pro Tools. Sometimes I can use both by going to Pro Tools, record the keys, export them, and then import them into FL for finishes.
What instruments can you play?
I play almost everything handed to me. Piano, harmonica, guitar, bass guitar, which is the same thing, recorder, electric guitar. If I am introduced to any new instrument, I am certain that I can emulate playing it with ease.
You did music in school?
Yes. When other kids were doing Arts and Culture class, I was playing music.
Who started the Innanetwav?
It was me, Oshoku, and Ty.
Oshoku puts out a lot of dope flips. Is he just a producer?
Oshoku's like a myth. He is a jack of all trades - making beats, graphic design, IT, photography to mention a few. He makes beats with me sometimes, but I haven't linked up with him in a while. When it also comes to buying the right plugins, he is also my go-to guy. I just give him the money for it, and then I hand him my computer which he ends up giving back at full spec.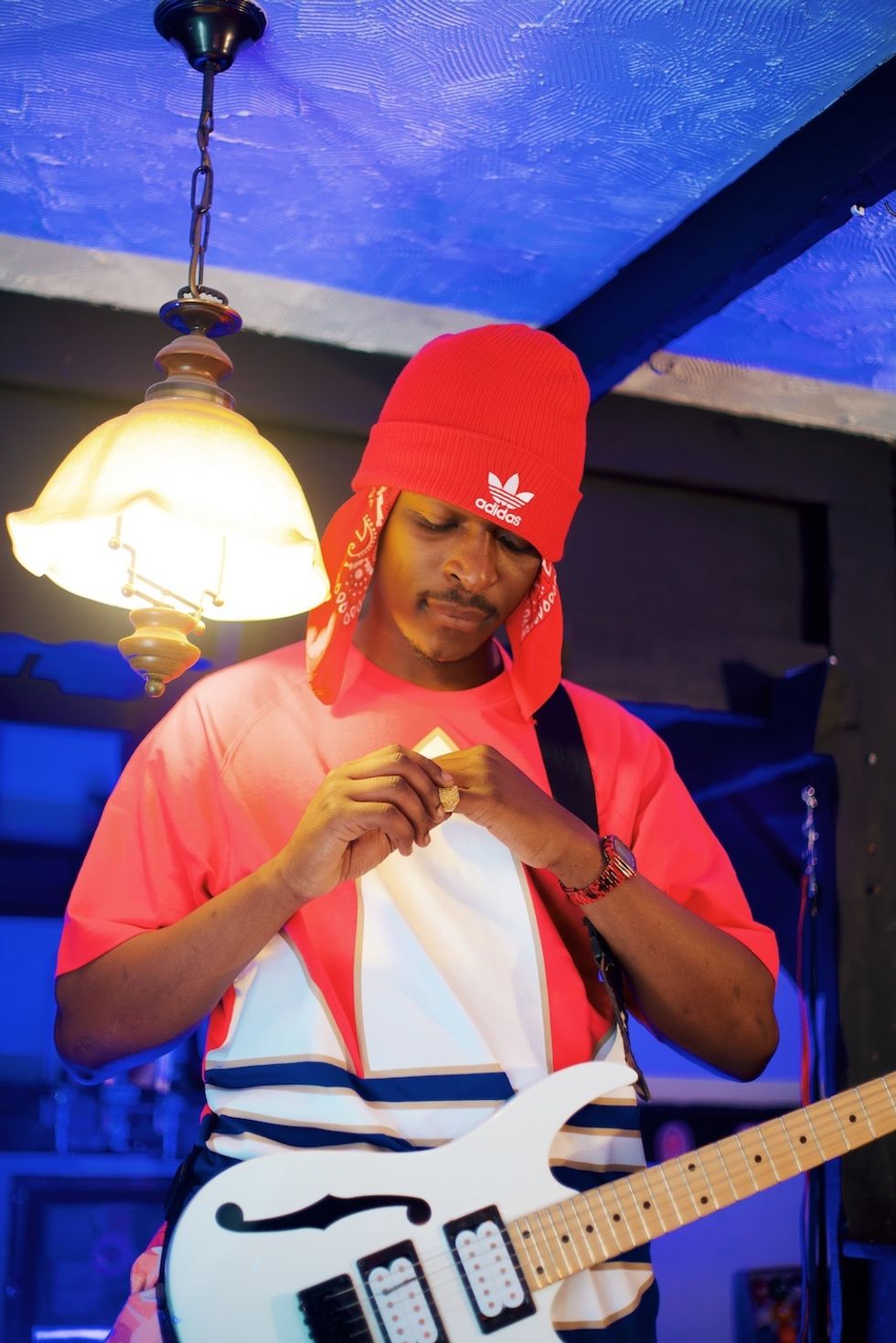 808x plays a total of nine instruments. Image supplied.
Who came up with the name Innanetwav?
It was Oshoku and I
How did you guys manage to get these brand partnerships so early in your career? It usually takes artists years to get to that.
We got super lit management, so when they tell you how to do shit, you just have to listen, and do it, and it will work. So they'll tell you, "Yo, you trying to get a deal? Okay, do this, this, this, but don't do that, that and that." They'll know exactly who to hit up and say, "Look at this guy, and tell me what should be done. How can we work this out?" All that behind-the-scenes shit.
And then all we do is make it as organic as we can. We get the clothes, rock them at shows, interact with people, just do what we do, and make it look natural. I've also done campaigns for other brands before Adidas, so it was easy for me to switch over to Adidas. How I did it, was different; I bought an outfit, then I would just rock it all the time, everywhere, and tagged them.
Recently, the projects that you work on, especially with The Big Hash, are attributed to "The Big Hash and 808x". What's that about?
I'm a fully fledged artist now. In this game, I have realized that if you do no give yourself enough credit for your work, no one will. The shift was merely to assert the fact that I had transitioned from simply being a producer on some tag-line to a full artist who has equally contributed to the creative direction of the song and earned his stripes.
So when you worked with A-Reece on "Built To Win, Born To Lose", what did you contribute to it apart from the beat?
The beat, mixing, mastering. What else? That's all there is to it. And direction. I'll be like, "Yo, structure the song [this way]." Sort of what DJ Khaled does, if he made his own beats. And there's a lot of songs that I sing on that you won't realise that I'm the one singing. It even goes as far as deciding who features on the song and who gets cut-off from the final take.

808x - Built To Win, Born To Lose (feat. A-Reece & The Big Hash)www.youtube.com
How did you meet A-Reece?
I met A-Reece on the day of the MTV Cypher he did with Shane Eagle and Nasty-C. I was there with Hash and that's where I met him and Mashbeatz. This led to an invitation to make the song "Outcast" in 2018.
What is it like working with him?
When we get in studio, we never rush the process to make music. We chill and vibe out, and then work as soon as the energies are in-sync to record. You can't chill too long though. You've got to get to work, but at the same time, you can't force the energy. There is such a fine line to tread. There's also times where we don't even make a song, we just chill. I guess its all about trusting each other and trusting how we each work alone and together.
Do you ever send you beats out to artists?
In very exceptional cases I send out beats. I usually have to be in studio with the artist as we create together and have a shared chemistry as to the work we building and how we are going to put the final work out. I just find it more comfortable and reassuring working like that and getting the immediate artist-impression of the beat. Sending beats out is usually on specific requests that are really called for, compelling or pragmatic - like when working with an artist outside the country or a campaign involving several artists.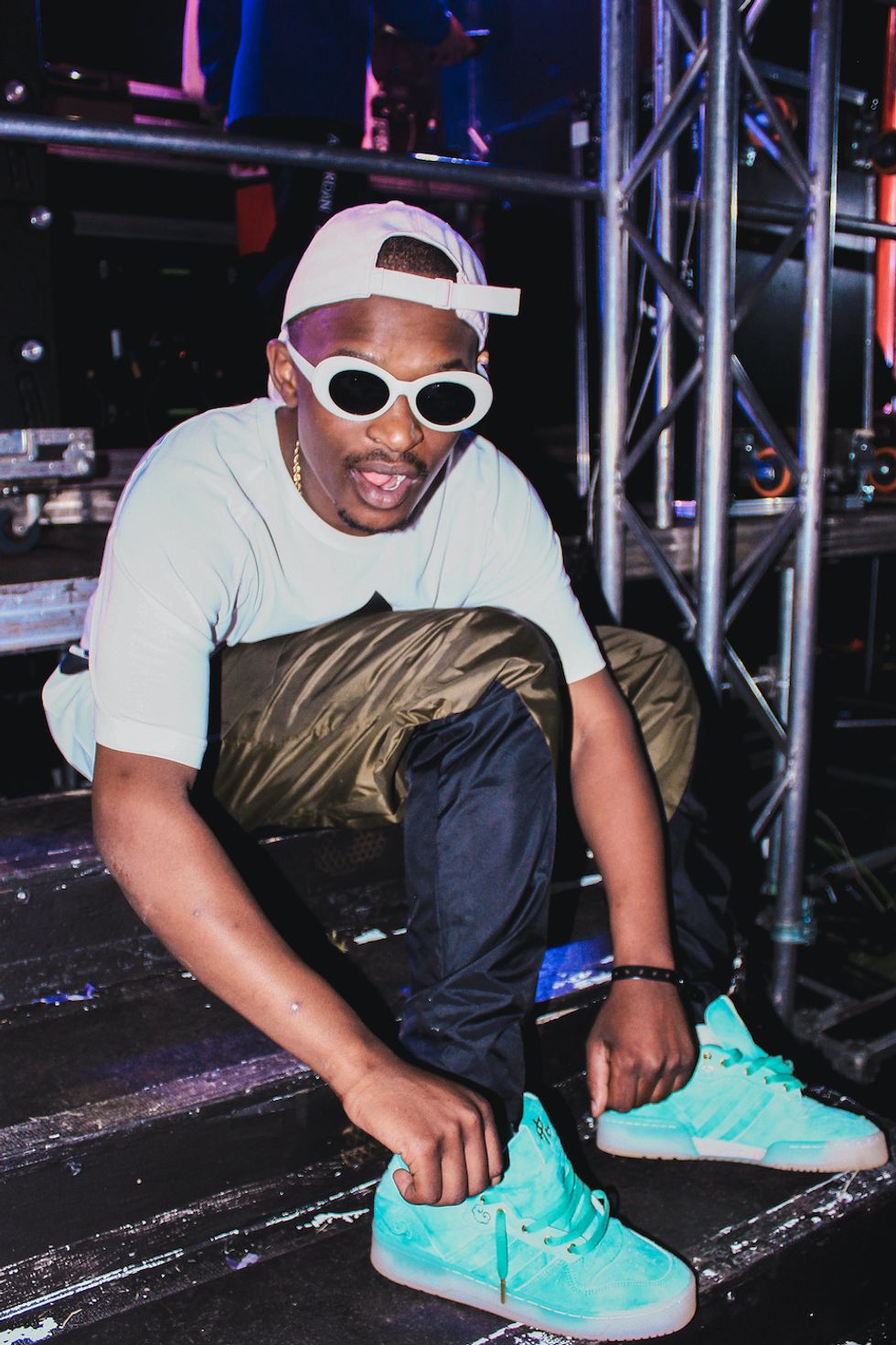 Describing what he does, 808x says, "Sort of what DJ Khaled does, if he made his own beats."Image supplied.
Your production style is as deserve as the artists you work with (mostly the Innanetwav roster). When you are making a beat, do you always have the artist in mind or they pick from what you create?

Every time I make a beat, I usually make it to better my previous self! For real. Only when the artist comes through and feels alignment to it, then it's theirs. I just make the beats, I let it go. I only understand what the beat is capable of after someone is laces their vocals on it. I think the team chemistry we have built over the years with the diverse innanetwav roster is what makes the entire process seem too specific but its mostly organic through the shared vision and growth.
Do you ever work on a beat with another producer?
Yeah. I have, but I don't like doing that because I feel like I don't need that. Not to be arrogant or anything. It doesn't make sense to me because of the way I learned how to make beats.
Then how do you approach features?
For me, you have to be in the studio together. Unless you're really far away, like from Nigeria or something. Also if we have previously worked and we are aware of each other's preferences, we can easily bounce ideas and get things done without always having to be in studio together. There is simply no defined way of doing this and I just take it as it comes and is necessary on a day to day basis.
Explore 808x's production catalogue on the Innanetwav website.