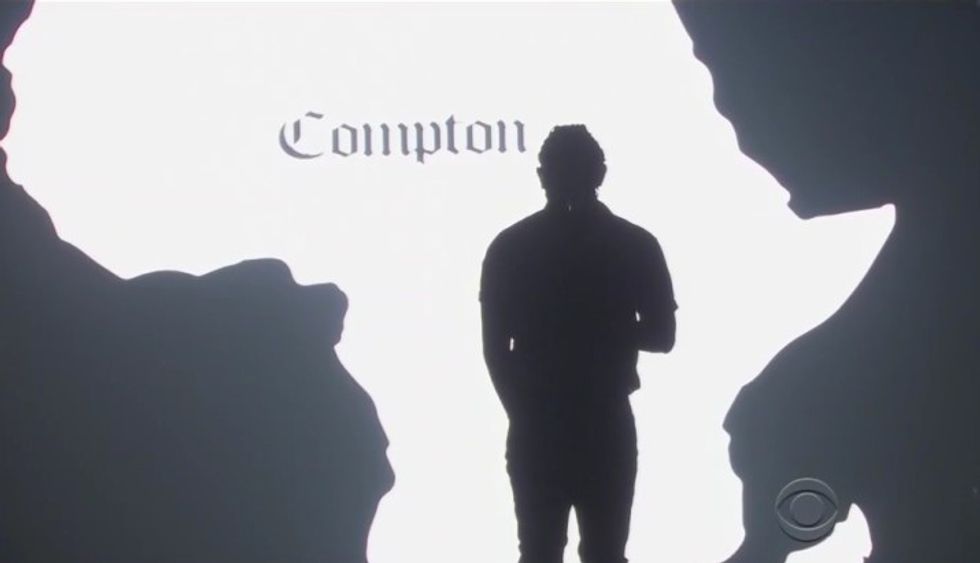 ---
It might not be a stretch to call Kendrick Lamar's 2016 Grammys performance one of the most powerful in live television history. After sweeping the rap categories at tonight's awards and being introduced by Don Cheadle, the Compton rapper and his dancers stepped out on stage in chains from inside a prison set before launching into "The Blacker The Berry." "I'm African-American. I'm African" Kendrick raps on the To Pimp A Butterfly track.
Soon the performers were unchained, covered in glow-in-the-dark paint and surrounded by fire. Then suddenly, the performance transitioned into a nod to the continent as Kendrick began performing his Rap Song of the Year, "Alright," which the rapper recently revealed was inspired by a trip to South Africa.
All of this of course led up to the grand finale, an impassioned unveiling of a new track that ended with Lamar in front of a map of the African continent with the word "Compton" written on it.
The end result was nothing short of magnificent. Watch the full performance below.
Speaking with Billboard before the show, Grammy producer Ken Ehrlich spoke on the "provocative" nature of the performance. "Kendrick came to us and said that we live in a time where these issues confront us every day and that it's important that they be given a public forum, and he would like to use his x number of minutes to create a great performance that is consistent with his this year. It is overtly political and it is overtly provocative, and I think if nothing else it's going to give people something to think about and talk about." Check out some reactions of the Kendrick Lamar Compton Africa moment from Twitter below.
Kendrick is what Kanye would have been if the Kardashians didn't get him.#GRAMMYs #KingKendrick

— Trevor Noah (@Trevornoah) February 16, 2016
You know white people don't like it when Black people remember they came from Africa! KENDRICK! #Grammys2016 — Akilah Hughes (@AkilahObviously) February 16, 2016
Kendrick just made me jump from my couch!! You betta let them know you African ✊? pic.twitter.com/TKGxAZ9Ie5

— Yasmin Yonis (@YasminYonis) February 16, 2016
Kendrick got african dancers in the back its litt ???? — G4 Boyz (@G4BOYZ) February 16, 2016
My little African Princess smiling while watching the African dancing during Kendrick's performance... ?? best part.

— Erika with a K. (@MissErika) February 16, 2016
I LOVE HOW UNAPOLOGETICALLY AFRICAN KENDRICK PERFORMANCE WAS — LiquidSwordMaster (@KlayeCreation) February 16, 2016
Unapologetically African. Unapologetically Black. Thank you @kendricklamar. The @TheGRAMMYs will never be the same.

— Monica Raye Simpson (@monicarsimpson) February 16, 2016
Kendrick's performance got me emotional bruh — Blédakiss (@ChefRoble) February 16, 2016
Kendrick's performance was historic, important, and brilliant.

— Trip Lee (@TripLee) February 16, 2016
Kendrick gonna have Raven even more confused about Africa. pic.twitter.com/HEBxjcH4Bh — Ol' QWERTY Bastard (@TheDiLLon1) February 16, 2016
Kendrick put a map of Africa on the #GRAMMYs with the words "Compton" on it. pic.twitter.com/shTfT3Ibcv

— Lisa Bolekaja (@LisaBolekaja) February 16, 2016
Kendrick was electric. But didn't get the love deserved inside Staples. Was kinda quiet in here. My sis + I went wild tho. #Compton #GRAMMYs — Ava DuVernay (@AVAETC) February 16, 2016
How is anyone talking about anything other than kendrick's performance.

I can't even watch anymore. Spiritual. — Quinta B. (@quintabrunson) February 16, 2016
If they mad at Beyonce for a little Black Panther action,Kendrick aint NEVER performing at Super Bowl. BLACKNESS LEVEL: 84 ACHIEVED #GRAMMYs — Roy Wood Jr- Ex Jedi (@roywoodjr) February 16, 2016
KENDRICK THEN LIN MANUEL SERVING NONSTOP BACK TO BACK BLACK AND BROWN GENIUS #GRAMMYs

— Daniel José Older (@djolder) February 16, 2016
Look at the fear The dismay The disapproval The saltiness during Kendrick's performance.#BlackHistoryMonth pic.twitter.com/Vg0ngsIoM0 — Jay (@Jayveri) February 16, 2016
Cheer for Kendrick's performance & learn from it, BE YOU, DO YOU

— bevysmith (@bevysmith) February 16, 2016
White people planning an anti Kendrick protest as we speak — Fatima. (@naturalIy) February 16, 2016
.@kendricklamar on the grammys - legendary. absolutely brilliant and cinematic. powerful genius. don't front.https://t.co/seABfIMKSh

— Future Islands (@futureislands) February 16, 2016
I hope white ppl who were touched by kendrick's show + feel like a hero for being touched by it now take that feeling + cause actual change — mitski (@mitskileaks) February 16, 2016
oh yes, Kendrick. damn

— Elijah Wood (@elijahwood) February 16, 2016