Kibera, Nairobi's notorious urban informal settlement, is home to 250,000 people across about only a square mile. In modest dwellings made from mud and corrugated iron or in solid but basic colonial-era homes, Kibera's inhabitants are plagued by intermittent electricity and struggle to gain access to running water.
---
For Big Yasa, a musician on the rise, Kibera is home. As he walks through Makina, the Nubian Muslim-majority neighbourhood he grew up in, the 19-year-old has the force-field aura of a star in the hood. He drifts quietly through the buzzing market energy as teenagers call out and pull the hand signs of his rap crew: Mad Clan.
Big Yasa's drill tracks, as menacing tales of survival, resonate with the youth of Nairobi and beyond, but today he is not reflecting upon the harsh realities of the street, and is, instead, excited at the prospect of eating his way through his childhood.
"If I left the area, I would always come back for this," Big Yasa tells OkayAfrica, as he plunges his fingers into a plate of Swahili-style chicken biryani, a mild coconut milk-based curry that steams in the way comfort food should. "People think of Kibera as a scary place 'cause it's a maze here – you just need to know which corner to turn." Hands continue to scoop and then thumb-flick rice into mouths; the chicken simply slides off the bone.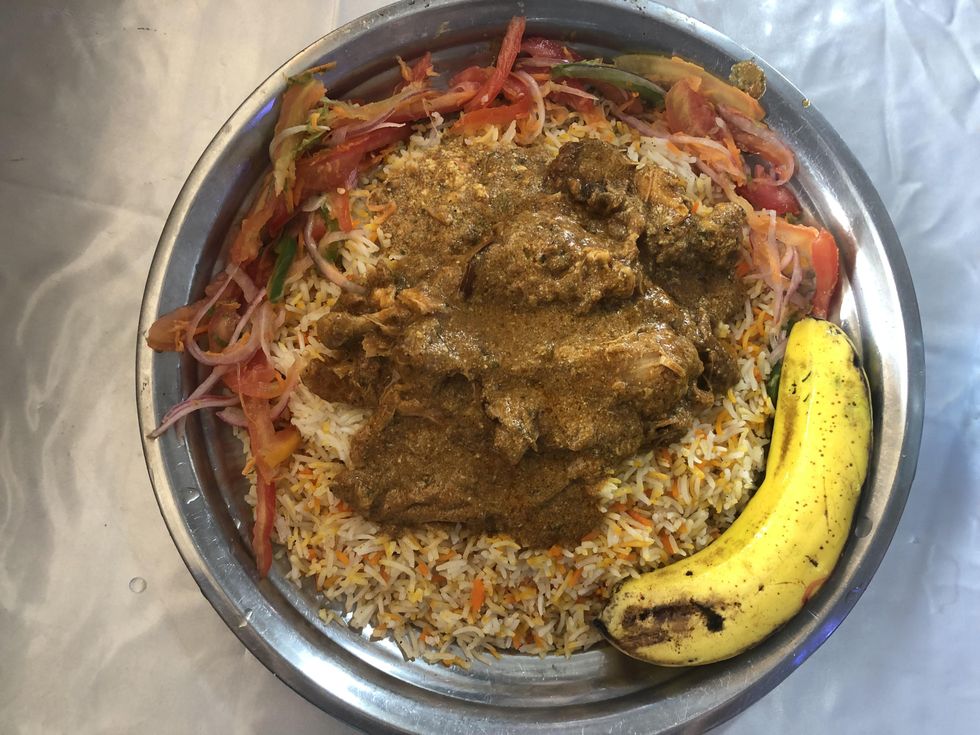 Eight Town Cuisine makes chicken biryani that's almost as good as Big Yasa's grandmother's.
Photo: Frank L'Opez
"Apart from my grandmother's, this is the best there is," the young driller says, as he peels a banana that until now has sat untouched on the plate curved around the food from Eight Town Cuisine. The fruit is then mixed with fingertips into the small mound of rice that remains. Here, the main dish merges into dessert as the scraps become sweet pudding. As Yasa goes to wash his hands, he has his photo taken with one of the women that has prepared the food, and then takes the stairs to the street.
Around the corner is Mamu's Ice Cream Parlour. They are not currently selling ice cream but have always been Yasa's favorite place to get samosas: a triangular fried pastry snack as common in Kenya as it is on the Indian subcontinent. The owner also puts sausage meat that has been deep-fried in flour into a paper bag. It is a collusion of deal-sealing fat that dissolves in scalding oil; onion and parsley in raptures."She knows me here from time," Yasa says, as he holds the warm bag of food against his chest and begins to melt.
Mamu's Ice Cream Parlour is Big Yasa's favorite place to get samosas in Kibera.
Photo: Frank L'Opez
Right next to the mosque, which is at the very heart of Makina, Big Yasa swerves the grilled sardines and moves on to the Mum Mweretu snack shack. Two young women serve up deep-fried potato bhajia, large fluffy pancakes, and fun-sized doughnuts. The chewy and sticky pancakes lift spirits the same way drawing clouds with a crayon would. "I have been eating these all my life," Yasa says, brushing his mouth from doughnut sugar dust, "but what we should do now is Milk Daddy".
Milk Daddy not only has the best name for a kitchen in East Africa, it also serves up a yogurt drink that acts as the perfect soothing agent for an eager tongue numbed from blisteringly hot oil. The owner is serious about his technique – pouring the strawberry and plain yogurt separately at 45-degree angles. We may eat with our eyes but at Milk Daddy, you slurp with them too.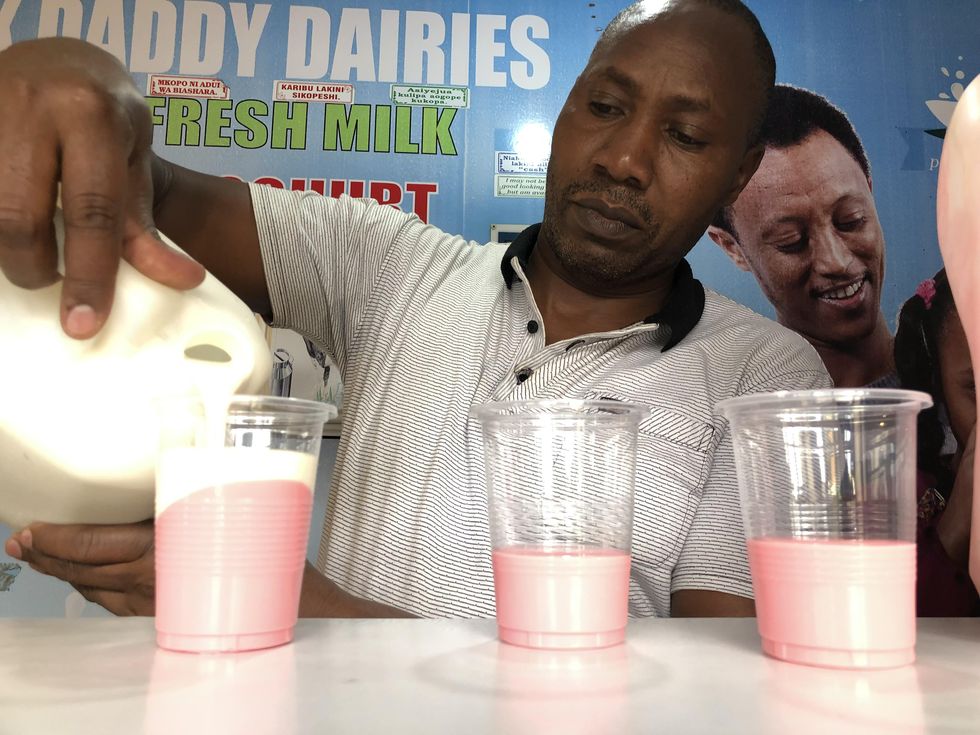 Milk Daddy In Kibera serves up a yogurt drink that acts as the perfect palate cleanser between meals.
Photo: Frank L'Opez
Yasa hails a boda boda [a motorcycle taxi] to leave this part of Kibera to go less than half a mile to Fort Jesus for Nyama Choma. "You can't come to Nairobi and not have goat roasted on charcoal," he says. Flying over speed bumps as the schools empty out, the bike blurs past a police station made from a shipping container. Yasa suddenly pats the driver on the shoulder and dismounts next to a food stand for "the best fried tilapia in the whole of Nairobi". Full, fleshy fish are deep frying in sunflower oil in a wok-like pan over a fire. Yasa digs at the juicy sides. "I only eat the meaty part. I don't like the head," he says. "They say that if you eat the head it gives you brains," he shakes his own, before adding, "I won't eat eyeballs."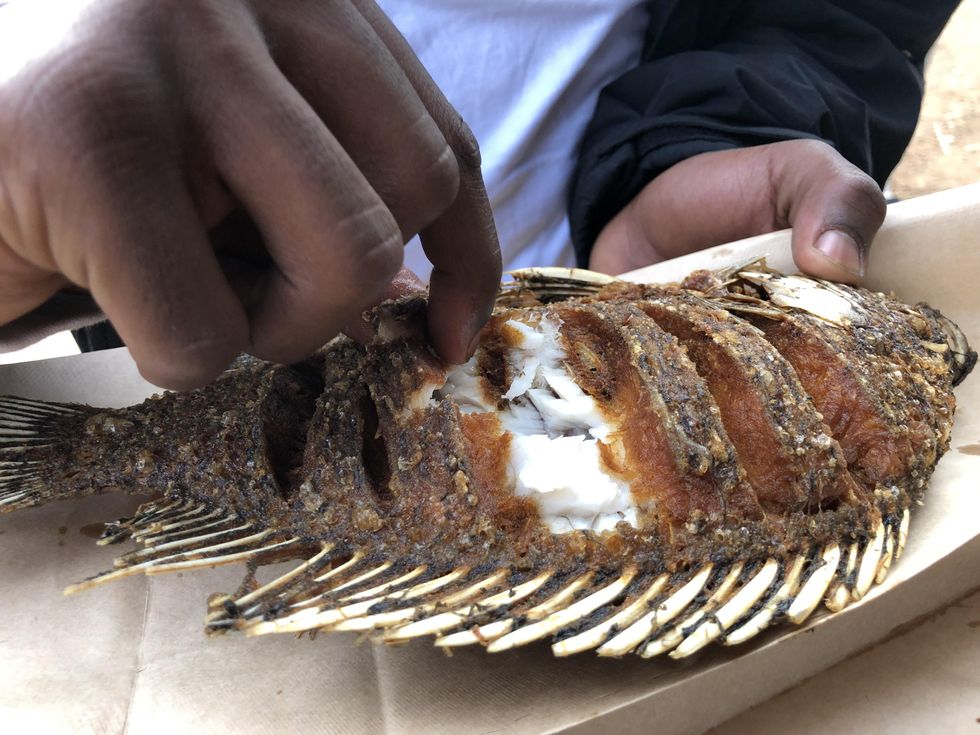 Big Yasa says Kibera is home to the "best fried tilapia in the whole of Nairobi."
Photo: Frank L'Opez
From crispy skin and white flesh, Yasa walks a couple of blocks to a butcher shop with meat on hooks. It is attached to a small BBQ shack. The sound of the radio is only interrupted by the chop of a heavy blade through flesh and sinew, and then onto a wooden board. Goat meat is strung out over the fire and then sliced into strips. "You have to dip it in salt," Yasa says, the tough meat scorching his fingers as he stands and begins to eat before the man has even finished preparing it.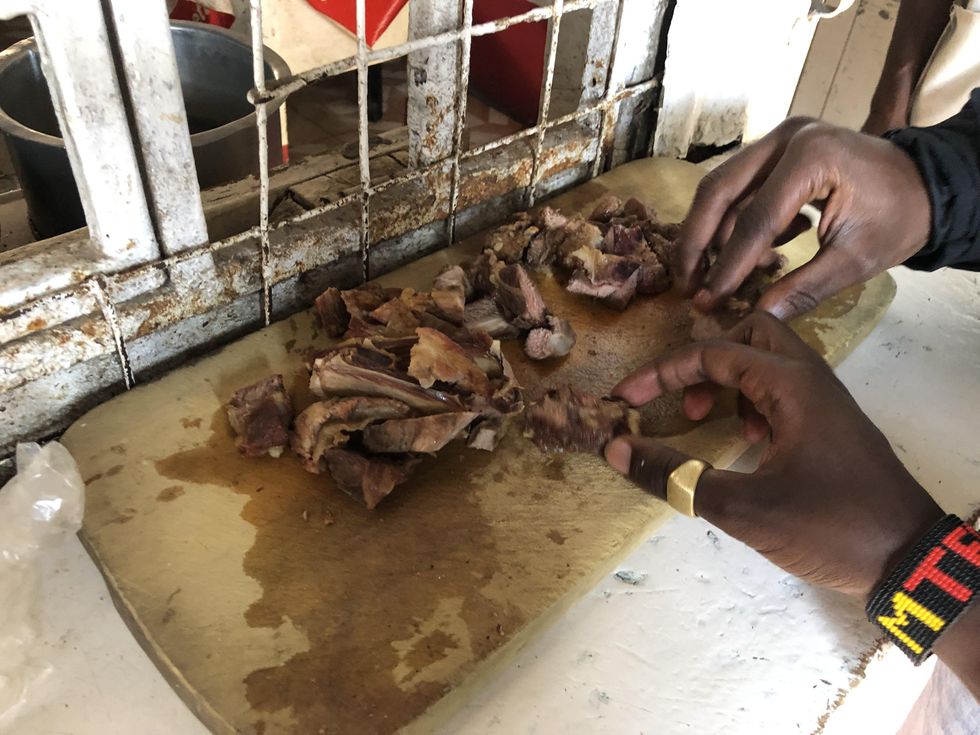 Goat meat from a local butcher shop is also part of Yasa's Kibera food tour.
Photo: Frank L'Opez
He lounges on a plastic chair sponsored by a local beer company. All around there are hair salons with painted boards as the heavy BBQ smoke fills this narrow corner of the street. People move through their neighborhood, as the sound of screaming children kicking a ball against a wall gets louder. Yasa reaches for a toothpick and his mobile phone. "That goat was tough but still juicy," he says, nodding to himself the way you do when momentary contentment takes over your very being. "I think if I drank beer, I would have one right now," he says, as he waves over another boda boda to head home.
From Your Site Articles
Related Articles Around the Web