Earlier this year, Ms. Lauryn Hill brought the sounds of Africa and the Caribbean to Brooklyn for the surprise Diaspora Calling! Music festival.
---
Today, Ms. Hill will be kicking off "The MLH Caravan: A Diaspora Calling! Concert Series," which will take her across North America, Paris and Tokyo.
And she's not going alone.
Each show will feature performances from artists across the diaspora including Nas, Machel Montano, Kehlani, Talib Kweli, Little Simz, and Noname.
Nigeria will be represented by Seun Kuti & Egypt 80 for the tail end of the tour.
And Ghana will definitely be present with EL and Jojo Abot joining for select shows.
Ms. Hill mentions, "The MLH Caravan allows me to continue the theme of unity and celebration of the many facets of cultural and artistic beauty throughout the African diaspora while on tour this summer and fall. In these days of tension, tumult and transition, an exchange of this kind can yield direction, expression, understanding and empowerment as well as connection, self Love and appreciation that hopefully overflows into our respective communities."
Check out the full dates below.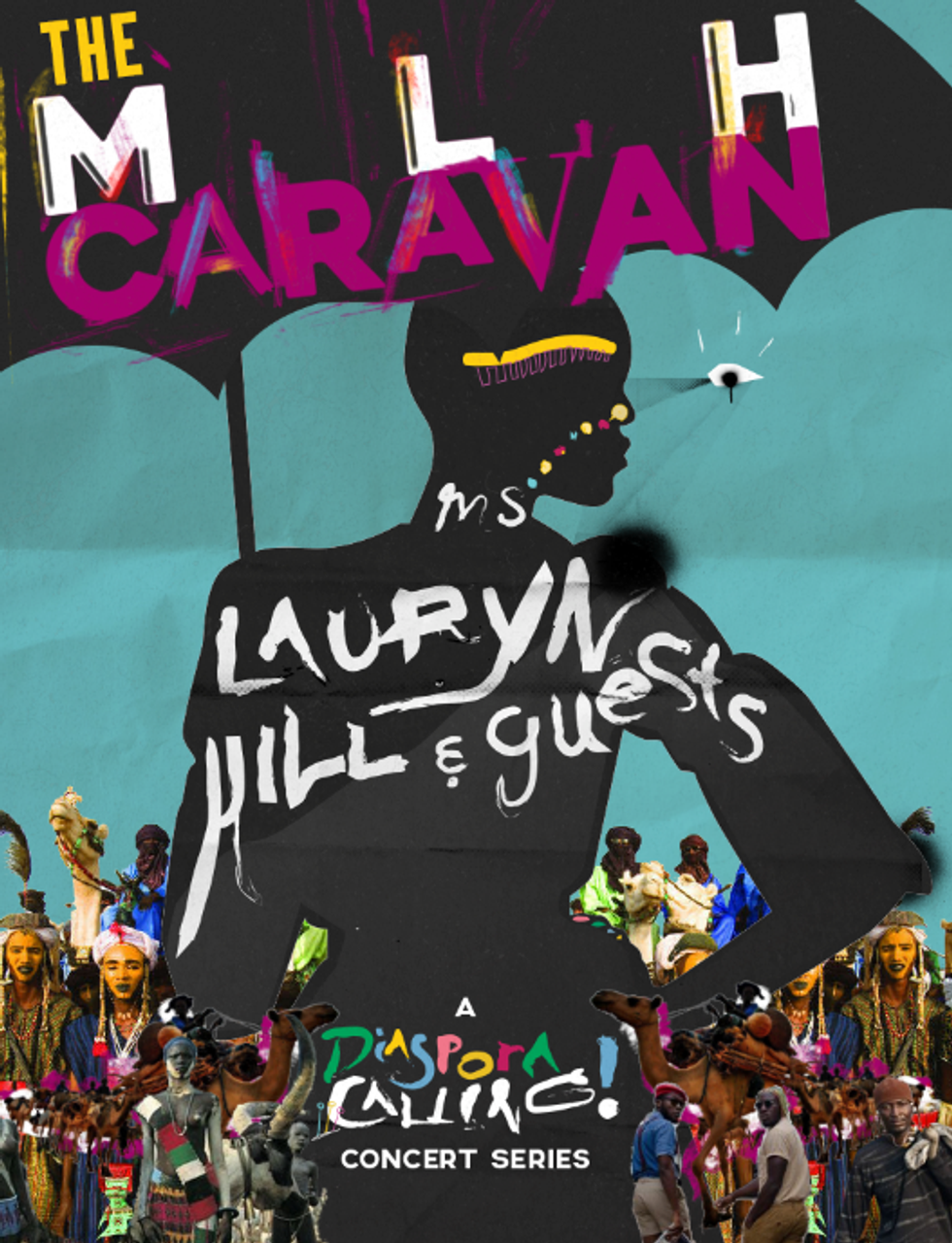 MLH CARAVAN: A DIASPORA CALLING! CONCERT SERIES DATES:
08/27/16 - Philadelphia, PA at The Mann Center with Machel Montano, Soul Rebels featuring Talib Kweli, and Jesse Royal
09/01/16 - Chicago, IL at Ravinia with Soul Rebels, Jesse Royal, and Noname
09/02/16 - Detroit, MI at The Fillmore, with Soul Rebels, Jesse Royal, and Noname
09/04/16 - Minneapolis, MN at First Avenue, with Noname
09/09/16 - Paris, FR at Fete de L'Humanite Festival
09/11/16 - St. Louis, MO at Loufest
09/13/16 - Louisville, KY at The Louisville Palace, with Soul Rebels, plus more to be announced
09/15/16 - Toronto, ON at Massey Hall, with Paul Beaubrun, plus more to be announced
09/16/16 - Toronto, ON at Massey Hall, with Paul Beaubrun, plus more to be announced
09/18/16 - Cleveland, OH at Hard Rock Live Rocksino, with special guests to be announced
09/20/16 - Columbus, OH at Palace Theatre, with special guests to be announced
09/22/16 - Indianapolis, IN at The Murat Theatre, with special guests to be announced
09/24/16 - Atlanta, GA at Chastain Park, with special guests to be announced
09/25/16 - Tuscaloosa, AL at Tuscaloosa Amphitheater, with special guests to be announced
09/27/16 - Memphis, TN at Orpheum, with special guests to be announced
09/29/16 - Charlotte, NC at Charlotte Metro Credit Amphitheatre, with special guests to be announced
10/01/16 - Boston, MA at Wang Theatre, with special guests to be announced
10/13/16 - New York, NY at Radio City Music Hall, with Kehlani, Little Simz, and JoJo Abot
10/20/16 - Los Angeles, CA at Greek Theatre, with special guests to be announced
10/25/16 - Osaka, JP at Zepp
10/27/16 - Tokyo, JP at Zepp
10/29/16 - Yokohama, JP at Red Brick Festival
11/01/16 - San Diego, CA at Copley Symphony Hall, with Seun Kuti & Egypt 80, plus more to be announced
11/03/16 - San Francisco, CA at Bill Graham Civic Auditorium, with Nas, Kehlani, and Seun Kuti & Egypt 80
11/04/16 - Berkeley, CA at Greek Theatre, with Nas, Kehlani, and Seun Kuti & Egypt 80
11/06/16 - Seattle, WA at McCaw Hall, with Seun Kuti & Egypt 80, plus more to be announced
11/08/16 - Vancouver, BC at Queen Elizabeth Theatre, with Seun Kuti & Egypt 80, plus more to be announced
11/10/16 - Portland, OR at Keller Auditorium, with Seun Kuti & Egypt 80, plus more to be announced
11/12/16 - Las Vegas, NV at The Foundry at SLS, with Seun Kuti & Egypt 80, plus more to be announced
11/13/16 - Phoenix, AZ at Comerica Theatre, with Seun Kuti & Egypt 80, plus more to be announced
11/27/16 - Austin, TX at Moody Theatre, with Soul Rebels, Seun Kuti & Egypt 80, plus more to be announced
11/29/16 - San Antonio, TX at Aztec Theater, with Soul Rebels, Seun Kuti & Egypt 80, plus more to be announced
12/01/16 - New Orleans, LA at Saenger Theatre, with Soul Rebels, Seun Kuti & Egypt 80, plus more to be announced
12/06/16 - Tampa, FL at Mahaffey Theater, with Seun Kuti & Egypt 80, plus more to be announced
12/08/16 - Orlando, FL at House of Blues, with Seun Kuti & Egypt 80, plus more to be announced
12/13/16 - Raleigh, NC at The Ritz, with Seun Kuti & Egypt 80, plus more to be announced
12/18/16 - Silver Springs, MD at Fillmore, with Seun Kuti & Egypt 80, plus more to be announced