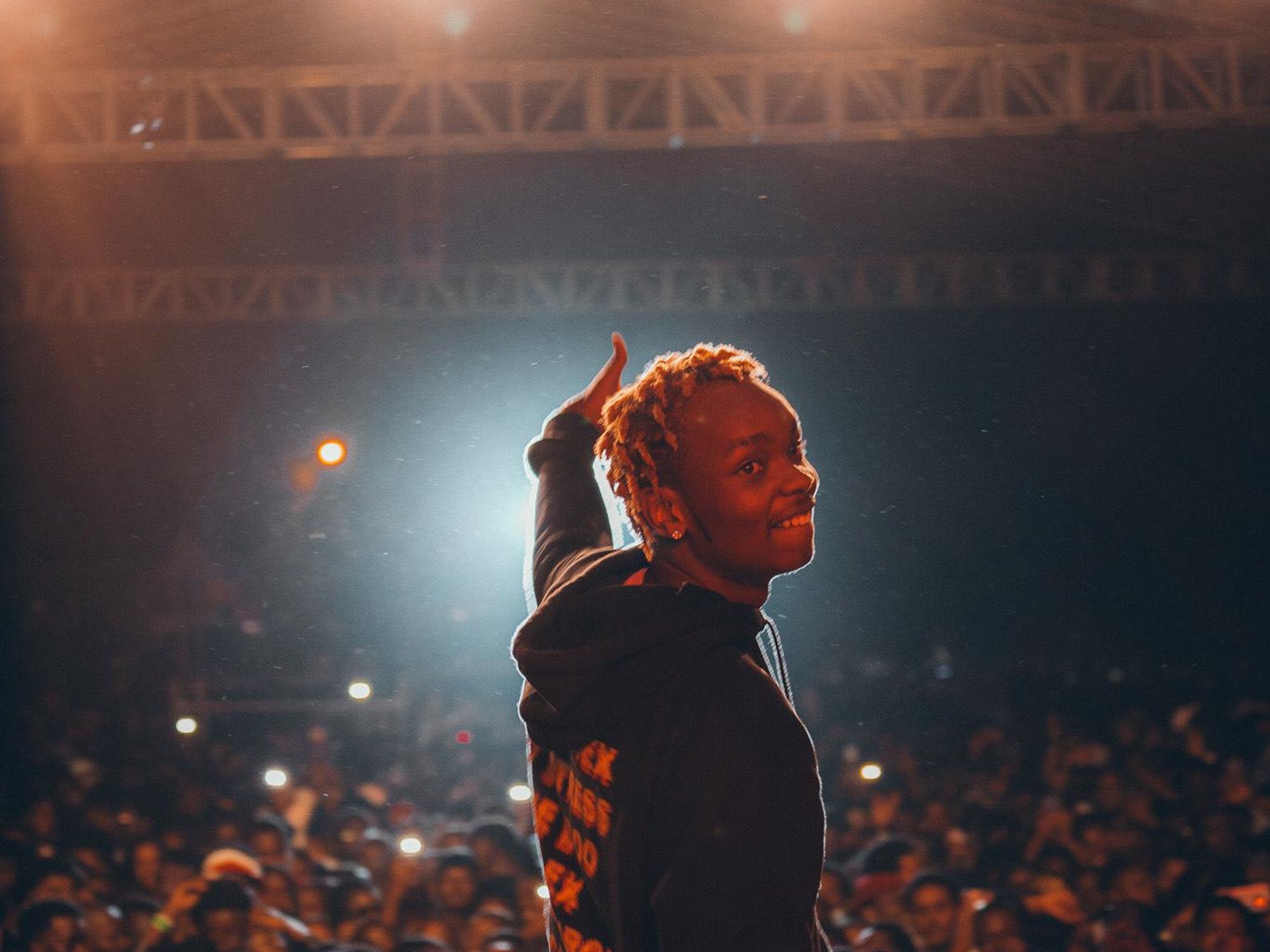 Photo courtesy of Lil Maina.
We caught up with the 18-year-old content creator, who suddenly shot to fame with a viral rap song.
"I'm an entertainer" Lil Maina tells me from what looks like a rebel compound designed by furtive teenagers. Jeremy Maina, Kenya's viral sensation is practically horizontal as he lounges at his grandparents' home. The walls of the room around him have been spray-painted in glee but today he gives an insight into the world of an 18-year-old who has suddenly shot to overwhelming fame. "I feel a lot of pressure and expectations," he says, "I never had more than a few school friends but now they are everywhere." With the majority of his life spent at an all-boys school, he is finding female attention even more bewildering. "Girls for me are a scary scene—I'm keeping myself to myself."

What took Lil Maina over the top was the unexpected success of "Kishash," a song which clocked up 2 million hits on YouTube in only a matter of weeks at the beginning of this year. A number one single in the Kenyan charts was never the plan for a teenager posting skits to a healthy following on Instagram, but with the glare of the spotlight from a whole new fanbase, Lil Maina may have created a monster for himself.
---
It is of no surprise that the song has seized a moment in Kenyan youth culture. Drawled in Sheng (Kenyan street slang) Lil Maina raps of sex in the back of Ubers, teenage depression and smoking weed with the latent joy of a high school kid in the corner of a New Year's Eve party. With Ndovu Kuu's millenium-era N.E.R.D production the song is lifted from 'a bit of a joke' as Lil Maina intended it to be, to a smash hit. It's not something that Maina can simply shrug off.
KISHASH FT NDOVU KUU [OFFICIAL VIDEO]www.youtube.com
Born in Nairobi, and shuttled back and forth throughout his childhood from one place to the next, Lil Maina was forced to learn to adjust. Some places he simply did not want to leave. "Changing schools was tough," he says, "Mombasa for me was a totally different rhythm—less strict."
From a young age, Maina had to find ways to seize control in the midst of his uncertainties. When the Vine and Musicaly apps became popular worldwide in 2014 he began to find solace in making skits for an online friendship group that he could reach no matter where he went. It became second nature.
By 2020, when the pandemic struck, Lil Maina got an idea of fame when the pranks he played on his grandparents granted him a surge of new followers, but once global electro-dance stars Major Lazer reposted one of his videos there was no turning back. Shedding his underground status, "It really made me see what the potential was" he tells me.
With the pandemic regulations beginning to subside there have been invitations to make public appearances. He shows me a video from the day before when he was invited to a university in the capital to judge a talent show. The screeching bedlam that unfolds as he makes an impromptu performance of "Kishash" is startling. Every member of the audience rushes to the stage, grabbing him and gyrating in adulation. It is a moment of pure chemistry and chaos. Lil Maina: simply the innocent bystander of an accident that he has caused, arms aloft in the midst of it all.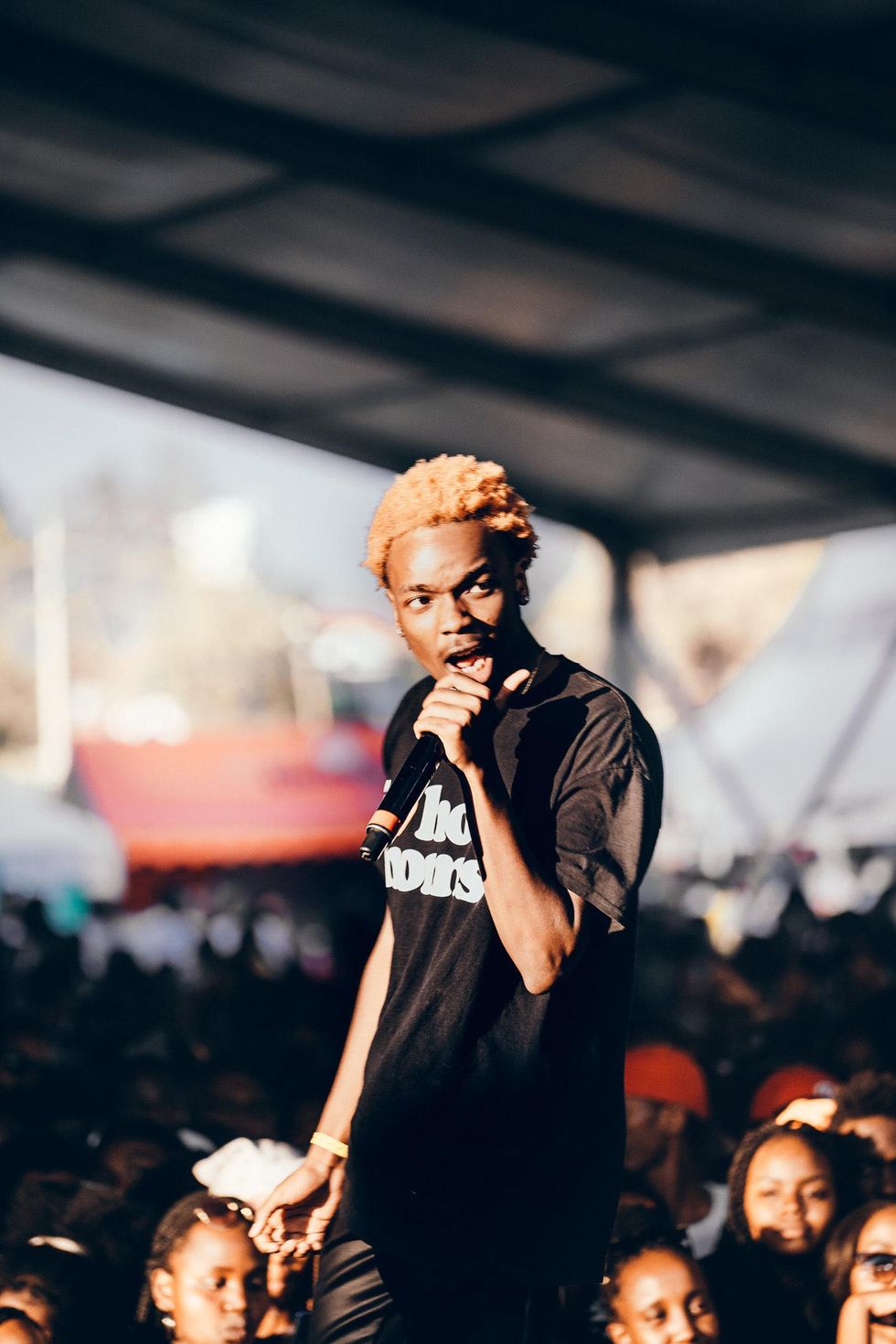 Photo courtesy of Lil Maina.
"On a serious note I have an anxiety disorder..." he shrugs "I'm home right now and it's Friday." With the success that he has earned, what should be an effortless process of posting to his friends is beginning to resemble a snake devouring its own tail. As the numbers increase he cannot escape from the fact that he no longer knows who he is communicating with. "I have to really think about if someone would see it some kind of way," he says, his thumb suspended in hesitancy before every post.
One bad move is fatal in his world but without the freedom to amuse himself, there's a risk that his charm is being stepped on. There's also a delay in making any new music as he "works things out."
Thankfully, Lil Maina has never had to apologise for any of his posts but the inevitable online hatred that he, like most internet celebrities experience, only adds to his feelings of dread "I just have to get used to it," he tells me, but he winces as he does so.
A few days after our meeting I receive a message from him to say that his Instagram account has been hacked and disabled. "I'm trying to talk to a guy that says he can recover it. Idk should I trust him?" he texts. It only underlines the murky and fragile world he has to wade through of endorsements, manipulative industry agents, and opportunists at every turn. But this is also a story of a young man with a sense of his own self-determination. Just as he has always desired, he has the means of control as he taps directly into the mainframe whenever he wishes. To make a life.
"Today I am feeling lazy," he says "but tomorrow you never know, let's see," he laughs. As for the recent plans for him to go to the United States, he wryly purses his lips: "I'm the Kenyan Charles Manson—I love my fans to death. That's me."