Along with unveiling Lupita Nyong'o's third career cover, where the Queen of Katwe actress looked like a dewy autumn goddess and proclaimed she would like to create "opportunities for people of color," Vogue magazine treated us to a special behind-the-scenes moment that'll be long cherished by the star.
---
But first, let's back up.
Last year, the 31-year-old Oscar-winner admitted on Kenya's NTV that she hadn't learned how to prepare her home country's staple dish, ugali.
"I know, it's really, really bad," she explains to the interviewer. "I have a mwiko [the wooden spoon used to make it], but I don't know how to cook ugali."
So Vogue's cover shoot in Nyongo's home village in Kenya, photographed by Mario Testino, offered her the perfect opportunity to finally pacify hunger pains caused by homesickness for the doughy dish made of corn flour or millet, and set things right with her shocked Kenyan fans.
It's "like a staple—it is like Italians and pasta," the actress explains while making her first batch at her parents' home.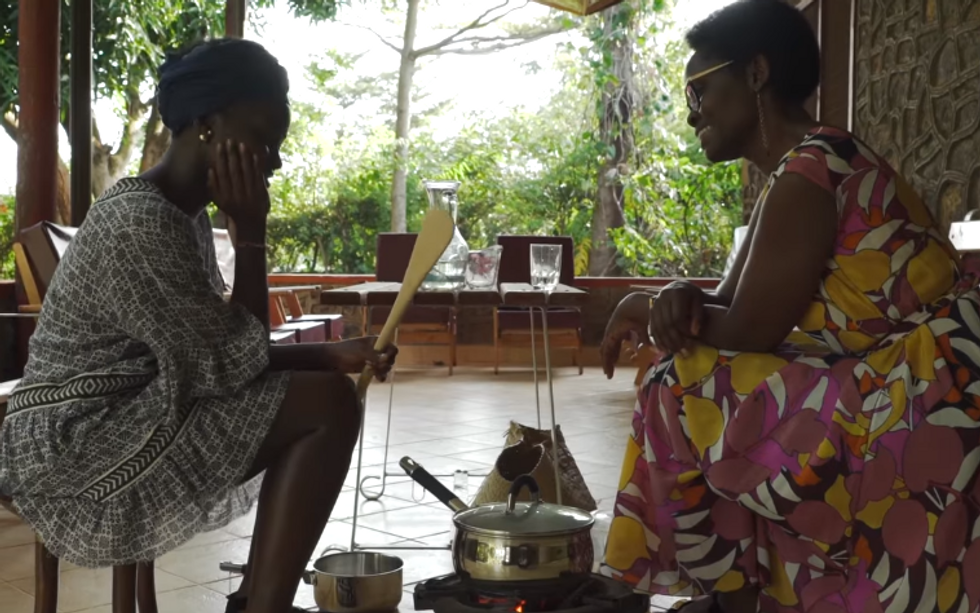 screenshot of Lupita Nyong'o learning how to cook ugali for Vogue's Oct. cover story
Nyong'o's mother Dorothy instructs her as she delicately pours corn flour into boiling hot water, warning, "Pour it in not so fast, not so slow."
While stirring the mixture to remove lumps, Nyong'o gasps, "This is like an abdominal workout; this is no joke."
Completing her first batch, the starlet's father indicated his approval by reaching for the last piece.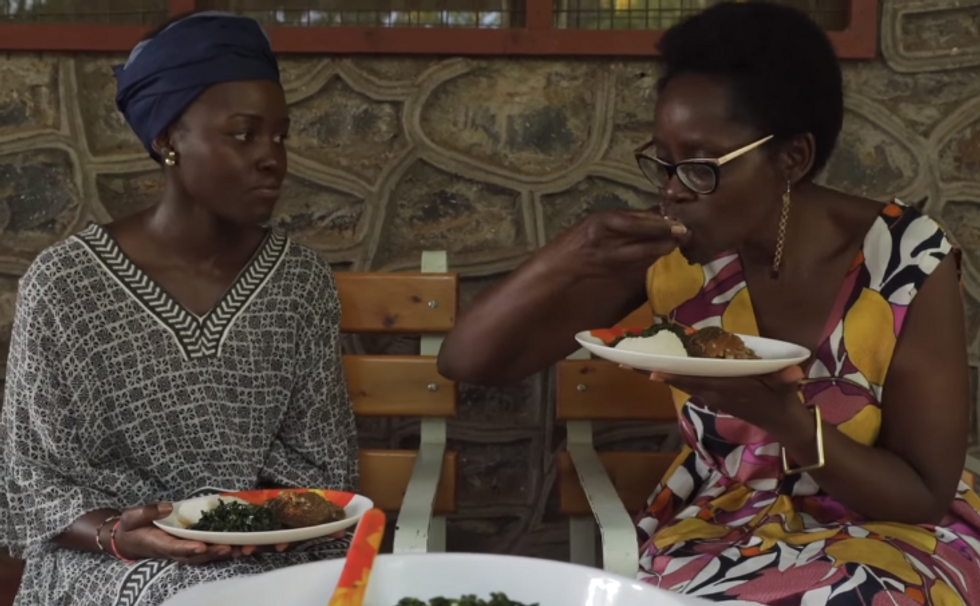 screenshot of Lupita Nyong'o learning how to cook ugali for Vogue's Oct. issue
Mama Dorothy has graciously shared her family's recipe:
Ingredients:

Corn flour (options include the addition of small portions of millet, or sorghum, or cassava flour)

Water

Estimate 1 cup of corn flour and 1 1/2 cups of water per person.

Instructions:

*You can begin by lightly roasting the flour in a dry pan. This is an extra tip, not a basic practice. But you can add that step for extra taste/success.

Bring the water to a boil in a saucepan.

Pour in the flour and stir continuously with a flat wooden spoon into a smooth consistency, mashing out any lumps that may form.

Cook for eight to ten minutes, continue to stir. Reduce the heat and cover for another three minutes.

Stir again for about two minutes and shape into a dome. It should no longer stick to the wooden spoon. It should have an aroma of roasting corn.

Cover with a plate and flip it over onto the plate, keeping it covered to stay warm.

Serve immediately with your favorite vegetable or meat stew. Ugali goes well with a dish that has sauce or gravy.
It's a darling family moment, that you can enjoy below: